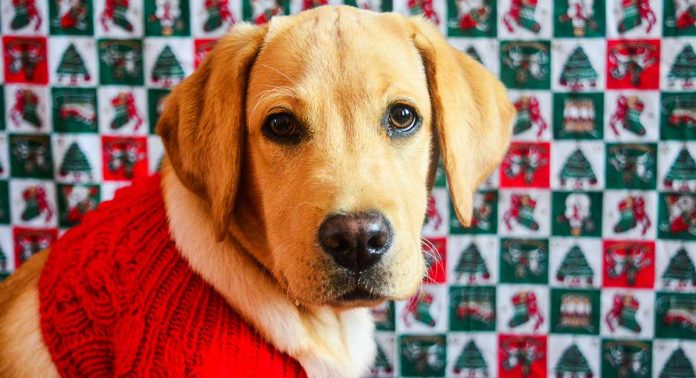 We have put together a selection of great dog sweaters for Labradors. Perfect if your Lab is looking a little chilly, or you want to help keep him warm and comfortable when the weather gets cold. From fun themed ideas to practical, cute Labrador sweaters. There is a dog jumper to keep every pooch and his owner happy. You'll be able to find the perfect dog jumper to keep your Lab warm and cozy in the cold weather!
Before we start though, let's address a few concerns about putting dogs in sweaters or other items of clothing
All of these products were carefully and independently selected by the Labrador Site team. If you decide to make a purchase from one of the links marked by an asterisk, we may earn a small commission on that sale. This is at no extra cost to you.
Is it harmful to put clothes on our dogs?
Not everyone likes the look of dog clothing, so you may find you get some interesting comments if you do. Actually, putting coats on dogs is nothing new. Sporting dogs have been wearing coats before running in competitive events for years. That's because warm muscles are less likely to tear or rupture than cold muscles. And many rugged and tough Labradors that work as hunting companions will wear a fleecy sweater to keep them warm on the journey home after a long day in the field.
As you can see, if your Lab wears a sweater from time to time, he is in the best company! So go ahead and indulge him if a smart new dog sweater appeals to you.
Warm Dog Sweaters For Labs
When there is a chill in the air, even your furry Labrador can feel the cold. Especially if he is getting on in years. Fortunately there are some great fun and practical dog sweaters out there that your Lab will love.
Chilly Dog Boyfriend Sweater
When it comes to warm dog sweaters, there is one brand which seems to stand out above the rest at the moment. Chilly Dog Sweaters. They come in a great range and have excellent reviews on Amazon.
The Chilly Dog Boyfriend Sweater* comes in sizes XXS to XXL. Size L is designed to fit 28 to 40 pound dogs, size XL fits 60 to 80 pound dogs. Depending upon your Lab's stature, one of these will probably be the best bet. The jumper is 100% wool, giving a lovely soft finish. It is made using organic plant dyes. These gorgeous dog sweaters are hand made, so you may find some variation in color and style.
American Flag Dog Sweater
Chilly Dogs American Flag Dog Sweater* is a tasteful, patriotic take on the dog jumper.

It comes in a range of sizes, from XXS to XXL, so you are bound to find one the right fit for your dog. This cute, fun dog sweater is made of wool with organic plant dyes. They are also hand made so may vary slightly in color and style.
Chilly Dog Navajo Sweater
The Chilly Dog Navajo Sweater* is another very well reviewed dog jumper.
Currently available in the large size only, this design should suit slimmer, lighter boned adult Labs. Most working line bred Labs will have the right fit and find it very comfortable. It is made of 100% wool and colored with organic plant dyes. Like all Chilly Dog sweaters it is hand made, so might not look exactly like the dog jumper pictured.
Stretch Fleece Dog Pullover
The Stretch Fleece Dog Pullover* by Gooby is a simple but very practical design.
This cute fleece is available in a great range of sizes. From XS all the way to 6XL. The handy sizing chart will help you to pick the best size for your dog. In eight different bold colors, this simple fleece can make a statement too. The stretchy material makes the dog jumper easy to put on and take off. It also gives a comfortable fit when your Lab is wearing his sweater.
Natural Cable Dog Sweater
The Natural Cable Dog Sweater* is also from Chilly Dogs.  We love the style of this jumper, which is very well tailored.
It is available in sizes XXS to XXL. Most adult Labradors will fit the L or XL size depending upon their build. It is 100% wool and made using only organic plant dyes.
Fair Isle Dog Sweater
Fashion Pet's Fair Isle Dog Sweater* is cute and well fitted.
It comes in sizes from Extra Small to Large, with size Large being the best fit for most Labs. This turtleneck style sweater is warm, cute and machine washable. It will keep your Lab warm and looking even more adorable than usual.
Christmas Dog Sweaters
If you are looking for a sweater to get you and your Lab into the holiday spirit, then you might like some of the fun dog sweaters we have found below!
Lanyar 'Ugly Vintage' Holiday  Sweater
This cute holiday sweater is festive without being too extravagant. In fact we'd say it's far from ugly!
It comes in a huge range of sizes, from small to extra extra large. L or XL being the best choice for most adult Labs. You can even buy a human sized cardigan in the same design, for co-ordinated kitsch!
Mihachi Dog Sweater
This jolly Dacron jumper is perfect for the larger dog, as photos from previous purchasers attest. The largest size fits up to a 31.2″ chest. It comes in three festive colorways: red and white (below), black and white, and multi-colored.
And it even has a handy reinforced hole for a leash to attach to a harness through. Find out more about the Mihachi sweater here*.
Scenereal Classic Christmas Dog Sweater
This sweet fair isle sweater with handsome contrasting ribbed seams is an extra cosy choice for large dog with fine coats. This type of design, being knitted in multiple shades of yarn, effectively ends up being a double-thick sweater – perfect for Christmas morning walks.
Previous purchasers say it's easy to get on and off, but that it seems to run a little small – so order up if your dog is on the cusp of two sizes! Find more details about the Scenereal sweater here*.
Bobibi Elf Dog Sweater
This silly elf sweater is bound to get your dog noticed. Available up to size XXL, we think it probably fits dogs bigger than most elves!
The quirky design is sure to raise a smile, and get people talking at Christmas parties or the dog park. Order it from Amazon here*.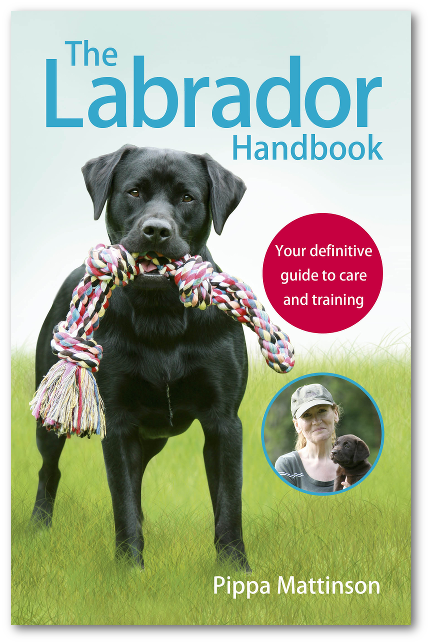 Kuoser Reflective Reversible Christmas Dog Coat
There'll be no impulse-buyers regret for purchasers of this final Christmas sweater. It's something of a hybrid between a seater and a coat (the doggy equivalent of a coatigan, if you will). And far from being a novelty item that quickly gets forgotten, it is fully reversible so that your dog can wear it all year round.
What's more it's made to be sturdy and long lasting, and it comes with a host of smart  features including reflective details for walking safely at night, stretchy panels for a comfortable fit, and a hole for securing a leash to a harness. Check out the Kuoser sweater coat here*.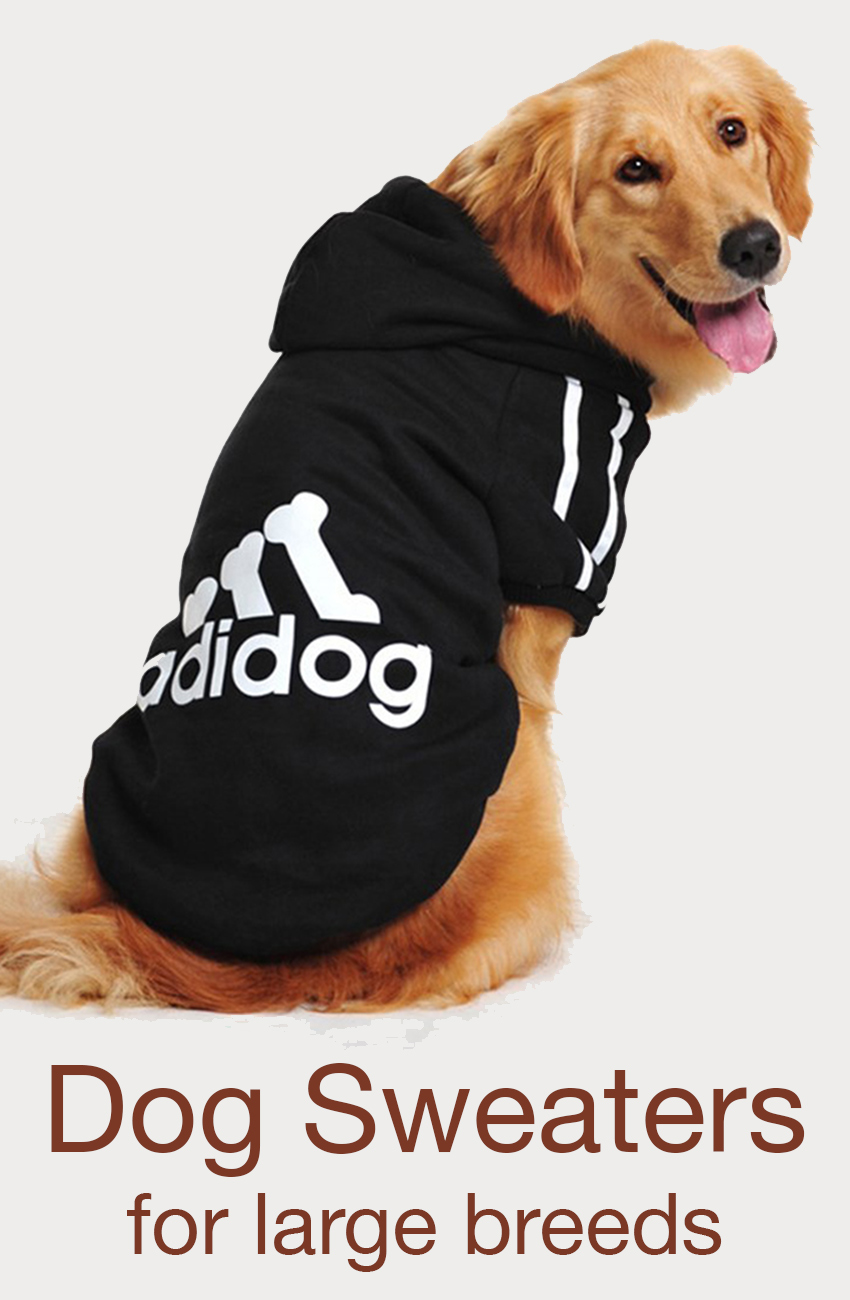 Affiliate link disclosure: Links in this article marked with an * are affiliate links, and we may receive a small commission if you purchase these products. However, we selected them for inclusion independently, and all of the views expressed in this article are our own.
The Labrador Site Founder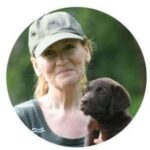 Pippa Mattinson is the best selling author of The Happy Puppy Handbook, the Labrador Handbook, Choosing The Perfect Puppy, and Total Recall.
She is also the founder of the Gundog Trust and the Dogsnet Online Training Program 
Pippa's online training courses were launched in 2019 and you can find the latest course dates on the Dogsnet website