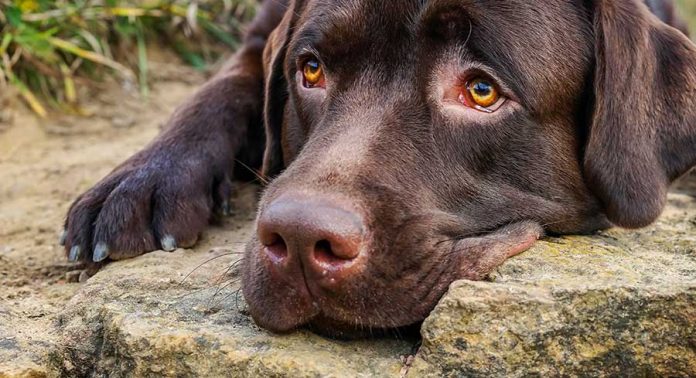 A dog's sense of smell is his strongest sense. And the inside of your Labrador's nose is a fascinating place! Scientists find dogs sense of smell interesting too, and have been very busy lately finding ever more scents that dogs can detect. This isn't just idle curiosity. There are increasing numbers of practical purposes for the extraordinary sniffing abilities of our four legged friends
We have been digging down into the many studies that have been published in the last few years To bring you the latest information on what dogs can do with their noses! We'll discover if dogs really can detect cancer, for example. And look at how that clever nose works and at just how accurate it is. So if you've ever wondered 'can dogs smell cancer' and 'how far can dogs smell' you've come to the right place.
Your dogs sense of smell
Your Labrador can detect tiny traces of substances that are completely undetectable by man. In fact his sense of smell may be up to a million times greater than ours. He can event detect substances undetectable by advanced technology. But why is your dog's sense of smell so much better than yours?  Let's have a look.
How dogs smell
We all know that healthy dogs have a cold, wet nose.  But why? The dog's wet nose actually enables him to be more effective in detecting odors.  The moisture both traps scent particles and may also enable the dog to detect the direction from which they are coming.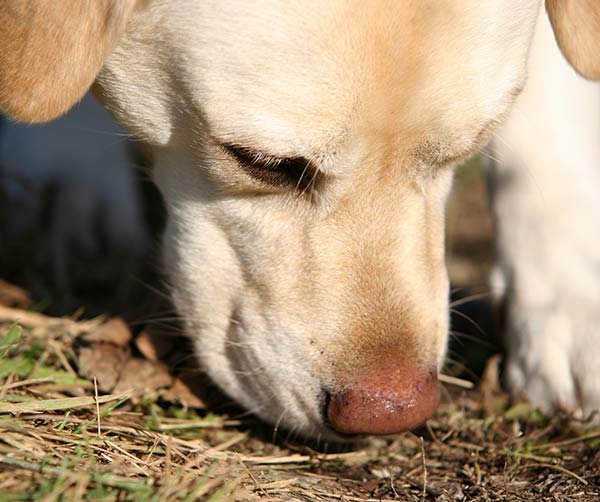 In order to improve their ability to  detect these particles, dogs, and other wild animals will lick their noses from time to time. If we go a little deeper, and look inside your dog's nose, we find quite a complicated structure.
Dog nose anatomy
The inside of your dog's nose is not an empty tunnel. We'll have a look at what lies tucked away in there in a moment. But first consider this rather specialized ability: unlike people, dogs are able to divide each incoming nasal breath into two airflows. One for breathing, and one for scenting.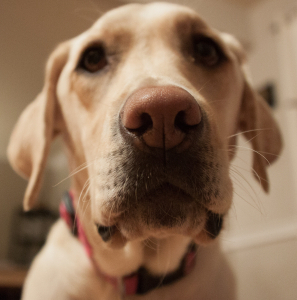 A special fold of tissue just inside the nose creates this divided airflow. The air required for breathing is sent straight to the lungs. Whilst the air required for scenting, is diverted to a special area at the back of the nose. It is here that your dog's nasal turbinates are located
What are turbinates
Turbinates are a kind of spongy, coiled, bone shelf, found in vertebrate noses.  You have them, and your dog has them.  They are covered in moist mucous membranes which are full of scent receptors. Your dog's nasal passages are filled with these very fine bony shelves, and as the air he sniffs in passes over them, the scent receptors inside  their lining, send electrical impulses to his brain.
The way the dog's nasal passages are constructed means it is quite hard to examine them. They are not simply open tunnels that we can look inside. The turbinates are not only scent detectors,  they also act as a radiator heating up the incoming air,  and trap moisture from the air as the dog breathes out. You can find out more about these fascinating structures and about some of the problems that can arise when they become infected, in this article.
Best sniffer dogs
Part of what makes a great sniffer dog is down to the shape of a dog's nose. A bigger, longer nose,  can incorporate more extensive turbinates. This means that flat faced and short nosed dogs, will have a reduced scenting ability compared with their longer nosed cousins. The nose is the part we see and admire, but your Labrador's amazing ability goes much deeper than that. It begins in his brain
The strongest dog sense starts in the brain
Inside your brain, and the brain of your dog is a special area dedicated to processing smell.  It is called the olfactory bulb.  Humans have a very large visual cortex, for processing images, and a very small olfactory bulb, for processing scent.
Your Labrador is different.  He has a large olfactory bulb.  Many times larger than yours. The electrical signals gathered from your dog's turbinates are sent to the olfactory bulb via the olfactory nerve. The extra brain area devoted to olfactory processes means that your dog is far better equipped than you are to identify and discriminate between, different types of scent. Even in tiny quantities.
This interesting combination of complex and extensive turbinates, specialised airflow and large olfactory bulb, creates the extraordinary scenting ability of your Labrador
How far can dogs smell So, how does this fascinating combination of complex nasal equipment and specialized brain translate into practical skills?
How far can dogs smell?
How far can dogs smell , or how far away does a scent have to be for a dog to be able to detect it, and how much of the substance we want the dog to detect does there need to be? It is interesting to know what kind of distances dogs can detect scents over, and how fresh scent has to be for a dog to be able to detect it. In fact, there isn't much evidence on the subject of distance, and it probably depends on the dog's scenting style.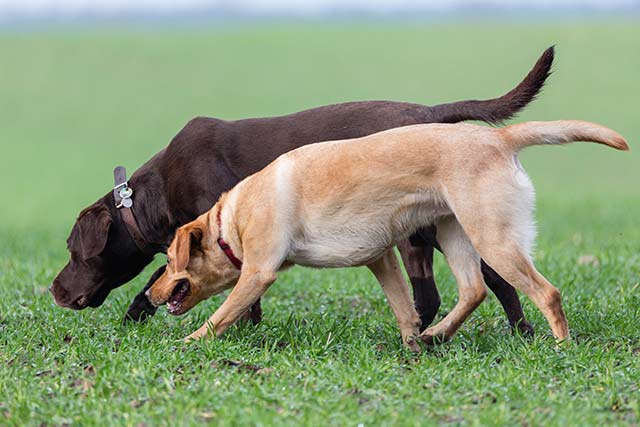 While all dogs are capable of detecting scent that is airborne, as well as scent trails along the ground. Some are more focused on one style or the other. Some dogs, such as bloodhounds, focus on ground scent and this is an 'up close and personal' style of tracking. The dog is right up against the tiny particles of scent that lay on the ground. Other dogs, some of our versatile gun dogs fall into this category, hunt by air scenting. Head up, sniffing the breeze to see what is carried there. Of course all types of scenting outdoors is going to be influenced by conditions.
Here's the science…
A study carried out in the 1960s showed that dogs were beginning to struggle to detect scent outdoors after three weeks or so. But indoors were still successful at identifying scents six weeks after they have been laid. The ability of a dog to succeed in a tracking endeavor outdoors is going to be heavily dependent on weather conditions and disturbance.
As someone who keeps working gun dogs, I know only too well how humans stomping about where a wounded animal fell before it ran off, can interfere with a dog's ability to track the creature successfully. As leaves and undergrowth carrying the tiny scent molecules are scattered by human feet. Interestingly learning to detect the scent of a live person and learning to search for a dead person are two different skills.
A study published in 2006 suggests that it is better for dogs to specialize in one or the other. The team concluded that for example:"cross-trained dogs should not be deployed where cadaver scent is present and the desired target is live scent, and gave as an example the "deployment of search dogs to locate surviving victims amongst possible non-survivors."
The best tracking dogs
The astounding scenting abilities of our Labradors together with their trainability, has resulted in Labradors being trained for a wide range of skills that are enormously useful to mankind. As a breed, they are among the best tracking dogs known to man, and it isn't just the dog's scenting ability that accounts for his ability to work alongside humans.
Being a good tracker dog is not just about sense of smell. The dog also has to be responsive to handling and training and motivated to work for the handler. A study published in 2004 looked at the attributes of good tracker dogs based on questionaires returned from over two hundred UK dog handlers. They found: The ten most important characteristics that went to make up a great tracking dog were
acuity of sense of smell
incentive to find an object which is out of sight
health
tendency to hunt by smell alone
stamina
ability to learn from being rewarded
tendency to be distracted when searching
agility
consistency of behavior from day to day
motivation to chase an object
Tracking dog breeds
As you can see, these skills require a range of attributes that add up to a highly co-operative and trainable dog. And the majority of dogs that fit this description tend to fall into one of two groups
The sporting dog or gun dog group
The herding dog group
And many of them fall into just a handful of dog breeds including
The Labrador retriever
The German Shepherd Dog
The English Springer Spaniel
The Border Collie
The English Cocker Spaniel (working type)
These breeds account for a large proportion of search and rescue, drug and explosive detection, and medical detection dog breeds throughout the world. We are all now familiar with the dogs abilities to detect drugs, follow a blood trail, and find missing people, but more recently our Labradors play an increasing role in detecting disease
Medical detection dogs
The field of using dogs, often Labradors, for detecting disease is a relatively new and rapidly developing one. We now have dogs that can detect tumours,  low blood sugar, and even impending seizures, in their human partners.
Can dogs smell cancer
So can dogs really detect cancer? And with what degree of accuracy? The answer to can dogs smell cancer is yes they can! Several studies have demonstrated significant success in training dogs to discriminate between people with cancer and healthy individuals. For example in a study published in 2017 a Beagle was able to identify cervical cancer patients with over 90% accuracy And there have been other studies that support these results (see references below)
Some dogs, possibly most dogs, can differentiate between healthy humans and those with tumors. But how do dogs do this, and should we now switch to dogs for our cancer testing, rather than other methods?
Will dogs replace cancer screening?
Well not just yet. In some studies, while dogs were able to identify cancer patients with a greater degree of accuracy than would occur by chance, it was not the level of accuracy we expect in modern medicine.
What doctors are looking for is as close to 100% accuracy as possible. And there are many variables to consider when trained animals are being used to identify potentially life threatening diseases. The dogs' accuracy will be subject to all kind of factors such as 'training standards' and 'motivation' and the dog's own health, performance levels, age etc. However, there is much potential for good here and perhaps for identifying, in a very un-invasive way, people who need further more invasive screening procedures
So how do dogs detect cancer?
Tumors growing inside the human body release chemical compounds and these compounds have odors that when released from the skin via sweat or other bodily fluids, can be detected by the sensitive nose of the dog .
A study, published in 2008 showed that different cancers each have their own specific type of odor that differs from those of other cancers. All this doesn't mean that your dog will know if you have cancer. Or if he does know, that he will think it relevant or be able to perceive the implications of that knowledge.
The ability to identify specific odors as being important, and to alert humans to their presence has to be trained. Nevertheless, the ability of dogs to offer a valuable role in this field of medicine has far reaching and powerful implications. It is just another example of the wonderful way in which dogs can benefit human beings.
Is there a limit to how many smells a dog can be trained to detect?
Possibly not. At least if there is a limit, we haven't found it yet. A study published in 2002 showed that "The detection of previously learned odors did not decrease as the number of substances trained increased. In fact, the amount of training required to refresh detection performance and to train new odor discriminations tended to decrease as more odor discriminations were trained." In other words, dogs get better with practice.
Can dogs beat machines?
But what about technology? Haven't we now got machines that can detect odors? Surely these must superior to a four legged 'sniffer'. It would seem that they are not. A study published in 2001 comparing dogs with analytical instruments concluded that "Overall, detector dogs still represent the fastest, most versatile, reliable real-time explosive detection device available" We won't be dispensing with the help of our dogs for a while yet!
Does a dog's sense of smell diminish as he gets older
So how long can a sniffer dog carry on being a sniffer dog? Does his sense of smell get worse as he gets older? Well, yes, old dogs have inferior scenting ability to younger dogs. But a dog's sense of smell does not diminish for many years.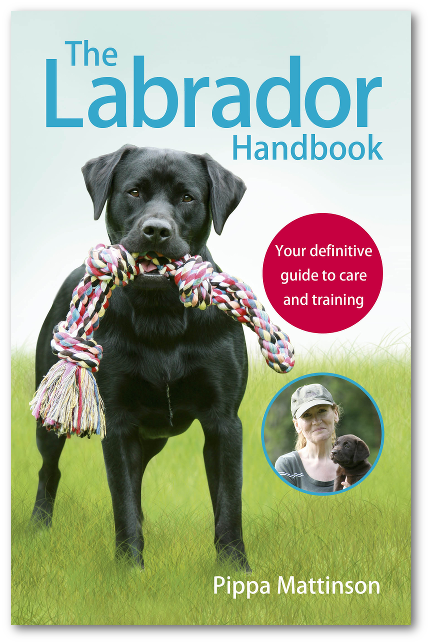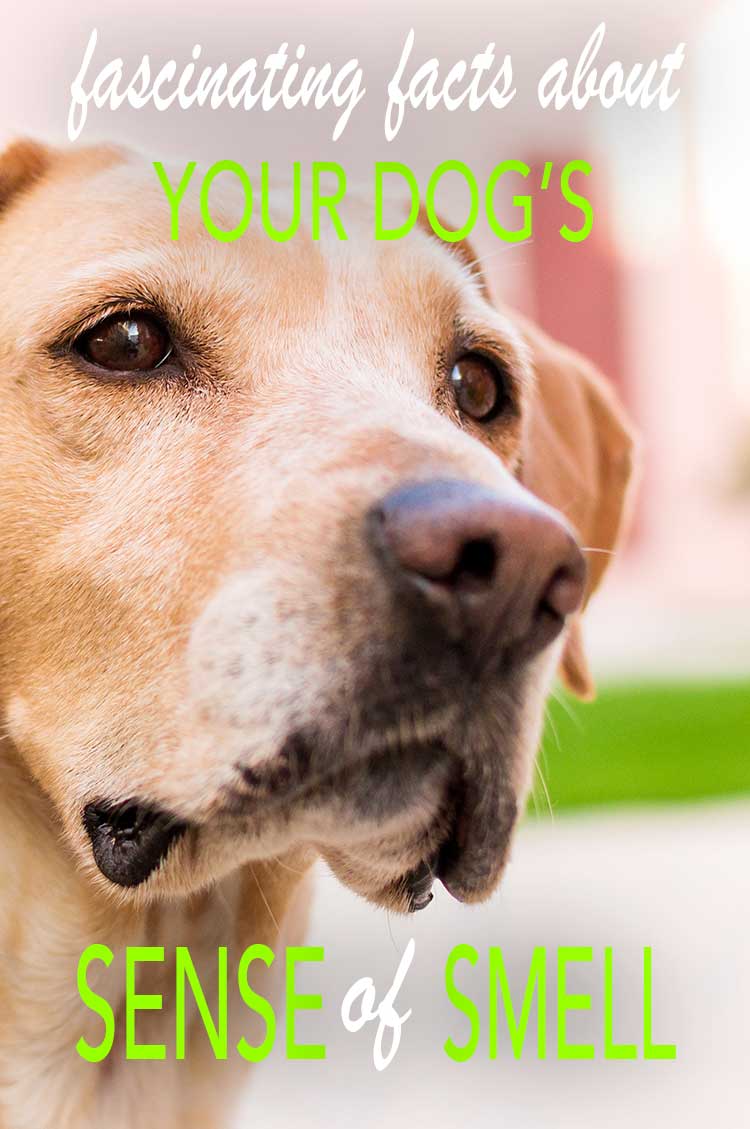 Studies have shown that aging does cause measurable changes in a dog's sense of smell, but not until they reach the grand old age of fourteen or so. In very old dogs (age 17 plus) the changes are marked
A dogs sense of smell – summary
A dogs sense of smell results from a combination of the way his nose is structured, and the design and specialization of his brain All breeds of dogs other than very short nosed (brachycephalic) dogs have this extraordinary scenting ability. However, scenting ability is not all that is required for dogs to be able to carry out sophisticated tasks and to work co-operatively alongside humans. They also need training and experience. Scent detection and tracking is something that dogs improve at with practice.
Medical detection dogs, dogs that detect explosives, dog that detect drugs, and even bed bugs, still need training. And of course, the ease with which our wonderful Labradors can usually be trained is another reason that they are often selected for these roles.
Most Labradors thoroughly enjoy activities that involve tracking scent and you might enjoy 4 games to play with your Labrador . Where you can learn how to get your dog started with a great scenting game. Has your dog amazed you with his sense of smell?  Let us know in the comments below.
References and further reading
Guerrero-Flores H et al. "A non-invasive tool for detecting cervical cancer odor by trained scent dogs" BMC Cancer 2017.
Jezierski T et al. "Study of the art: canine olfaction used for cancer detection on the basis of breath odour. Perspectives and limitations".
Horowitz A. "Inside of a dog" Simon and Schuster 2012.
Cornu J et al "Olfactory Detection of Prostate Cancer by Dogs Sniffing Urine: A Step Forward in Early Diagnosis" European Urology 2011.
Craven B et al "The fluid dynamics of canine olfaction: unique nasal airflow patterns as an explanation of macrosmia" J R Soc Interface 2010.
Horvath G et al "Human ovarian carcinomas detected by specific odor" Integr Cancer Ther 2008.
Lit L, Crawford C. "Effects of training paradigms on search dog performance" Applied Animal Behavior Science 2006
Rooney, N., Bradshaw, J., and Almey, H., "Attributes of Specialist Search Dogs—A Questionnaire Survey of UK Dog Handlers and Trainers," Journal of Forensic Sciences, Vol. 49, No. 2, 2004
Furton K, Myers L "The scientific foundation and efficacy of the use of canines as chemical detectors for explosives" Atlanta 2001
Gazit I, Terkel J. "Domination of olfaction over vision in explosives detection by dogs" Applied Animal Behavior Science 2003
Williams M, Johnstone J. "Training and maintaining the performance of dogs (Canis familiaris) on an increasing number of odor discriminations in a controlled setting" Applied Animal Behavior Science 2002
Moser E, McCullock L. "Canine scent detection of human cancers: A review of methods and accuracy" Journal of Veterinary Behavior: Clinical Applications and Research 2010.
Pickel D et al "Evidence for canine olfactory detection of melanoma" Applied Animal Behavior Science 2004.
Hirai T et al. "Age related changes in the olfactory system of dogs." Neuropathology and Applied Neurobiology 1996.
Schoon G, De Bruin J. "The ability of dogs to recognize and cross-match human odours" Forensic Science International 1994
King J et al. "Studies on olfactory discrimination in dogs: (3) ability to detect human odour trace" Animal Behavior 1964
The Labrador Site Founder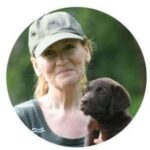 Pippa Mattinson is the best selling author of The Happy Puppy Handbook, the Labrador Handbook, Choosing The Perfect Puppy, and Total Recall.
She is also the founder of the Gundog Trust and the Dogsnet Online Training Program 
Pippa's online training courses were launched in 2019 and you can find the latest course dates on the Dogsnet website