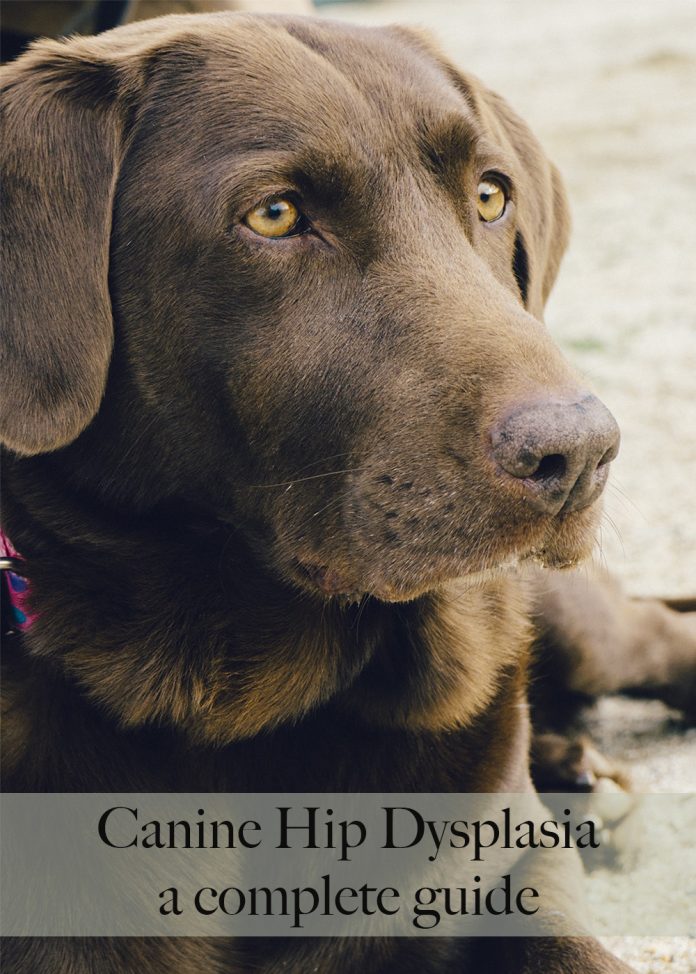 Hip dysplasia in dogs is a special concern for me as a Labrador owner, because it's so prevalent in the breed. It's something I need to take into account when choosing a litter of puppies, exercising them as they growing and even deciding when to allow them access to stairs or slippery floors!
Your classic normal canine hip has a ball-like femoral head, sitting in the socket of the pelvis. There is a strong ligament attaching them, and a joint capsule of tough connective tissue encircling them. The ball moves smoothly around, without rubbing and staying firmly within the socket.
Hip dysplasia in dogs occur where the socket is inadequately formed to smoothly hold the ball in place and allow it to move without interruption. The muscles, ligaments and connective tissue may also be too lax to support the normal movement of the joint. Lax muscles cause something called subluxation, where the ball and socket separate and change shape. Hip dysplasia is the name for the abnormal hip joint.
Hip dysplasia in dogs can be avoided to a certain extent through parental health testing, avoiding excessive exercise at a young age and keeping the dog's weight low. When it occurs the solution is most likely to be surgical, along with pain management in the form of non-steroidal anti-inflammatory drugs.
Contents
Puppies are rarely diagnosed with hip dysplasia until they are at least six months old. It is most often diagnosed between 6 and 18 months of age. The earlier that the puppy is diagnosed, the less likelihood they will have had of developing arthritis in the damaged joint.
Your dog's breed is a risk factor for hip dysplasia. The condition is most often seen in pedigree dog breeds, who are medium to large in size and have a period of rapid growth. It is a serious issue for some Labrador lines and something which you need to be aware of before you bring home a new puppy.
Signs Of Hip Dysplasia In Dogs
Hip pain in dogs is not a straight forward matter. There are a variety of possible reasons that your dog could have a sore joint, and some of the symptoms below may be the same as in hip dysplasia. However, if your Labrador is demonstrating any of the signs below then this is a warning sign of potential problems.
Symptoms of hip dysplasia include the following:
Stiff movement
Unusual gait
Bunny hopping
Using both back legs simultaneously when running
Reluctance to exercise
Trouble laying down or standing up
Stumbling when squatting to go to the toilet
Difficulty climbing steps
Limping
Lameness
Thigh muscle wastage
Dog hip dysplasia symptoms do not normally include crying or whining with pain. They will be apparent to you in the dog's movement, and not often through clear vocal signs of pain.
Hip Dysplasia Diagnosis
Hip dysplasia diagnosis can only be made by a qualified veterinarian. Your vet will physically examine your dog to see signs of hip dysplasia. He or she will ask you to describe the signs you have seen of joint problems, weigh him and assess his over all health.
Your veterinarian may take a blood sample to access the extent of inflammation in the joint, and may also ask for a urine sample to assess as well. They will then book your dog in to x-ray their joints. The vet will study your Lab's x-rays and look for abnormalities in the joint, such as incomplete hip sockets. It is possible that the veterinarian will also want to take MRI or CT scans to confirm the extent and exact nature of the diagnosis.
Hip dysplasia is not a cut and dried diagnosis. It comes in varying degrees and types, and a lot of factors will influence the treatment course you and your veterinarian choose for him.
Hip Dysplasia Treatment
Non surgical treatment for hip dysplasia is possible in those cases where the condition is not too severe. Weight loss is advised if your Labrador is on the heavy side, as this will reduce the pressure on the hip joints. In fact one study demonstrated that weight loss alone could improvement the signs of lameness in a dog with hip dysplasia.
Physiotherapy and hydrotherapy can help to manage hip dysplasia symptoms. If you have a local dog friendly swimming pool, then this is a great place to exercise him.
Hip Dysplasia Anti-Inflammatories And Pain Killers
Pain killers and anti-inflammatories are an essential part of hip dysplasia treatment for some Labradors. NSAIDs are non-steroidal anti-inflammatory drugs developed for dogs who have the symptoms of osteoarthritis, which are often seen in chronic or developed hip dysplasia. They reduce swelling and pain in the effected joints.
NSAIDs can only be prescribed by your veterinarian, as they need to be given in specific quantities and at certain times. If your veterinarian prescribes NSAIDs he will want to monitor your dog's progress and condition regularly.
Corticosteroids are another option your vet might consider. Although they are less popular these days due to the prevalence of other options with less side effects and a more specific impact on the dog.
Supplements
Canine hip dysplasia supplements are available. However their level of effectiveness is up for debate. Glucosamine and Chondroitin have both been used to manage osteoarthritis. And have been shown to have some impact on reducing the symptoms associated with hip dysplasia.
Glucosamine is a sugar that assists with the synthesis and maintenance of joint cartilage. Chondroitin works to inhibit damaging enzymes in joints. Together they are believed to help your dog create and repair connective tissue in the damaged joint.
Hip Dysplasia Surgery
In many cases of hip dysplasia, your veterinarian will move on from non-surgical treatments to consider the options involved regarding surgical procedures. Hip dysplasia surgical procedures vary, and will depend upon the extent and nature of your dog's hip dysplasia.
Juvenile Pubic Symphysiodesis (JPS)
If hip dysplasia is diagnosed at a very young age in a puppy, then one surgical option is juvenile pubic symphsiodesis (JPS). In a JPS procedure the surgeon will cauterise the underside of the dog's pelvis, changing the way in which it grows to provide a better foundation for the ball and socket joint.
JPS can only be carried out on dogs who are still in a rapid phase of growth, at under 5 months of age. This means it is rarely carried out, as hip dysplasia is not normally evident until the puppy is a few months older. However, if it can be done it is a much less invasive procedure and can improve the extent of arthritis in the future.
Triple Pelvic Osteotomy
A triple pelvis osteotomy (TPO) involves making three cuts into the socket of the hip joint. This allows a part of the bone to be moved into a better position for the joint. The newly constructed weight bearing area is held in place by a plate and screws. These methods can be effective on joints in younger dogs, less than 10 months old, who have not yet suffered arthritis as a result of their condition. And whose hip dysplasia is not too extensive.
It is a major surgery and one that is pretty expensive, but it can provide relief to the dog and increased mobility. However, one study suggests that JPS and TPO have similar effects in dogs with moderate to severe hip dysplasia, but that neither procedure eliminates the symptoms of progression of the disease completely. If the hip dysplasia is extreme then a total hip replacement might be considered.
Total Hip Replacement
A total hip replacement can be the chosen path for a dog suffering from chronic hip dysplasia. It involves removing the entire joint from your dog. The damaged ball and socket will be removed, and replaced by surgical implants, made of a combination of metal and plastic. This is an extreme surgery, but can have excellent results. With high success rates reported, and a great potential outcome for the dog's return to fitness.
Femoral Head And Neck Excision
In some dogs it is not possible to carry out a total hip replacement, or very sadly the owner is not able to pay for this extensive surgery. In these cases the veterinarian may consider removing the ball joint in the hip. The benefit of this is that the dog will not suffer from the pain caused by the ball and socket contact. But the down side is that the joint will not work properly afterwards.
It is also not advised for larger dogs weighing more than 40 pounds. The dog will require extensive physiotherapy after surgery, and will not return to complete fitness as the joint will always have a limited function.
How Much Does Hip Dysplasia Treatment Cost
If your dog has been diagnosed with canine hip dysplasia, then you will incur costs from this for the remainder of his life. Non-surgical treatments and pain management can quickly run up large bills. In terms of your veterinarian time, scans, medications and any additional physiotherapy or hydrotherapy you use. Hip dysplasia surgery cost varies depending upon who your vet is and what procedure they decide is best. This will normally be in the thousands of pounds/dollars.
Hip Dysplasia Causes
Hip dysplasia has a variety of potential causes. The main contender is genetic inheritance, although it is not a straight forward or simple matter. A puppy from parents with poor hips is more likely to have poor hips themselves.
Causes of hip dysplasia are not limited to the inherited factor either. They have an environmental influence, which means that some dogs who could have suffered from hip dysplasia never show signs. And others with a limited likelihood go on to have extensive problems. Other causes include diet, regularity of feeding, pelvic muscle mass, exercise and weight.
Hip Dysplasia Prevention
Preventing hip dysplasia in dogs is important. Especially in the breeds that are predisposed to poor joints.
Weight
Keeping your Labrador at a low and healthy weight will help to reduce the stress put on his joints. A long term study of 40 Labrador Retrievers from puppyhood concluded that it is important to not overfeed puppies, particularly in breeds who are prone to hip dysplasia. The importance of not over feeding Labradors was reflected in another study of Labrador Retrievers. It demonstrated that reducing feeding by 25% delayed the onset as well as reducing the severity of hip dysplasia symptoms.
Exercise
Some studies suggest that using stairs when young can make a dog who has poor joints more likely to go on to develop hip dysplasia later in life. It was recommended that puppies under 3 months should not be allowed to use stairs in order to combat this risk.
There has also been a correlation noted between the flooring a puppy is kept on and the outcome of them developing hip dysplasia. With one study seeing puppies kept on slippery floors being 1.6 times more likely to show symptoms. If you have slippery floors, you can help to prevent hip dysplasia by putting rubber matting down on the areas where your puppy will most frequently be walking.
Hormones
Recent research has also shown that hormones can play a part in proper joint development. When your puppy is growing, the hormones that the ovaries or testes produce are important for their healthy growth in a lot of ways.
One study demonstrated that early neutering of male Golden Retriever puppies result in twice as many occurrences of hip dysplasia when compared with those who were left intact.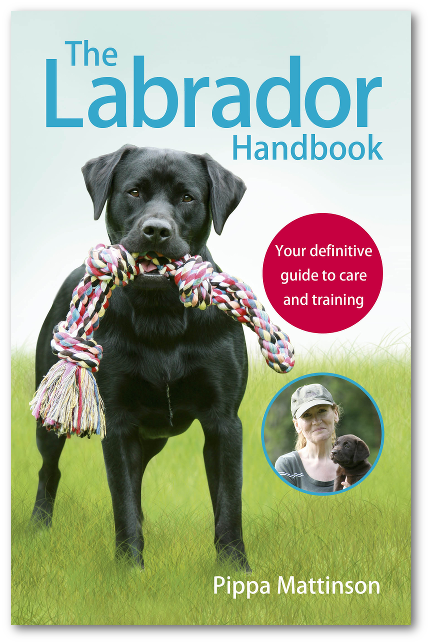 The Importance of Hip Scores
Hip scoring is an incredibly valuable way of assessing the likelihood of your puppy developing hip dysplasia. Hip scores are values given to potential puppy parents' hips, which indicate the quality of the joints. Vets in the USA give a descriptive value to each hip. Ranging from excellent, to good, to fair, to mild, to moderate, to severe.
In the United Kingdom a reading of 0:0 is a perfect hip score. If both puppy parents had 0:0 hips, then your puppy would be unlikely to suffer from the disease. However, most dogs will have at least some degradation to their joints. The average hip score for an adult Labrador at the last reported study was 12.
How Are They Calculated?
A veterinarian will take an x-ray of the adult dog's hips, and give a value to each side's joint. This will be written down as a pair, for example 6:6. These two values are added together to give their over all hip score. You don't just want this value to be lower than the breed mean of 12, you also want it to be fairly balanced. So a hip score of 12 from 6:6 is fine, but one of 12 from 1:11 is more concerning as it shows the hips are imbalanced and one is far worse than the other.
What Do Parental Hip Scores Mean For Puppies?
Hip scoring is all about playing the genetic odds. If your puppy's parents both have good quality hips, then they are more likely to have good hips themselves. You should only buy a Labrador puppy who has two hip scored parents, whose scores are both below the breed mean and fairly evenly balanced on each side.
The Labrador Site Founder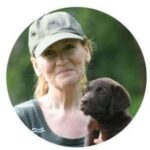 Pippa Mattinson is the best selling author of The Happy Puppy Handbook, the Labrador Handbook, Choosing The Perfect Puppy, and Total Recall.
She is also the founder of the Gundog Trust and the Dogsnet Online Training Program 
Pippa's online training courses were launched in 2019 and you can find the latest course dates on the Dogsnet website