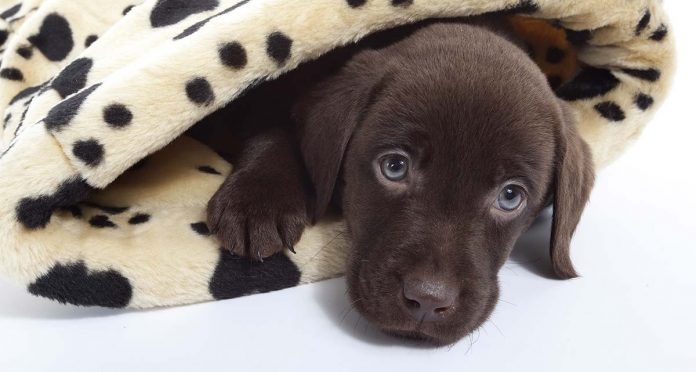 The first thing many of us want to buy for our new puppy is a bed. There is so much choice when it comes to Labrador puppy beds. Round ones, square ones, squashy ones.  Beds lined with faux fur, tartans and checks.  Washable, spongeable, hose able, even waterproof beds. Beds with legs, beds with sides, orthopaedic beds, baskets and blankets to put in them. Where do you begin? Perhaps the very first thing we need to consider, is what puppies do to beds.
What puppies do to beds
Puppies generally, are not kind to their beds.  They chew them, have 'accidents' on them, pull out any stuffing, and rip up the covers. "What about chew proof beds?"  you say. Unfortunately there is no such thing as a completely 'chew proof' bed, as the only thing a healthy medium sized adult dog can't chew, is made from material you would not want to sleep on.
There are some pretty tough fabric beds that will resist modest attempts at chewing. But nothing will stop a really determined puppy from working his teeth through the strongest bed, given the time, and the inclination.
Before you dash to your keyboard, to protest that you know of a puppy whose bed was not consigned to the dustbin within a week, I should say, that not all puppies destroy their beds. Some puppies curl up in a tousled heap of puppy gorgeousness surrounded by lovely cushions and soft toys, and never chew a single one. These puppies are rare!
Chew toys for puppies
Giving your puppy plenty of chew toys may help reduce the risk of your puppy devouring his bed, but most puppies still chew their beds, even if given all the right toys. It's just what puppies do. So it makes sense not to spend too much on a puppy bed to begin with
Puppies swallowing bedding
Some puppies unfortunately rip up and actually swallow any kind of bedding. Many times, things that puppies swallow just pass through. But swallowing bedding can cause problems for the puppy if the swallowed pieces get trapped in his digestive system. If your puppy is chewing up his bedding, you need to watch him carefully.  Most puppies will spit the bits out, but if your puppy swallows them, you need to take the bedding away.
If you think he has swallowed quite a lot, phone your vet who will advise you on symptoms to watch out for.  Contact your vet urgently if your puppy stops eating, seems unwell, or is unable to empty his bowels. If you have one of the few puppies that eats any kind of bedding then you'll need to improvise a safe sleeping surface, with tough matting or wood that fits tightly in the crate so he cannot get at the edges. Happily these puppies are quite rare too.
Shopping for puppy beds
The fact that your puppy will probably damage his first bed,  is something you need to consider before you head off to your local pet supermarket, or start browsing the online stores.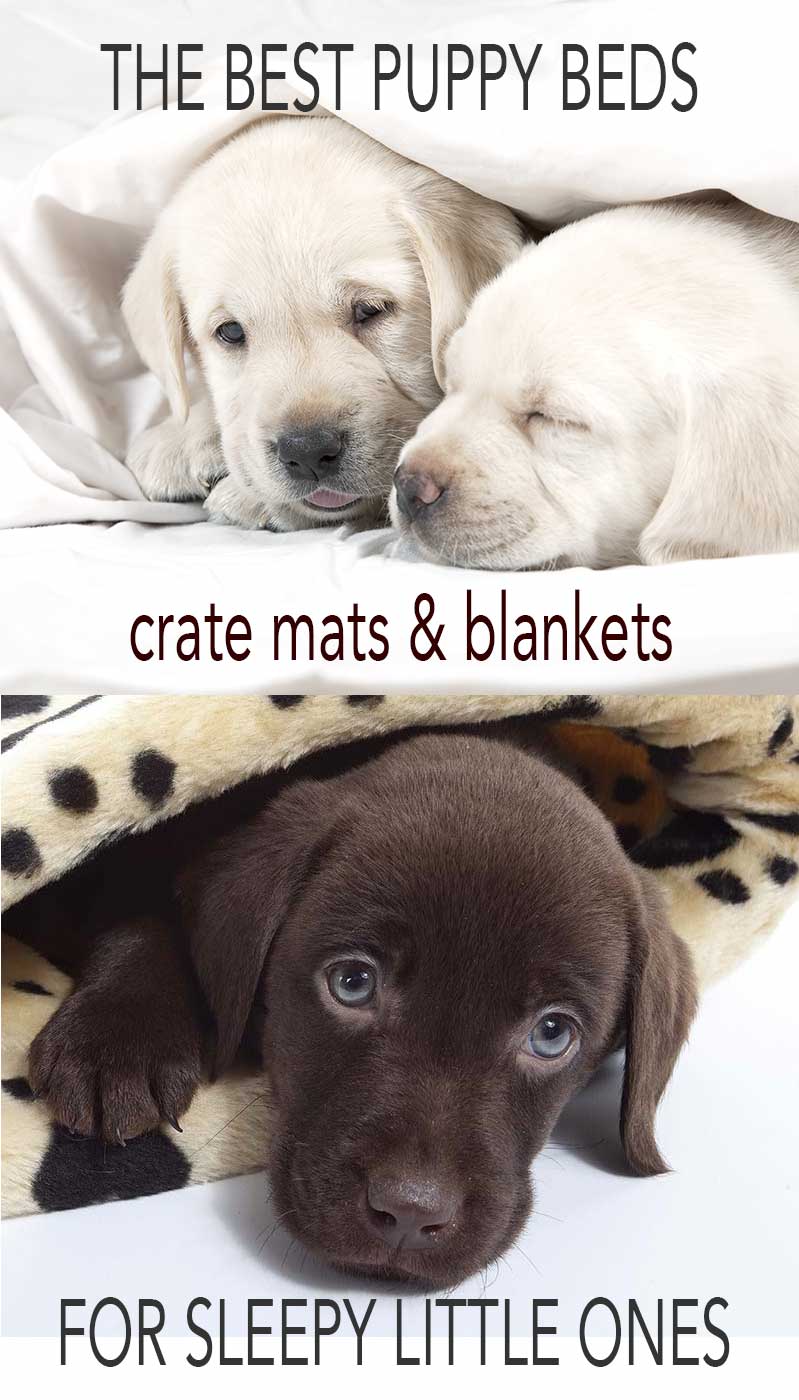 The less edges the bedding has, the less likely the puppy is to rip it up.   And some bedding seems to be less appealing to the puppy to chew.
Although these often look the most tempting, on the whole it is best to avoid deeply and loosely padded cushions with lots of stuffing. Or at least to save them for parts of the house where the puppy will be closely supervised. And probably sensible to wait for a few months before purchasing anything too expensive for your puppy to sleep on. Especially when it comes to crate bedding that he is left alone with during the night.
There are four types of bedding to consider for your new puppy.
Small versions of adult dog beds
Puppy blankets
Puppy crate mats
Vet bedding for puppies
Small Dog Beds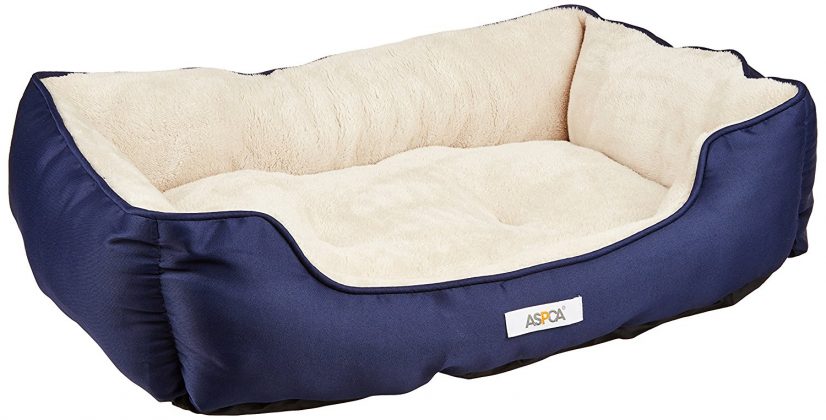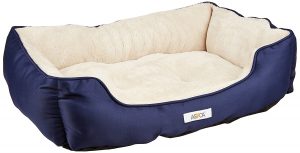 If your puppy doesn't rip up his bed, or for places where he is supervised, we recommend a fleecy lined bed with raised sides. Like this one from the ASPCA . We also like the cozy 'donut' style beds for puppies. Puppies can really snuggle into these.
Puppy Blankets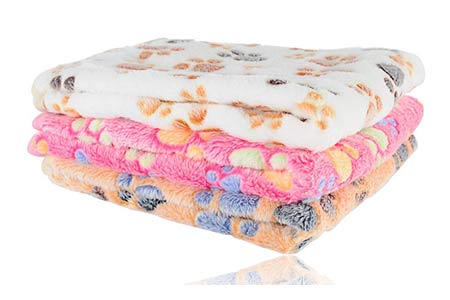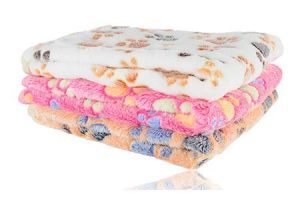 You can make your own perfectly serviceable puppy bedding from old towels or blankets,  cut or fold to fit your crate. Or you can buy pretty puppy blankets which are soft and easy to clean. If you are using old blankets,  it is a good idea to cut these into sections that will fit easily in the washing machine.
Old baby blankets are ideal as they are always machine washable and usually tumble dry too. If you don't have any old blankets, you can often get them very cheaply from charity shops. The downside of blankets and towels is that many puppies love to chew them,  they tend to trap hair, and you'll need several layers to make a nice cosy surface.
Puppy crate mats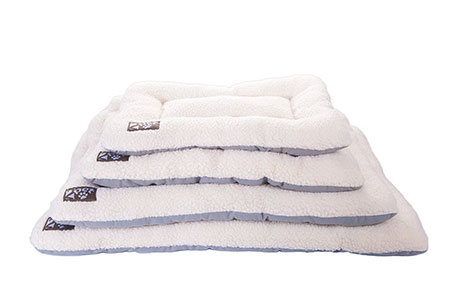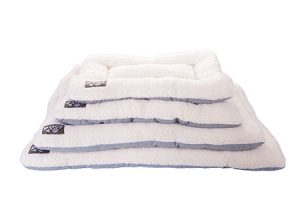 Puppy crate mats are specifically designed to fit standard crate sizes.
They are reasonably priced and because they fit the crate without stray edges flapping about, they may be less likely to be chewed than blankets or cushions.
Crate mats are not too bulky, and fit in the washing machine.   And don't have a huge amount of stuffing, which may be some comfort is your puppy decides to disassemble his. You will need two mats, so that you have a replacement ready when one is being washed.
Vet bedding for puppies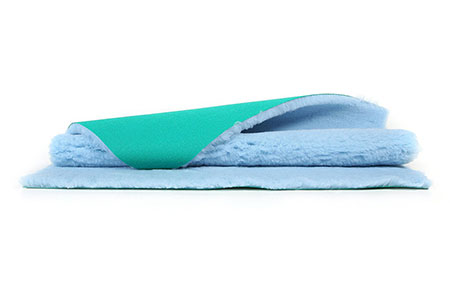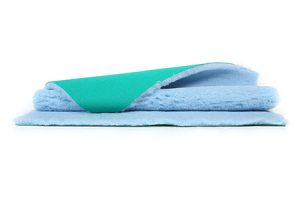 Veterinary bedding makes great puppy bedding.
It is made from an artificial fleece fabric. It is washable, tumble dry able, and very hard wearing. It is the ultimate puppy sleeping surface.   And most puppies don't seem to chew it with any enthusiasm. It may not look quite as cosy as that snuggly cushion, but it will still be soft and snuggly, long after a cushion has lost its 'bounce'.
Vet bed has a stiffish backing, and very large pieces can be awkward to fit in the washing machine.  But you can overlap two smaller pieces in a larger crate, and it softens with repeated washing.
You can buy vet bed on a roll, or ready cut to fit your crate or basket.  Many puppies will have been whelped and raised on vet bed, so your puppy will feel nicely at home. All my puppies and older dogs sleep on vet bed.  I think it is a marvellous invention,  and I wouldn't be without it.
What about you?
What is your favourite puppy bedding? Let us know in the comments below, or join the forum to chat about your new puppy.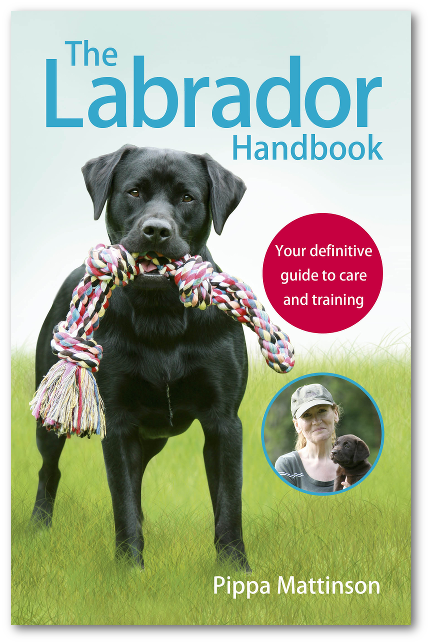 More information on puppies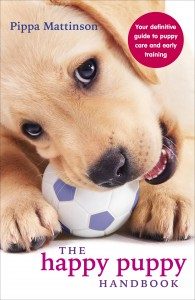 For a complete guide to raising a healthy and happy puppy don't miss The Happy Puppy Handbook. The Happy Puppy Handbook covers every aspect of life with a small puppy.
The book will help you prepare your home for the new arrival, and get your puppy off to a great start with potty training, socialisation and early obedience. The Happy Puppy Handbook is available worldwide.
The Labrador Site Founder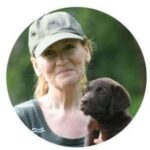 Pippa Mattinson is the best selling author of The Happy Puppy Handbook, the Labrador Handbook, Choosing The Perfect Puppy, and Total Recall.
She is also the founder of the Gundog Trust and the Dogsnet Online Training Program 
Pippa's online training courses were launched in 2019 and you can find the latest course dates on the Dogsnet website