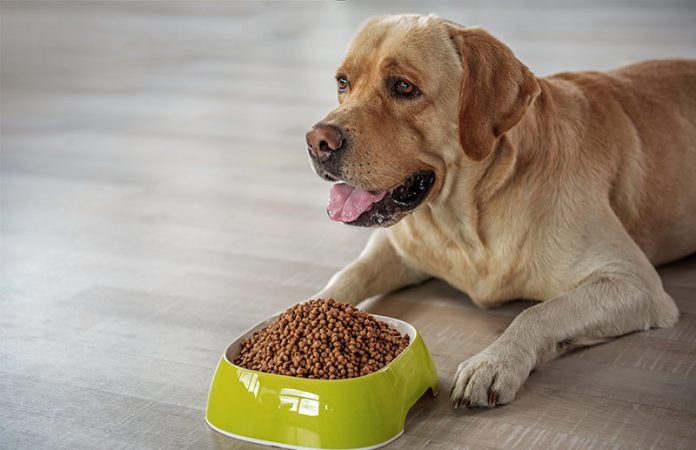 Looking For The Best Dog Food For Skin Allergies? Then Look No Further!
We Have Done The Research For You. Giving You Top Choices And Detailed Reviews Of The Best Dog Food For Skin Allergies Around
We all want our pets to be healthy, but sometimes this is easier said than done.
It's very upsetting when your dog has skin allergies. And you understandably want to do everything you can to help.
One of the ways you can assist is by using the best dog food for skin allergies.
In a hurry? Check out our top selection here:
BEST DOG
FOOD FOR
SKIN ALLERGIES
BENEFITS
OUR RATING
Hill's Science Diet
Sensitive Stomach & Skin Recipe,
Omega Fatty Acids, Dry Dog Food
Blue Basics
Limited Ingredient, Grain Free,
Omega Fatty Acids, Wet Dog Food
AvoDerm
For Healthy Skin & Coat,
With Omega Rich Avocado
Blue Wilderness
Grain Free, Alligator & Catfish Blend,
No Chicken, Wet Canned Dog Food
Taste of the Wild
Grain Free, Bison & Venison,
Dry Dog Food
Blue Freedom
Grain & Gluten Free, High Protein
Dry Dog Food
You can find out much more about these products in the reviews below, along with plenty of other options too.
Skin allergies in dogs
Allergies in dogs are a real issue and can appear for a number of reasons.
The allergen, the thing that causes the allergy, can vary.
It can be something they eat, something they breathe in, or something that comes into direct contact with their skin.
Allergic reactions, regardless of cause, are often most noticeable in the skin.
Your dog may have bald patches from scratching, or be visibly sore.
Whatever the type of allergic reaction, food can play an important role.
Fortunately, numerous types of dog food for dogs with skin allergies exist.
Best dog food for skin allergies
It's always best to let your vet know if your dog is experiencing skin allergies.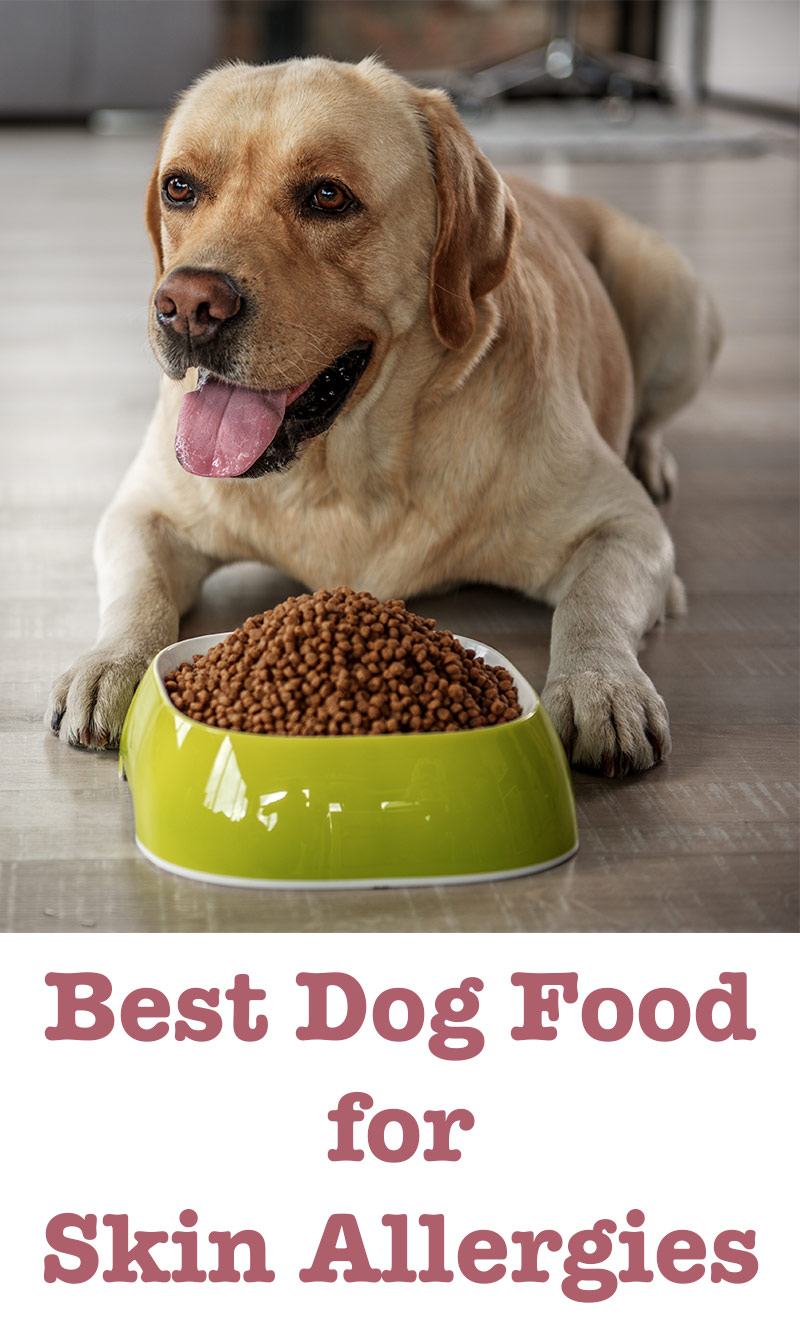 Allergies in dogs haven't been the subject of as many studies as human allergies, but it seems they may be just as varied as ours.
Your vet is the best person to talk to because they will be able to test your dog. Hopefully finding out just what he is allergic to.
That way you can help him avoid it.
Because of course, the best way to prevent allergic reactions is to prevent exposure to allergens.
The best dog food for skin allergies related to food is therefore one that doesn't include this food.
Grain allergies, for example, are very common and easily treated with grain free food.
Sadly it's not always this easy, as sometimes your dog is allergic to things it just can't avoid.
Pollen and dust allergies aren't solely human phenomena.
For a severely allergic dog a vet might prescribe antihistamines, but most of the time a change in diet can provide significant relief.
So, what is the best dog food for dogs with skin allergies?
Fatty acids like omega 3 and 6 have been proven to have a significant effect on skin allergy symptoms.
By helping your dog to maintain healthy skin the chance of a secondary infection is significantly reduced.
In fact, these nutrients are often present in prescription dog food for skin allergies.
Best grain free dog food for skin allergies
Grain intolerances are common in dogs, and they often manifest in the skin.
Like us, dogs may break out in a rash after consuming a food they're allergic to, although often it's not as easy to spot.
We've put together a list of grain free dog foods to try with your dog!
Nutro Max Grain free natural adult dry dog food
Nutro Max grain free dog food could be your sensitive pooch's new dinner!
The most plentiful ingredient is chicken, bringing this closer to your dogs' ancestors' diets than some available kibbles.
This food also comes packed with numerous vitamins and minerals, advertised on the front of the pack.
The third most abundant ingredient is chicken fat, which is a great source of omega 3 and 6 fatty acids.
So this food should remove the cause of your dog's grain allergy, and help their skin to repair.
To top it off the reviews are really positive, so this seems like a great one to try.
Buy Nutro Max Grain Free on Amazon here.
Taste of the wild, canine formula
Our next food rather grandiosely claims to offer a 'taste sensation like no other'. Let's see how Taste of the Wild checks out.
This food offers some real variety.
The three most abundant ingredients are buffalo, lamb meal, and chicken meal, and the food goes on to include three more meat products.
This seems to have done mainly to bolster taste, and whether your dog appreciates it depends on her!
It's a grain free food, so it's hypoallergenic for dogs with grain allergies.
The high meat content is also very in line with what our dogs ancestors would have eaten in the wild. The meats in question will contain omega 3 and 6, but not as much as fat alone.
This being said, just removing the grain will do a lot for an allergic dogs skin.
Buy Taste of the Wild on Amazon here.
Blue buffalo freedom grain free dog food
Continuing on the grain free theme we have this enormously popular dog food from the Blue Buffalo Company.
By feeding your dog this grain free Blue Buffalo dog food, skin allergies could be a thing of the past.
There's no grain and the two main ingredients by volume are meat.
The reviews speak for themselves; this one's a safe bet for any grain intolerant dog.
The Honest Kitchen Human Grade Dehydrated Grain Free Dog food
The next dog food is from Honest Kitchen. This food uses human grade ingredients, for some extra peace of mind about what you're feeding your pooch.
This food carries the same grain free benefits as the other two.
It's a dehydrated food so you'll need to add water before feeding. This does, however, mean it'll take up less space in your kitchen.
There's no great source of fatty acids in this one, but as we've said once the allergen is removed there may be less need.
The reviews are generally good, so if you're looking for a new food this one could be worth a try.
Buy The Honest Kitchen dog food on Amazon here.
Let's move away from dogs that are allergic to grain, and to some more general allergies and how food can help treat them.
Best dry dog food for skin allergies
Sometimes whatever it is that's causing your dogs dermatitis is unavoidable.
A dog with pollen allergies or dust allergies might not be able to get away from these two things.
With this in mind, the next three examples of dry dog food for skin allergies will help your dogs skin to defend against nasty reactions and subsequent infections.
Avoderm Natural Dog food
Avoderm Natural Dog Food contains one ingredient you might not expect to find in dog food: the avocado.
It might sound weird, but the reasoning is sound. Avocados are rich in Omega fatty acids, which as we've mentioned have real benefits for your dogs skin.
Avocado oil is particularly rich in these nutrients.
Other than this the food is pretty standard. The main ingredient is meat, which is great news.
The reviews are stellar so it's definitely worth seeing what your dog thinks.
Buy Avoderm Natural dog food on Amazon here.
Hill's Science diet sensitive stomach and skin dog food
Our next dry food is from the well established Hills' Science diet range.
This food is specifically formulated for dogs with sensitive stomachs and skin. It claims to be easily digestible, and the good proportions of omega 6 should help your dogs skin ailments.
By feeding your dog Hill's Science Diet dog food, skin allergies symptoms could be significantly reduced.
Purina One Smartblend Lamb and rice formula dry dog food
Purina are a well known and established company when it comes to food for all pets. The formula for this food isn't as off-the-wall as Avoderm, but should still have similar benefits.
The main ingredient is meat, which is really important. This food does however contain grains, so it won't be healthy for a dog allergic to them.
This food does have additional omega fatty acids, though.
This means dogs allergic to other things may find some relief for their symptoms.
The reviews are pretty great, so as long as your dog isn't allergic to grain, give this one a try!
Buy Purina One Smartblend from Amazon here.
Purina One Smartblend 7+
Purina also has a version of the food specifically for senior dogs!
This food is for older dogs (Aged 7+) and formulated around their needs.
It still features the benefits of a fatty acid rich diet, however, and should work just as the regular smart blend.
Wet dog food for skin allergies
In the wild, dogs, and their ancestors, wolves, subsist almost entirely on raw meat. Raw feeding comes the closest to providing dogs with their natural diet.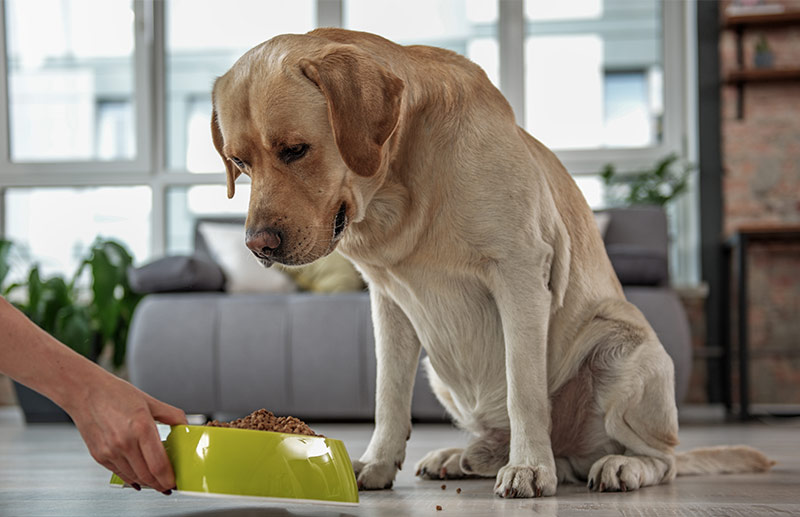 We'll talk more about raw feeding later, but it's just not convenient for a lot of people.
Raw meat spoils quickly and takes up space in fridges and freezers that you'd probably rather was used for human food.
For similar high protein diets, wet food can be a great alternative. Canned food usually contains more meat, and therefore more fat.
This is important, as this is where the skin-healthy omega fatty acids are found.
Blue Wilderness High protein grain free
Blue Wilderness' Grain free wet dog food would be great for any dog with a wheat allergy, or any dog with skin allergies.
As we'd expect from a high protein canned dog food, there's no grain. Added flaxseed also bolsters the quantity of omega fatty acids in your dogs diet.
There's also no soy, another common allergen in some dogs.
Most of the reviewers say their dogs love this food! Why not give it a shot?
Buy Blue Wilderness on Amazon here.
Avoderm Natural formula Wet food
We mentioned Avoderm earlier, but their unique formula isn't just available as a dry food.
With the same omega-rich avocado oil, it could really help your dogs skin.
In fact, some of the reviews specifically mention how this helped their dog's dermatitis!
So this seems like a great dog food to help skin allergies.
Blue Basics Limited Ingredient Diet Grain Free Wet Dog Food
Blue basics grain free wet dog food looks great too!
This grain free food is already great for dogs allergic to wheat, but could be beneficial to other dogs with skin troubles.
This food supplies an increased supplement of fatty acids, due to the inclusion of omega-rich fish oil.
It gets great reviews, lots of which are from dog owners treating skin allergies!
Buy Blue Basics Limited Ingredient diet from Amazon here.
But for now, let's move on to raw food, what some say is the best dog food for skin allergies.
Raw dog food skin allergies
Raw feeding diets are the closest to what dogs' wild ancestors would have eaten.
The high fat content of an all meat diet also means these diets are naturally rich in fatty acids.
But, as we've mentioned, raw diets can be quite tricky.
There are some products available that might make it easier however.
Freeze drying gives meat a much longer shelf life than it would otherwise have.
TruDog
Our first raw food is from TruDog. Promising 99% meat, vital organs and meaty bone, it looks great!
All you have to do with this food is add water. The ingredients are worthy of a grey wolf, so hopefully your dog will love them.
Northwest Naturals
Next up is Northwest Naturals' raw diet for dogs.
This food is 80% raw freeze dried meat, which is a great ratio. The reviewers loved this one and mentioned how convenient it was for a dog owner on the go.
Ziwipeak
It is important to point out that although raw food should have an excellent fatty acid ratio, freeze drying can reduce the quantity present. Ziwipeak's Air dried dog cuisine sidesteps the problem by air-drying their food.
The food in question is almost entirely fresh lamb, a real treat for your pooch. It's a little pricey, but the reviewers say their dogs go nuts for it!
Best dog food for skin allergies
The best food for skin allergies can depend on what he's allergic to.
An easily remedied food allergy will require a different course of action to skin allergy caused by, let's say, pollen.
A good dog food for skin allergies may be able to strike right at the source, but will always relieve the symptoms via nutrients like fatty acids.
Whatever the cause of your dogs ailments, there is the best dog food for skin allergies affecting her is out there.
Hopefully this article helped you find just that!
References