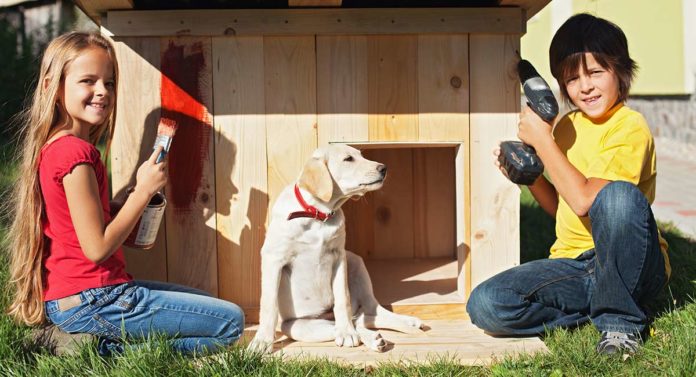 Are you looking for the best heated dog house? You've come to the right place!
Keeping your furry friend outdoors may suit both you and your pet perfectly but what do you do when the weather turns cold and the winter chill begins to bite? An outdoor heated dog kennel could provide the perfect solution to keep your furry friend cozy when the mercury plummets!
In this article, we'll look at outdoor heated dog houses and discuss ways of controlling the temperature inside. We'll review the very best heated dog houses that you can buy online. And we've included convenient clickable links to each product so you can read other buyer reviews before you go ahead and purchase the best heated dog house for your pooch.
All of these products were carefully and independently selected by the Labrador Site team. If you decide to make a purchase from one of the links marked by an asterisk, we may earn a small commission on that sale. This is at no extra cost to you.
Why Use a Heated Dog House?
Does your dog live in the house with you, or prefer to stay outside in the yard 24/7? Many dog owners find it more convenient to keep their pets outside for all or part of the day. If you work during the daytime, your dog may prefer to be allowed the freedom to roam around your garden. Fresh air and exercise are good for your pet, and neither of you will have to stress over "accidents" that may occur in the house if your pet is caught short while you're not home!
In rural areas where livestock is at risk from predators or thieves, a dog who lives outside at night can provide a valuable early warning system. But what about protection from the wind and weather for your pooch? A dog house allows your pet to take shelter from cold, heat, and rain whenever they need to. Moreover, it provides a comfy place for them to rest after a vigorous game or a hectic morning of squirrel chasing!
Why Buy a Heated Dog House?
Ordinarily, your dog's body heat and a suitable choice of bedding material is sufficient to keep the dog house cozy. However, if you live in an area that experiences r particularly cold winters, your dog's house may need a little extra heating to keep the temperature up.
A sufficiently insulated, heated dog house or heated dog kennel for winter is especially important for senior dogs whose general health is not what it used to be. The same applies to dogs who are sick or recovering from an illness and a heated dog house is also recommended for whelping.
Heated Dog House Construction
Before we talk about heating dog houses, let's look at a few salient points when it comes to dog house construction. Although the cement floor beneath the dog house is perfect for keeping your pet cool in the summer, it will be bitterly cold in the winter. Either build the dog house on top of a wooden pallet or choose a dog house with an insulated wood floor to keep chills out.
Even a small heated dog house must be large enough to allow your dog to turn around and stretch out comfortably. However, a heated dog house for large dogs should not be so big that their body heat escapes, making the house cold and drafty. The floor, roof, and walls of the dog house should be insulated and the doorway should be covered with a flap of carpet or clear vinyl to keep out drafts, wind, and rain.
Wood, Metal, or Plastic Dog House?
The first basic decision to make when buying or building a heated dog house is whether to choose wood, metal, or plastic. Plastic dog houses are lighter and cheaper than wooden ones. They're easy to keep clean and they don't have nooks and crannies where fleas and ticks could lurk.
Wooden dog houses are generally more substantial than plastic ones. They will also be more robust and stable and offer your pet greater protection against the elements. Wood is also a better insulator than plastic, so your dog is more likely to stay warm without overheating. Choose a cedar wood dog house to keep ticks and fleas away—they hate the smell of the cedar oil!
Metal dog houses or dog boxes are more often used to provide temporary accommodation at dog shows and events. Metal houses are not ideal since they can be very cold in winter and too hot in the summer. But they can still be used provided you add insulation.
Ventilation for Your Heated Dog House
It's essential that your dog house has adequate ventilation so that the interior doesn't get too hot in the summer. Poor ventilation during the winter can lead to moisture build-up from your dog's breathing. Condensation on the inside of the dog house can create an unpleasant, damp environment that could result in health problems for your pet.
Dog houses usually have a few small holes near the top of the house or slatted openings for venting warm air as it rises to the roof of the house. Beware of dog houses with very large louver-type flaps, as these may allow too much heat to escape during the winter, leaving your pup shivering!
Ways of Heating a Dog House
The cheapest and simplest way of creating a heated dog house is to use a heated kennel mat or pad. Simply place the mat on the floor of the house and plug it into a mains power outlet or generator. The electrical cord that powers the mat should have a metal safety coil around it. But if your dog is a confirmed chewer, this may not be the best option.
Alternatively, you could place the mat underneath the floor of the dog house, well away from Fido's teeth! This is fine, as long as the mat and electric connections don't get wet.
A dog house heater box is a metal box containing a ceramic emitter or light bulb*.
The box is then mounted in an upper corner of the dog house, switched on, and hey presto, your pup has their own central heating! If you're handy at DIY, you could even make one of these yourself.
If you have a more generous budget, you may want to consider installing a stand-alone heater/air conditioning unit to create both a heated and cooled dog house. The unit sits outside the dog house and acts as a heater, A/C unit, and dehumidifier all-in-one, similar to those fitted to your own home.
Best Heated Dog Houses
Now let's look at some of the best heated dog houses and related products on the market. Just click on the links provided to view the full product details, check out reviews, and make a purchase!
Heated dog houses
The ASL Solutions Deluxe Insulated Dog Palace* is made from molded plastic. Each panel is filled with expanded polystyrene (ESP) foam to provide superior quality insulation.
The dog house is heated via a 100-Watt light bulb, providing a cozy internal temperature of 700°F, while outside it's a chilly 400°F. Without the floor heater, the dog's body heat will raise the interior temperature of the palace by 250°F. This means that on cool summer nights or fresh fall days, your dog will still stay nice and warm inside his house. The palace has a neat self-closing style door, keeping drafts and rain out while your pet stays warm inside.
Wooden Heated Dog House
This large heated wooden dog house* has a raised floor and slanted roof design to help keep your dog warm and dry.
The entrance door is offset so that your dog can turn around easily once inside the dog house and also provides increased shelter from rain and snow. The wall-mounted heater is automatically temperature controlled, so you can decide what temperature is best for your dog and for the weather conditions. The heater cable is protected by a wire-wrapped, heavy-duty cover to deter chewing. The dog house is built from pine and stained with cedar finish so that it looks good in your garden.
Extra Large Wooden Heated Dog House
The B&G wooden extra-large heated dog house* is roomy enough to accommodate one very large breed pooch or two large pups.
To change the duplex to a single occupancy dwelling, simply remove the partition inside! The solid wood construction is designed to withstand the harshest of elements during the winter, but also provides welcome shade during hot spells. The roof and floor panels can be removable, making it quick and easy to clean the dog house.
The Hound Heater provides a source of warmth for your dog's house and has a wire-wrapped, heavy-duty grounded cord. The cord is chew-proof, and at 8 feet in length is plenty long enough to reach a power source without placing undue tension on the cable. The slanting roof helps to deflect water away from the entrance, helping to keep your dog warm and dry.
Dog House Heaters
If you already have an outdoor dog house, you could upgrade it to a heated one by investing in an external heater. The Hound Heater Deluxe Dog House Furnace* is perfect for heating a dog house of up to 75 cubic feet, but can also be used safely on smaller outside dog kennels and igloo designs.
The power cord to the 16-gauge powder coated steel unit is chew-resistant and designed to resist strain. The fully adjustable thermostat can be set from 300F to 1000F, keeping your electricity bills down by only running when needed. The unit comes with a one-year limited warranty. Nearly 80% of those who purchased this product through Amazon gave it over 4.5 stars.
Outdoor Heated Mats for Dog Houses
Buying a whole new heated dog house is an expensive undertaking. If you have a modest budget, you could still make sure that your pup stays warm as toast by buying a heated mat to use in your existing dog house. The Lectro-Soft orthopedic mat* is designed for use indoors and out.
The orthopedic foam is easy on your pet's joints and the thermostatically controlled heater makes sure he stays toasty warm. The bed is made from waterproof PVC for easy wipe-down cleaning and the power cord measuring 5.5 feet is steel-wrapped so there's no danger of electric shock. In addition, the thermostat ensures that the bed never exceeds your dog's body temperature so there's no danger of overheating.
Outdoor Heated Dog House
The Lectro-Soft outdoor heated pet dog is highly recommended by 90% of Amazon reviewers, being awarded an impressive 4.5 stars plus. If you want to create an extra-large heated dog house, this heated pet mat from Farm Innovators* may be perfect for your needs.
The mat measures 24 x 29 inches, is made from durable, rigid, high-impact ABS plastic, and will comfortably accommodate the largest of hounds. And last a lifetime too. A free faux lambskin cover is included for extra snuggly comfort!
The 100-watt mat is thermostatically controlled and is designed to heat-up to your dog's body temperature. A useful red indicator light tells you when the unit is working. The power cord is protected by a heavy-duty anti-chew protector. This matt comes highly recommended and is given 4.5 stars plus by 75% of Amazon reviewers who had purchased one for their dog.
Measuring 32 inches x 48 inches, the K&H self-warming dog bed* is perfect for use in an extra-large dog house where you don't have access to a power source.
Or if your dog is a confirmed chewer and it's not safe to have a power cable in the kennel. The self-warming pad works by capturing your dog's body heat and radiating it back to the source. The corners of the pad have slits to allow for a perfect fit, keeping drafts out. The pad itself is made from soft, warm microfleece on the top and has a non-slip material on the bottom so that the pad doesn't slide around as your pet moves.
The whole pad is machine washable for easy cleaning. 85% of Amazon reviewers loved the pad and gave it over 4.5 stars.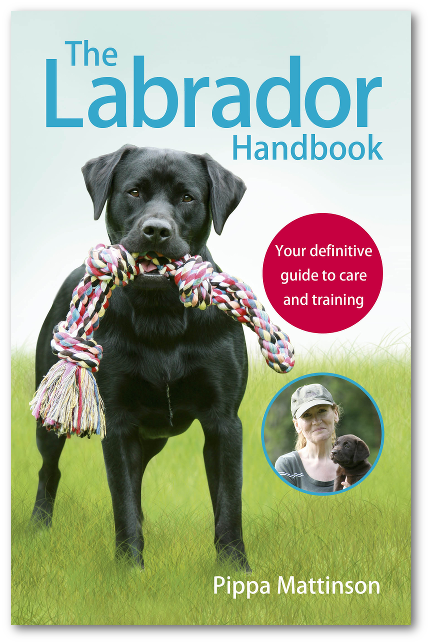 Best Heated Dog Houses
If your dog lives outside all year round, you'll want to keep them warm and snug during the cooler months of the year. The ideal way to achieve this is by providing them with a heated dog house. You can choose a purpose-built heated dog house that comes with built-in heating or you can customize an existing dog house by adding a heat lamp or heated pad.
Does your dog live outside? How do you make sure he stays nice and toasty when the temperature drops? We'd also love to know if you bought one of our recommended products and if so, how did it perform? Let us know in the comments.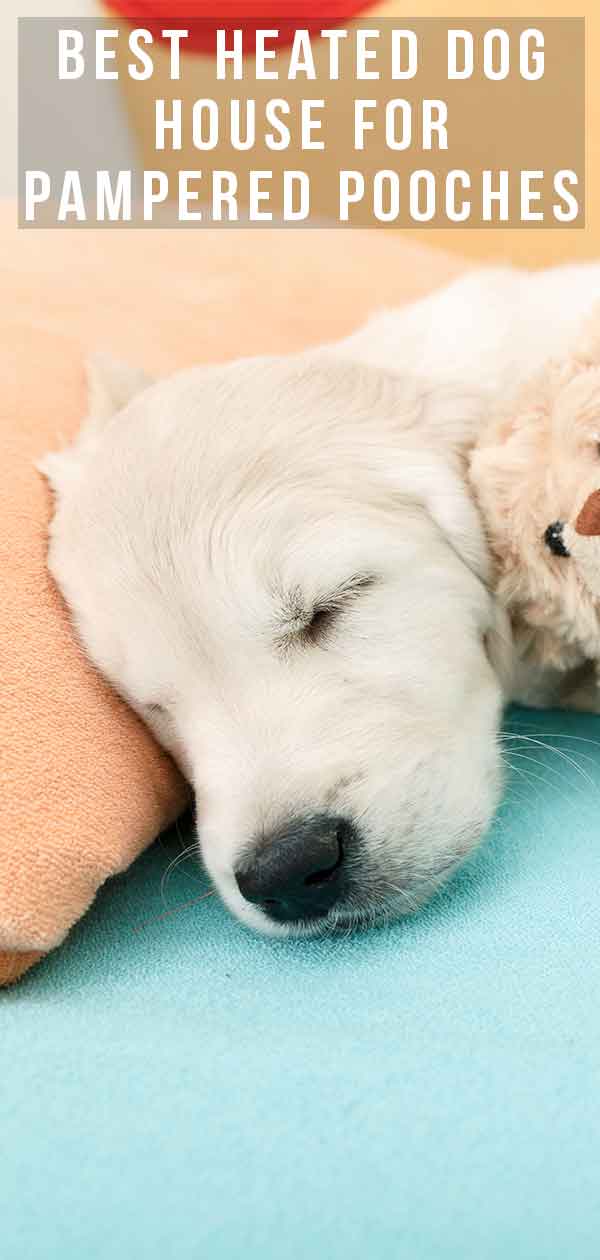 Affiliate link disclosure: Links in this article marked with an * are affiliate links, and we may receive a small commission if you purchase these products. However, we selected them for inclusion independently, and all of the views expressed in this article are our own.
The Labrador Site Founder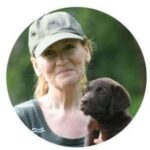 Pippa Mattinson is the best selling author of The Happy Puppy Handbook, the Labrador Handbook, Choosing The Perfect Puppy, and Total Recall.
She is also the founder of the Gundog Trust and the Dogsnet Online Training Program 
Pippa's online training courses were launched in 2019 and you can find the latest course dates on the Dogsnet website