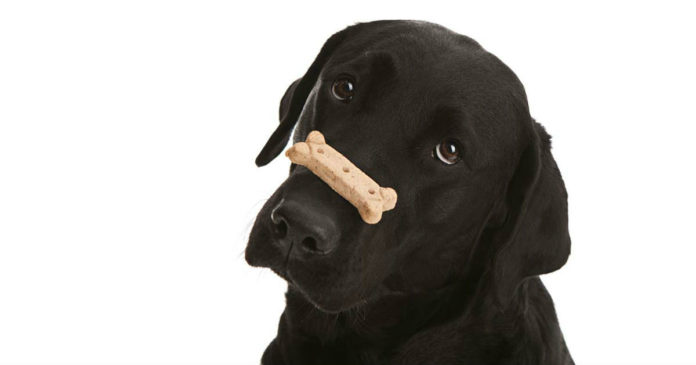 Who doesn't love treating their dog to a tasty and delicious treat?
Dog biscuits as we know them, a dry, baked, sometimes flat and bone-shaped treat, have been around for only a few hundred years.
The term "dog bread" has been around for a very long while, as far back as the ancient Romans.
However, "dog bread" was usually a slang term to refer to poor quality or old bread that was only "fit for dogs."
The idea of a quality treat made and sold specifically to be consumed by our canine companions is a relatively new concept.
Since the modern dog biscuit's invention, the product has changed quite a lot.
Today a dog owner has a massive selection of biscuits, bites, bones, chews, jerky and other treats to choose from.
The Pros of Dog Biscuits
The first and most obvious pro of giving your pup a biscuit is that it is a treat and a reward to share with your pet.
However, the use of a treat or biscuit goes beyond a simple tasty reward.
Small treats are a staple tool for dog and puppy training. A pocket full of treats is a common scene with professional trainers.
Along with an incentive to learn and behave, dog biscuits can have nutritional and even medical benefits.
A wide variety of functional dog treats on the market allow dog owners an absolutely massive selection to supplement their pup's diet.
Treats with supplements or extra nutritional benefits tout their wares to help with everything from joint pain to skin and coat care to dental hygiene.
If you are concerned about your pup's health and think that a supplemental treat could benefit them, talk to your veterinarian.
Most veterinarians recognize the benefits of additional supplements for dogs, and many have brands or formulas to recommend for your pup.
Always remember to consult with your veterinarian for anything health related. There is simply no substitute for professional medical advice.
The Cons of Dog Biscuits
Unfortunately, there are some downsides that can come with feeding your dog treats and dog biscuits.
Just like with the industry for treats for humans, lots of dog treats on the market can be considered "junk food."
Plenty of available dog treats are high calorie, low nutrition, and made from cheap, bulk ingredients from indeterminate origins.
Treats like this not only don't supplement your dog's nutrition, but can quickly contribute to obesity and other serious health issues in dogs.
Along with concerns for health benefits, or lack thereof, there is also a growing concern over the safety of manufactured dog treats.
Pet owners have had many scares in recent years over contaminated pet food, treats, toys and other items.
Food, treats or toys made overseas in facilities that have little to no regulations for safety or quality is one of the prime concerns for careful pet owners.
Additionally, the desire for safe, healthy and high-quality products has driven the market demand to swing the opposite direction.
Perhaps it's a passing fad, or a trend here to stay, but super high-quality organic dog treats are gaining popularity in the market as well.
Dog biscuits can be made with ingredients graded for human consumption, sweetened with honey and organic cane sugar, topped off with delicious sounding cinnamon, ginger, spirulina, pumpkin, coconut or even kale.
Thoughtful pet owners have to consider where the middle ground is for dog biscuits.
What products and brands are the best dog biscuits that deliver high-quality, healthy nutrition, and are designed and manufactured with the preferences and needs of the canine in mind?
We went ahead and did some research for you. We compiled a list of some popular and high-quality dog biscuits and dog treats.
This list is by no means complete, and we encourage you to explore on your own for a treat that is the best fit for you and your dog.
Nylabone: Healthy Edibles Dog Chew Treat Bones
An industry favorite for their famous chew bones, Nylabone offers more than just chew toys.
These edible chews are made in the U.S., and have no added sugar, salt, artificial preservatives or artificial colors.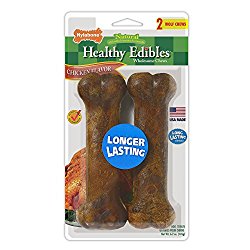 Long lasting, and with a variety of sizes and flavors to choose from, these chew treats are a top choice to many loyal customers.
Greenies Dental Dog Treats: Original Flavor
Greenies are another highly popular product in the dog chew treat industry.
The classic Greenie is a unique chew treat made from soluble, grain-free ingredients that deliver vitamins, minerals and nutrients.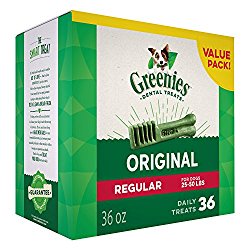 The chewy texture fights plaque, tartar and freshens your dog's breath all at the same time.
A wide variety of sizes, shapes, flavors and textures guarantees a perfect fit for your pup.
Along with chew treats, Greenies also offers a variety of "pill pocket" treats for sneaky administration of medication.
There are also several treat formulas with supplements to help with health issues such as hip and joint health.
Wellness Core: Pure Rewards Jerky Bites
Wellness Core makes all-natural, grain-free, real meat jerky treats with premium ingredients and no artificial colors or flavors.
Made in the U.S., Wellness Core offers a guarantee for quality of their ingredients and product.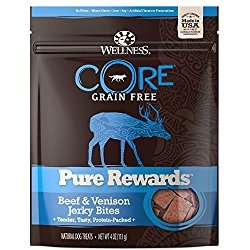 Four delicious flavors to choose from include beef, chicken and Lamb, beef and venison, and turkey.
Lastly, if the treats work well, Wellness Core offers a full line of dry and wet food with the same high-quality ingredients and guarantee.
Blue Wilderness: Trail Treats Wild Bites
Blue Wilderness is the treat line from the famous Blue Buffalo quality pet foods. They produce healthy dog biscuits along with wet and dry food, and other treats.
These treats are made in the U.S. from high-quality meat, potatoes and vegetables such as peas.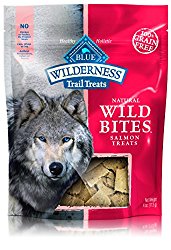 This makes them a great choice for dogs on gluten-free, grain-free, or raw food diets.
With no chicken or poultry byproducts, these treats are also ideal for pooches who are sensitive or allergic to chicken or poultry.
Along with being nutritious and delicious, they boast no artificial flavors, colors or preservatives.
Blue Wilderness: Trail Treats Grain Free Jerky Treats
If chicken and poultry aren't an issue for your pup, then these wholesome jerky treats are a great choice.
These treats are made in the U.S. and are corn, wheat and soy free.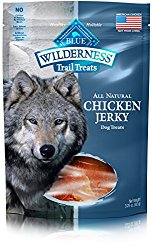 This makes them ideal for dogs on a grain-free or raw diet.
Blue Wilderness is a great choice if you want natural dog biscuits.
Zesty Paws: Glucosamine Hip and Joint Treats for Dogs with Arthritis Pain
These bite-sized chewables are a supplemental treat designed to help relieve the pain from arthritic joints.
These premium treats are formulated with several supplements, including glucosamine and chondroitin.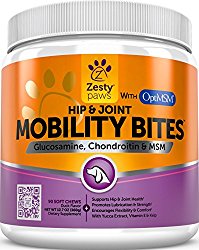 These are known to help reduce aches, pains, soreness and inflammation in arthritis and other joint-related issues.
Treats with these supplements are good for aging senior dogs, or breeds that are prone to joint and hip issues.
The health and wellness of your dog is important to Zesty Paws, so they manufacture their products in FDA registered facilities that are NSF and GMP certified in the U.S.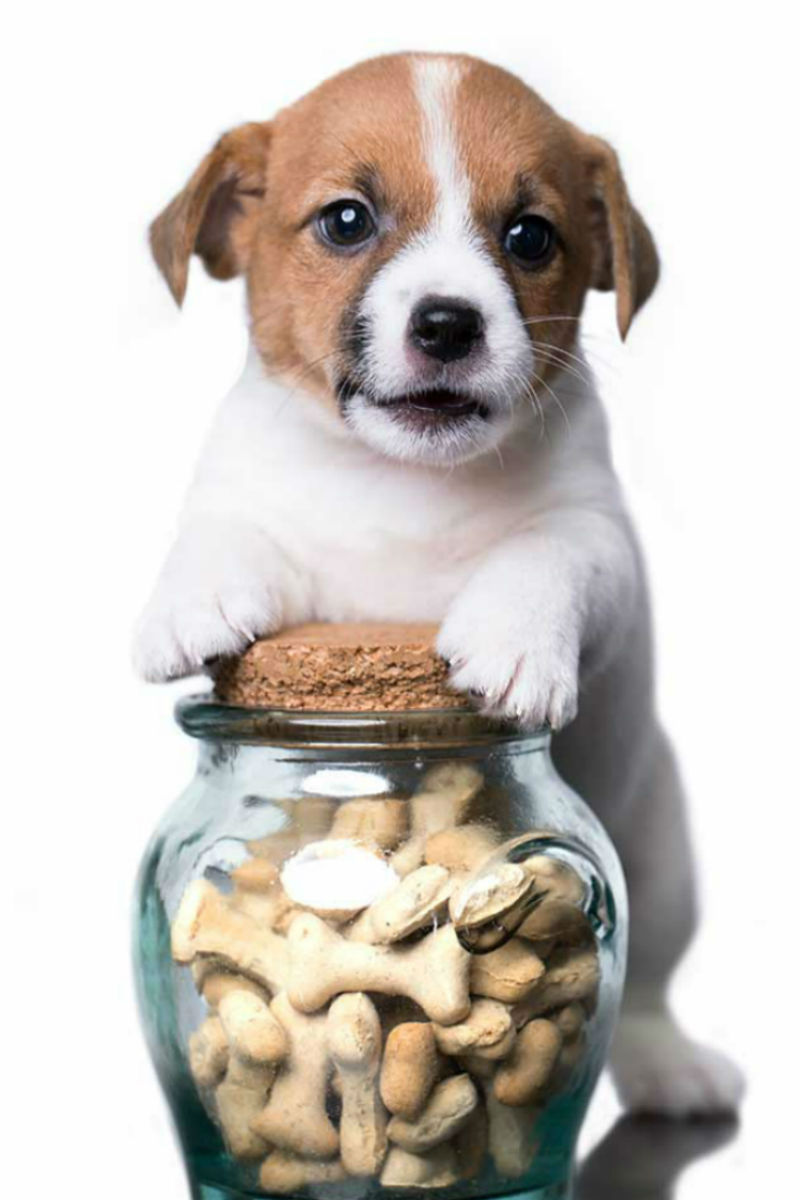 Old Mother Hubbard: Crunchy Classic Natural Dog Treats
If you're looking for natural dog biscuits, this brand has a devoted following of loyal customers.
Dog owners from all over report that pups with finicky tastes or sensitive tummies fall over themselves for these treats.
Old Mother Hubbard has been baking scrumptious products in Gloucester, Massachusetts since 1926.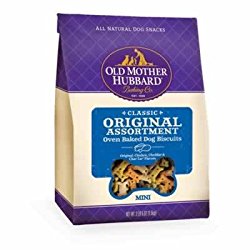 The original products were actually baked snacks for fishermen.
One day when a fisherman tossed his dog one of the treats, the pup gobbled it up and asked for more. The rest is history.

Crunchy and delicious, these bakers dog biscuits are packed with high-quality, all-natural ingredients with no artificial preservatives.
Old Mother Hubbard guarantees their products are made in North America with wholesome ingredients such as apples, carrots, sweet potatoes and oatmeal.
SmartBones: Rawhide-Free Dog Chews
SmartBones makes a chewy, tasty product that is an alternative for dogs with allergies or sensitivities to traditional rawhide treats.
Designed to be easily digestible, their chews are made from vegetables and real chicken, then enriched with vitamins and minerals.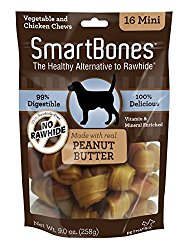 Available in several tasty flavors, including peanut butter, chicken and sweet potato.
Manufactured according to strict FDA guidelines, SmartBones developed their formula following the protocols established by the American Feed Control Officials (AAFCO).
Pro-Treat: Freeze Dried Training Treats
This training treat item is a single ingredient product made from 100 percent liver, which is sourced and produced in the U.S. Quality is assured.
There are no sneaky ingredients to wreak havoc on a pup with allergies or sensitivities.
Grain free, gluten free, and hormone free, Stewart Pro-Treat boasts a product with no preservatives, artificial colors or additives.
Flavors for liver include beef, pork, turkey, chicken, bison, duck, or and lamb.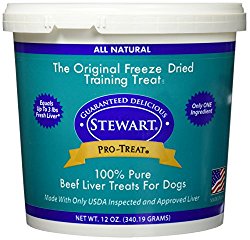 Also available are wild salmon and chicken breast, made with the same 100 percent pure and U.S. sourced promise.
A tamper evidence and resealable tub lends peace of mind that your pup's treats are safe as well as healthy.
Tubs come in several sizes, so buying bulk dog biscuits will be no problem.
Summary
Modern dog treats come in a wide range of sizes, flavors, styles and formulas.
Dog treats and biscuits are used for everything from a tasty reward during training to a staple, daily treat in a pup's diet.
Biscuits and treats can be used to deliver supplements for a dog to help with the aches and pains in joints, to promote healthy skin and coats, and to keep teeth clean and breath fresh.
Many dog owners have been concerned and careful lately with what dog biscuits they buy.
This is due to health scares and manufacturer recalls of contaminated or poor quality items.
We have learned that with careful research, there are still lots of high quality and yummy treats available.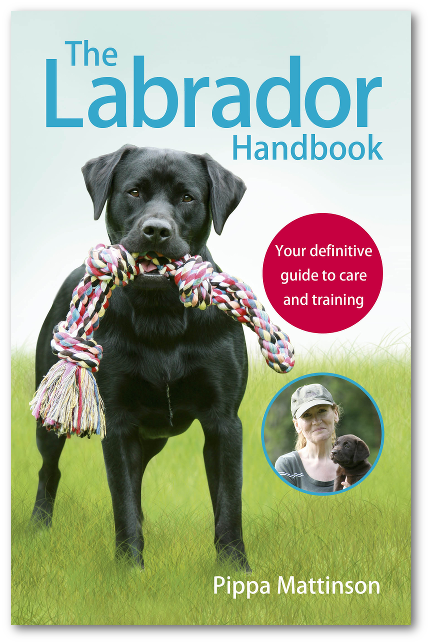 Choice dog biscuits can be found offering everything from meat-based dental chews to gentle digestion gluten and grain-free cookies.
Every dog owner can agree that their canine friends and family members deserve nothing but the best.
A tasty, healthy and safe biscuit is an excellent way to show them our love.
Do you have a favorite biscuit or treat that your pup is head over paws for? Let us know in the comment section below.
References and Further Reading:
Campbell, K.L., 1993, "Clinical Use of Fatty Acid Supplements in Dog," Veterinary Dermatology
Freeman, L.M., et al., 2006. "Disease Prevalence Among Dogs and Cats in the United States and Australia and Proportions of Dogs and Cats That Receive Therapeutic Diets or Dietary Supplements," Journal of the American Veterinary Medical Association
Lund, E.M., et al., 2006. "Prevalence and Risk Factors for Obesity in Adult Dogs from Private US Veterinary Practices," Veterinary Clinical Sciences Department College of Veterinary Medicine University of Minnesota St. Paul, Minnesota
Newman, S.J., et al., 2007, "Aflatoxicosis in Nine Dogs after Exposure to Contaminated Commercial Dog Food," Journal of Veterinary Diagnostic Investigation
Rooney, N.J., and Cowan, S., 2011, "Training Methods and Owner-Dog Interactions: "Links With Dog Behavior and Learning Ability," Applied Animal Behavior Science
Vail, T.M., Jones, P.R., Sparkman, O.D., 2007, "Rapid and Unambiguous Identification of Melamine in Contaminated Pet Food Based on Mass Spectrometry with Four Degrees of Confirmation," Journal of Analytical Toxicology, pgs. 304-312
Wilson, J.S., 1980, "Toxic Myopathy in a Dog Associated With the Presence of Monensin in Dry Food," US National Library of Medicine