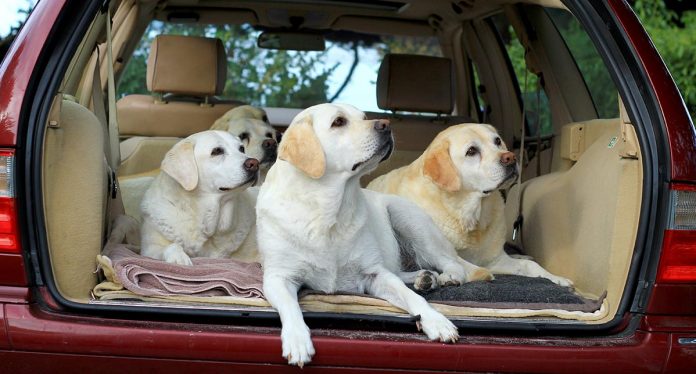 Dog car sickness is a miserable problem for a lot of Labradors and those who travel with them. And it shouldn't be
Travelling should be fun!
We'll look at how you can help your car sick dog, and also at how to avoid travel sickness developing in young puppies.
If your puppy is under four months old, there is a good chance that with the right approach, he'll simply grow out of the problem.  Scroll down for more information.
First we'll look at helping dogs with an established travel sickness problem
What causes car sickness in dogs
The two main causes travel sickness in Labradors are stress, and motion sickness.
Of course, once motion sickness has become established,  the dog is automatically stressed when getting in a car,  but fear of travelling can also trigger car sickness.
So the two factors tend to be difficult to separate.
Helping the car sick dog
There are several approaches to helping a dog with established car sickness.
Which approach is best for your dog will depend on how serious the problem is and in all but the mildest cases, you'll need to talk to your vet about the various options before making a decision.
Things that can help a car sick dog
Reducing stress
Reducing motion effects
Conditioning
Drugs
Natural remedies for car sick dogs
There are several ways you can try to help the car sick dog before resorting to drugs.
These methods are particularly helpful for mild cases of dog car sickness.
The first approach is to reduce the stress of car travel.
Reducing stress in a car sick dog
Making the car a happier place to be is the key to success in this respect.   There are various things you can try.
Reserving Kongs, or other favourite toys for the car, may help.
Feeding the dog all his meals in the car, and endeavouring to make sure that the car is not associated with anything unpleasant (vet visits for example) is another useful tactic.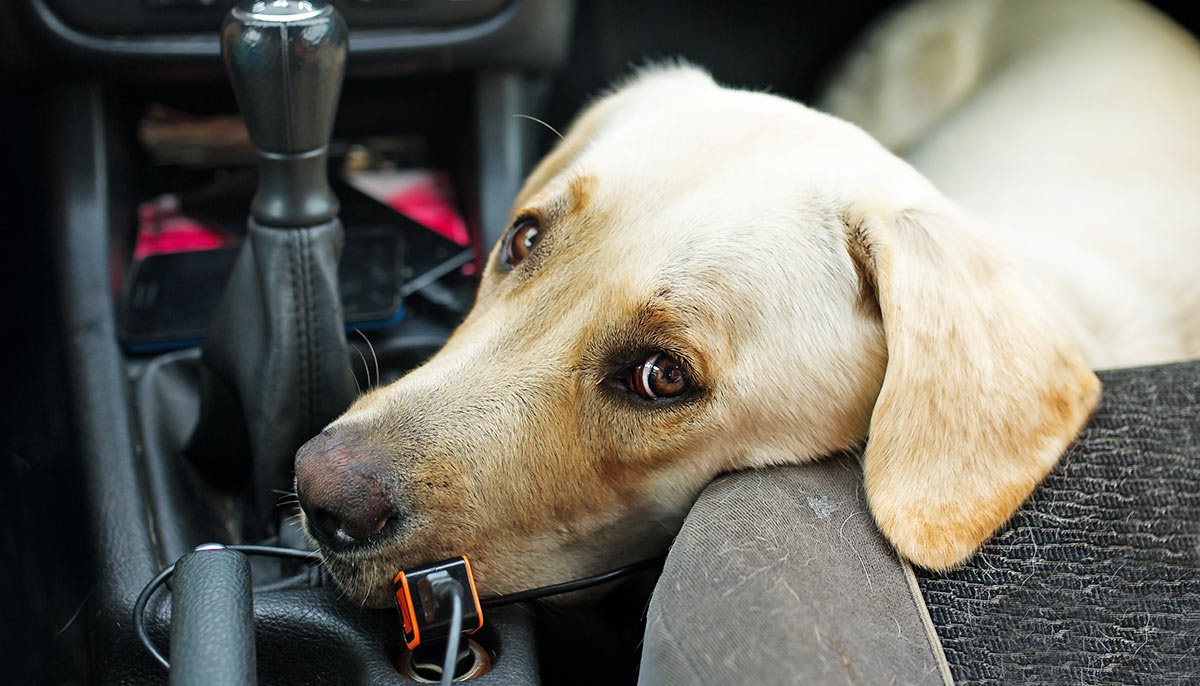 Some dogs are happier if they travel in a crate with a blanket over it.  The darker confined space seems to have a calming effect.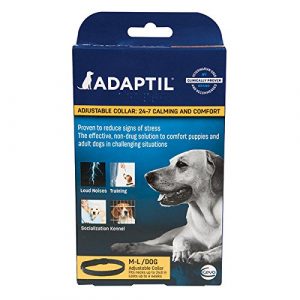 Some people claim to have had good results using a collar that releases calming pheromones.  
These collars have had mixed reviews,  but that may be partly because some purchasers have bought them to try and calm dogs that are simply excitable rather than anxious about travelling.
Success stories could be due to the owners feeling calmer too, but if your dog is stressed about car travel, you may think  it is worth a try.
Reducing the effects of the car's motion
Dogs that suffer from motion sickness may show clear signs before they actually vomit.
They will often become lethargic, look miserable, and may drool copiously.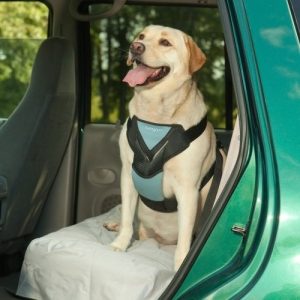 Facing forwards has been shown to help dogs that suffer from motion sickness, just as it does people.
If your dog is regularly sick in his crate, you can buy a car harness that enables the dog to sit on a seat and face forwards.
Keeping the interior of the car fairly cool will also help dogs that suffer from motion sickness
So it is worth lowering the windows an inch or two.
Dog car sickness counter-conditioning
Probably the most significant step you can take, is to condition the dog to associate the car with not feeling sick.
Shut your dog in the car for very short period of time, with the engine switched off, then reward him generously.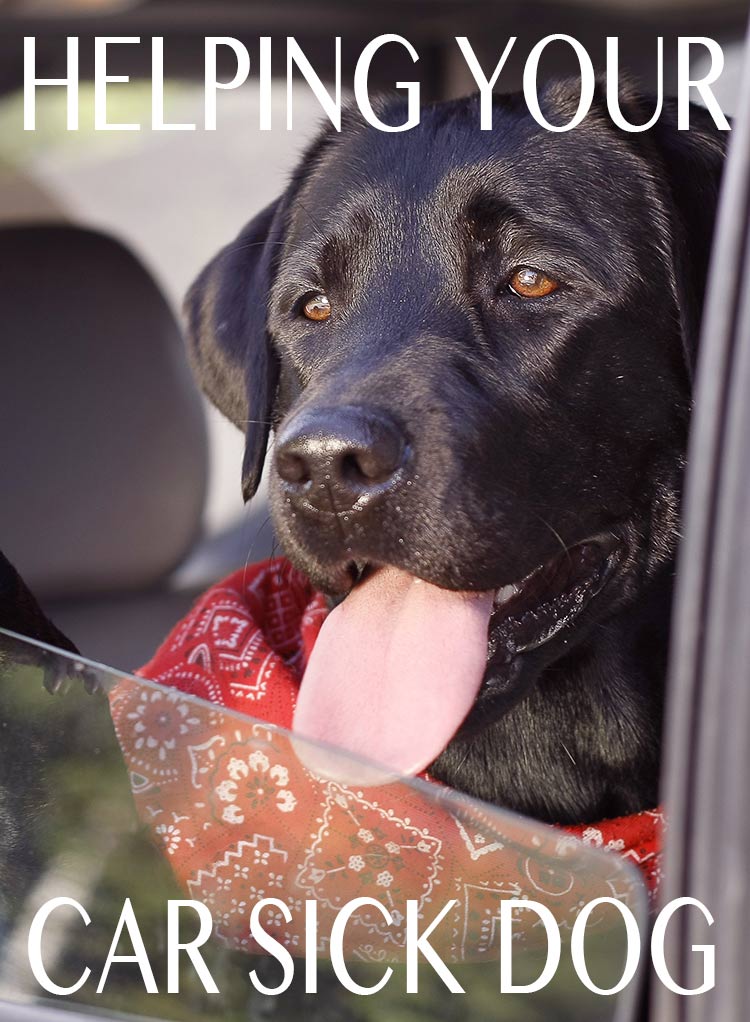 Once he is relaxed in the stationary car attempt very short journeys. The time period must be so short that he does not begin to feel sick.
After several successful sessions, you will begin to increase the time period slowly.
You need to begin in a stationary car with the engine switched off.   These are the phases
The stationary car
The stationary car with the engine running
The very short journey
The key here is to begin with the stationary car  and to increase journey times very gradually.
If your dog has been very car sick,  just driving a few feet may be all you can do to begin with.
Only increase distances when he is showing no signs of sickness at all.
Dramamine for dogs
If you cannot help your dog with these measures, or have to make an unavoidable journey with a very car sick dog, you will need to consult with your vet about medication.
Car sickness tablets for dogs often contain an antihistamine called dramamine.
This drug is used for humans too, but you'll need to get the right dose prescribed for your dog, by your veterinarian.
The active ingredient is dimenhydrinate and shouldn't make your dog too drowsy
The medicine needs to be given in advance of the journey and should last for several hours.
Don't feel a failure if you have to give your dog drugs.  Motion sickness is horrible, and if you can't resolve it with these simply home remedies,  you really do need your vet's help.
It's possible that once your dog has had a few more comfortable journeys with the help of some travel sickness medication, he will be less stressed and you may be able to reduce the dose or even wean him off the tablets completely.
Talk to your vet about the best way to do this.
Avoiding car sickness in puppies
Although new puppies are more prone to travel sickness than older dogs,  it is a good idea to get your puppy used to car travel at an early age.
When I was a child and many families still did not have cars, or shared a single family car,  puppies would not be accustomed to car travel and travel sickness in dogs (and children) was very common.
Most dogs that travel frequently in vehicles from a young age, don't have problems.
And travel sickness in dogs is somewhat less common these days.
Little and often
The secret to avoiding a travel sickness problem arising in your puppy is lots of short journeys.
You'll probably be doing this anyway for socialisation purposes, but if you don't have a car,  you may have to make a special effort to make sure your puppy experiences several short car journeys each week.
Don't feed him during the hour preceding the journey, and if he is sick, make the next journey even shorter.
The idea is to make sure he has several consecutive good experiences in the car.  And not to give up because he is sick the first few times.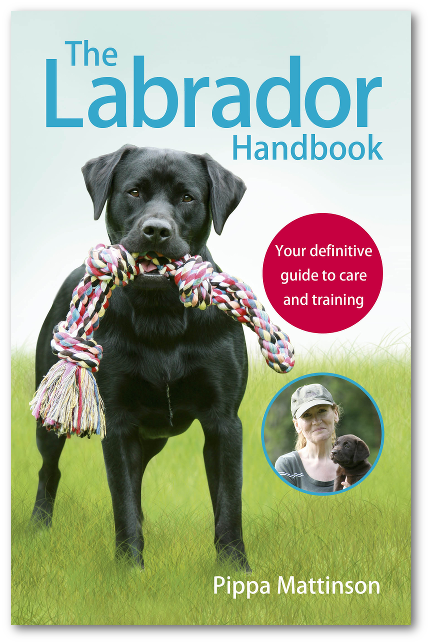 Most puppies are accustomed to car travel within a couple of weeks and can then be taken on much longer journeys without any problems.
Summary
Dog car sickness can be avoided by giving puppies plenty of opportunity to experience short happy car journeys.
Mild car sickness can sometimes be treated by the simple stress-relieving methods and careful conditioning techniques described here.
The very car sick dog may need to be prescribed a car sickness medication by a vet, especially for long journeys, in order to help him overcome this horrid problem.
Your car sick dog
Does your dog suffer from car sickness? How do you help him cope with long journeys?
Share your experiences in the comments box below.
The Labrador Site Founder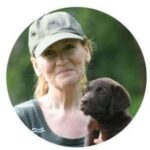 Pippa Mattinson is the best selling author of The Happy Puppy Handbook, the Labrador Handbook, Choosing The Perfect Puppy, and Total Recall.
She is also the founder of the Gundog Trust and the Dogsnet Online Training Program 
Pippa's online training courses were launched in 2019 and you can find the latest course dates on the Dogsnet website