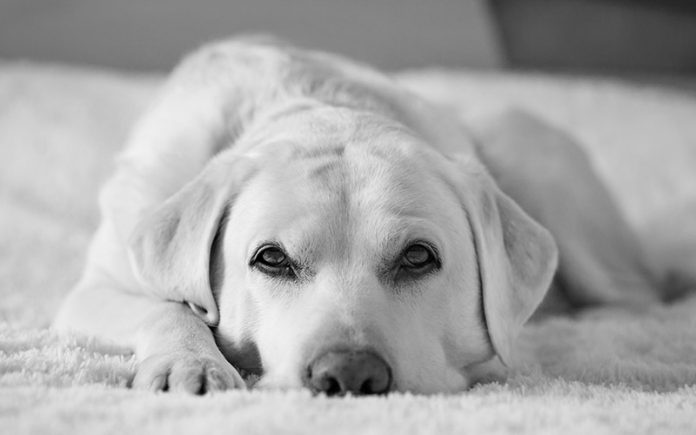 Welcome to our complete guide to indestructible dog beds! We look at the very best options for chew proof, chew resistant and anti-chew dog beds.
Chewing is a natural behavior. It has many causes, including boredom, hunger, anxiety, and more. But, your dog's bed doesn't have to suffer because of this! Chew proof dog beds can help!
Many indestructible dog beds are made of tough, chew-proof materials. Some have metal frames, or are even elevated. But, no matter what you're looking for, there are plenty of options available to you.
Let's take a look at some of these indestructible beds, so the chewing is left to your dog's toys! Here are our favorite 3:
| Bed Name | What It Looks Like | Best Features |
| --- | --- | --- |
| Kuranda Indestructible Dog Bed | | Strong aluminum frame, easy to clean, abraison-resistant material. |
| BlueBerry Heavy Duty Pet Bed | | Thick scratch-resistant fabric, washable cover, large variety of colors. |
| K9 Ballistics Round Bed | | Variety of colors and sizes, able to withstand moderate chewing |
Products included in this article were carefully and independently selected by the Labrador Site team. If you decide to make a purchase from one of the links marked by an asterisk, we may earn a small commission on that sale. This is at no extra cost to you.
Indestructible Dog Bed Quick Links
To jump straight to certain sections, just click the links we've got below:
Finding the Best Indestructible Dog Beds
Does your dog like to gnaw on his bed?
Are you fed up with buying him lovely new bedding only to find it destroyed moments later?
Well don't panic! You aren't alone, and there are solutions!
Indestructible Dog Bed Features
Chew-resistant and indestructible dog beds come in many different shapes and sizes. But, there are a few key features these beds often have in common.
Here are some features you might want to look for in your chew-resistant dog bed:
Elevated bed
Metal frame
Washable cover
Durable, tear-resistant material
Is Chewing Normal?
Destructive chewing is pretty common in some breeds of dogs. Especially in working breeds like the Labrador.
Dogs can constantly chew because of pain, anxiety, hunger, illness, or boredom.
But it can also be a perfectly natural thing with no underlying cause.
Which means that you need to choose your dog's bed to take into account his chewing. This could be with a chew proof dog bed.
We've found a selection of the best indestructible dog beds for chewers, gnawers and general bed eaters!
Why Do Dogs Chew Their Beds?
There are many reasons why chew resistant dog beds can be helpful. Young dogs will chew to relieve teeth pain and to keep their teeth clean.
But older dogs may continue to chew because it is part of their learned behavior.
It may help them relieve stress and anxiety. But, they may chew simply because they enjoy it.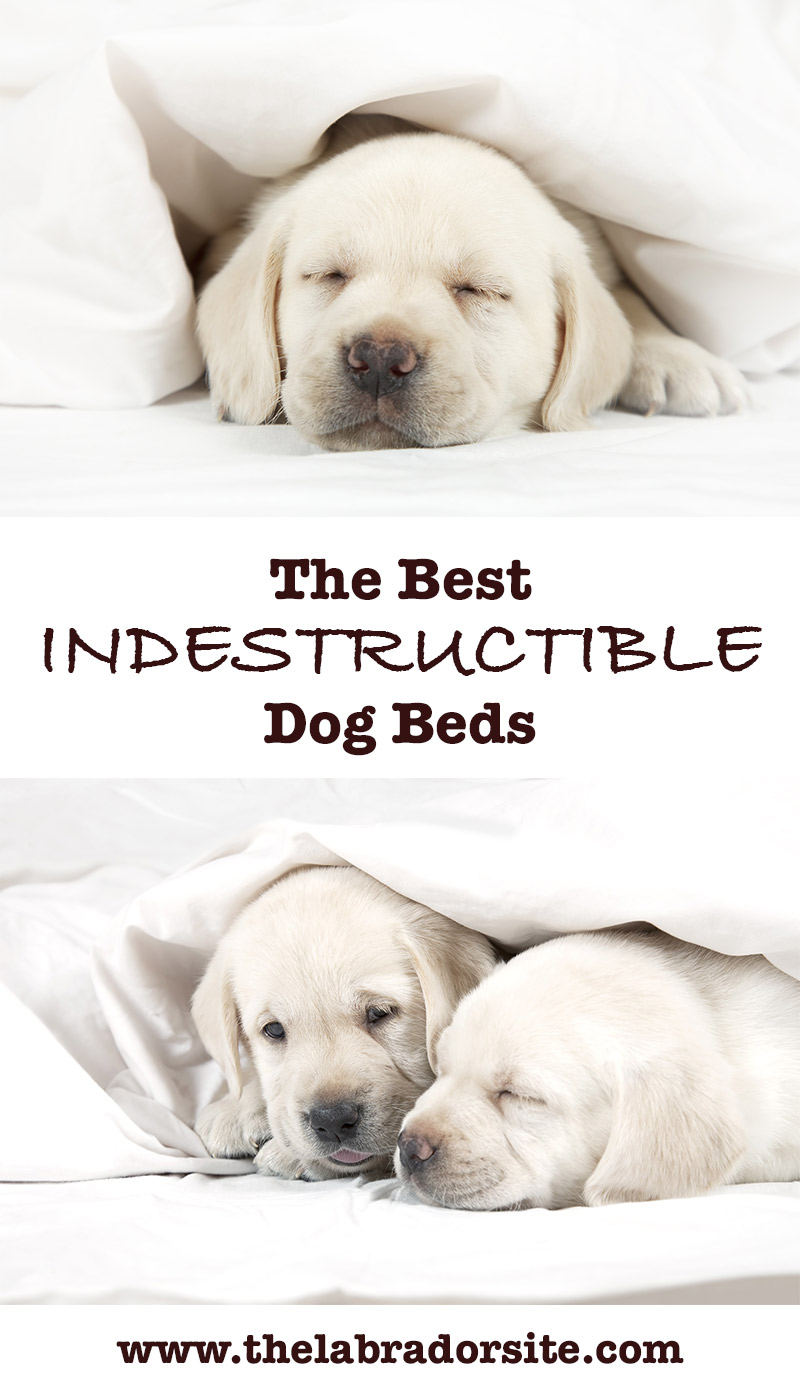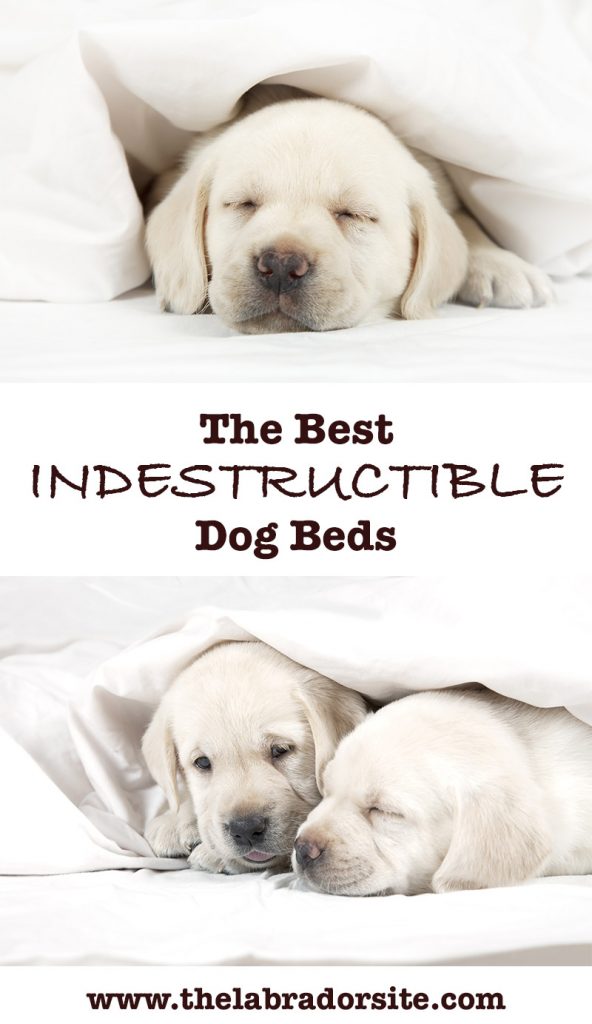 Do Dogs Grow out of It?
You may assume that your dog will grow out of their chewing phase as they get older. But this isn't always the case. A chew proof dog bed can come in helpful with older dogs too.
The worst may be over by the time your dog turns two. But it's still a good idea to have plenty of chew toys, bones and other things that your dog can sink their teeth into.
Chewing Into Adulthood
Destructive chewing may be a symptom of a larger problem. But it could also be a result of boredom.
One of the Labrador's key skills as a working dog is their ability to find and retrieve things that they will carry back in their mouths.
Labrador's are very oral animals. As are many other hunting breeds.
They tend to like carrying objects around in their mouths. They are bred to do this. So, it's a normal behavior.
Chewing is perfectly natural. But it becomes an issue when your canine friend starts eating your shoes, furniture, or dangerous items like electrical wires.
As well as their own things like their dog beds.
Indestructible Dog Beds For Labradors & Other Tough Chewers
Dog beds are one of the most commonly chewed household items.
How many times have you bought a lovely new dog bed just to see it destroyed in a matter of days?
You want your pet to have a nice place to sleep. But it can be really expensive to keep replacing dog beds all the time. So tough dog beds can help!
How Do They Work?
Dog beds that are described as 'indestructible' are often designed for the most destructive chewers.
These tough dog beds are meant to be able to withstand anything your dog tries to do to them.
Indestructible dog beds often have metal frames, non-grip and/or tough material, and elevated surfaces.
These materials can withstand your dog's jaws. Or make it very hard for your dog to bite into the bed at all.
If your dog realizes they are unable to chew on their bed then they should eventually give up and go back to their chew toys instead.
Best Indestructible Dog Beds
A lot of tough dog beds on the market are described as 'indestructible'. But the quality and style widely vary between these products.
This is our current favorite.
Kuranda Indestructible Dog Bed
Kuranda is a well known dog bed manufacturer. They specialize in chew resistant and chew proof indestructible dog beds.
This bed has a high chew proof strength.* It has a strong aluminium frame that is ideal for heavy dogs.
This is a raised bed that will keep your fluffy dog cool during hot weather. Plus, the bed is easy to clean, and the material they use is abrasion resistant.
This bed also comes with a one year warranty. So you can get it replaced or refunded if it does not meet your expectations.
But not every dog needs the toughest indestructible dog bed.
Chew Proof Dog Bed
The terms indestructible, chew proof and chew resistant are often used interchangeably by retailers.
But loosely speaking a chew proof bed is a type of dog bed which cannot easily be chewed up.
Your dog may be able to get a grip on them with their teeth. But the bed should be able to withstand some amount of chewing.
Blueberry Heavy Duty Indestructible Pet Bed
The Blueberry Heavy Duty Pet Bed* will stand up against the efforts of moderate chewers.

It is a good looking bed for one with chew resistance. And should be pretty comfy too!
K9 Ballistics Round Indestructible Dog Bed
Another comfortable choice is the K9 Ballistics Chew Resistant bed.* 

It's cute circular shape comes in a range of colors and sizes. And should be tough enough to withstand moderate chewing.
Raised Indestructible Dog Beds
Many owners, ourselves included, have found elevated tough dog beds a great solution to chewing.
Dogs seem to be more inclined to chew the metal frame.
It is harder and less appealing to get their teeth around the excess material, as it is stretched tight.
Although they aren't manufactured for this purpose, we find that they can really do the trick.
Here are a couple you might like to try.
Elevated Cooling Bed
The Amazon Basics Elevated Cooling bed* comes in several sizes and two different colors.

Not only is it a great, and cool, place to lay down, it's portable too.
Coolaroo Indestructible Dog Bed
This model is another great choice* for fans of the elevated dog indestructible dog bed.

It also comes in a variety of sizes. And has the benefit of being waterproof and easy to keep clean.
Chew Resistant Dog Bed
Although chew resistant dog beds are not indestructible, they are sturdier and tougher than regular beds.
Chew resistant beds can still be chewed. But as the name suggests they are much harder to destroy. This is because of their durable material and chew guard features.
Less destructive chewers will suit these beds. But, highly destructive dogs are still likely to break them.
Raised beds are a popular choice because it is harder for your dog to firmly grip and thus completely chew/rip the material.
These tough dog beds also have the added bonus of keeping your dog cool during the summer.
K9 Ballistics Chew Resistant Dog Bed
The K9 Ballistics Dog Bed has been made for light or moderate chewers.* So it is not the best choice for extreme chewers who need a totally indestructible bed.
The cover is a durable, water-resistant material. It is easily cleaned by hand or machine.
It has an odor resistant polyester mattress, you can use it indoors or outdoors, and the company will replace the cover if it is damaged within 90 days of ownership.
K&H Chew Resistant Pet Bed
The K&H Pet Cot is a great choice* if you want to go for the raised bed option.
Furry dogs can overheat fairly easily. But luckily this elevated bed has a mesh center which will keep even the fluffiest dog cool in hot temperatures.
You can use this bed inside or outside the house. It is water resistant, and it has been tested for its durability.
This bed also comes with a one year warranty. So you can always get your money back if it turns out to be flimsy or poorly made.
goDog Chew Resistant Dog Bed
This goDog bed is chew resistant.*
This bed is not an indestructible dog bed. But it does come with chew guard technology which should make it last longer than regular dog beds.
This bed is best for moderate chewers.
The goDog bed also includes a plush bolster border, a durable mesh liner, and a non-skid bottom.
Anti-chew dog bed
Some people like to buy anti-chew furniture sprays that will repel your dog. You can use these sprays on your dog bed if the ingredients aren't dangerous for your dog.
Always double check that any anti-chew spray you buy specifies it is 'pet safe' and 'child safe' if you have any non-furry babies. Make sure any spray that you buy is alcohol free as alcohol can be toxic for dogs.
Anti-Chew sprays are a good option if you are looking to train your dog not to chew on the furniture.
It works as a safe repellent which should in time condition your dog to avoid the items they associate with the unpleasant taste.
Anti-Chew Sprays
If you do choose to spray your dog bed with an anti-chew spray then make sure that it's not so strong and repellent that it will stop your dog using their new bed.
A perfectly preserved dog bed is useless if your dog doesn't want to use it!
And it's worth noting that some dogs don't mind the taste. So, they will happily chew away anyway.
But for those dogs that don't like repellent spray, here are some options.
Bitter Lemon Spray
This Bitter Lemon anti-chew spray is a good choice*.
It is a safe and gentle deterrent which tastes nasty but won't harm your dog in any way.
This spray uses a non toxic formula which is made out of natural bitter and lemon extracts.
It is also safe to spray on objects. Although keep in mind that it may make them smell afterwards!
This spray is safe to use on wood, curtains, electrical cables and clothes.
Chew Proof Indestructible Dog Bed Cover
There's no point in having an indestructible dog bed frame if you still have to keep replacing the dog bed cover, sheets, and pillows!
Some of the cover materials you should look for when buying a dog bed include various types of nylon. Such as codura and ballistic, vinyl weave or vinyl 40 oz, or material which is classed as 'military-grade'.
Memory foam is a good mattress choice for your dog because it is a comfortable material which will support your dog's weight and ensure a comfortable nights sleep.
Memory foam is also fairly thick and durable
Firm, round, slippery-material pillows are popular for medium to mild chewers.
These pillows are slippery so it will be hard for your dog to grab onto them with their teeth.
Try to avoid beds with obvious zips. Your dog will rip this bit first.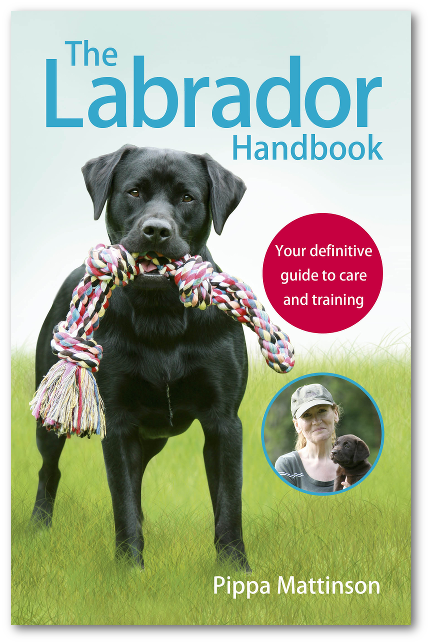 You'll want to go for something firm, slippery or hard to grip, and something that is both comfortable and durable.
Stain Proof Indestructible Dog Bed
This stain proof dog bed cover is durable, easy to clean and should be able to withstand determined chewers.*
The cover is made out of synthetic polyester fibers. Plus, it is machine washable, and surprisingly waterproof.
And most importantly, the cover incorporates stop rip technology to stop the dog tearing it to shreds.
Best Indestructible Dog Beds
Lots of companies describe their dog beds as indestructible. But many of their beds have bad ratings and a string of dissatisfied customers.
It's important that you look at the average rating of any bed before you buy it. As it is a good indication of how good the bed is in real life.
It's important that you buy a strong and durable bed that your dog can't rip apart in the first five minutes.
But it's also important that your dog is comfortable in their indestructible dog bed.
There is no point buying a dog bed that your dog doesn't want to use!
Affiliate link disclosure: Links in this article marked with an * are affiliate links, and we may receive a small commission if you purchase these products. However, we selected them for inclusion independently, and all of the views expressed in this article are our own.
The Labrador Site Founder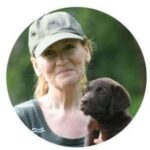 Pippa Mattinson is the best selling author of The Happy Puppy Handbook, the Labrador Handbook, Choosing The Perfect Puppy, and Total Recall.
She is also the founder of the Gundog Trust and the Dogsnet Online Training Program 
Pippa's online training courses were launched in 2019 and you can find the latest course dates on the Dogsnet website