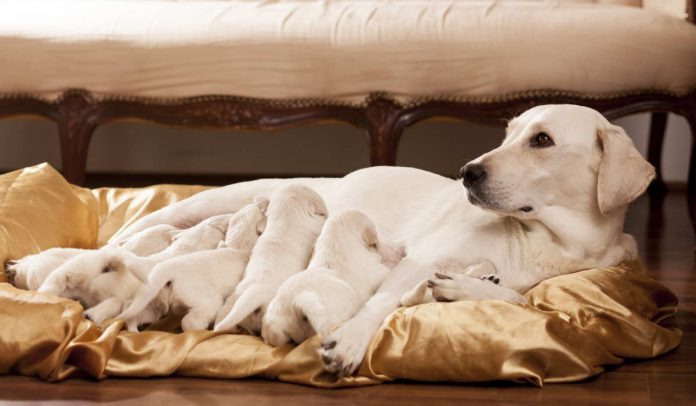 The Labrador Retriever is one of the most popular breeds of dog in the world.
[wp_ad_camp_5]As a result, Labrador breeders are not hard to find.
But how do you know when you have found a really good one?
Who is going to give you the best chance of having a happy, healthy puppy to bring home?
In this article we are going to let you know what makes a good breeder and how to find one that is right for you.
What makes a good breeder?
Many people are now aware that they should not buy Labrador puppies from pet stores and that they should avoid puppy farmers.

But that still leaves a lot of breeders to choose from.
A good breeder has several defining features.  All good dog breeders will do the following:
Take great care of their animals
Health test their breeding stock
Provide information and follow up care for their puppy buyers
Dogs that are well cared for
You won't know for sure what conditions the breeder's Labradors are kept in until you visit them.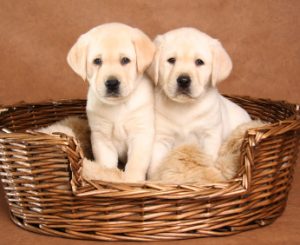 But there are  things you can ask in advance that are good indicators that a breeder puts the welfare of her dogs before financial considerations.
Find out how many dogs the breeder has, and how many different breeds of dog.
Find out  how often they breed from each dog,  and the maximum number of litters each female dog has had.
A considerate breeder will probably not have more than three litters from a female in its lifetime.
She will not have so many dogs that she cannot give them individual attention.
No good breeder will have more than one litter from a Labrador female in any twelve month period. And you should be wary of any breeder breeding from many different breeds of dog.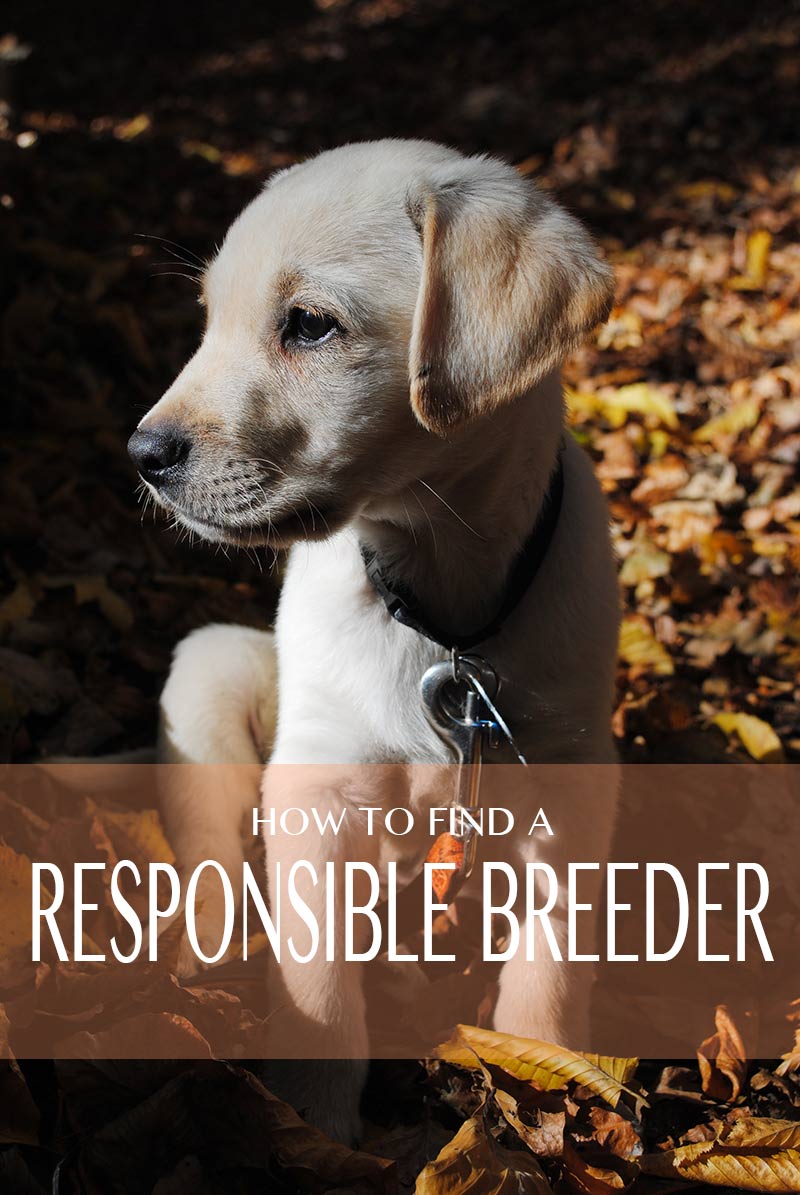 A good breeder will not own too many dogs and will have a warm relationship with each of them,  either by showing or working her dogs.  Or by embracing them into her family life as valued companions.
Any dogs used for breeding that are housed in kennels will spend time daily interacting with humans.
Who Can You Trust?
Puppy farmers are harder to spot than you might think. They will probably look and act like the friendly, welcoming people you would want to meet.
[wp_ad_camp_2]It is the reason that they are breeding and the way in which they treat their animals that gives them away.
When you visit your puppy they should be shown to you with the mother. Ideally they will be in the house, and if they are in kennels it should be clear that they are brought into the home and visited outside several times a day.
Don't be nervous about asking lots of questions. A good breeder will welcome them, and if they seem frustrated or uncomfortable then it's a warning sign that they may have something to hide.
Health testing
A good breeder will health test their breeding animals.  The absolute minimum health tests for Labradors are Hip Scoring, elbow scoring and Eye Tests .
You can check over the phone that these have been carried out but you must ask to see certificates when you visit.  Ideally at least one of the parents of your puppy will be 'clear'  for CNM.
If possible try and get copies of the health tests sent to you by email before you arrive, to avoid an awkward situation if they are not forthcoming at your visit.
For more information about health testing check out our section on inherited diseases in Labradors.
Pedigree and quality
People often write to me and ask how they can be sure that theirs is an 'original labrador' or a purebred dog with a quality pedigree.
The answer is to research carefully before you buy your puppy and make sure that you check all the puppy's paperwork and certificates.
Decide what type of Labrador you want – show/English  or field/American – before you begin  visiting puppies. We have some information to help you make that decision.
After care and information
A good breeder offers a lifetime of support to her puppy buyers.  She will answer your questions confidently and provide you with written information sheets on caring for your puppy.
[wp_ad_camp_4]
She will make it clear that she will always be happy to hear from you and offer you help or advice in the future.
Most reputable breeders will take a puppy back at any time in the future if you find yourself unable to care for it.
So how do you find  these good Labrador breeders?
There are a number of  ways to find a Labrador breeder.  These include puppy advertisements and breeder advertisements in newspapers and online. Labrador breed clubs will be able to put you in touch with local Labrador breeders and this is a good way to start your search.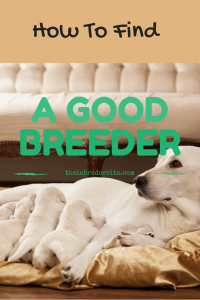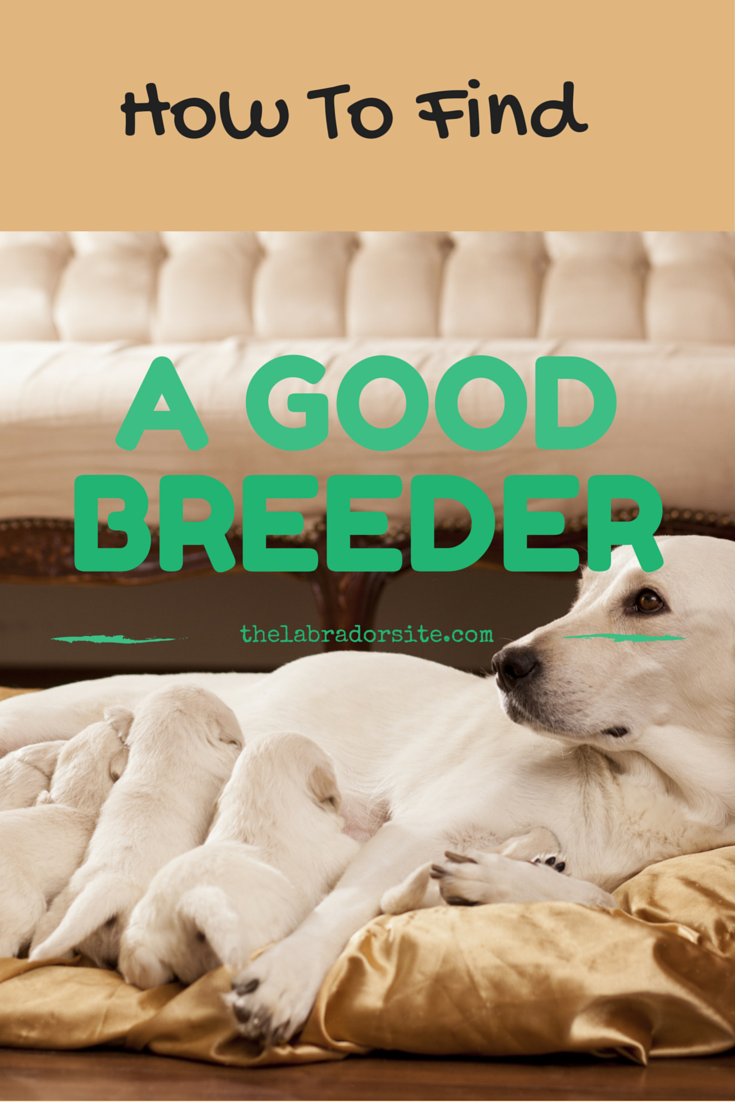 If you google Labrador Retriever Club   you will find Clubs throughout the country.  Most of these clubs now have websites as do many breeders.
It is better if you can find a breeder in advance rather than searching for a pup and having to check out the breeder at the same time.
Many good breeders will have all their puppies spoken for before they are born,  so you will need to get your booking in early.
Most people have to wait for the right puppy, and breeders will want to see that you are prioritising getting the right dog over the timing.
What about buying a puppy from an advertisement?
Some people regard puppy advertisements with great suspicion,  but even reputable breeders occasionally need to advertise puppies.  Especially if a litter is very large,  or if they are unexpectedly let down by time wasters at the last minute.

There are puppy advertisements on the Kennel Club    and Gundog Club    websites and many reputable breeders advertise on these sites.  However,  there are no guarantees and you should treat any advertisement with some suspicion until you have satisfied yourself as to the breeders credentials.
The breeder may well have their own website,  and though this says more about their ability to make a website or to pay a web designer,  than it does about their breeding practices,  at least it may give you an idea of what kind of a breeder they are.
What about the Kennel Club's assured breeders scheme?
Members of the Kennel Club's Assured Breeder's scheme agree to abide by its code of practice.  You can read the requirements for membership of the scheme here.
Not all good breeders belong to this scheme and although the scheme 'promotes' good breeding practices, it is not a guarantee of a healthy puppy.  More importantly,  neither does the pedigree certificate that accompanies the sale of all pedigree dogs registered with the KC in the UK.
At the time of writing, puppies from untested parents can be registered, as can puppies from parents with dreadful hip scores.  Check out:  Are puppy buyers placing too much trust in pedigree papers  It is really up to you to check documentation for any important information about your puppy or its parents.
Choosing your puppy
Once you have found a good labrador breeder you may be able to choose a puppy.   Don't be put off if there is no choice.  It is very hard to tell how pups are going to turn out at eight weeks old,  and the fact that all the other pups are spoken for is a good indicator that your chosen breeder is in demand.
The breeder may also feel that they know their own puppies best, and may want to match them to the right homes herself.
For more information about finding and choosing a Labrador puppy you can follow this link:  Getting a Labrador puppy
Know how to spot a bad breeder
Finding a good breeder is as much about knowing how to recognize a bad one, as it is about knowing how to recognize a good one.
Make sure you know what to look out for, and how to spot a bad breeder before you visit your new puppy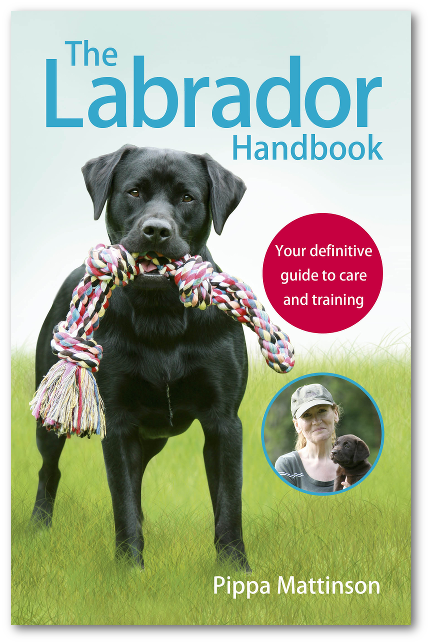 Be willing to walk away if things don't seem right.
More information on puppies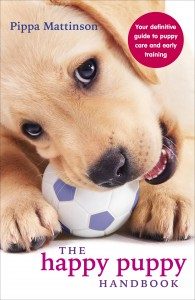 For a complete guide to raising a healthy and happy puppy don't miss The Happy Puppy Handbook.
The Happy Puppy Handbook covers every aspect of life with a small puppy.
The book will help you prepare your home for the new arrival, and get your puppy off to a great start with potty training, socialisation and early obedience.
The Happy Puppy Handbook is available worldwide.