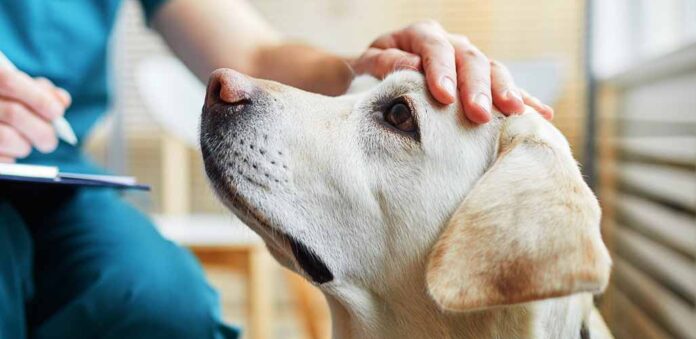 My dog needs surgery and I can't afford it – it's a scenario no one ever imagines being in when they first bring home a new puppy. But as the years pass circumstances can change quite dramatically. And the healthy young dog you brought into your life won't always stay fit as the proverbial fiddle. Shopping around for quotes, looking at loans or installment payments and crowdfunding are all options when it comes to canine surgery costs.
Contents
Lifestyles alter over time, people retire, get fired or become unwell. Bills go up, and budgets go down. You feel like you are just keeping your head above water when, bam, you are faced with an impossible veterinary surgery bill. There is help out there for some of us if we are lucky, and knowing where to find it is half the battle won. But there will be some tough questions to ask yourself along the way.
My Dog Needs Surgery And I Can't Afford It
The first thing to do if your dog needs surgery that you can't afford is to try to stay calm. I know that is easy to say, but now isn't the time to panic. If you are anything like me, you'll want to grab a notepad or open a spreadsheet doc and get planning and organizing your options.
I'm going to share my action plan for crisis pet budgeting with you here today, but I'd recommend noting each section down for your own use. Then when you've tried each one you can jot down your attempts, and what your next action will be. This will help you to feel and be more in control of your options.
Quotes For Canine Surgery – Shopping Around
Veterinary surgery charges are not static or regulated. Sure there is always some similarity, because you need the same tools, time and skill sets. But I have found that the cost between veterinary practices even in the same area can vary hugely.
When discussing surgical options, there is no harm or offense to your veterinarian in getting alternative quotes. You might even find another practice has a less invasive and therefore cheaper treatment you can try first.
My only strong suggestion is that you stick to modern medical practices. It's tempting to try alternatives like homoeopathy, but this example in particular has no evidence that it's effective. And trying something not shown to work can be damaging to your dog's longer term physical welfare.
Are Payment Plans An Option?
Ask your veterinary surgeon about payment plans. These can be a huge help if you are struggling financially or budgeting. If the payment plan they initially offer is not realistic for your family budget, then there is no harm in asking for a lower rate over a longer period.
Veterinarians are people and animal lovers just like you. If they are able to assist you and get your pet treated, they will make an effort for you. And from a bluntly fiscal point of view, it's still going to get them their money in the long run and therefore be worth their while.
Veterinary Charities
There are some pet charities that offer free or very low rate veterinary care. Most of them operate from a static location rather than funding healthcare at other animal hospitals, so you might need to travel. These charities may also means test you, so you'll need to show them evidence through bank statements that you are unable to provide the care your pet needs right now. They also often have strong criteria and long waiting lists due to demand, but it is definitely worth looking for one within travelling distance of you when you're in a bind.
Social Media Funding
Some people have had a lot of success with social media crowdfunding for canine surgery costs. You'll need to have a fairly numerous following, or a handful of wealthy generous friends, but it can work well.
Be sure to explain the situation clearly, including a breakdown of the price, along with the reason why the surgery is essential.
A Loan From Friends and Family
No one likes to ask for help, but depending on your relationship it is okay. I'd only ask people you have a strong connection with, and do so in the least emotive way. Try not to accidentally play on their emotions, and most of all give them a repayment plan that you are confident you can stick to.
If you are really lucky someone might be in a position to gift you the amount, but I'd avoid asking for this as financial favors can sour otherwise great relationships.
Bank Loans
Banks are intimidating businesses, but short term loans can be acquired safely. Especially if you have something valuable to borrow against, like a house or car. Go into the branch and arrange a face to face meeting for the best chance of success, but if you look at your online banking, some do offer instant loans. Just be really careful to read the small print about repayments, and ensure that you can budget for them and any interest you'll incur.
Sell Your Stuff
When I have unexpected bills, I have been known to sell something to make up the money. On one memorable occasion the thing I sold was a car. It wasn't a life or death situation like dog surgery can be, but one I'd rather avoid and that downgrading my vehicle dealt with pretty quickly.
Unexpectedly big money spinners that you can sell on Facebook Marketplace or Ebay include things like Lego sets, handbags and even old tech devices. It's worth having a rummage for things you don't use anymore, or considering going without something like a tablet in order to help out your pet.
Rehoming or Euthanasia When You Can't Afford Surgery
I have come across rehoming charities that will take your dog in for rehoming, and pay any surgical bills in the process. These charities won't just fund the surgery and let you keep your dog. They have procedures that mean they can only pay for the operation when you have signed the pet over to them.
There are some serious ethical questions around these methods, but on a basic level it's because they feel that if you can't afford your pet's care they would be better off living elsewhere. I don't personally agree with this ethos, especially with something that is usually a one-off expense like surgery. However, I also don't run a dog shelter, so I'm probably missing a lot of the bigger picture.
Euthanasia
Veterinarians are sometimes in the awful position of telling an owner that they have two options. Expensive canine surgery, or euthanasia. Sometimes that choice is easier to make, for example if your dog's chances of recovery are slim, or if they are very elderly. However, costly surgery on a young dog is an ethical nightmare for most families. Financially impossible situations are not however a moral blot on you as a person. Being in this position is awful for you as well as your pet, and you can only do what you are able.
If you can't afford surgery, your pet is in pain and you have exhausted all other options then euthanasia can be the kindest thing to do. It's a decision to make along with your veterinary surgeon, and hopefully the other options we've discussed above mean it won't come to this choice for your pet.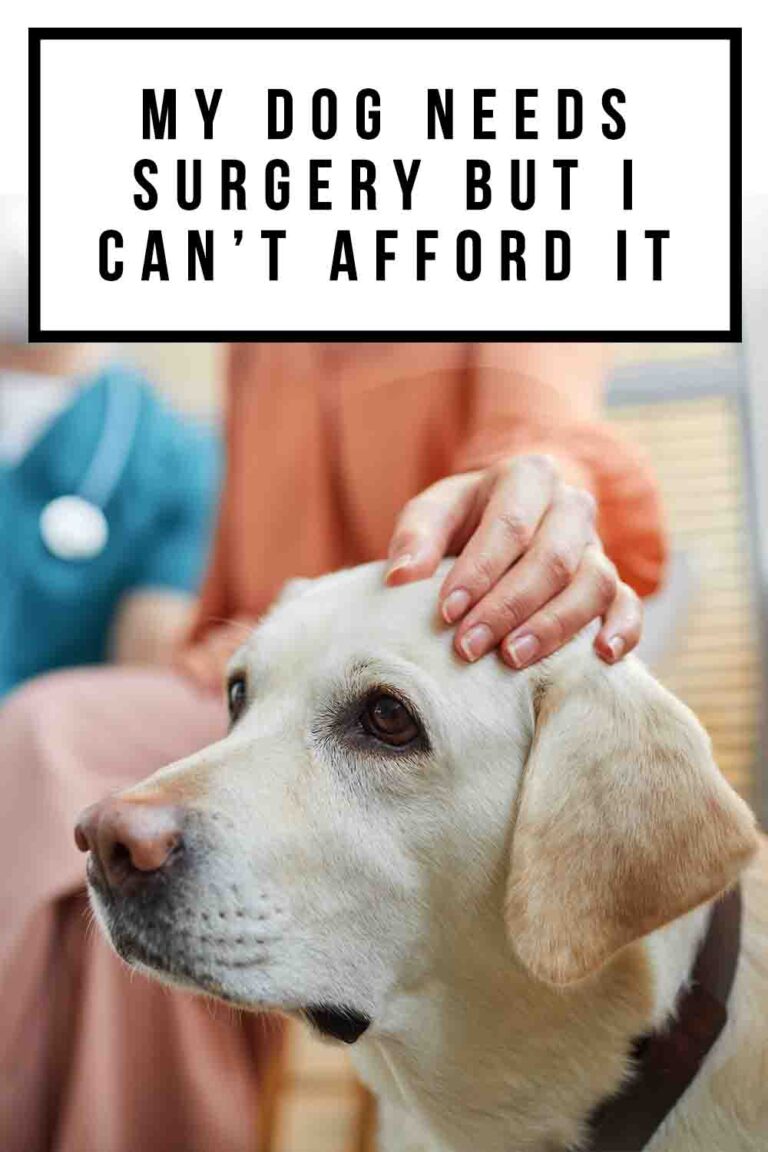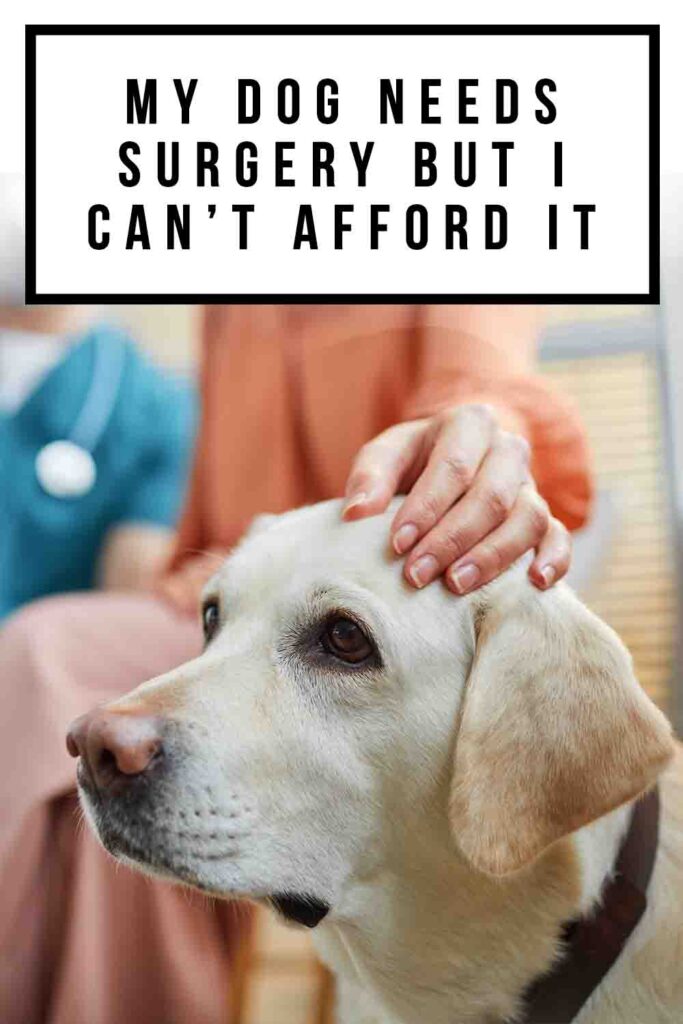 The Labrador Site Founder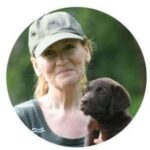 Pippa Mattinson is the best selling author of The Happy Puppy Handbook, the Labrador Handbook, Choosing The Perfect Puppy, and Total Recall.
She is also the founder of the Gundog Trust and the Dogsnet Online Training Program 
Pippa's online training courses were launched in 2019 and you can find the latest course dates on the Dogsnet website