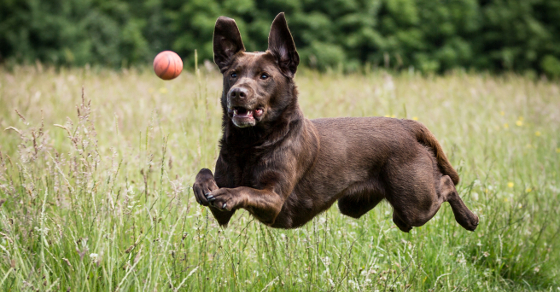 If your dog won't give the ball back, won't drop the ball, won't let go of his toys. Or if your dog won't fetch at all, then this is the article for you. We look at the solutions to these common fixable retrieving problems. Labrador Retriever you say? The Labrador part might be right,  but forget the retriever!
Playing keep away
If your dog has as much enthusiasm for giving his ball back as you do for paying a parking fine, then you are in good company. Dog trainers refer to this a 'playing keep away'.  And plenty of Labradors play the 'keep away' game, much to the frustration of their owners.
We are going to take a look at why some Labradors won't bring the ball back, and at why some don't want to fetch it at all. And most importantly, what you can do about it! You might also enjoy my free training tips emails where I cover lots of topics like this one. Just drop your email in the box below to receive them.

Chasing is fun
Most Labradors are only too happy to chase a stick or a ball for a few minutes. A few will give you a withering look which clearly indicates you can run after the thing yourself. But for most dogs, especially Labs, chasing is fun! Some will do it all day long. It's not usually the chasing part that's the problem
Not letting go!
Unfortunately a sizeable proportion of dogs that do chase after the ball you just threw, won't give the ball back again, thereby effectively terminating the fun. Not just for you, but for themselves too. After all, there's only so much fun you can have with a ball on your own. There are a number of different causes of playing 'keep away'. Let's take a look at those first.
Bored of fetching?
If your dog used to chase a ball but doesn't want to any more, he may have been put off retrieving. We call the enthusiasm for fetching your dog's 'retrieving drive'.  There are two things that influence this drive
Some dogs are just more driven to retrieve than others.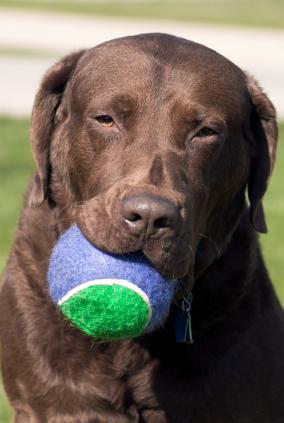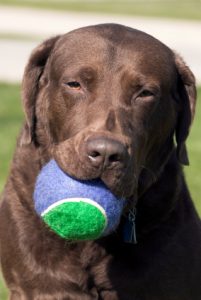 High drive dogs tend to come from working lines,  but actually, it doesn't take a huge amount of retrieving drive to produce a dog that enjoys playing fetch. Plenty of show dogs have enough drive to make a good retriever. More often it is the experiences that the dog has had, that can mess up the retrieving process.
Too much of a good thing
Problems often arise when puppy parents are not aware that   it's quite easy to dampen a dog's retrieve drive by making him think retrieving is boring. With a lowish drive dog,  just throwing a ball over and over until he is sick of it, will do the trick. And the trick is to stop after a few throws, and while the dog is still having fun.
Fortunately retrieve drive can usually be reignited. We'll look at that in a moment.
It's my ball, you can't have it!
While overdoing things can put a dog off even chasing after a ball, the more common problem is the dog that willingly chases the ball, and then won't return it. Again, both genes and experiences are at work here.
The drive to possess
Some dogs have a strong drive to possess. They feel an urge to 'possess' for themselves whatever it is they have chased and picked up. All the dogs I have had with this streak have had quite a few 'show genes' in them. But dogs from working lines can also be this way. Possessiveness is not related to dominance, some of the most submissive dogs will be possessive over toys.
Having toys taken away
Many puppies are very keen to show off their toys. They'll bring them to you with a wagging tail. And parade around proudly. Many puppy parents instinctively reach for the toy, to take it away and throw it for the dog. A completely natural thing to do, based on the assumption that that is what a retriever puppy wants most. Only it isn't
What your puppy wants most is to examine this new toy, preferably while sitting in your lap, and for you to admire it together.
Admire the toy together
So if you have a young Lab puppy right now, do remember to sit on the floor, and let your puppy climb into your lap and enjoy the toy without taking it away. Wait for the puppy to loosen their grip and relax a bit before you gently take the toy and throw it again. You might also find this article helpful: How To Get A Dog To Play Fetch
Beware chasing games
Some dogs have learned to run away with the ball because they have frequently been chased round and round the yard by children and thoroughly enjoy it. These dogs are not such a problem and will usually retrieve when they realise that no-one is going to chase them anymore.
The good news
There is some good news in all this. The possessive dog, the dog that really wants to keep the ball actually has the makings of a great retriever. Especially if he wants the ball so much he will move heaven and earth to get it.
Not a recall issue
Obviously, it is important that your dog will recall without a ball in his mouth before you attempt to recall him whilst he is carrying something. But for many keep away dogs this is not a recall issue. They are perfectly happy to come when they are not carrying something. They just don't want you to get your hands on that ball! By attempting to call the dog in this situation, you can end up damaging your recall too,  so be careful!
Teaching your dog to return with the ball
If you are not bothered about 'how' the dog gives you the ball, and don't mind him dropping it at your feet, you may be able to solve this problem in a less subtle way by throwing food to the dog. Another approach is to have two balls,  and only throw the second one,  when he has brought the first one back.
Some dogs can fit several balls in their mouth at once though, so this can be a 'hit and miss' affair unless you follow a strict plan of only throwing the second ball when the first one is released. And with some dogs you will have a very long wait!
The trained retrieve
If you really want the dog to bring the ball back,  reliably and without fuss,  your best option is a properly 'trained retrieve'. This is a very structured process and requires a little skill with the clicker, so it's a good idea to do a foundation course first, if you've no experience in this field
Restoring enthusiasm
If your dog was retrieving before but has lost his enthusiasm, you may be able to revive it. Try avoiding all retrieving for several weeks and then rationing the number of retrieves he is allowed each week very strictly. This will only work if the rest of your family will co-operate!
Help and support with training
Most dog training challenges have a straightforward solution, but it can be hard to figure these out on your own. We have some great resources to help you in our training section of this site, and I have now set up an online dog training school over on the Dogsnet website. So do check that out when you have a moment. There are plenty of articles to browse and detailed descriptions of what is in each course
Don't forget you can get my email training tips for free by dropping your name in the box below.

You'll also find some plenty of more general information for Labrador parents in the Labrador Handbook.
It looks at all aspects owning a Labrador, through daily care, to health and training at each stage of their life, and is available worldwide. You can buy The Labrador Handbook from Amazon by following this link. If you do, The Labrador Site will receive a small commission which is greatly appreciated and won't affect the cost to you!
The Labrador Site Founder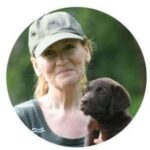 Pippa Mattinson is the best selling author of The Happy Puppy Handbook, the Labrador Handbook, Choosing The Perfect Puppy, and Total Recall.
She is also the founder of the Gundog Trust and the Dogsnet Online Training Program 
Pippa's online training courses were launched in 2019 and you can find the latest course dates on the Dogsnet website