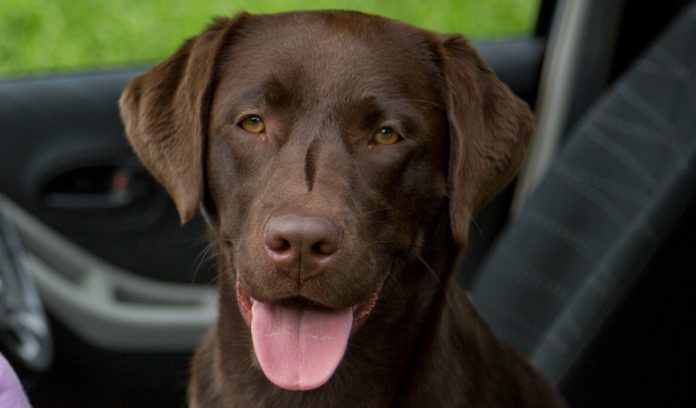 Summer is here and you and your family are getting ready for that eagerly awaited vacation. Whether you are going to the lake, the ocean, the camp or to your relatives, you want your Labrador to come along. Travelling with a Labrador Retriever can be challenging. Here are some tips to help you keep your dog comfortable and safe on the journey. So that you can enjoy a lovely vacation together.
Riding In Cars With Labradors
Does your dog love coming along for the ride? Dogs that regularly go for car rides are more comfortable on long trips than those that only occasionally get in the car. Does your dog dread car rides? Do you only load him up to go to the vet, the kennel, or some other unpleasant place?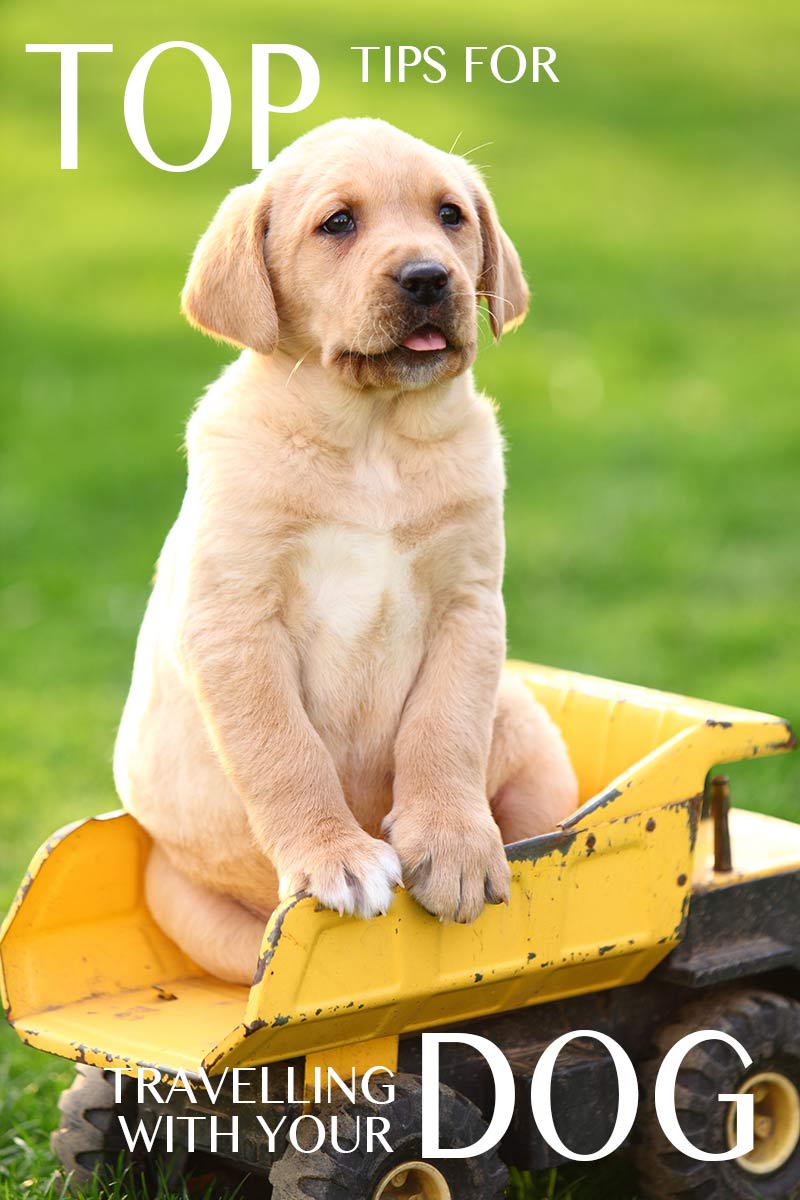 Anxious dogs are not good traveling companions. Take the time to change his mind about the back seat. Start taking your dog for short car rides a few weeks before your trip. Drive to places he likes, like the park. This is also a good opportunity to explore new places with your pooch. Find a new hiking trail or dog park. Take him along on a quick errand, as long as someone can stay in the car with him. You do not want him to feel abandoned or to suffer heat stroke from a hot car.
It is a good idea to get your dog used to cars from the moment you adopt him, whether you adopt an older dog or a puppy. A good canine traveler enjoys more outings and excursions than dogs that have to stay at home.
Where Is The Best Place In The Car For Dogs To Ride?
The best place for your dog to ride in the car depends on your dog and the type of car you drive. Labradors are big dogs. Your Lab may want to sit in your lap, but that is a very bad idea. Dogs that attempt to enter the front seat cause fatal accidents.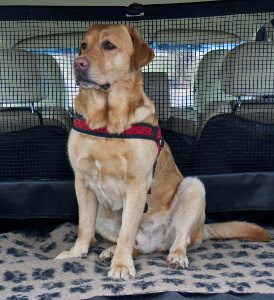 Dogs make much better co-pilots than drivers. You and your dog are safer when dogs remain in the back, and your dog is more comfortable in the back where he can lie down.
Is your dog crate trained? Put his crate in the back of the car. Crates are your dog's safe zone, and often come with comfy pads and a favorite toy. If your dog is not crate trained, you might want to consider purchasing a mesh net or metal grate to separate the back of the car from the front. Keeping your dog in a designated area keeps you and your dog safe.
When travelling with your Labrador Retriever he needs enough space to stand up and lie down. Be sure to pack your car with your dog in mind. You do not want a suitcase falling on top of him while you are on the highway! Do you plan on traveling with your dog on a regular basis? Purchasing a storage compartment for your luggage is an excellent way to conserve space. Some storage compartments sit on top of the car. Others attach to the back.
Do you have a compact car? Let your dog enjoy the comfort of the back seat. Place a towel over the cushions or purchase a seat cushion if you are worried about the seat. Remember to put a divider up or use a car safety harness to keep him in a secure position. Anxious travellers are dangerous travellers. Crating your dog is the best option if he gets worked up in the car.
Keep Your Dog Comfortable On The Road
How long is your road trip? If you have to stop and use the bathroom, chances are your dog does too. Take time to let your dog use the designated outdoor facilities and stretch her legs. Make sure you pick up after her.
Pack some doggy bags in case the rest area does not have a dispenser. Take turns going into the bathrooms so that someone stays with your dog in the car. Even a few moments alone in a car on a hot summer day is dangerous for your pet. Make sure your dog is enjoying the benefits of the AC or open windows. Just because you feel the breeze does not mean your Lab can feel it in his crate in the back. Adjust the AC and windows so that your dog receives airflow.
Offer your Lab a little water at each stop. Traveling is thirsty work for Labrador Retrievers. Keep your dog hydrated.  Worried your dog is anxious in the back? Bring a favorite toy and blanket to make him feel at home. Not only will he want these at your destination, but it will help him pass the time.
Does your dog get car sick? Give him a small breakfast or wait to feed him until you arrive at your destination to help avoid car sick pups. You can also contact your vet to see if he or she has any medications to help your dog's upset stomach while you travel. Is your Labrador on medications? Check with your vet before skipping a meal to make sure your dog does not need to take his medications with food. Some pills cause upset stomachs and need to be taken with a meal. You don't want to make him sick while trying to prevent car sickness!
Labrador Car Safety
Traveling in a car has risks for dogs. It is your responsibility as a pet owner to eliminate as many of these risks as possible. Here are a few safety tips.
Do not open windows wide enough for dogs to put their heads out. Hanging his head out the window at highway speeds is bad for your dog. Wind and debris can damage his eyes, nose and ears. It also increases the risk that your dog will attempt to jump out of your car. Dogs try to jump when the car is parked and when the car is in motion. Both have devastating effects. Never let your dog ride in the back of a pickup truck without a cap.
Place a leash on your dog before letting him out. Do not let your dog exit your car without a leash. Most rest areas are located by major highways. Your dog is at risk of getting hit by a car or getting lost if he runs away. Prevent this by keeping him on a leash at all times. Even well-behaved dogs get scared in strange places. Always have your dog wear a collar with an identification tag while traveling, and ensure your address on his microchip is up to date if you have moved recently.
Try not to leave your dog unattended in the car. If you are traveling alone and have to go into a rest stop, open the windows enough for airflow but not enough for your dog to escape. Your dog can hurt himself by trying to wriggle out of a window. Do not leave your dog alone for more than ten minutes at a time.
Do not panic or chase your dog if he escapes. Try sitting down and calling your dog. Bring treats and toys to entice him. Chasing your dog only scares him more. Some dogs think you are playing with them when you chase them. This is frustrating for dog owners desperate to protect their dogs from danger. Remain calm and stationary. Sitting or even laying down piques your dog's curiosity and is a nonthreatening position.
You should keep a first aid kit in your car for you and your family. This includes your dog. Travel with a Labrador first aid kit as well as a human first aid kit. These days, most Labrador owners carry a smart phone. Smart phones allow you to look up a Veterinary Emergency Centre on the road. Carry your veterinarian's number with you just in case. Your vet can advise you on the best course of action and may even be able to look up an emergency hospital for you.
Traveling With Older Dogs And Puppies
Your older Lab wants to come with you on your trip. Older dogs require a little more care than their younger selves. Older dogs may have to stop more frequently for bathroom breaks. Your greying Labrador might have trouble jumping up into the car. Take your Lab out every time you stop to keep him comfortable and to prevent accidents.
Consider purchasing or building a dog ramp to help him get in and out easily. Lifting your dog puts strain on you and can also put strain on your dog's body. A ramp and a little encouragement will help to make your dog feel young again.
Puppies require similar care. Puppy bladders and bowels do not have the control of mature dogs. Frequent rest stops are necessary to relieve tiny bladders and to play. Romp for a few minutes to help your pup burn off energy. Long car rides are tough for puppies with lots of energy like Labrador Retrievers. Bring along some toys for your pup to chew on. Be careful about choosing toys that your puppy can swallow. You will not be able to keep an eye on her while driving.
Putting Your Labrador On A Plane
Sometimes your destination can only be reached reasonably by plane. Unlike small, fluffy dogs, Labradors do not fit in the compartment underneath your seat.
Instead, they must ride in the cargo area with your luggage. Airlines are particular about flying dogs. Many require you to call to make your reservations instead of booking online. There may be a limited number of dogs allowed on each plane, so get your tickets in advance.
Airlines require specific crates for your dog's protection and the protection of airline employees. Contact the airline before purchasing a crate to make sure the crate meets the specifications. Airlines usually post requirements for pet travel on their websites.
Are you travelling with a Labrador Retriever to a foreign country or an island like Hawaii? All airlines require health certificates. International travel or travel to some islands requires additional paperwork. Your Lab needs a rabies titer if you are traveling to a rabies free island. Research your destination carefully and contact the appropriate authorities. Getting your dog into the vet and waiting for the laboratory results to process takes time. Waiting too long puts your travel plans at risk. Be proactive when it comes to pet air travel.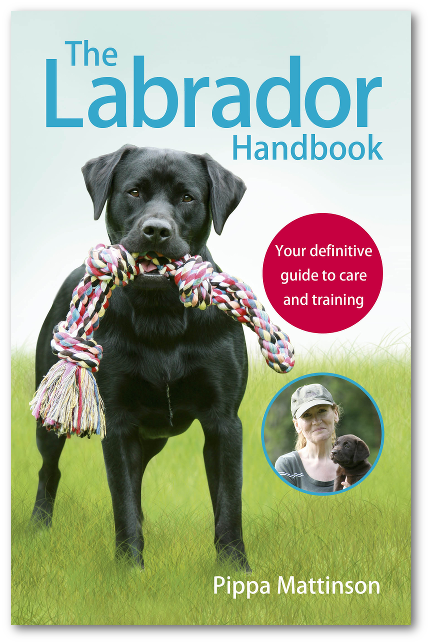 Where are you flying? Airlines have heat restrictions for dogs in cargo. The cargo hold sits right above the tarmac, absorbing the heat from the runway. On hot days temperatures rise dangerously high inside the cargo hold. Ask your airline about heat restrictions if you plan to fly in the summer. Heat restrictions include the airport you fly out of, land at, and any connecting flights.
Worried about flying with your Labrador? Consult a pet travel agency. There are many to choose from. Read reviews from other pet owners before contacting an agency. You want an agency with positive reviews representing your dog. Travel agencies are familiar with the regulations of the airlines and can help you plan a safe trip for your Lab.
Keeping The Family Together
Your Labrador is a part of your family. You know he is happiest with you, wherever you are. Take your Labrador along on your vacation this summer. Follow these travel tips to enjoy a safe, relaxing, and unforgettable vacation with the whole family.
The Labrador Site Founder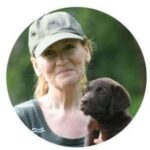 Pippa Mattinson is the best selling author of The Happy Puppy Handbook, the Labrador Handbook, Choosing The Perfect Puppy, and Total Recall.
She is also the founder of the Gundog Trust and the Dogsnet Online Training Program 
Pippa's online training courses were launched in 2019 and you can find the latest course dates on the Dogsnet website