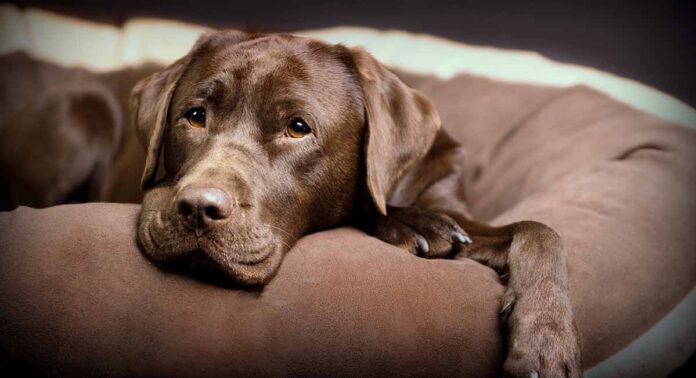 Labrador weight varies depending on type, and diet. On average male Labradors weigh between 60lbs and 80lbs while females weigh in at between 55lbs and 75lbs.
Many healthy Labradors fall outside these averages.
In this article we will be letting you know what the average Labrador weighs at different stages of their lives, and helping you to work out how much your Labrador should weigh right now.
We'll take a look at how to decide what is the right size for a fit and healthy dog.
And help you spot when your dog is piling on the pounds.
Let's find out what you need to know when it comes to your Labrador's weight.
Products included in this article were carefully and independently selected by the Labrador Site team. If you decide to make a purchase from one of the links marked by an asterisk, we may earn a small commission on that sale. This is at no extra cost to you.
Labrador Weight Chart
A puppy's weight is something that concerns most new dog owners. And Lab owners are no different. So on our popular Labrador forum there is a very regularly updated thread all about different pet owner's Labrador puppy weights.
We have taken the information in this thread and compiled it for you.
Here is a graph showing over 200 Lab puppy's weights and at different ages.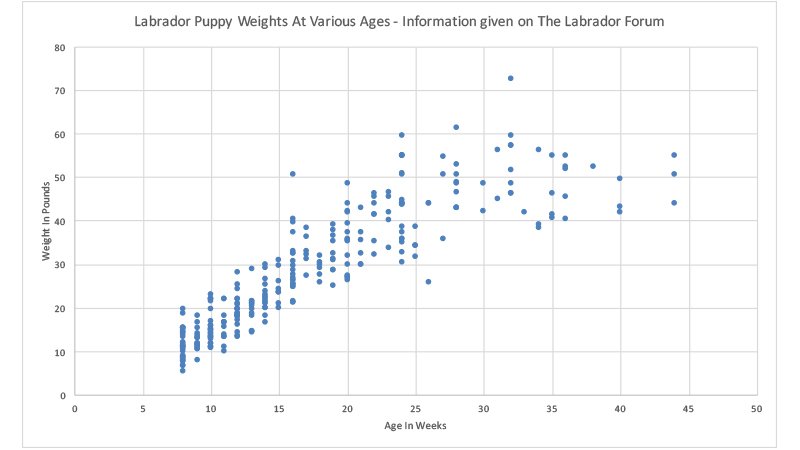 As you can see, there is quite a range.
There are a few anomalies, we have less data to go from as the pup's get older and at some certain ages.
We used the averages of these weights, removed anomalies and used the data to create the Labrador weight chart below: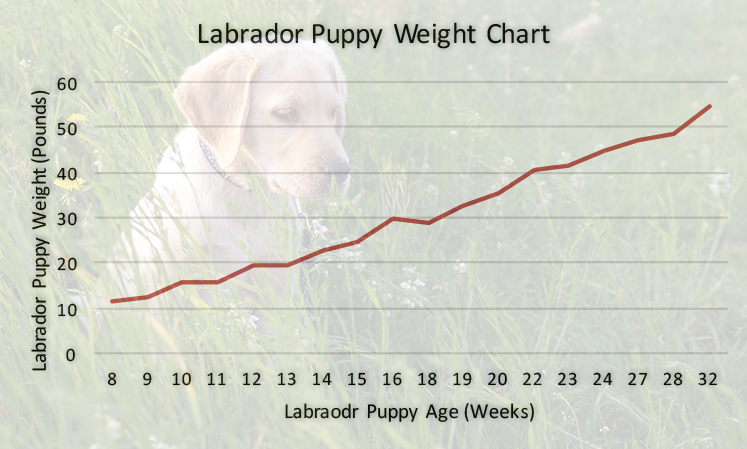 If you want a rough idea of how much your pup should weigh at different stages of their young life, just compare them to this chart and see how they match up.
But remember, average Labrador weight is not totally straight forward.
Let's take a look at why.
Average Labrador Weight
Labradors come in a wide variety of sizes.  So average Labrador Retriever weight figures can be misleading.
As a very rough guide an adult female Labrador might weigh between 55 and 70lbs.  An adult male Lab will weigh 65 – 80lbs.
Female Lab weight will on average be lower than male Lab weight, but as you can see there is a considerable cross over.
But Labradors also come in a couple of different types, and his type will have an impact upon his ideal Labrador weight.
English Lab Weight vs American Lab Weight
Labrador average weight doesn't always take into account that English and American Labs are very different.
English Labs bred from show lines are likely to be at the upper end of the scale. You can expect English Lab weight to be around 60 – 70 lbs for a female and 70 – 80 lbs for a male.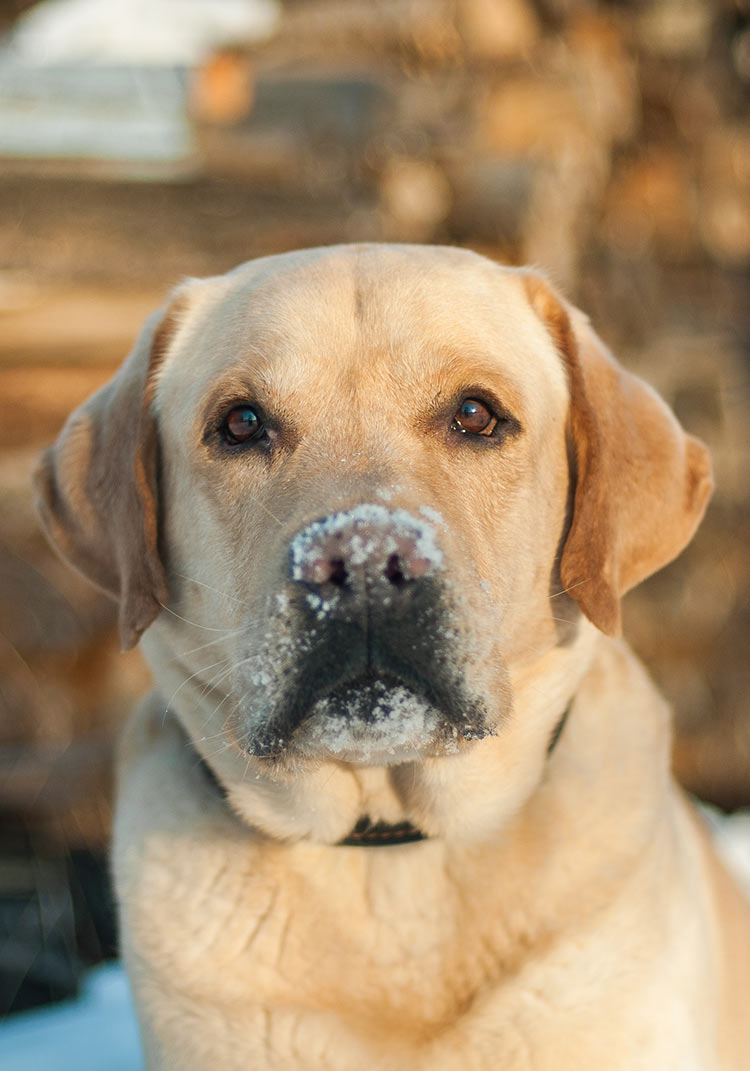 Some of our chunkier, show bred Labs can be a good twenty pounds or more heavier than their field bred cousins, without necessarily being overweight.
Whereas the American Lab who is field bred is likely to be at the lower end of average.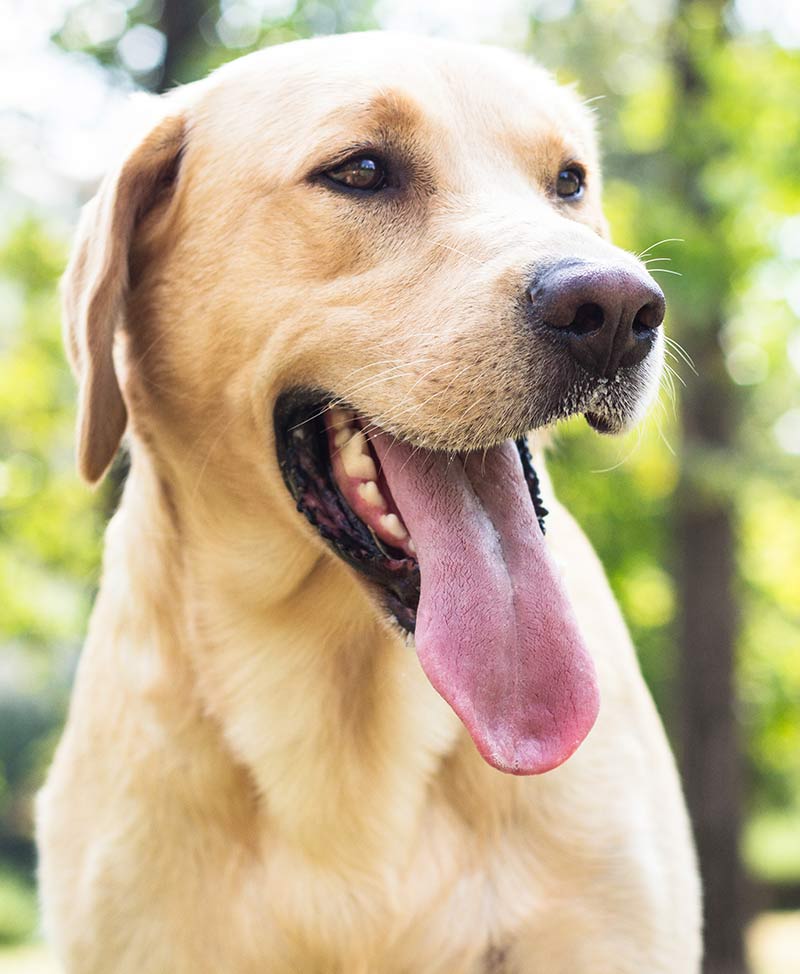 A naturally big (not fat) Labrador may have a larger overall 'frame' with bigger bones.  But they should still look 'slim'.
Many Labradors are overweight without looking so 'obviously' fat.
Overweight Labrador or fit Labrador?
Volume for volume, muscle weighs more than fat.
So it is worth bearing in mind, that a very fit dog will have more muscle and may weigh more than a fat, unfit dog of similar dimensions.
For these reasons, it simply is not possible to give a 'rule of thumb' on adult Labrador weight.
Unless a dog is grossly obese, or desperately thin, the scales may not be an accurate reflection of the dog's state of health.
Black Lab Weight
In theory there should be no difference in weight between Labradors of different colors.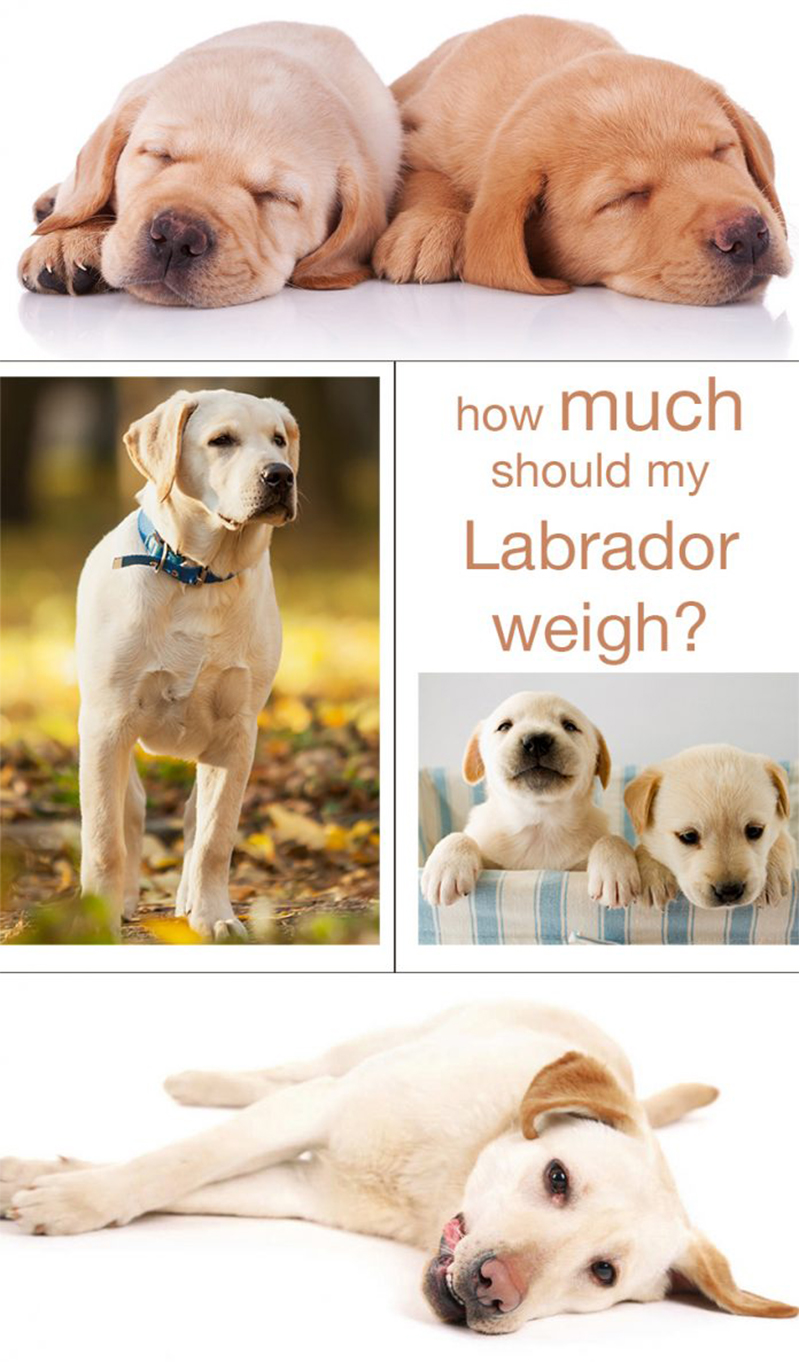 But in practice there can be some, especially in the colors that are predominantly from either show/English or working/American lines.
Black Labrador weight for an English black Lab will probably be at the higher end of the range, for an American black Lab it will likely be lower.
Black Labs are frequently found in both these categories, but some Lab colors differ. For example the chocolates.
Chocolate Lab Weight
Chocolate Labs are more likely to be show bred than field bred. English Labs weigh more than American Labs in general, and may therefore be at the higher end of average when it comes to weight.
Yellow Lab Weight
Yellow Labrador weight is more likely to be widely spread, as with the black Lab. This is because yellow Labs are commonly found in both categories.
But if you don't know anything about your Lab's lineage, his color might give you a clue.
White Labs are more likely to be English Labs, and will therefore probably be at the heavier end of the scale.
Fox red Labs are normally American Labs, and will often be thinner in build and therefore lighter in weight.
Labrador Puppy Weight
Lots of our readers want to know how much should my Labrador weigh at this age or that age.
Labrador puppies are growing fast, and their weight is constantly changing.
You can find an idea of how much puppies weigh at two, three and six months, in our Labrador puppy feeding guide.
Labrador Ideal Weight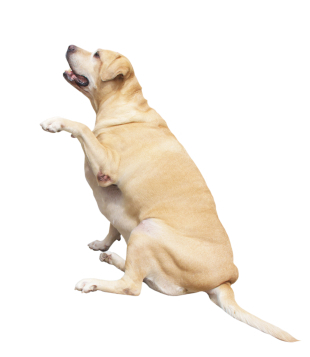 The way to effectively judge whether your Lab is at an ideal weight is not through the scales. It is by feel and appearance. Your dog should have a 'waist'.
You should not be able to see ribs,  but if you press firmly along his sides you should just be able to feel your fingers bumping along them.
You can read about this in more detail in our article on Fat Labradors where you can also find a picture of a Labrador at a healthy weight.
Lab Puppy Weight
To an extent, this information applies to puppies as well as adults. People often worry a lot about their puppy's weight.
But in most cases it really is not necessary to weigh your puppy every day, or even every week!
Any more than you would weigh your three year old child on a daily or even weekly basis.
There are however, some exceptions.
Very thin puppies
Occasionally we have people post up about puppies that are desperately underweight and clearly failing to thrive.
Most of these comments come from people that have purchased puppies that are not ready to leave their mothers, and should not have been sold by the breeder.
Some of these puppies are as young as three weeks old.
If you have inadvertently been sucked into this horrible trade in underage puppies, please check out our article: Too Young to Leave Mum, and do contact a vet for help with feeding your puppy, as a matter of urgency.
If you are concerned that your puppy might be seriously underweight, again, your vet is the first port of call.
As a very rough guide,  many Labrador puppies will weigh around a kilo for every week of their lives.
So you would expect a ten week puppy to weigh something in the region of ten kilos or around twenty-two pounds.
A twenty percent variation around this would be fairly normal. If your puppy falls outside this variation he may still be perfectly healthy, but if you are inexperienced, a check with the vet is a good way to put your mind at rest.
Check out this article on Puppy Growth for more information: Puppy Growth FAQ.
Should I Weigh My Dog?
You may need to weigh your dog if he needs medical treatment.
Determining the appropriate dose of some drugs requires that we know the exact weight of the patient.
But in this case your veterinarian will probably do it for you at their check-ups and assessments.
The main reasons to weigh a dog are loss or gain.
Trying to put weight on a very thin puppy? You may want to check your progress with regular weigh-ins for a while to make sure they are sufficiently gaining weight.
Trying to help your adult Labrador weight decrease? Checking their weight each week will help you to know that you are succeeding, along with visual checks.
How to weigh a dog
If you need to weigh a puppy, and he is small enough to hold in your arms, you can do this at home.
Just weigh yourself on the bathroom scales* without him, then weigh yourself again whilst holding the dog, and subtract the first weight from the second.
This is accurate enough for most purposes.
Larger dogs will need to be weighed on purpose built scales. Most vet surgeries have one in the waiting room, and some pet stores have them too.
Really tiny dogs can be weighed accurately on a good sized set of kitchen scales*.
Or by using fishing scales* to weigh a puppy placed carefully in a shoulder bag (don't forget to weigh the bag first and subtract its weight from your total).
Labrador Weight – How Much Should My Labrador Weigh?
For once, this is a situation where appearances really do count.
Try to get into the habit of looking at your dog objectively and of avoiding comparing with other dogs, many of whom will be overweight.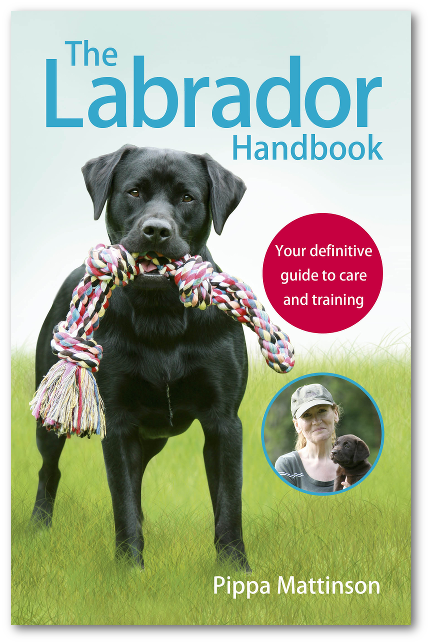 You may find that some other dog owners will tell you your nice slim Labrador is actually too thin.
This happens a lot, largely because people are simply getting used to so many dogs being fat,  including some of those receiving the highest accolades in our show rings.
Again, if you are worried, check with your vet,  but the chances are if someone is telling you this that actually your dog is healthy, and it is really their dog who is overweight.
Healthy Labradors
We hope you've enjoyed this guide on the topic of "how much should my Labrador weigh?"
If you want to know the right ways to keep your Labrador fit and healthy, check out The Labrador Handbook*.
A complete guide for Lab owners.
Everything you need to know to keep your pup happy and in the best shape possible.
Affiliate link disclosure: Links in this article marked with an * are affiliate links, and we may receive a small commission if you purchase these products. However, we selected them for inclusion independently, and all of the views expressed in this article are our own.
The Labrador Site Founder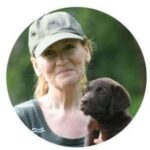 Pippa Mattinson is the best selling author of The Happy Puppy Handbook, the Labrador Handbook, Choosing The Perfect Puppy, and Total Recall.
She is also the founder of the Gundog Trust and the Dogsnet Online Training Program 
Pippa's online training courses were launched in 2019 and you can find the latest course dates on the Dogsnet website