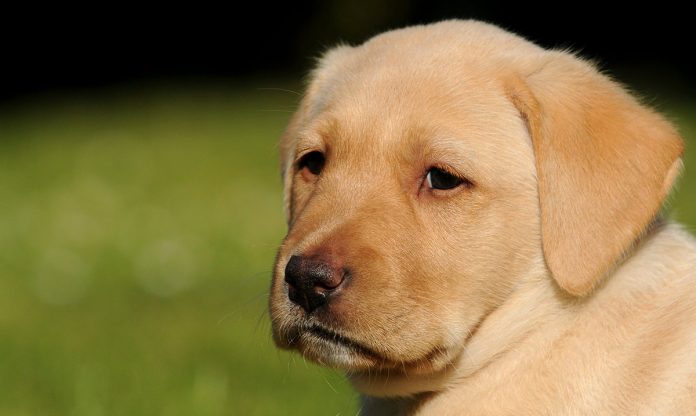 In this article we look at when puppies can leave their mother.
We'll investigate the benefits of bringing home a puppy at different ages and the best age for you to take your Labrador puppy home.
And we'll look at what can go wrong when puppies are re-homed too early
When can you take a puppy home?
It's the most exciting moment isn't it? The day you get to bring your puppy home.
It isn't surprising we all want that day to come as soon as possible. Sometimes sooner than it should.
Most puppies go to their new homes between 7 and 9 weeks old.
But there are various factors we need to consider carefully, in order to do the best for your puppy.
Can you take a puppy home at six weeks old?
In some parts of the world it is common for puppies to be re-homed at six weeks or even earlier.
Six weeks is a popular age for many people to want to bring home their Lab puppy.
And breeders who sell very young puppies will often explain, quite truthfully, that their six week old puppy is already weaned.
We'll have a look at the relevance of that in a moment.
But in much of Europe, Australia and North America, most pedigree puppies are not sold until they are around 8 weeks old.
A few breeders may want puppies to be even older than this.
So why the big difference? And when can puppies leave their Mom? Let's take a look
Kennel Club recommendations for rehoming puppies
The Kennel Club (UK) and the American Kennel Club (AKC) both recommend that puppies are over 8 weeks old before being rehomed.
The AKC explains that this allows the breeder to complete the weaning process and to make sure that the puppy is settled on solid food.
"But, BUT", you cry "my six week old puppy is already weaned!"
That may well be true, in so far as your puppy no longer drinks his mother's milk. However, weaning is not the only reason for delaying the sale of puppies until 8 weeks. We'll look at this more closely in a moment
There are two issues here that need separating.
Can puppies leave their mother at six weeks
Should puppies leave their mother at six weeks
Can puppies leave their mother at 6 weeks?
Physically puppies can and do leave their mothers this young, and even younger, though not all such very young puppies will survive.
We get many sad letters here from people that have bought puppies as young as three or four weeks old and whose puppies are very sick
And while the sale of such tiny puppies is permitted in some parts of the world, it is illegal in others
Legal limits on the age of puppies when sold
In some 25 states in the USA there are legal requirements governing the sale of puppies
In most cases these laws stipulate that puppies should be over 8 weeks old when they go to their permanent homes.
So what is the purpose of this legislation and why is 8 weeks so important. Why do Kennel Clubs recommend puppies are not re-homed before 8 weeks?
Is it to do with weaning? Or is there some other reason. Let's just go back to weaning first
Are puppies weaned at six weeks old?
If your breeder tells you your puppy is already weaned at six weeks old, they are almost certainly telling the truth.
Most breeders begin getting puppies used to solid food from around 3 to 4 weeks of age, and many puppies are indeed completely weaned off their mother's milk at six weeks.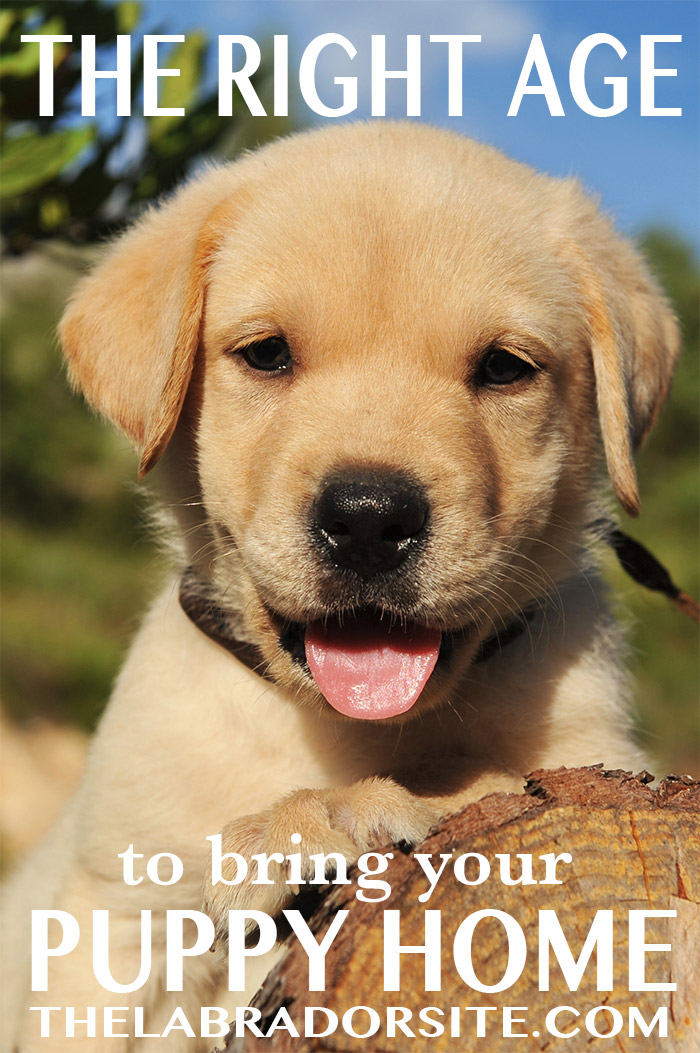 However, it is important that the puppies are observed and supported during this early stage of adjusting to solid food. And protected from stress.
The six week old pup has a very immature digestion and is vulnerable to stomach upsets.
It certainly isn't a good time to uproot a puppy and add the additional stress of leaving the comfort and familiarity of his home.
More reasons not to rehome pups at 6 weeks
But there are other, even more important reasons to leave a puppy with his breeder and with his brothers and sisters, for a couple more weeks. These reasons include
Learning not to bite hard
Avoiding behavioral problems
Helping puppy buyers identify responsible breeders
Learning not to bite hard
All puppies bite. This is a normal part of puppy play.
Although puppy biting is normal, in puppies adopted early – at 5 or 6 weeks it often hurts more.
That is because puppies have to learn how hard they can bite in fun, without actually harming anyone. And one of the most important ways that puppies learn not to bite is from their mother and littermates.
Much of this 'no bite' training takes place during the two weeks before the puppy reaches 8 weeks of age.
This is when puppy play gets rougher and tougher and the puppies teach one another not to bite too hard.
Behavior problems in puppies separated from their mothers too early
We now know that behavioral problems are more common in puppies separated too early from their litter
A study published in 2011 has shown that these behavioral problems include
destructiveness
excessive barking
fearfulness on walks
reactivity to noises
toy possessiveness
food possessiveness
attention-seeking
This are important consideration for any puppy buyer.  But the 8 week rehoming guideline has yet another useful purpose. It helps you identify responsible dog breeders
Puppies are hard work.  Especially from 6 to 8 weeks of age when they are messy, noisy, and growing fast.
It takes commitment to keep puppies during this period when many puppy buyers are desperate to collect their baby and take them home.
This commitment is a good sign that you have chosen a responsible caring breeder and that that responsible attitude will affect all aspects of your puppy's early life in a positive way.
Anyone who is just breeding for profit is likely to want to move the puppies on to their permanent homes as quickly as possible.
Reasons for rehoming puppies early
Of course sometimes there are exceptional reasons that mean a puppy needs to be brought home early.
A death in the breeder's family may result in a litter being re-homed early for example
But let's be honest, situations like this are extremely rare
All too often, breeders who let puppies go to their new homes at six weeks old, do so for selfish reasons.
Incidentally, a common excuse given by breeders who are just churning out puppies for profit, and want to get rid of the puppies as quickly as possible, is that 'the mother dog has died'.
This is rarely true, and in any case it isn't relevant.
Because at this point, the puppy needs to be with his brothers and sisters, as much as, if not more than, he needs to be with his mother.
When can puppies leave their mother?
So if 6 weeks is too young, when can puppies leave their mother and when can you take your puppy home?
What about 7 weeks of age?  Must you really wait a full 8 weeks?
I understand that waiting can be tough. Seven weeks is not ideal, but probably won't do any great harm other than making biting harder and more difficult to stop.
Is that really worth an extra 7 days in the grand scheme of things?
The truthful answer is, that the right age to bring home a Labrador puppy is 8 weeks.  A couple of days early won't hurt, but that is it.
With very small breeds, some breeders will want to keep the puppies for another three to four weeks after that.
Puppies that are too young to leave their mother
Here is an article explaining the problems that can arise with puppies that are sold at five or six weeks old.
With younger puppies,  three or four weeks,  the situation  is even more serious,  and your puppy may die.

If you have been offered a three week old puppy for sale please be patient and refuse. He does look very appealing, but he really needs his mother and littermates.
And please think very hard about whether or not this is the right breeder, and the right litter for you. Even if the mother has genuinely sadly passed away, your puppy still needs to be kept with his littermates.
If you have brought a puppy home that is less than seven weeks old,  please have the courage to take your puppy back to the breeder.
If everyone in your situation did this, breeders would stop abusing dogs in this way,  because they would not be able to sell them.
Without legislation to protect these dogs, in many regions, the answer lies entirely in the hands of the buyer.
Finally, let's look at the other end of the spectrum.  Is it ever too late to bring a puppy home?  Are some puppies too old to be adopted?
Is my puppy too old to bring home?
What happens if you have been offered an older puppy?  One that is 10 or even 12 weeks old?
Are there any problems you need to look out for? The answer here is that if you have found a good breeder, there shouldnt be any problems with adopting an older puppy
The main issue that can affect older puppies is lack of socialisation.
Socialisation  means taking a puppy out and about to get him used to all kinds of different situations and experiences, and it is hard  work to do this properly with more than one puppy
So, if your breeder has been left with two or three puppies, you need to check carefully on what he or she has done in the way of socialisation.
Summary
Eight weeks is a great age to bring your puppy home. The benefits are worth the wait.
Like so many aspects of puppy health and welfare, much hinges on whether or not you have found a good, responsible breeder
If you have done your research and picked your breeder carefully, none of these issues is likely to affect you.
A good breeder is most unlikely to let puppies go before 8 weeks of age, or to have leftover puppies much after 9 weeks. And if she does, she will know exactly what to do to ensure your puppy is thoroughly socialised.
More information on puppies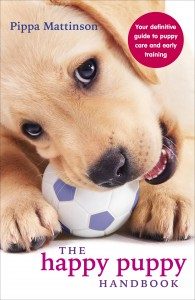 Check out our Labrador Puppies section for more help and advice on choosing the right puppy to join your family, at the right time.
For a complete guide to raising a healthy and happy puppy don't miss The Happy Puppy Handbook.
The Happy Puppy Handbook covers every aspect of life with a small puppy.
The book will help you prepare your home for the new arrival, and get your puppy off to a great start with potty training, socialisation and early obedience.
The Happy Puppy Handbook is available worldwide.
A brief version of this article was originally published in 2013 and the comments from it have been moved to this page. "When can puppies leave their mother" has been extensively revised and expanded for 2016