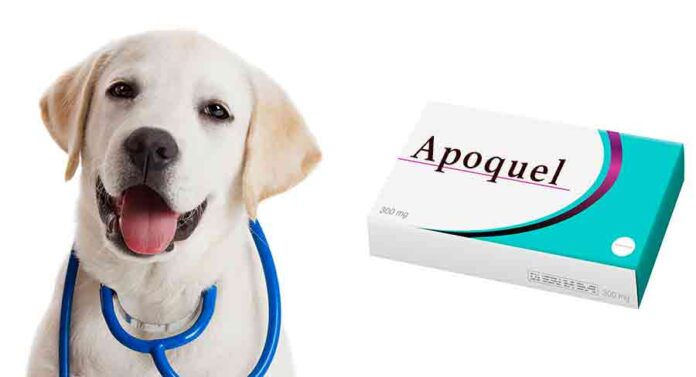 We are going to give you all the information you forgot to ask your veterinarian when they prescribed Apoquel to your dog! We will let you know how Apoquel for dogs works, when it's given, how effective it is and the potential side effects to look out for.
Apoquel is a drug that stops the itching sensation caused by dermatitis. In simple terms, apoquel changes how the immune system acts. Vets may prescribe it for both atopic dermatitis and allergic dermatitis – both problems that cause itchy and inflamed skin. The active ingredient in this medication is called oclacitinib. Apoquel is the commercial name of this drug.
What is Apoquel for Dogs?
Apoquel is the commercial name for oclacitinib maleate. The main active ingredient in Apoquel is oclacitinib. As we know, this drug stops itching sensations by changing how the immune system acts. More specifically, when Apoquel enters the bloodstream it blocks particular enzymes called Janus kinases. They're the real troublemakers when it comes to the itchiness and inflammation associated with atopic dermatitis.
When these enzymes are blocked, the amount of itchiness and inflammation decreases. This can help dogs by stopping them from damaging their skin with repeated itching or rubbing.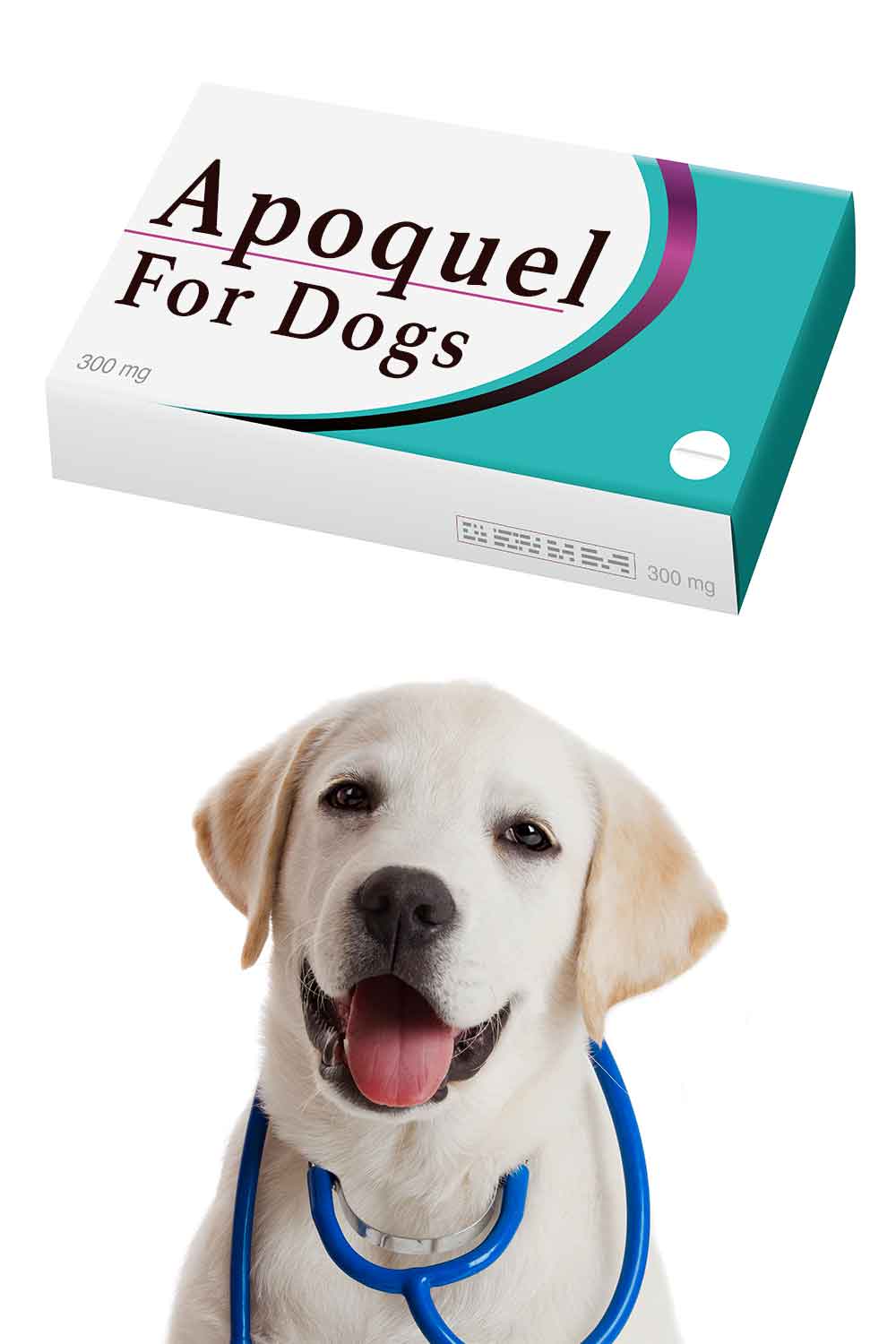 Apoquel at a Glance
| | |
| --- | --- |
| Brand names: | Apoquel |
| What it treats: | Itching and associated inflammation |
| Dosage: | 0.5 - 2 tablets, once or twice a day, depending on your dog's weight. |
| How to get it: | Prescription only, via your veterinarian. |
What is Apoquel Used for Dogs?
Veterinarians prescribe Apoquel to control the itching associated with allergic dermatitis and atopic dermatitis. Dogs with these conditions often have itchy, inflamed skin that can become sore and broken with excessive scratching. When a dog suffers from allergies or sensitivities that cause dermatitis, there are two parts to treating them:
Identifying the allergen so they can be protected from it in future, and
Relieving the discomfort of their symptoms in the meantime.
Vets use Apoquel for the second part – relieving the discomfort of itching. Apoquel manipulates the enzyme which causes inflammation and itching. This should make the symptoms of your dog's allergy much more tolerable. Since scratching the area frequently makes dermatitis exponentially worse, suppressing the need to scratch gives the skin a chance to heal.
In a small study at Montgomery Animal Hospital in 2017, vets also reported promising evidence that Apoquel can help to treat dogs with outer ear infections caused by allergic skin disease.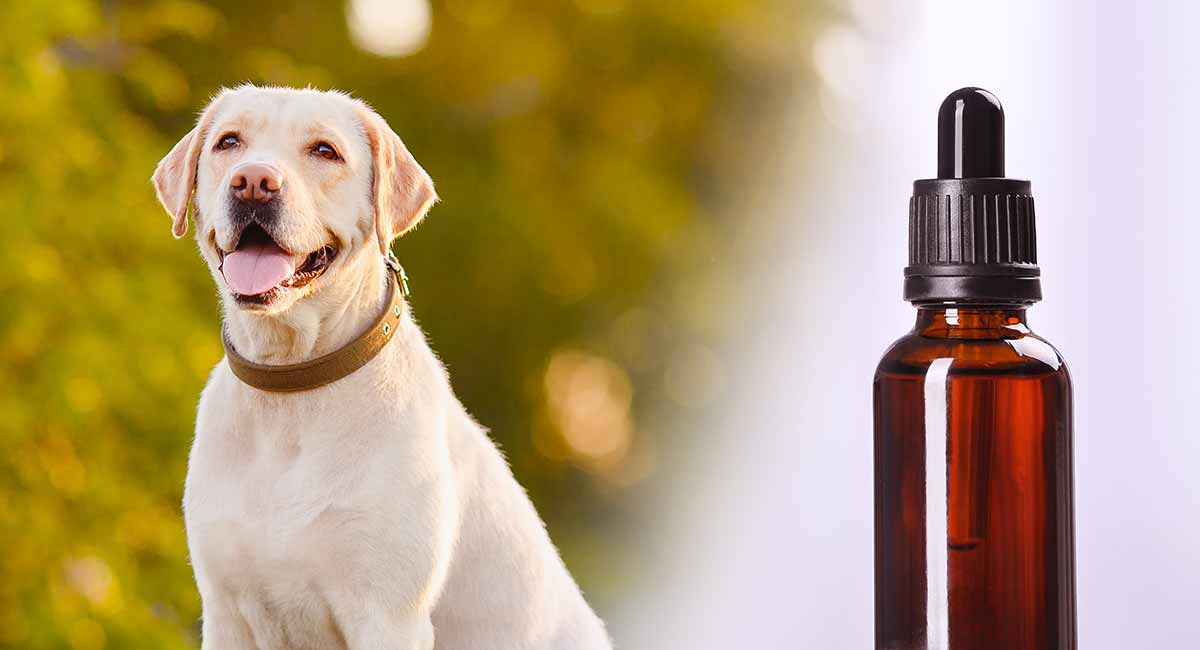 Is Apoquel Safe for Dogs?
Apoquel is the latest in a line of drugs used to help dogs with itchy skin caused by allergic or atopic dermatitis. Zoetis released it in 2013. They are the animal medicine arm of pharmaceutical giant Pfizer.
So far no anti-itching drug (including Apoquel) has been created which is completely effective or completely free from side effects. But, in the first clinical trials of Apoquel, 279 dogs benefited from receiving it. Following that trial, they were permitted to continue receiving it directly from the manufacturer until it became commercially available. This was under the FDA's Long Term Compassionate Use rules.
Zoetis developed Apoquel as an alternative for dogs who didn't benefit from earlier drug therapies or who couldn't tolerate their side effects. So, for many dogs it is a safe and effective drug.
Apoquel Side Effects in Dogs
In 2015, Zoetis published the long term experiences of the dogs in the first clinical trials. Some of these dogs had been using Apoquel for nearly two years by that point. The most common adverse effects were:
urinary tract infections
pyoderma (a bacterial skin infection)
otitis (ear infections)
weight gain
vomiting and diarrhea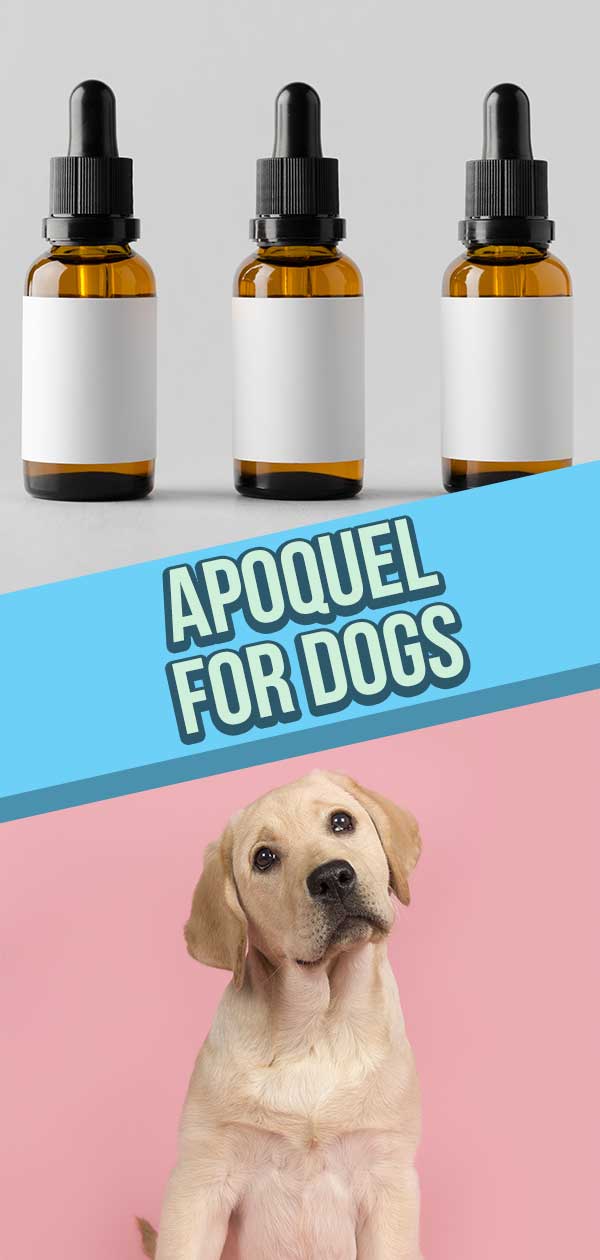 Some less common side effects also include:
pneumonia
cysts between the toes
demodex mange
lethargy
tremors
blood abnormalities
tumors
seizures
aggression
If you notice any adverse side effects, don't hesitate to contact your vet. Always stick to the recommended dose. This will usually reduce the likelihood that your dog will have a bad reaction.
A Note About These Effects
When a drug is new, it takes time and carefully controlled trials to work out whether the health problems dogs experience whilst taking the drug are because of it. Or whether they would have suffered them anyway. So the term "adverse events" was used in the 2017 Apoquel trial, instead of side effects. This is because it was hard to say whether their frequency in dogs taking Apoquel was higher than in the ordinary dog population.
In a review of her experiences with Apoquel for Pet Dermatology Clinic website, vet Melissa Eisenschenk agrees that incidences of ear infections, weight gain and urinary tract infections are higher in dogs on Apoquel. But, she notes that dogs with allergies tend to be more prone to urinary tract infections anyway. And the weight gain was less than usually seen with other anti-itching drugs. Eisenschenk also reported bone marrow suppression in 1% of dogs taking Apoquel and recommended monitoring to identify these patients.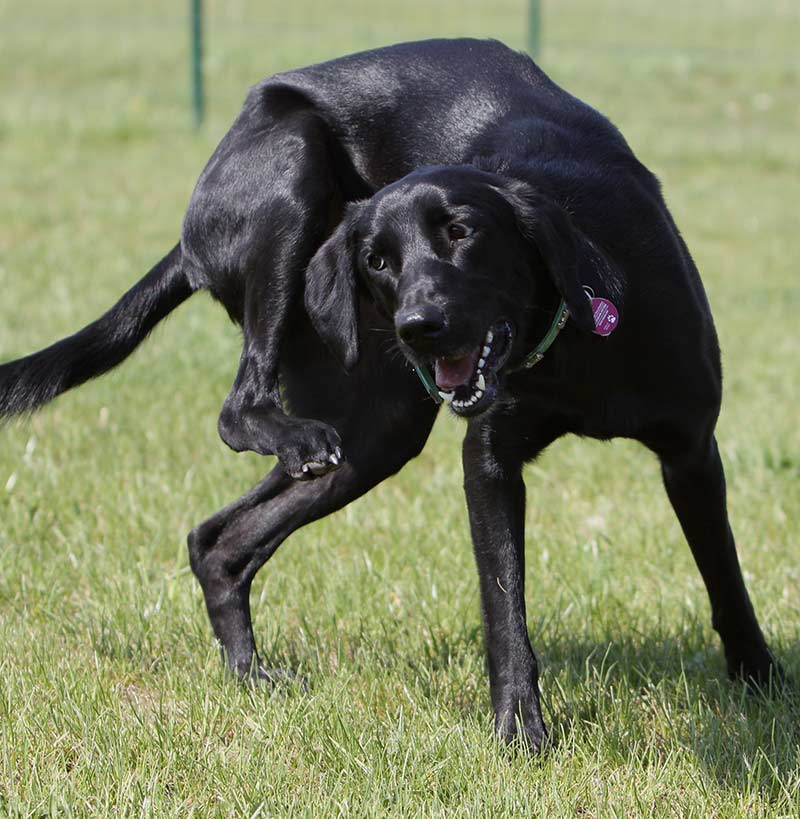 Does Apoquel Make Dogs Sleepy?
One of the less common apoquel side effects in dogs is lethargy. So, there is a chance that apoquel will make your dog feel sleepy and cause lower activity levels. If this happens to your dog on apoquel and you are concerned, it is always best to contact your veterinarian to ensure that your dog is not having a bad reaction to the medication. They may suggest a different course of treatment.
How is Apoquel Given?
Apoquel comes in tablet form only. The tablets come in three dose sizes:
Always give the dose prescribed by your veterinarian. If you struggle to get your dog to take tablets, you can try hiding it in their food, or wrapping it in a tasty piece of meat. Alternatively, your veterinarian may be able to show you some techniques.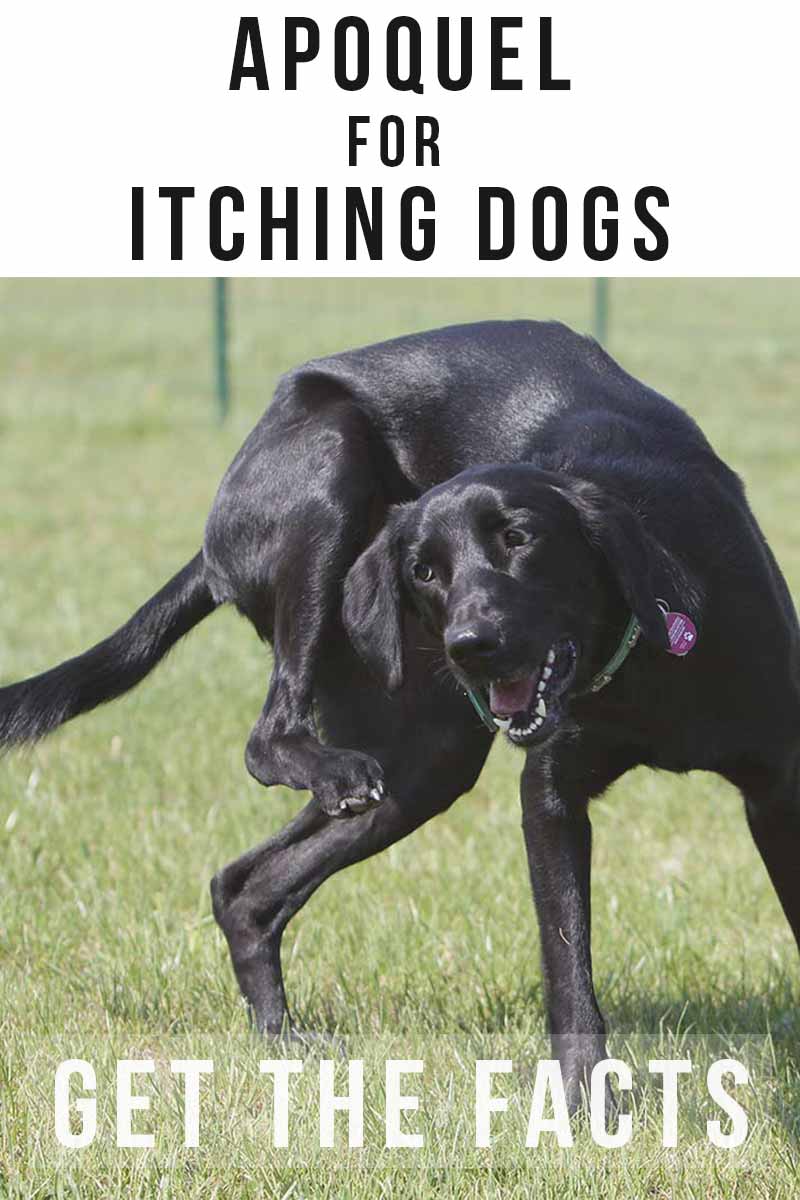 Apoquel Dosage for Dogs
No matter what it is treating, the Apoquel dosage for dogs is based on weight:
| | | | |
| --- | --- | --- | --- |
| Dog's Weight (lbs): | 3.6mg Tablet: | 5.4mg Tablet: | 16mg Tablet: |
| 6.6 - 9.9 | 0.5 | - | - |
| 10.0 - 14.9 | - | 0.5 | - |
| 15.0 - 19.9 | 1 | - | - |
| 20.0 - 29.9 | - | 1 | - |
| 30.0 - 44.9 | - | - | 0.5 |
| 45.0 - 59.9 | - | 2 | - |
| 60.0 - 89.9 | - | - | 1 |
| 90.0 - 129.9 | - | - | 1.5 |
| 130.0 - 175.9 | - | - | 2 |
So for the most common Labrador weights:
45 – 59.9lb, a single dose is two 5.4mg tablets
60 – 89.9lb, a single dose is one 16mg tablet
Your veterinarian will likely start your dog out at two tablets a day for 2 weeks and then reduce it to 1 per day for a duration thereafter. If you miss a dose, speak to your vet about what to do, don't just double up without their approval.
Every dog is different. Whilst the doses listed here may be the best place to start, your veterinarian might recommend tweaking the dose for reasons specific to your dog. So, if your vet advises a different dose, always follow their advice. They should be happy to discuss their reasoning with you!
How Long Can Dogs Take Apoquel For?
Veterinarians may prescribe Apoquel for short term for dermatological flare ups. Or, they may prescribe it for the long term alongside other medications. This would be in cases of atopic dermatitis or other conditions. If it is no longer needed, Apoquel can be stopped quickly, without needing any gradual tapering off.
Apoquel usually begins to work within a couple of days. And the consensus among vets who have used it is that if it isn't working within two weeks, then it isn't going to work at all. After the first two weeks, the treatment is usually reduced to one dose a day. This is described as "maintenance therapy".
Apoquel for Dogs – Precautions
Apoquel is NOT safe or suitable for your dog if they:
are less than a year old
have a serious infection
are being used for breeding
are pregnant or nursing puppies
In safety studies before Apoquel was released onto the market, puppies under one year old experienced an increased rate of bacterial pneumonia and demodex mange. Your vet might advise against using Apoquel if your Labrador has certain infections. Since it works by suppressing part of the immune system. Your vet might also advise against using Apoquel if your dog has had any kind of tumor in the past.
Drug Interactions
A great advantage of Apoquel is that it can be taken at the same time as anti-parasitic drugs or topical ointments for bacterial and fungal skin infections. And it doesn't interfere with allergy testing. In fact, current studies have not reported any specific drug interactions with Apoquel.
But, it's important to keep an eye on the most recent research and make sure your veterinarian is aware of any other medication your dog is on. And, your dog should not be taking Apoquel if they fit into any of the categories mentioned in the previous section of this guide.
What to Do in Case of Emergency
Your vet will monitor your dog while they are taking Apoquel for any sign that he's not responding well to it. This should include taking blood samples to check bone marrow function. But, like virtually all effective drugs, Apoquel is not without side effects. And because it's so new to the market there may be long term side effects which we don't fully understand yet.
If your dog experiences any minor side effects, report them to your veterinarian. But, if your dog is experiencing more serious side effects, or your vet isn't available, you may need to go straight to an emergency veterinary clinic.
How to Store Apoquel for Dogs
Apoquel only comes in tablet form. This means it is easy to store, and usually won't spoil. Keep it shut away out of your dog's reach so they can't consume more than their normal dosage. And out of reach of any children. A dry, dark cupboard is ideal. Keep the tablets away from any water which could seep into the packaging. The packaging of each prescription will have more information on storage, including a potential use by date. On average, shelf life for Apoquel is around two years.
Apoquel for Dogs – Evidence of Effectiveness
In Zoetis' own tests, 186 out of 216 dogs with allergic or atopic dermatitis (86%) showed an improvement in symptoms within 30 days of taking Apoquel in a blind trial. Veterinary feedback is also quite positive. For instance, vet Nicole Heinrich's describes giving Apoquel to 250 dogs on the VetGirl blog. Heinrich concludes that it is a promising replacement to steroids. But also stresses the importance of monitoring patients for blood abnormalities.
Apoquel is most suited to being used alongside carefully planned immunotherapy to isolate the cause of the itching and build up an appropriate immune response instead of an allergic one.
More recently, a 2021 study compared Apoquel to other anti-pruritic therapies in dogs with allergic dermatitis. It found that dogs treated with Apoquel were less likely to need additional antibacterial treatment than those treated with alternative anti-pruritic therapies. And, in 2018, a study into 10 Beagles with atopic dermatitis found that Apoquel delayed the development of dermatitis (itchy, inflamed skin) when an allergen was applied to the area.
If you have the time and inclination, you can read even more feedback from vets at a workshop on the pros and cons of Apoquel therapy (including side effects) in 2017.
Is There an Alternative to Apoquel for Dogs?
So, is there an alternative to Apoquel if it doesn't help your dog's symptoms? If Apoquel isn't working for your dog, you should contact your vet first. They may be able to prescribe a steroid alternative. Or, they may undergo trials with you to find exactly what is causing your dog's itching and deal with the problem at its root.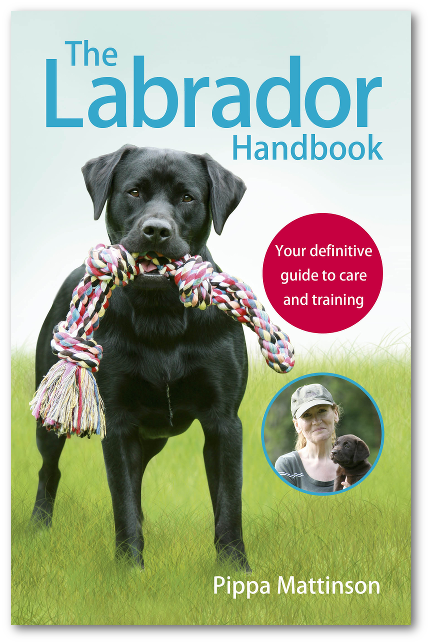 When Apoquel for Dogs Doesn't Work
Remember, Apoquel does not by itself cure allergies or dermatitis. Vets usually prescribe Apoquel to:
Treat the discomfort of itching while they find and remove the cause of allergic dermatitis
Protect a dogs skin during summer if they get seasonal allergies
Or treat chronic atopic dermatitis over the long term if they never find the cause
Sadly, atopic dermatitis has a genetic component and is inheritable. Labradors are particularly predisposed to it. Apoquel will usually only help ease your dog's discomfort if they are suffering from atopic or allergic dermatitis. You may need to undergo further tests and trials with your veterinarian to determine the cause of the problem. For instance, moving your dog onto a limited ingredient diet.
Apoquel for Dogs
Like most kinds of medicine, Apoquel comes with its own list of side-effects. Your vet will not prescribe Apoquel unless she thinks it's going to help. Always consult your vet if your dog has skin problems or is scratching. Helping dogs with dermatitis is often a lengthy process of trial and error to find and eliminate the cause(s).
Anti-itching drugs can give your dog relief from the misery of dermatitis while that process takes place. If your Lab has reacted badly to corticosteroids or other anti-itching drugs in the past, Apoquel might be the alternative they need. Don't forget, Apoquel is a prescription only drug. You should only give it to your dog on the advice of a qualified veterinarian. Remember to pay strict attention to their instructions.
References and Resources
Zoetis United States
Cosgrove (et al), 'Long‐Term Compassionate Use of Oclacitinib in Dogs with Atopic and Allergic Skin Disease: Safety, Efficacy and Quality of Life', Veterinary Dermatology (2015)
Eisenschenk, 'My Clinical Experience with Apoquel (Oclacitinib)', Pet Dermatology Clinic (Accessed 2019)
Rosenkrantz & Bourgeois, 'Pros and Cons of Oclacitinib Therapy. Advances in Veterinary Dermatology', Wiley Publishing (2017)
Rosenkrantz, W. 'Canine Atopic Dermatitis – Where Do The New Treatments Fit In?', Animal Dermatology Clinic – Online World Congress of Veterinary Dermatology (2020-2021)
Barrett, L. (et al), 'Safety and Toxicity of Combined Oclacitinib and Carboplatin or Doxorubicin in Dogs with Solid Tumors: A Pilot Study', BMC Veterinary Research (2019)
Rynhoud, H. (et al), 'The Association Between the Use of Oclacitinib and Antibacterian Therapy in Dogs with Allergic Dermatitis: A Retrospective Case Control Study', Frontiers in Veterinary Science (2021)
Marsella, R. & Ahrens, K. 'A Pilot Study on the Effect of Oclacitinib on Epicutaneous Sensitization and Transepidermal Water Loss in a Colony of Atopic Beagle Dogs', Veterinary Dermatology (2018)
The Labrador Site Founder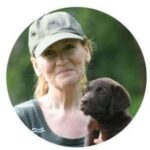 Pippa Mattinson is the best selling author of The Happy Puppy Handbook, the Labrador Handbook, Choosing The Perfect Puppy, and Total Recall.
She is also the founder of the Gundog Trust and the Dogsnet Online Training Program 
Pippa's online training courses were launched in 2019 and you can find the latest course dates on the Dogsnet website