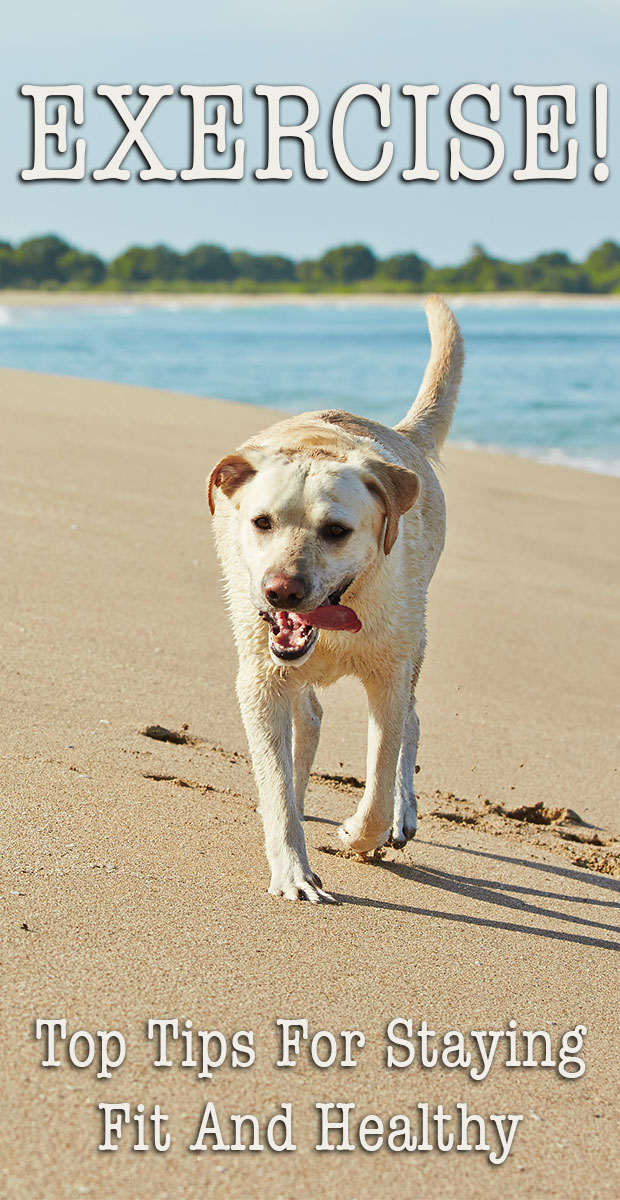 To keep your dog in great condition, he needs the right diet and plenty of exercise.  You probably want to know exactly how much exercise your Labrador needs on a daily basis.  And we'll be looking at that in this article.
You can head over to my feeding section to get information on diet.
Not all experts agree on how long, how far, or how often you need to walk your dog, some will say 'an hour a day' others will tell you Labradors need much more than that.
What many people don't realise is that there are a great many different ways to exercise a Labrador apart from walking.
It isn't the exact quantity of exercise your dog gets on any given day that counts, but how much he gets on a daily average over time.
Not only that, but there are some Labradors that will benefit from less walking or different types of exercise, and some that don't need much formal exercise at all.
So, in this article I'll be talking about the different exercise needs of different dogs, and what you need to do with your dog, to keep him fit and happy.
The information on this page refers to Labradors over a year old.  If you have a young puppy, do head over to our article on puppy exercise needs.
Why Labradors need exercise
Just like us, Labradors have a cardiovascular system that becomes more efficient and healthy, the more it is used.
Exercise literally helps your dog to grow more blood vessels and more effectively oxygenate his body.
Exercise helps build muscle and strengthen your dog's bones, protects him against injury and it probably increases his life span.
To a certain extent, exercises may help with weight control, though like us, dogs are very efficient converters of energy, and reducing food quantities will be a more significant factor in keeping your dog slim
The benefits and limitations of walking
Walking is good steady exercise.  It doesn't put too much strain on a dog's joints and if he is off leash and trotting at his own speed, it gets his heart and lungs working moderately.
If you like to jog or run, so much the better, provided that you build up distances and speeds gradually. Running will keep up sufficient pace for your dog to get a workout too.
If however, you have to walk your dog on leash, at your walking pace, he isn't getting much of a work out.
So you'll also need to put aside some time to get his heart pounding by raising the pace with some games or activities.
Different ways to exercise your Labrador
People often associate exercising the dog with going for walks.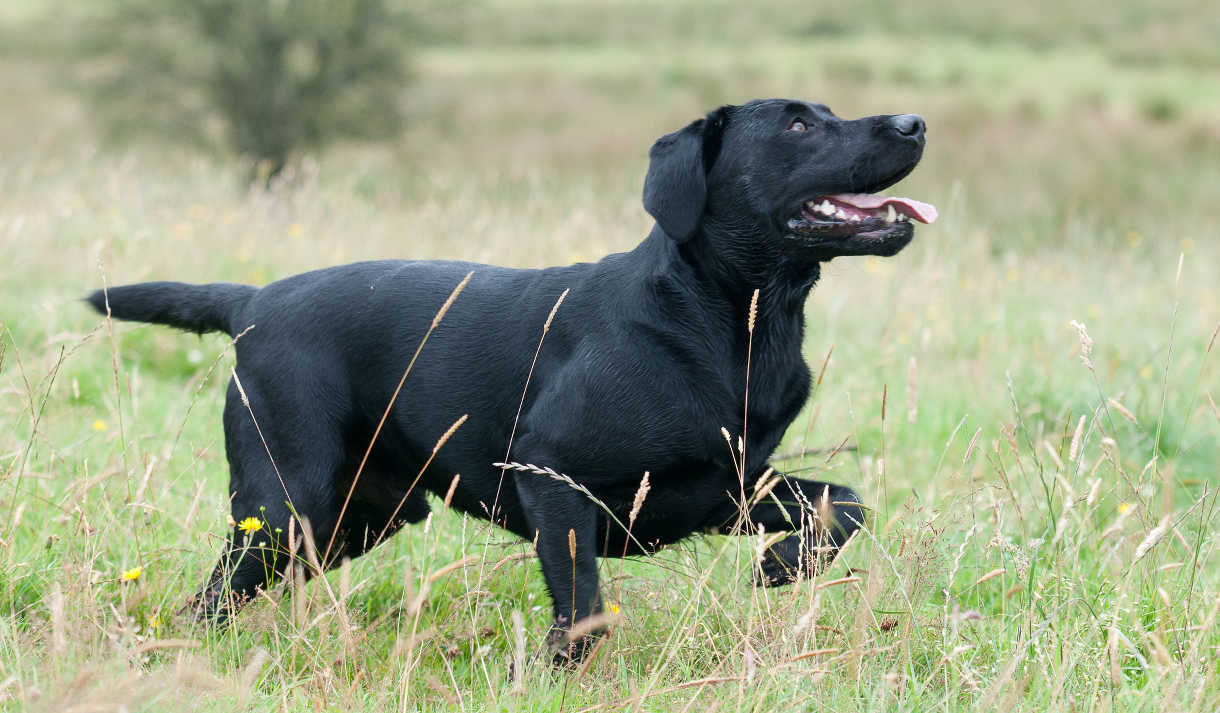 It is however entirely possible to exercise a dog effectively without ever taking him for a walk in the traditional sense.
Let's have a look at some different ways of exercising dogs.
Retriever training
Most of my own dogs get the vast majority of their exercise through retriever training.
They are working gun dogs and burn up masses of energy completing the varied and complex retrieves I set up for them.
You don't have to be involved in shooting or hunting to get involved in retriever training.
You can teach your dog to retrieve, no matter where you live or what your interests, I 'll talk about this a bit more below
Dog games and toys
You can also exercise a dog very effectively in quite a small yard or garden with games, such as tug, or with a flirt pole and a toy on the end.
Variations on fetch, or chasing games, using toys, balls, and frisbees are also great exercise.
Check out our best dog toys for large breeds article for more fun ideas.
Play between dogs
Two young dogs playing together for half an hour will give themselves a great workout. Not all adult dogs enjoy playing but many do.
My two Labradors are three and eight years old, and play together for at least half an hour most days.
If you have a friend with a dog that your dog will play with, do take the opportunity to get together from time to time.
You dog will benefit from the companionship of playing as well as the strength building and cardiovascular effects of play
Recall games for dogs
Recall games are another great way to exercise a dog if you have a helper.  You'll both need a whistle and some treats.
Stand quite close to one another and call the dog back and forward between you.
Each time the dog sets off towards your partner, back away a few steps so that the distance between you is continually increasing.  Get him or her to do the same.
Give the dog a treat every time to begin with and then intermittently once he gets into the game. If he has a favourite toy that he likes to run around with, you can also reward him with that.
Sprinting
Recall and retrieving involve sprinting. Just as with any other sprinting exercise, build up distances and time spent sprinting, gradually.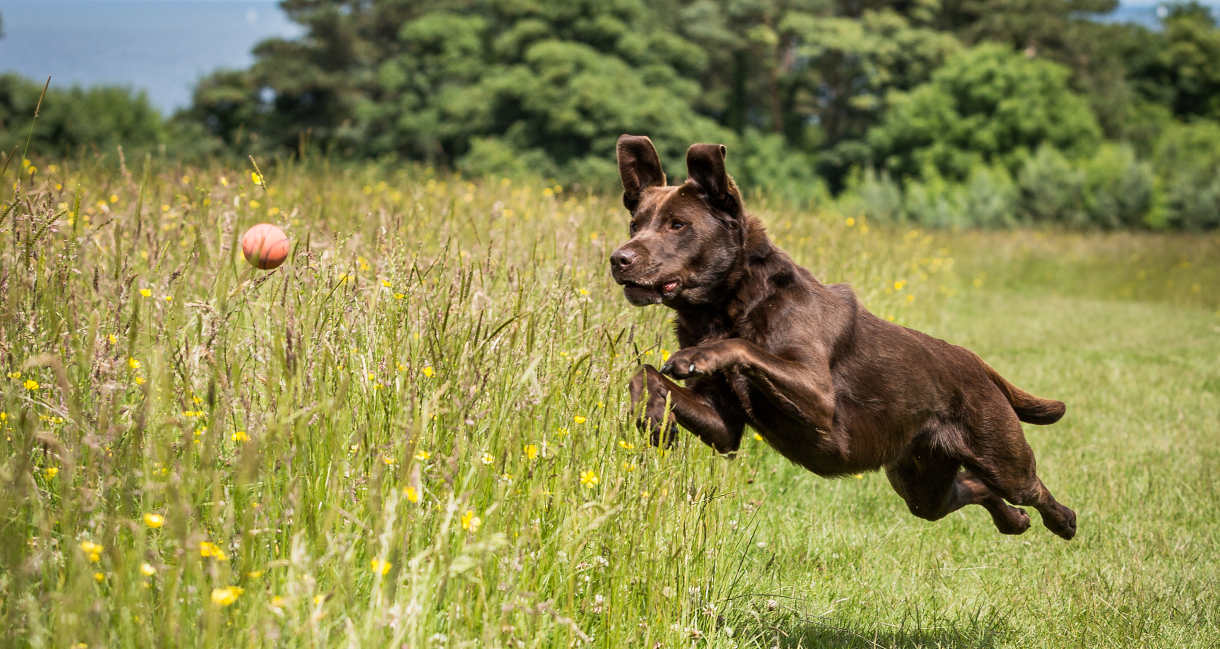 Dogs really do benefit from sprinting, just as we do.  It gets their hearts pumping and builds strength too.
Other ways to exercise your dog
So you see, if you hate walking, and don't want to do it too often, or for too long, there are plenty of alternatives.
Fortunately, most of us enjoy a walk and the anticipation of shared walks is often the motivation for people to bring a dog into their lives.
If going for walks is your 'thing' that is just great.
Your dog will love accompanying you and will benefit from the company, the exercise and the mental stimulation of visiting new and interesting places.
How many walks does my dog need?
If walking is your dog's only access to exercise, if he has no other dogs to play with and you don't engage him in any other activities, then a twice daily walk, with at least some of that time off leash, will keep him reasonably healthy
Even if it doesn't get him very fit in an athletic sense.
It is important to recognise that just because you have a large garden doesn't mean your dog won't need your company to get some exercise.
Dogs left outside in the yard on their own, don't embark on an exercise programme, or expend much energy running around.  A bit like people really!
How far should I walk my dog?
People often ask 'how far should I walk my Labrador'  or 'how long should my walks be' and that is a difficult question to answer.  It depends a lot on what you are doing during those walks and how active your dog is.
If he just walks alongside you, then you probably need to walk for a good hour and a half a day.  Not necessarily all in one go. A brisk one hour walk takes most of us about three miles.
If you are punctuating your walks with lots of retrieves or some games or a swim, your dog won't need to walk as far.  Even if you do.
Think of it like this.
Your dog needs cardiovascular exercise just like you.  Twenty minutes hard exercise a day, where your dog gets out of breath and is running or swimming for much of that time, three or for times a week, will probably keep him fit.
Add another hour of gentler exercise each day and your labrador will probably be a healthy, (and lucky) dog.
Of course walking is for both of you, and you'll want to see the health benefits too.
Getting fit together – how a pedometer can help
As a writer, I spend far too much time sitting on my backside. It is very easy for me to slide into bad habits when it comes to exercise.
So for several years now I have used a walking pedometer. To count how many steps I walk/run each day. And to make sure I don't slip into 'coach potato' territory.
If you invest in a good pedometer you can keep a record of your steps. As a rough guide, three miles is about six thousand steps.
Many people find using a pedometer  very motivating. I check mine at intervals, and if I haven't walked a decent amount by the end of the working day, that is my cue for another jaunt in the evening
You can buy some very fancy pedometers now.  But all you really need is a reliable step counter.  This is the one I use – The Omron Pedometer
If you are aiming for ten thousand steps a day as many experts recommend, that's okay for your dog too. As long as he or she is an adult Labrador in good health.
Provided you don't walk in high temperatures or on very hard surfaces for long periods of time, he'll be fine.
Getting your Labrador fit for work or sports
If you intend to run long distance with your dog, or to work him on a shoot, or take him on hunting expeditions, you must get him fit first.
You should not just tip him in at the beginning of the shooting season, after a summer of sleeping on the lawn.  He will simply injure himself the first time he jumps a wall or runs a hundred yards.
Remember that on a day's shooting or hunting a dog may run twenty miles or more.  Far more than his human companions are walking.
Preparing in advance
Labradors are athletes and this won't hurt your dog if you prepare him for  it.
But a working retriever needs to be sprinting fit, not just walking fit.  And that means building up retrieve distances gradually and adding in more challenging terrain gradually too.
A dog in this kind of training, probably won't need walking at all, his training sessions will be sufficient.
Exercise as a form of behavioural control
It is quite common to meet 'experts' you tell you to exercise your dog to the point of exhaustion in order to wear him out so that you can get 'more control' over him.
Before you dust down your roller blades, my personal view is that this is a very flawed strategy.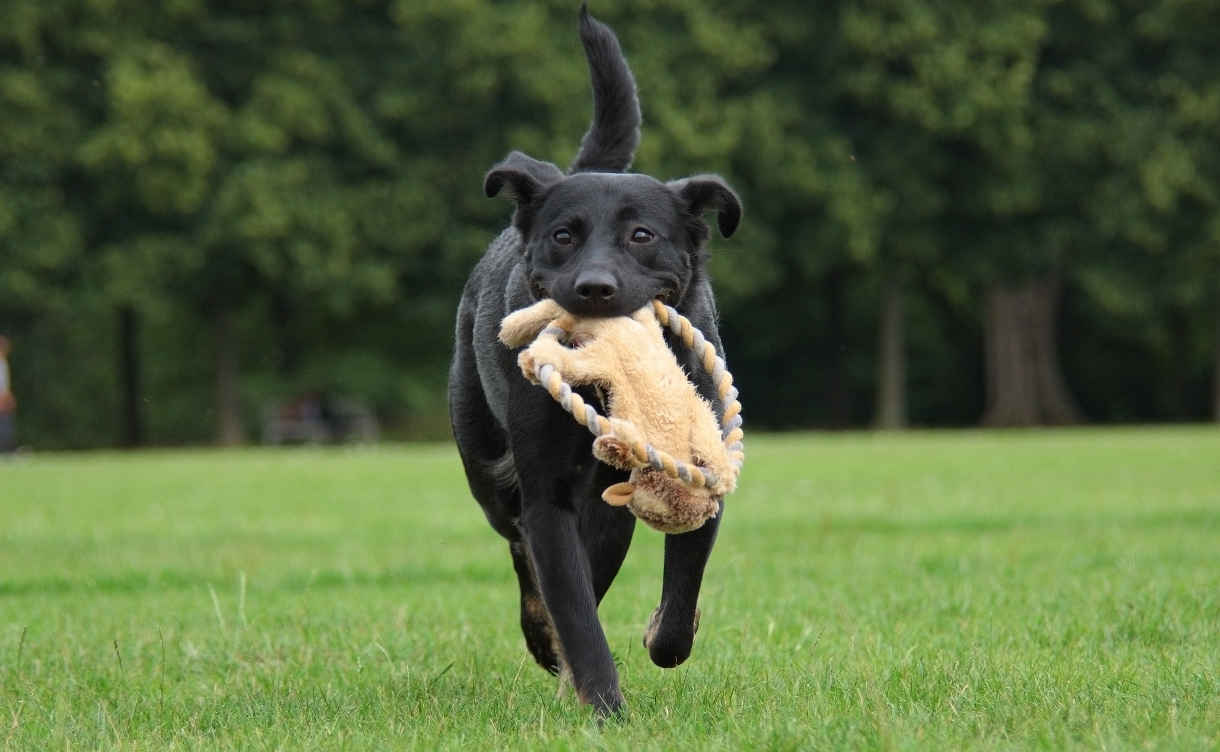 Unless you are a serious athlete it is unlikely that there is any level of exercise you can take your dog to, that will render him exhausted for very long.
Usually, the only outcome of intensively exercising a very naughty dog is an even fitter naughty dog.
We'll look a bit more at control issues in a moment. But you may be interested to know that dogs don't need to be exhausted or even tired to be trainable.

On the contrary, I train all my dogs 'fresh' not after exercise.  That way I get all their speed and enthusiasm poured into what I want them to do.
A trainable dog does not have to be a slow dog, he just needs to be well motivated.
Dogs that should not be walked or that need restricted exercise
While taking the dog for a walk can be a great way to keep the two of you fit, it isn't always the best way to exercise every Labrador.
I used to see a very arthritic and elderly Labrador near to where I live, being taken for a walk every day.
He was clearly in a lot of pain and quite miserable.  His owner was in denial and insisted that he enjoyed getting out each day.
The fact is, if your dog finds walking painful, it isn't necessarily the best exercise for him right now.
The following dogs should not be taken for long walks, unless you have been given the go ahead by a qualified vet
Young puppies
Dogs that are unwell
Dogs that are in pain
Dogs that are recovering from an injury or operation
Very old dogs
Dogs that are very overweight
Exercising puppies
Exercising Labrador puppies is a subject unto itself but the key lies in moderation.
Because puppies' bones are still growing,  most experts recommend that puppies are not taken on long walks until they are approaching their first birthday.
An often quoted rule of thumb is five minutes of exercise per day for every month of the puppy's age.
The five minute rule of puppy exercise
This would mean no more than 35 minutes of walking a day for a seven month old dog.
It is only fair to point out that this is just a guideline,  and that it is quite an arbitrary one.
It's not based on any kind of specific research or evidence,  and was devised to help guide owners of small puppies rather than people with strapping ten month old dogs.
So a modicum of common sense needs to be applied.  Check out our puppy exercise article for more information
Exercising sick or injured dogs
Puppies are not the only dogs that may not benefit from long walks.  Sick and injured dogs are often better off devoting their resources and energy to rest and recovery.
Often a dog will let you know when he is ready to get out and about again, but in some cases exercise will cause more harm than good.
You need to talk with your vet about your own dog's exercise needs if he isn't well, as every case is different
Dogs in pain
Labradors can be prone to painful joint conditions, especially as they age. There are some kinds of joint pain that respond well to exercise, once the stiffness wears off.
But exercise can in some cases make things much worse.
Again, it is really important to talk with your vet about walks if your dog finds them uncomfortable and is not keen to go with you.  Sometimes, non weight bearing exercise, such as hydrotherapy, is more apropriate.
Pain medication can often help an arthritic dog recover his enjoyment of a daily walk.
Fat Labradors
People often think that a series of long hikes is just the thing to slim down their obese Labrador.  But this can be a bad idea.
If your dog is very overweight, that weight is putting a lot of strain on his joints.  He probably needs to lose some weight before a serious programme of walking is begun.
You can find out how to help him do this in my article: Fat labrador
There is another group of dogs that may benefit from not being walked, or at least not in the traditional sense of the word, and that is dogs that are getting out of control
Loss of control on dog walks
One of the reasons some people put off taking their Lab for a walk, or don't walk as far or as often as they should is a fear of losing control.

Control issues outdoor are fairly common in young Labradors, especially towards the end of the first year when the dog is becoming more independent and confident.
Control issues tend to be associated with
Young Labradors
Labs from working or field lines
Dogs that have not been taught an effective recall
Labradors that have had a previous experience of chasing wildlife or livestock
Dogs with severe recall problems  often benefit from a new approach to exercise.   Their owner's previous walking habits together with the dog's instincts may be at the root of their difficulties.
The main problem is that the type of walks most dog owners take tend to be unstructured and to involve a fairly low level of supervision over the dog.
With many dogs this is not a problem,  but with others, it can get the owners into deep water.  Check out Losing control of your Labrador  for more information.
Dogs that have started chasing wildlife
Labradors that have experienced the thrill of chasing deer, rabbits, or livestock such as sheep are at risk and will often need a much more controlled programme of exercise in order to keep them fit and healthy while making sure they don't get themselves into trouble.
If your dog has started chasing wildlife, don't bury your head and hope that he will 'grow out of it'.  He won't.
The problem will get worse.  You need to start interacting with your dog out on walks, to get him more focused on you, and keep him closer to you.
You may also need to put him on a line and harness while you do some recall retraining.  In the meantime, he will benefit from the range of alternative forms of exercise listed above.
Fetch and retriever training
One of the most effective ways to exercise a dog while keeping him under close control is with retrieve training.
Dogs can be taught to fetch and bring back a retrieve item over increasing distances and in a way and manner of your choosing.
You choose where to hide the retrieve, you choose how far the dog has to run.  It is all under your control.
How much exercise does my dog need?
Walking is a wonderful daily ritual for many dogs and brings great pleasure and health benefits, but as we have seen it is not the only way to exercise a dog.
As in human athletes, the canine variety probably benefits from a range of different activities, as these use different muscle groups and make his body work in different ways.
Try and make sure your dog has twenty minutes of aerobic (heart pumping, fast running) exercise most days.
And another hour or walking or alternative exercise on top of that.
Variety is good, so if you spend an hour pounding the pavements one day, try and visit the lake so your dog can swim the next.
Or spend an hour playing frisbee in the park.
If you don't much like walking, ring the changes and your dog will be just as healthy as if he has a regular daily walk.
The importance of fetch
Do teach your dog to retrieve.  He is not called the Labrador Retriever for nothing. Retrieving is the perfect exercise for you Lab and one of the most helpful things you can do for any Labrador is teach him to fetch a ball or retrieving dummy.
Retrieving is also one of the most effective ways to exercise any dog under control.
It is especially important to do this, if you are not a keen walker or jogger, as it means you will still be able to give your dog the exercise he needs each day.
How to adapt his exercise as your dog's need changes
Each Labrador is unique and his exercise needs will change as he matures and ages.
Pupppies need little structured exercise while mature Labs have a huge capacity for fitness and endurance.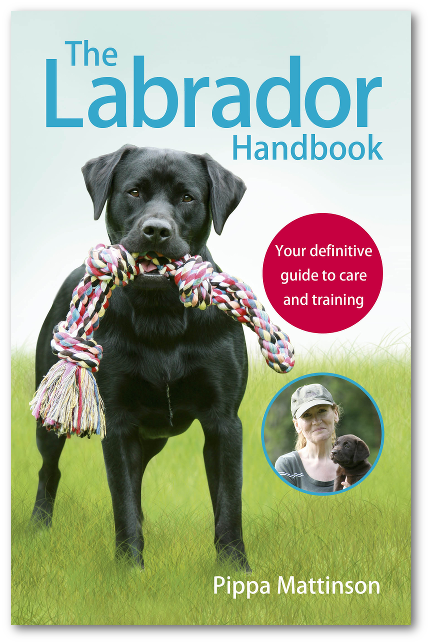 Build your dog up gradually for work or competitions and don't be afraid to let him rest for a few days if he is poorly, or stiff from over exercise.
It is OK to rest your dog
A daily walk is great but does not need to be slavishly adhered to provided that the dog is getting a good amount of exercise over the week as a whole
If you are worried that your dog will quickly begin to physically decline if he doesn't head for the hills each morning, think of all the dogs that have to have crate rest for weeks or even months after surgery or injury, and come to no harm from it.
It is OK to rest your dog for a day or two.
If you are not well, or your dog is not well, it is ok to skip his walk.
The aging dog
In old age as well as in poor health some dogs may need a few minutes gentle lead walking a few times a day rather than the whole lot in one lump.
A very old dog may get to the point where he doesn't want to go for a walk.  It  isn't necessarily a good thing to force him to.
If you are not sure what your older dog's exercise needs are,  do have a chat with your vet. You might also like to read – caring for the older Labrador
How about you?  What is your Labrador's favourite form of exercise?  Let us know in the comments box below.
More information on puppies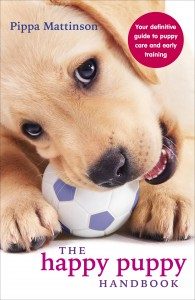 For a complete guide to the ups and downs of raising a healthy and happy puppy don't miss The Happy Puppy Handbook.
The book will tell you everything you need to know about diet and exercise, and get your puppy off to a great start with potty training, socialisation and early obedience.
The Happy Puppy Handbook is available worldwide.
The Labrador Site Founder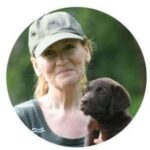 Pippa Mattinson is the best selling author of The Happy Puppy Handbook, the Labrador Handbook, Choosing The Perfect Puppy, and Total Recall.
She is also the founder of the Gundog Trust and the Dogsnet Online Training Program 
Pippa's online training courses were launched in 2019 and you can find the latest course dates on the Dogsnet website