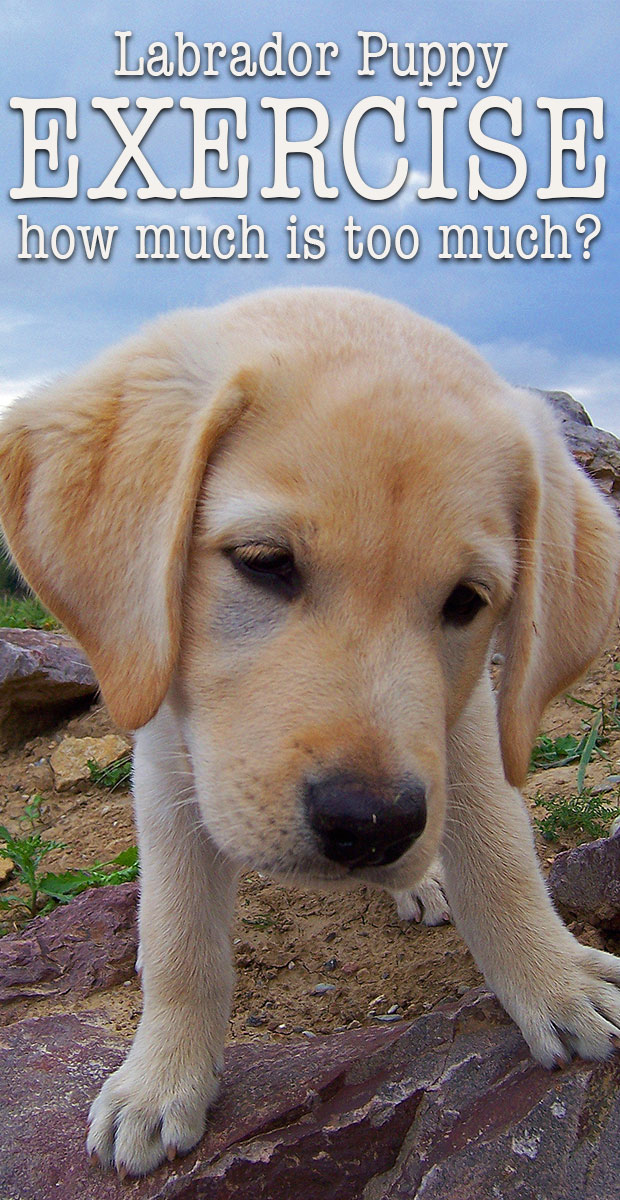 New puppy owners often worry about their puppy's exercise requirements and limits.
'How much exercise does a puppy need?' 'How far can a puppy walk?'
And 'Is it possible to exercise a puppy too much?'
These are common question and you can find the answers here, along with a handy puppy exercise chart
Taking your new puppy for a walk
We all look forward to the day we can take our new puppy for a walk.
For many people, daily dog walks is a huge part of why they bought a Labrador in the first place.
And it is natural to want to get started with 'walking' your new puppy just as soon as his vaccinations are finished
Some new puppy owners are aware that they should not over-exercise their puppy. But are not at all sure what 'over-exercise' looks like.
Others already take quite small puppies for quite long walks and are surprised to discover that many experts believe this to be a bad thing.
So just how much exercise does a puppy really need? We'll start by looking at what breeders frequently recommend.
How much exercise does a puppy need?
Many dog breeders suggest the 'five minute rule'.
This rule of thumb says that a puppy should have no more than five minutes of walking for every month of his age.
So that would be fifteen minutes a day maximum for a three month old puppy, twenty minutes for a four month old and so on.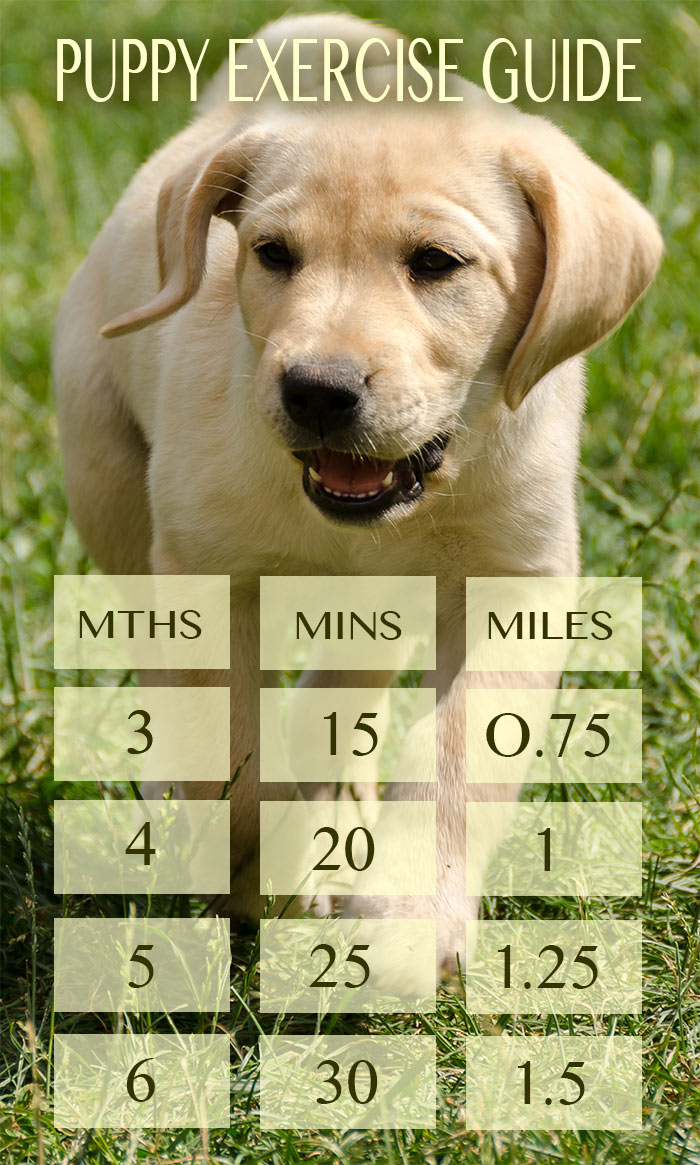 Puppies under three months old do not need any kind of 'walks'  at all,  and most won't be walked in any case because they will not have completed their course of vaccinations
How does over-exercising harm puppies
This concern about excessive exercise has arisen because it is widely believed that exercise is a factor in the development of serious joint disorders.
Especially in larger breed puppies such as Labradors
Breeders are particularly concerned about hip dysplasia, a serious and complex disorder of the hip joints, that is believed to be influenced both by inherited factors passed from dogs to their puppies and by environmental factors
In addition to factors influencing growth rates, the stresses and strains placed on the vulnerable growing joint by excessive exercise are believed to be a contributory environmental factor in the development of inadequate hip joints.
And while we don't know for sure.
It seems likely,  that a puppy that had inherited a tendency for poor hips,  could have its soft and still forming hip joints made a good deal worse through prolonged or hard exercise.
It is also possible that a puppy that has inherited excellent hips,  will come to no harm whatsoever through hard exercise.
The five minute rule is really a safety precaution,  and it makes sense to pay attention to this advice simply because we believe that  'playing it safe'  will not harm your puppy.
Different types of puppy exercise
But that doesn't mean puppies under three months shouldn't be exercised. On the contrary, a certain amount of free running exercise is a good thing
Running off-leash
A Norwegian study published 2012 and which included labradors, showed that puppies given the opportunity to exercise off leash in a park before the age of three months were less likely to develop hip dysplasia (HD), not more.
We don't know how long these puppies were allowed to exercise for, but no time limit is mentioned.
Stair climbing
The same study showed that puppies that had to climb stairs on a regular basis during the same period were at increased risk of HD
You can read about this study in Science Daily.
So what does this study tell us?
Well, it is only one study, but it suggests that playing in a natural way, with other pups or simply running about at their own speed is probably going to benefit a small puppy
Strenuous exercise
Whereas more strenuous activity such as climbing hills and stairs, may not be such a good thing at a very young age.
Another study has suggested that running hard for a retrieve, may not be great for joint health either.
And some breeders also prevent dogs from jumping for the first twelve months to reduce impact on the shoulder and elbow joints.
This may be especially important for some of the heavier breeds of dog, and those that are slow to mature.
How far should my puppy walk?
Okay, so that is the standard advice that breeder's give out. But how does that translate to distances walked?
If you like to think in distances rather than time, a mile is around 2000 steps for an adult human and takes about twenty minutes at a moderate walking speed.
So a maximum walk for a four month old Labrador might be about a mile.
And of course if you are walking out and back again, that means not taking the dog more than half a mile from your home or car, whichever is your starting point.
With young puppies, you need to keep a balance. Think about the overall energy your puppy is expending rather than focusing on walking alone.
Walking is only one form of exercise and is no more valuable or important than games or training exercises.
If you have been to visit a friend with your five month old pup and their dog has played for half an hour in the garden with yours, your dog does not need a walk as well. It is the total exercise that counts.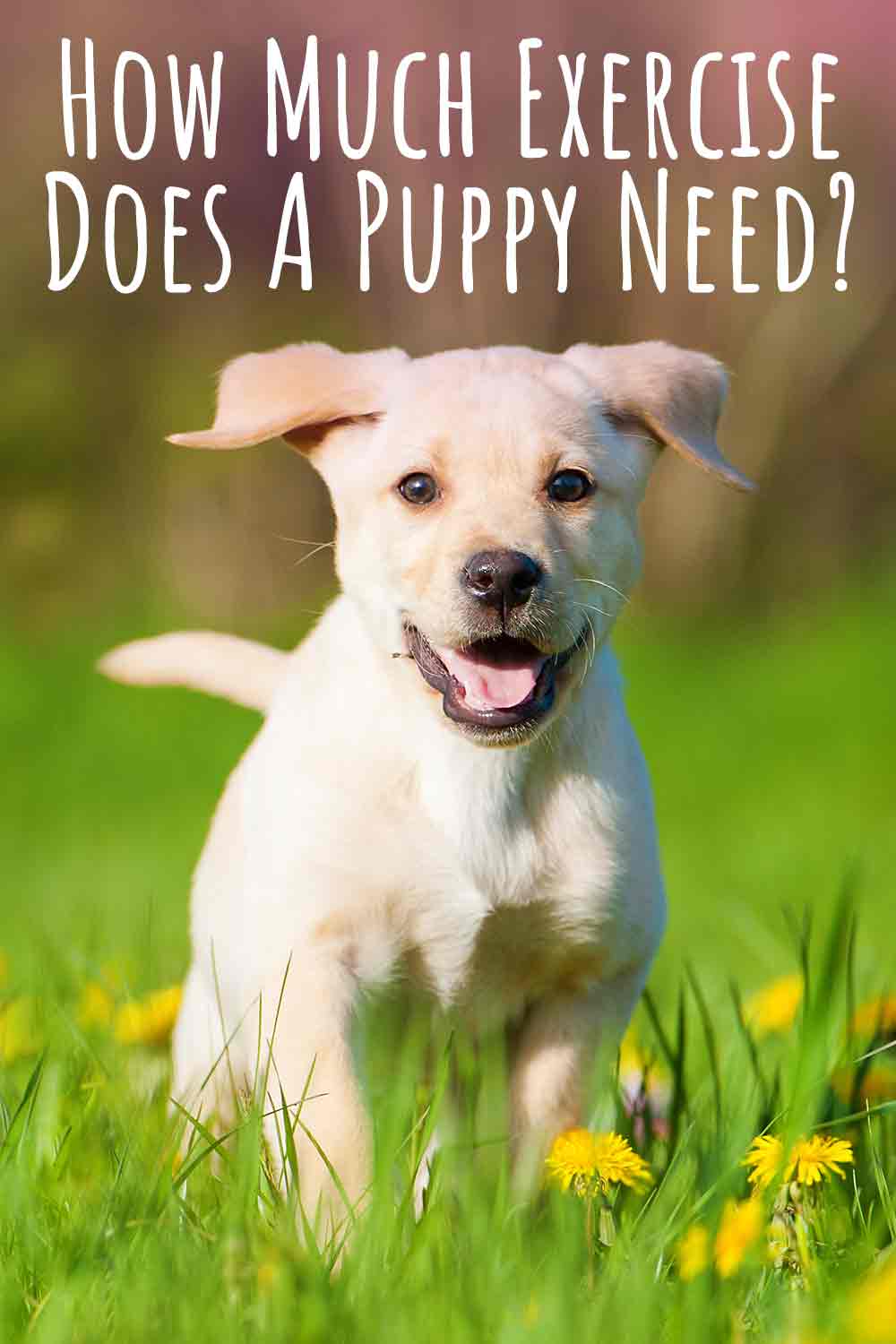 How much exercise is too much?
Obviously, the five minute rule isn't set in stone. And you are bound to know of someone whose puppy had far more exercise than this and came to no harm.
However taking a puppy for long walks or asking him to negotiate very steep or uneven surfaces when he is little, is probably a bad idea.
Beware of letting a puppy play for too long with an older dog that does not want to stop.
And keep an eye on children who may inadvertently exhaust a puppy by encouraging him to play when he needs to sleep.
Crating your puppy when he is tired or overexcited, will enable you to make sure that your puppy gets some well deserved down time.
You can find out how to crate train your puppy in our in-depth guide, and you'll find recommended crates and crate sizes in our supplies section.
Summary
Young puppies need the time and space to run about freely, and free running exercise is beneficial.
You do not need to attempt to prevent puppies playing in the garden, trotting about the house or playing with another young puppy for a while. Provided that the puppy is free to stop and rest whenever he wants.
As far as we know at the moment, formal exercise – walking on a lead – for example, is probably best restricted using the five minute rule as an approximate guide.
And strenuous exercise such as stair climbing, and chasing balls should be limited or avoided altogether in puppies under three months of age.
Remember, an adult dog can become an amazing athlete, but like all athletes, fitness and stamina are best built up in gentle stages if injury is to be avoided.
Do talk to your vet about exercise at your first appointment with your puppy.  We are still learning about hip dysplasia.  Research is ongoing, knowledge increases all the time.
Your vet should be up to date with the  latest information regarding the optimum amount of exercise for your new puppy.
More information on puppies
For a complete guide to raising a healthy and happy puppy don't miss The Happy Puppy Handbook.
Published in April 2014, the Happy Puppy Handbook covers every aspect of life with a small puppy.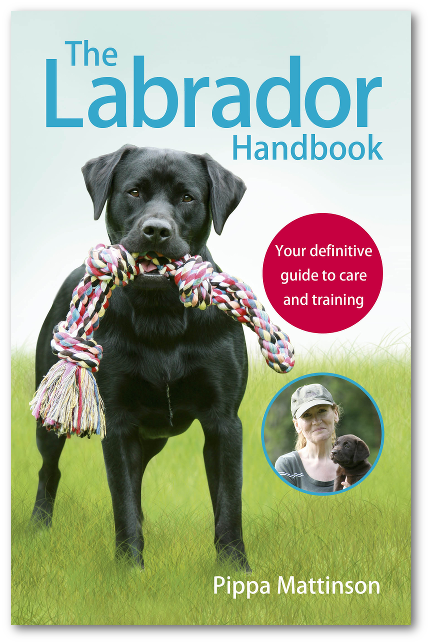 It will help you prepare your home for the new arrival, and get your puppy off to a great start with potty training, socialization and early obedience.
You can buy The Happy Puppy Handbook from Amazon by following this link. If you do, The Labrador Site will receive a small commission which is greatly appreciated and won't affect the cost to you!
This article was originally published in 2012 and has been extensively revised and updated for 2016
References
Slater et al. Diet and exercise as potential risk factors for osteochondritis dissecans in dogs. Am J Vet Res. 1992.
Sallander et al.  Diet, Exercise, and Weight as Risk Factors in Hip Dysplasia and Elbow Arthrosis in Labrador Retrievers 1,2.  2006. American Society for Nutrition.
Krontveit et al. Risk factors for hip-related clinical signs in a prospective cohort study of four large dog breeds in Norway. 2011.
The Labrador Site Founder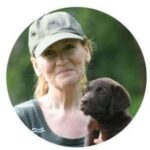 Pippa Mattinson is the best selling author of The Happy Puppy Handbook, the Labrador Handbook, Choosing The Perfect Puppy, and Total Recall.
She is also the founder of the Gundog Trust and the Dogsnet Online Training Program 
Pippa's online training courses were launched in 2019 and you can find the latest course dates on the Dogsnet website