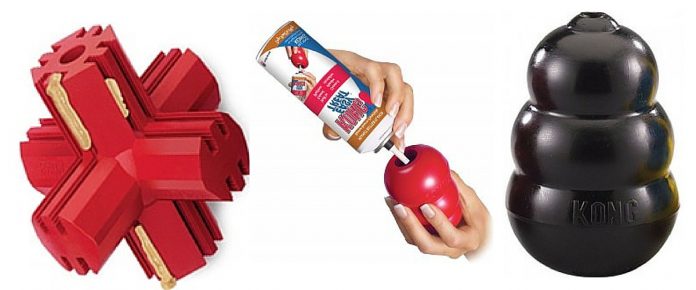 Labradors love chew toys, and they are also very motivated by food.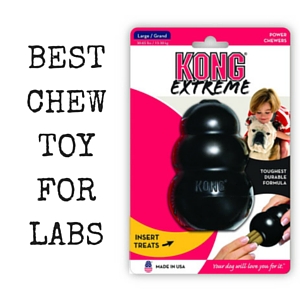 As highly intelligent dogs, it's important to keep them mentally stimulated.
And as adored members of the family it's great to be able to offer them a treat that really appeals to them.
Kongs were invented in the 1970s,  and these excellent products have really stood the test of time.
Around the world, Labradors are kept busy and happy biting, chewing and eating from these fun and unique entertainers.
Where Do Kong Toys Come From?
According to Wikipedia,  the inventor of the Kong Joseph Markham spent around six years developing the product after noticing that his German Shepherd dog enjoyed chewing on the hard rubber of a Volkswagen suspension device.
His dedication certainly paid off.  Kong toys are now one of the  most popular dog toys in the world.
Let's take a look at some of the great products Kong has available, and why we love Kong toys for our Labradors.
What Are Kong Toys?
The original Kong is a virtually indestructible chew toy.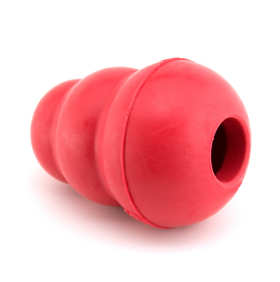 This classic red hollow chew toy is designed so that the average dog won't be able to tear off little bits of rubber and swallow them.
So it is quite safe to leave him alone with his Kong.
And because the Kong is hollow,  you can fill it with food.
This provides the dog with hours of entertainment trying to get the food out of the centre.
Especially if you freeze it first.
The Kong Extreme
Although the classic Kong Toys stand up to quite a lot of chewing, Labradors are among those breeds for whom chewing came be quiet extreme.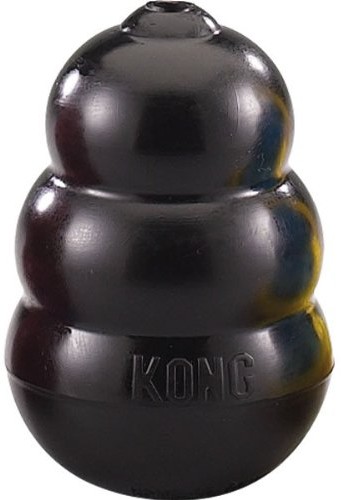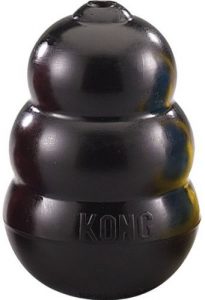 And when your dog is an extreme chewer, you need an extreme chew toy.
The Kong Extreme is the exact same shape design as the classic kong, but it is made of an even tougher material.
Designed so that even the most strong jawed dog can bite down on it without damaging it.
It is tailored for strong and persistent chewers.
So, if your Labrador has taken apart every chew toy you have tried so far, then the Kong Extreme is defintely worth a go.
Puppy Kong Toys
For young Labradors, when they first arrive home, there is a smaller and more manageable version of the Kong.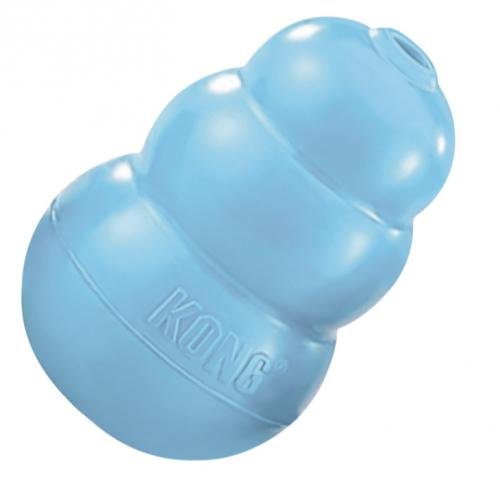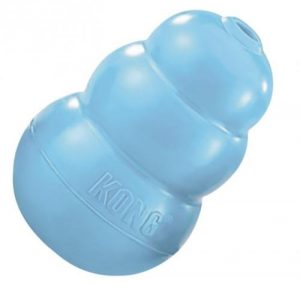 The Puppy Kong comes in pink or blue, and is available in several different sizes. For the average 8 week old Labrador puppy the medium or large puppy kong will be best.
Using puppy kongs can really make a difference to those first few weeks with a new pup in the house.
Exercising your puppy's jaws and fulfilling his need to chew.
Don't forget to fill your puppy kongs with something tasty, and to freeze for maximum enjoyment!
Regular opportunities to chew on a puppy Kong help to reduce your puppy's desire to gnaw on your furniture,  but will not prevent this altogether.
You will probably still need the help of a puppy crate or puppy pen when you are not able to supervise your little one.
Filling the Kong Toy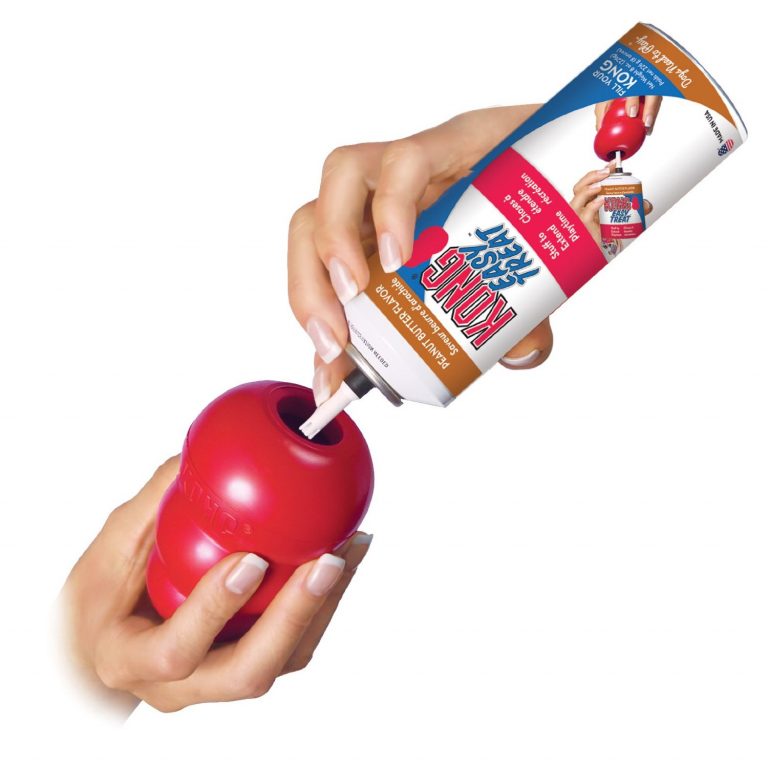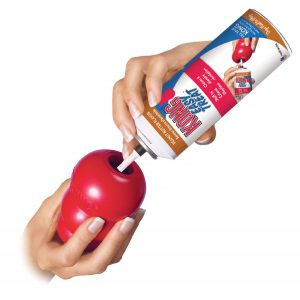 You can buy special paste to fill your Kong, designed just for use in these toys.
However, you are free to experiment and use whatever you find works best.
Anything that is reasonably mushy can be used to fill the Kong.
Minced meat,  mashed vegetables,  soaked and mashed dog biscuits, peanut butter.
And combinations of the above keep most dogs happy.
It is handy to have a couple of Kongs so that one is in the freezer ready for when you go out.
Can Kongs Help With Separation Anxiety?
Some dogs can get bored, restless and upset when they are left to their own devices. In serious cases, where this leads to destructive behavior, noise and extreme distress, this is known as separation anxiety.
Giving your Labrador a classic shaped Kong just before you leave him alone can help avoid or reduce any symptoms of separation anxiety.
Knowing that your departure is associated with a nice long lasting treat helps him to feel positive about being left. It is also a distraction to keep his mind occupied whilst you are elsewhere. Not to mention pleasing in terms of taste.
Real separation anxiety is an ingrained problem that takes a long time to solve, but Kongs can help with this. And they can certainly help to prevent it occuring in the first place, if you always leave your young pup with something they love to keep them happy during your initially brief absences.
Fun Kong Toys
As well as the traditionally shaped Kongs, there are some fun variations which Labradors love to play with too.
These are more active, moving toys on the whole and are great as entertaining toys for whilst you are at home but not able to play directly with your Labrador.
The Kong Wobbler
We are big fans of the Kong Wobbler.
And so is our chocolate Labrador, Rachael.
We did a full review of the Kong Wobbler, along with some video of Rachael enjoying it, which you can find in this article.
For lively, intelligent Labs, the Kong Wobbler is a great interactive treat dispensing toy.
Kong Jump'N Jacks
I really like the Kong Jump'N Jacks. They are in the shape of the traditional children's toy, with slots down the sides of each arm which you can press dog kibble, dog treats or squeaze kong filler into.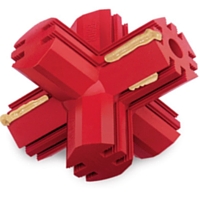 I recommend using the treats, as they are harder for the Lab to remove and keep the game going for longer.
The Kong Jump'N Jacks will bounce around when your Lab plays, so make sure to give it to him somewhere out of reach of breakable objects – or even in the garden!
A fun toy, which will keep an active Labrador entertained.
Kong Safestix
If your Labrador loves fetching sticks in the park, then you might want to check out the Kong Safestix.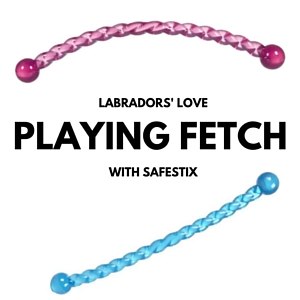 There are concerns from some vets because letting our Labs retrieve sticks can occasionally result in some very serious injuries.
Sticks our dogs find can snap off or get stuck with unthinkable results.
The Kong Safestix is designed to be thrown in the exact same way as a stick, but without the risk of injury.
They are light weight and easy to carry around, and come in bright colours which show up well on the grass or in the woods. Making them nice and easy for you to find.
They also float, and so are great for those water loving Labradors who enjoy retrieving from the local pond.
Kong Jumbler Ball Toy
Another great toy from Kong is the Jumbler Ball Toy.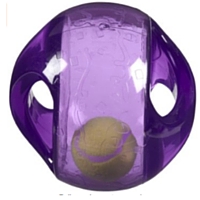 This ball contains a squeaker to attract your Labs attention, a tennis ball to roll around inside and keep your dog entertained and best of all these are both shut away inside so that your dog can't easily get to them to destroy them.
It has handles on the outside, which make it easy for you to pick it up, throw it or shake it.
It comes in a variety of sizes, and you will want to get the largest one for an adult Labrador.
The Kong Jumbler Ball Toy is the perfect accessory for the Labrador who loves fetching, playing ball and noisy toys.
The Best Kong For Labradors
Although Labradors have a lot of characteristics in common, they are all unique dogs. The best Kong for my Labrador may not be the best Kong toy for yours.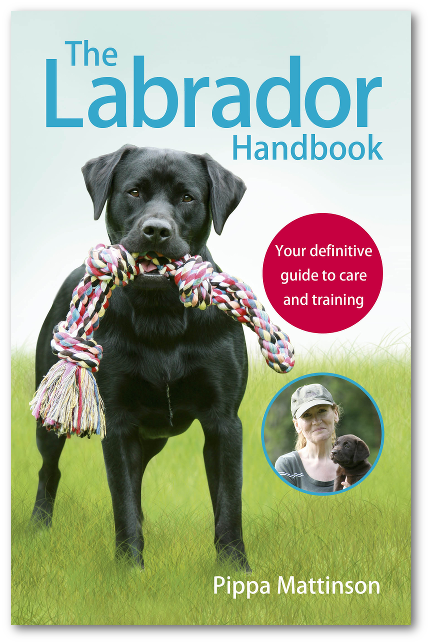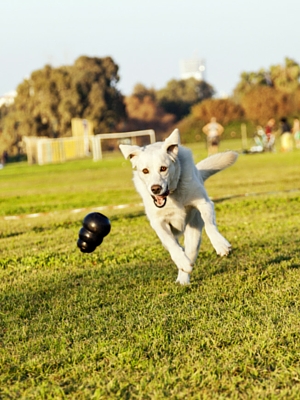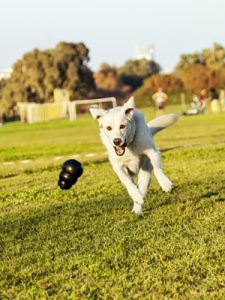 You can either try a few and see which he favours, or have a think about his personality and interests.
My Labs love the classic red Kong, and have never got close to damaging it. Even one we have had for several years.
However, if your Labrador is a very strong chewer then it is probably sensible to go straight to the Kong Extreme.
If you are brining home a Labrador puppy, then start out with the Puppy Kong toy, and move onto the classic kong when he is a little older.
The fun variations on the kong are all great toys. I'd highly recommend the Jump'N Jacks and the Kong Wobbler for lively Labs, who you want to entertain whilst you are at home. The Safestix and Jumbler for the garden and the park. But stick with the classic kong shape for more relaxed kong use in the dog crate whilst you are out.
There are of course lots of other brands making fabulous dog toys, and you can find out which of these are the best toys for Labradors in this extensive review article. 
Your Labrador's Favourite Kong
Does your Labrador love his Kong?  Which size and colour do you use?  Why not share your thoughts in the comments box below!
The Labrador Site Founder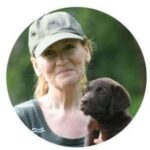 Pippa Mattinson is the best selling author of The Happy Puppy Handbook, the Labrador Handbook, Choosing The Perfect Puppy, and Total Recall.
She is also the founder of the Gundog Trust and the Dogsnet Online Training Program 
Pippa's online training courses were launched in 2019 and you can find the latest course dates on the Dogsnet website