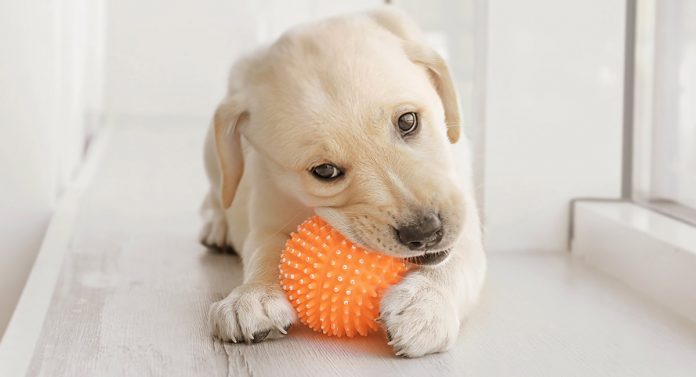 The best chew toys for puppies are tough, safe and non-toxic. They have enough give to protect your puppy's teeth, but are strong enough not to break down into smaller pieces your pup could swallow. And the best have an added interest factor to help make them more attractive to your teething pup, than your furniture is. We've taken a look at our team's favorites for their teething puppies, to bring you this selection of the best puppy chew toys around.
Chewing on objects is a normal part of growing up for puppies. Pups experience the world with their mouths, and get relief from teething by chewing. So it's a popular pass time. But we don't want our puppies to experience the world through our shoes, or look for teething relief in our pillows. So it's important to give them an object that is appropriate for them to chew. Here are some of our top choices when it comes to the best chew toys for puppies.
Safety First
Because your dog will be chewing on it, the best teething toys for puppies are durable and non-toxic. Inexpensive toys may be tempting for budget conscious folks, but cheaply-made pet toys can contain toxins like BPA or even lead in some cases! The poor durability of these cheaply made pet toys means they can result in pain for your pup.
A few could even cause serious damage if your pup ingests pieces.
It's important to choose appropriate chew toys for puppies rather than giving them a toy that was made for a human child, as those aren't meant to be chewed on and are easily destroyed by a teething pup. For this reason it's best to shop for purpose-made puppy toys from reputable brands. Ideally those with lots of positive reviews from conscienscious puppy owners.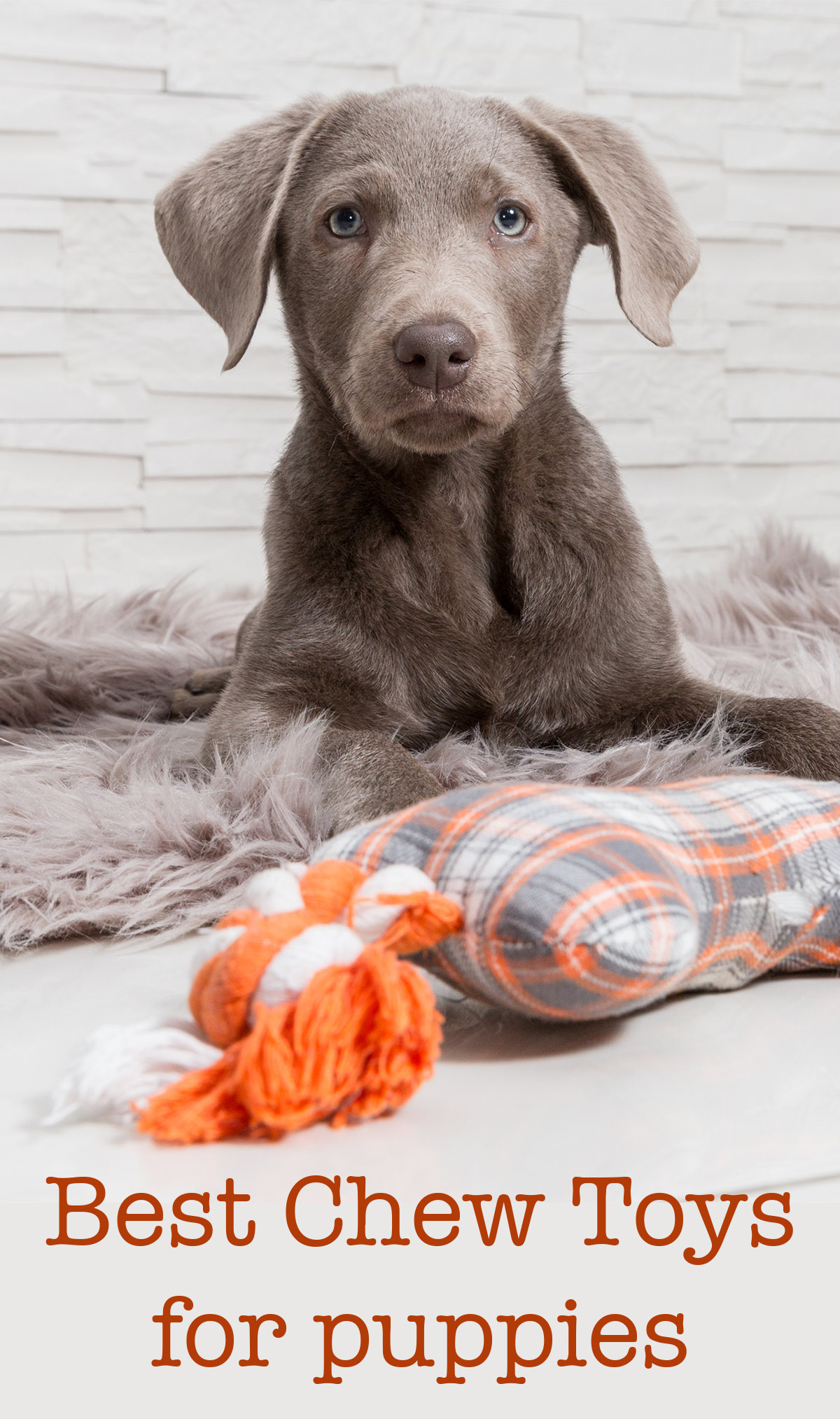 Best Chew Toys For Puppies
But what are the best chew toys for puppies out of those brands? And come to think of it, which brands are we referring to? Let's take a look! We'll be breaking the options down into categories, to help you find the type of toy you think will suit your pup best.
Hard Chews
Hard nylon toys like Nylabones give pups something to safely bite and tug on. A Nylabone Puppy Twin Pack*(paid link) is a great way to give a puppy two versions of a tried-and-true chew toy with rave reviews.
This starter pack includes two of the best chew toys for teething puppies. A hard nubbed chew toy that rubs the gums to ease pain during teething, and softer bone for the youngest chewers. The starter pack is made in the USA and designed for pups that don't yet have their adult teeth.
Kong Toys For Puppies
It's widely agreed that some of the best chew toys for puppies are made by the Kong brand. Activity-based, distraction chew toys like Kongs, can exercise a dog's brain as much as their mouth. Keeping them entertained for a long time and helping them to chill out too.
Rubber Kongs are considered the go-to chew toy by many dog lovers, but the standard sizes are likely too big for little puppy mouths. Fortunately they also do some great small puppy chews.
Puppy Kongs
The best-selling Puppy Kong*(paid link) is a durable rubber chew and treat toy that is appropriately sized for puppies.
The open center is perfect for holding treats like peanut butter and a couple hours in the freezer turns these into perfect frozen puppy teething toys. Puppy Kongs can take a good chewing, and stand up to even the most powerful puppy.
Kong Puppy Bone
The Kong Puppy Goodie Bone Treat Toy*(paid link) is available in extra small for the tiniest of pups.
It is also great for active play between pup and their owner. The Kong Goodie Bone is a perfect tug-of-war toy. It is made in the USA of nontoxic natural rubber. The bone-shaped design allows small pups to get their mouth around it while the treat-holding ends serve the same purpose as a standard Kong's hollow center.
Puppy Teething Toys
Kong's Puppy Chewing Tires*(paid link) come in different sizes for different puppies.
They are good for chewing sessions with our without treats. The super durable rubber holds up to puppies that already have some power to their bite. The tire shape is tons of fun for puppy to flip with his paws and mouth.
Natural Chew Toys For Puppies
You can't get much more natural than a chew toy straight from nature.
Elk Antler
Hard puppy toys can be great for teething puppies too. And you can't get much harder than an elk antler*(paid link). These elk antlers come in a range of sizes, so you can pick one that's the perfect size for your pup. Probably the small or medium. It is a great, natural way to keep your chewy puppy happy.
Puppy Teething Toys That Freeze
One of the benefits of Kong products is that you can freeze treats in them. This makes the chewing and treating last longer. It is also soothing to teething gums in small puppies. But they aren't the only brand that make these great toys.
Nylabone Romp N Chomp
The Nylabone Romp 'N Chomp Freezer Bone*(paid link) is a safe, durable toy that is made specifically to be frozen. You put anything from soft treats to mashed banana in the bone's treat reservoir. Or use Kong's own squeezable stuffing.
Puppy Chew Toys Friendly To Gums
The best kind of toys for puppies to chew on are good for their gums, and the Nylabone Puppy Chew Toy*(paid link) is just that. It's a great chew toy for small puppies and the nubbed surface provides massaging gum relief during a puppy's teething period. This friction also helps keep a puppy's teeth clean while they grow, preventing plaque and tartar buildup.
Good Chew Toys For Puppies
The PetSafe Busy Buddy Twist 'n Treat Puppy Toy*(paid link) is one of the best toys for very young puppies as it is gentle on puppy teeth.
This toy can be filled with kibble or treats to engage your pup in active play. The opening for the treats can be made wider or smaller depending on your pup's treat getting abilities.
Active Pet Rope Toys
Rope toys*(paid link) are another of the best chew toys for puppies.
They have plenty of places for grabbing hold, and can help to keep their teeth clean too. These fun toys are also great for games of tug. This set of four different ropes is perfect for teething pups.
Edible Puppy Chews
One of the best chew toys for puppies in our dogs' opinions are those which are edible. Obviously you need to limit these for health reasons, but they can make a great addition to your pup's chew box!
Nylabone Puppy Chew Treats
Nylabone Healthy Edibles Puppy Chew Treats*(paid link) are great for those times when you want your puppy to have both a treat and a toy.
It's basically a two in one. The hard turkey and sweet potato puppy treats are make in the USA and contain DHA to support healthy eye development.
N-Bone Puppy Teething Ring
The N-Bone Puppy Teething Ring*(paid link) is another popular edible choice.
A made in the USA product, these rings are digestible and made with extra calcium for bones and your puppy's growing teeth. They're fortified with Omega 3 Fatty Acids and customers say they keep pups busy for hours.
Braided Bully Sticks
Nature Gnaws Braided Bully Sticks*(paid link) are made from all-natural, free-range, grass-fed beef.
They are very hard and take pups a long time to chew through. Great for keeping busy jaws occupied! They are digestible and a good alternative to rawhide too.
Affiliate link disclosure: Links in this article marked with an * are affiliate links, and we may receive a small commission if you purchase these products. However, we selected them for inclusion independently, and all of the views expressed in this article are our own.
The Labrador Site Founder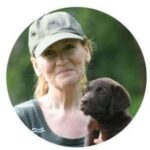 Pippa Mattinson is the best selling author of The Happy Puppy Handbook, the Labrador Handbook, Choosing The Perfect Puppy, and Total Recall.
She is also the founder of the Gundog Trust and the Dogsnet Online Training Program 
Pippa's online training courses were launched in 2019 and you can find the latest course dates on the Dogsnet website