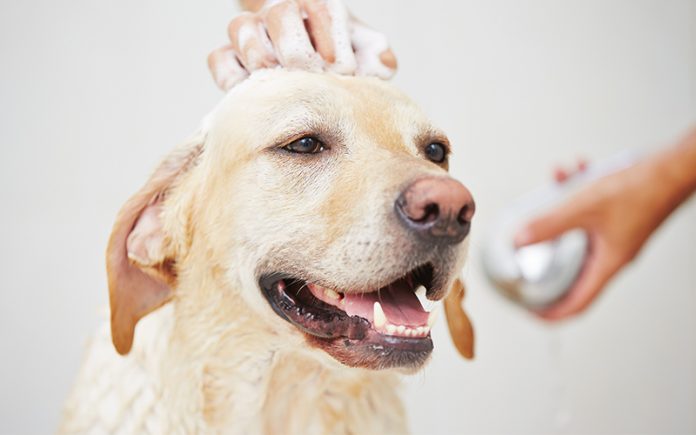 Welcome to our complete guide to the best dog baths for Labradors. Using in-depth reviews to help you pick the right type and brand of dog bath for your perfect pooch.
This article is all about getting tooled up for your Labrador's bath time.
Whether your Lab is a water lover or a shampoo dodger, there's a dog bath tub or gadget out there.
One that will make washing him quicker, easier, less stressful or just less messy.
Obviously we all have different preferences, and so do our dogs.
If you like to wash your dog outdoors there are a plethora of large dog baths for the yard. And if you prefer to be indoors there are a dozen kinds of dog bath hose.
We've picked through all the solutions out there and found the very best examples.
So that whatever requirements you have or challenges you face, we have the just the thing you need.
All of these products were carefully and independently selected by the Labrador Site team. If you decide to make a purchase from one of the links marked by an asterisk, we may earn a small commission on that sale. This is at no extra cost to you.
Choosing a Dog Bath
Is getting your dog in the bath a fun way to hang out, or a necessary chore?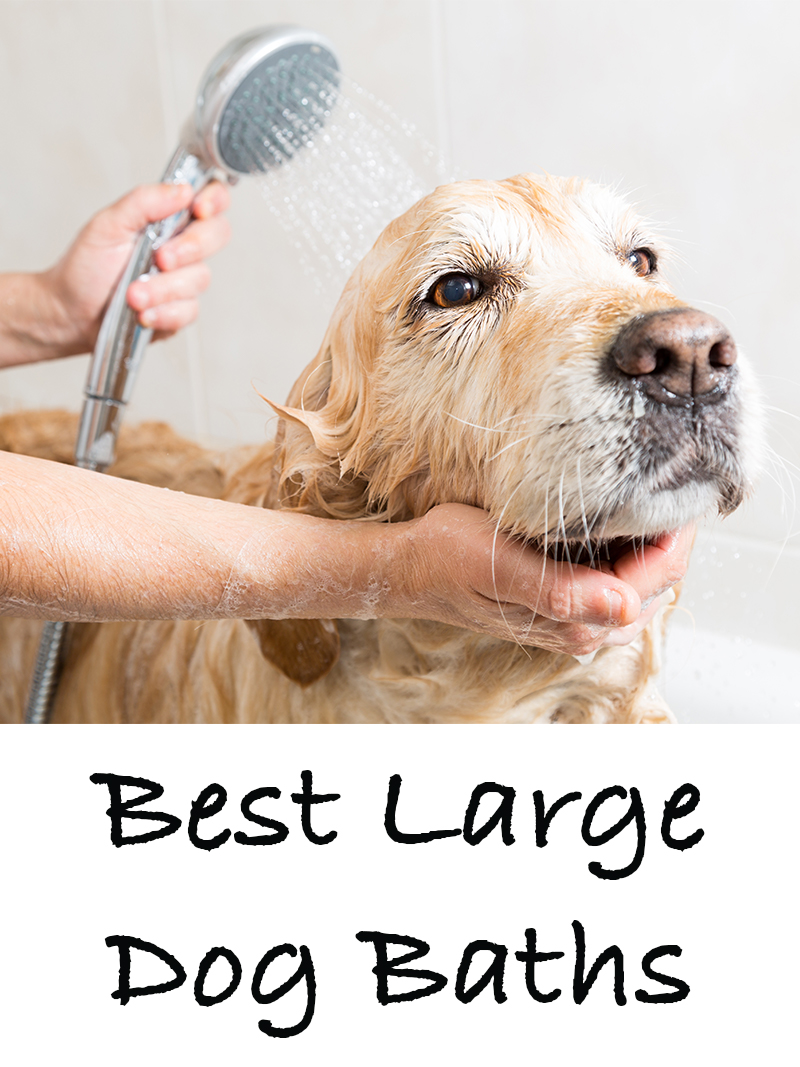 Labradors are generally blessed with neat and clean coats.
But sometimes a muddy walk, or an irrepressible need to roll in fox poo (why?!) make a date with the tub unavoidable.
A brush down in the bath can also help to remove shedding fur, and spare the rest of your house in shedding seasons.
Our guide to bathing and grooming your Labrador will help you work out how often to wash your dog.
The first step on the path to finding your best dog bath for Labs is deciding whether you'll be washing your Lab indoors or outdoors.
Outdoor Dog Bath
If you have a big yard, then an outside dog bath is the obvious way to avoid a trail of muddy footprints to the bathroom. Along with the possibility of a massive splash-fest upon arrival.
The simplest option, with the least financial outlay, is to wash your dog with just the garden hose, no tub required.
Choose a nozzle for your hose with a gentle spray setting and adjustable water pressure: this one from VicTsing is a popular all-rounder.
If you go down this route and the suds will be draining into your lawn rather than a mains sewer, make sure you use an eco-friendly shampoo.
I'll recommend some great ones later in this article!
Outside Dog Bath
If you prefer to wash your dog outdoors in a tub of some kind, you've got plenty of options to choose from.
At the most basic end of the spectrum, what about a galvanized steel tub like this one from Behlen Country?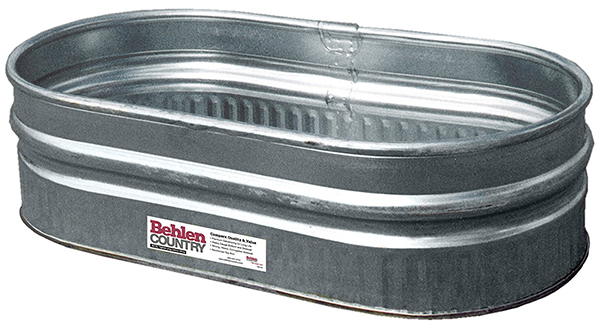 This is ideal if you haven't got space to store your outdoor dog bath out of sight.
It has a classic vintage vibe you won't mind having on display, and it can withstand the elements all year round.
If you've got room to store your tub indoors between uses, and you prefer creature comforts over roughing it, then look no further than the Booster Bath range.
Dog Booster Bath
The Booster Bath is a dog bath on sturdy plastic legs, and it aims to save your back while you wash your dog.
Handy features include a unique patented harness to keep your dog in place and leave both hands free, and even a special caddy for storing the shampoo.
Even dismantled the Booster Bath isn't small, so you'll need space to store it.
Indeed, if you struggle with back pain, then this might only save your back if you have room to keep it fully assembled between uses, instead of taking it apart every time.
Large Dog Baths
The extra-large Booster Bath* will accommodate even the bulkiest of Labradors, and you might be able to size down if your Lab is petite.
If you need a large dog bath and you're short on space though, our next product might be just what you're after.
Foldable Dog Baths
If you don't have a lot of storage space, a foldable, portable dog bath like this one from Pyrus* might be the answer for you.
They're also great if you like to travel or go camping.
They are typically made of rigid cardboard panels sealed in tough PVC, and some can be inflated a little to make them more rigid too*.
Always set them up on grass to protect your Lab's paws and reduce the risk of tearing the base.
A foldable large dog bath tub is going to set you back anything from $60-$140, depending on diameter and quality.
Our example from Pyrus is a popular mid-range option, with some rave reviews from Labrador owners.
But if your Lab loves to chew, then heed the cautionary tale from a reviewer who was less than impressed when he purchased a similar pool!
Washing A Labrador Outside When They Hate Cold Water
Honestly most Labs will tolerate cold water from an outside tap quite happily.
But I noticed a number of reviews on Amazon also mentioned buying portable water heaters to go with their outdoor dog bath.
Popular models are the Camplux* and Eccotemp* systems.
They're not cheap, so if you're committed to spending the money then first check with a plumber whether the outdoor water supply you already have can be adapted to include warm water for a similar price. I was AMAZED when I discovered that not only is this possible, but it's usually quite easy.
So all I'm saying is, if you want to install warm water for washing your Labrador outdoors, then we're not judging, you're not alone.
And once it's in place it's great for filling paddling pools and washing the car too!
Washing Your Labrador Indoors
If you don't have the space or the sunshine for washing your dog outdoors – or you're just lucky enough to have plenty of bathroom space indoors – then you have some more products to consider.
Dog Bath Sink
A lot of people seem to find themselves eyeing a grubby dog and wondering if they could get away with washing them in the sink.
I can't see any problem with this if your dog actually fits in the sink, but let's face it, that's not the answer for a Labrador.
But a portable dog bath might be.
Portable Dog Baths
Portable Dog Baths, like this one by Bissell*, work by spraying your Labrador with a water-and-shampoo solution from one tank, and simultaneously vacuuming it back up into a separate tank.
They have reviewers split down the middle: on the one hand they make it possible to clean you dog in a small space with very little mess.
On the other hand some owners of densely-coated dogs complain that the water simply can't permeate through to the skin.
And still other people found the noise of the vacuum too much for their dog to handle.
Bear in mind portable dog baths only work with purpose-designed shampoos, so if your dog has sensitive skin they could be a costly failure.
Bath Tub Hose For Washing Dog
Another way to wash your dog indoors is by letting them take a turn in the family bath tub.
It takes patience and persistence to soak a Labrador's coat in the bath with just a jug, but a specially designed hose attached to the faucet can make the job much quicker.
This one from Waterpik* is a popular choice.
Dog Bath Hose
Alternatively, this multifunctional dog shower sprayer from Miu Pet* tries to combine a shower head with a bath brush AND shampoo dispenser to make short work of dog washing.
It has to be said the results have divided reviewers, so compare some of the positive experiences and negative experiences to get an idea of which camp you're most likely to fall into.
Walk In Dog Bath
We never recommend encouraging your Labrador to jump into a bath, in case they slip and hurt themselves.
One option is to lift your Lab into the bath if you can.
But if they are too heavy too lift, we recommend using a walk-in dog bath.
There are three walk-in solutions:
First, an outdoor paddling pool-type bath with low sides that your dog can easily step over.
Secondly, a Booster Bath with Booster Bath Steps*, which are purposely designed by the same manufacturer to clip securely to the entrance of the bath.
Or finally, if you have a large enough shower cubicle, or a wet room-style bathroom at home, washing them in the shower instead of the bath.
Bathtime Accessories For Your Labrador
Once you've chosen a vessel to bathe your Lab in, you're ready to tool up with accessories.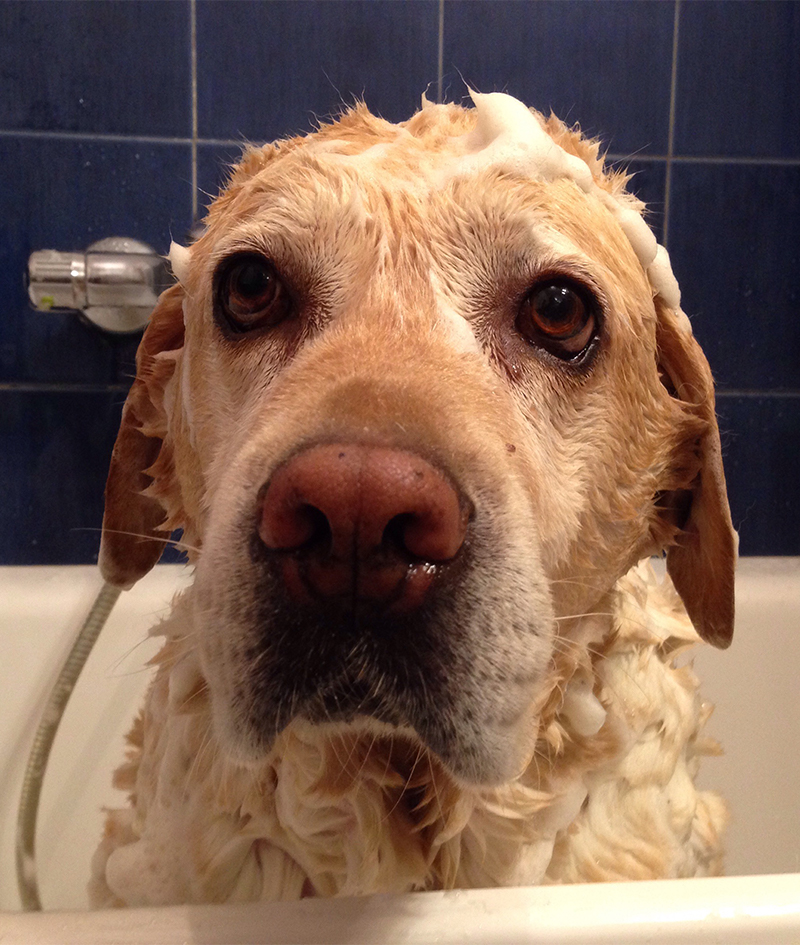 The chances are, that if your dog is mucky enough to need a bath in the first place, then there's no escaping the need for shampoo as well.
We've found some great shampoos specially formulated to clean your lab's coat with out irritating their skin.
We've also rounded up all the best dog bath brushes and dog towels, which aren't essential but certainly make bath time quicker and easier for you!
Dog Bath Soap
We've already recommended Paws and Pals' Oatmeal shampoo* in our bathing and grooming article.
Paws and pals is a great all-round, do-it-all product, but gentle enough even for puppies.
Alternatively if you like products with as few ingredients as possible, all-natural brand Earthbath* makes organic and cruelty-free grooming products for pets.
They include special formulations for deodorizing, soothing, moisturizing and tackling dandruff, and an ultra-mild shampoo for puppies.
And if you're feeling creative, then you might even enjoy making your own dog shampoo!
Dog Bath Brush
Labradors' dense, sleek coats are designed by nature to be waterproof.
This is great for our dogs on cold, wet days, but a bit of an obstacle when you actually need to get them wet!
You can, of course, massage the water into their coats with your hands.
But if you find this begins to leave you with cramp or discomfort, then a dog bath brush will help push the water and shampoo down into their coats.
Brushing your dog in the bath will also help to loosen and shed old hairs – just make sure you have a strainer over the plug hole to catch the hair before it fills your waste pipe!
Kong Zoom Groom brushes* have legions of devoted fans, and deservedly so. They're robust, effective and great value for money.
Juggling a wet dog, a bottle of shampoo, and shower head and a brush can challenge even the best of us though, and a common complaint about using a dog bath brush is keeping hold of it with soapy hands.
Luckily couple of manufacturers think they have the answer.
PerSuper have added a chunky anti-slip handle to their brush*.
And Delomo have incorporated silicon paddle brushes into a pair of gloves*, ideal for dogs who are anxious about brushes.
Originally designed and marketed for cats, the reviews include several happy owners of long-haired or doubled-coated dog breeds.
Finally, this Conair PROdog shampooing brush* differs because it has rigid bristles with rounded tips.
Some reviewers found the rigid bristles too fierce, but it would be good if your Labrador has an especially long coat, or if you have joint problems which make vigorous brushing painful.
The Surprise Bathtime Must-Haves
Some inventions undoubtedly make you raise your eyebrows, roll your eyes, and question their existence at first.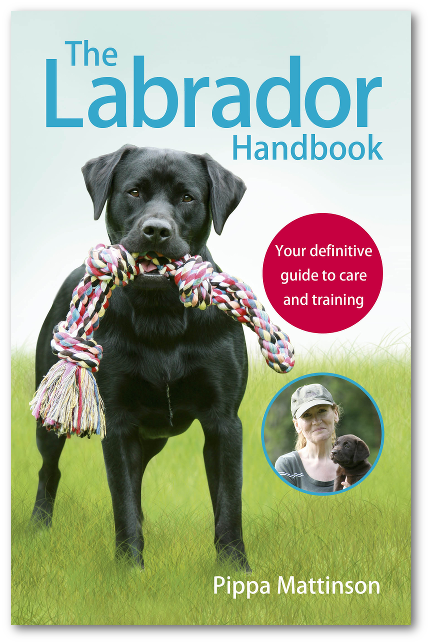 Then you spot the reviews, and start to think perhaps you're living in the dark ages without them.
These are exactly some such products, which I've happened across whilst researching this article. You can thank me in the comments section.
Sure a couple of regular towels will dry your dog just fine, but this bath robe for dogs by Trixie* has earned hundreds of rave reviews on Amazon – many left by happy Labrador owners.
This nifty adapter from Kurgo* will turn any standard plastic bottle into a mini shower, for rinsing mucky bits before getting in the car, or even just for keeping cool on hot days.
And this clever paw cleaner from Dexas* can be used on its own after a muddy walk, or in the bath to make cleaning between your dog's toes a doddle.
Best Dog Bath for Labs
Choosing the best dog bath for your lab will be a matter of personal preference, probably influenced by the size of your house and yard, and the climate where you live.
The best recipe for bath time success is bathing your dog regularly from a puppy, so they grow up happy and confident in the tub.
For a nervous dog who hates the bath, using a paddling pool-type bath in the yard with gloves instead of a brush can make the whole experience more like a fun game.
If your Lab is too heavy to lift, make sure safety is your priority by either washing them in a shallow tub or shower tray at ground level, or using steps to help them onto a Booster Bath.
Which Dog Bath Do You Recommend?
Do you have a large dog bath that changed your life?
Did you think that all bath brushes were pointless, until one with just the right combination of features came along?
Or do you have a must-have bit of kit that I haven't included here?
Share your best discoveries in the comments section below!
Affiliate link disclosure: Links in this article marked with an * are affiliate links, and we may receive a small commission if you purchase these products. However, we selected them for inclusion independently, and all of the views expressed in this article are our own.
The Labrador Site Founder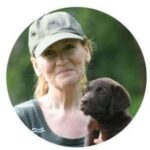 Pippa Mattinson is the best selling author of The Happy Puppy Handbook, the Labrador Handbook, Choosing The Perfect Puppy, and Total Recall.
She is also the founder of the Gundog Trust and the Dogsnet Online Training Program 
Pippa's online training courses were launched in 2019 and you can find the latest course dates on the Dogsnet website