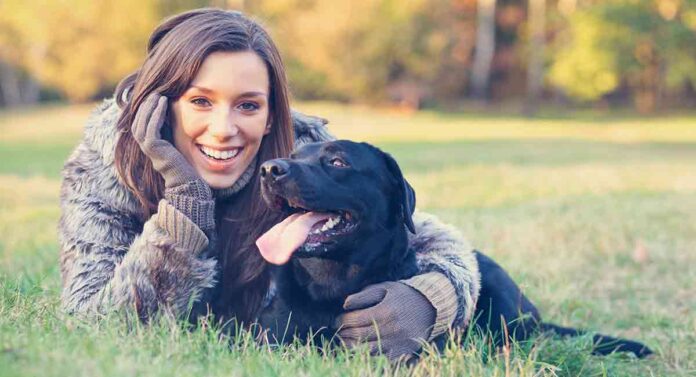 Dog love quotes, like dogs themselves, add sunshine and smiles to every day. The more you remember how much you love your dog, the happier you are likely to feel and the better your day will go. It can't be any accident there are so many dogs unconditional love quotes, either! Sharing a dog's love quotes is one of those universal ways we remind ourselves we are more alike than different – after all, we all love dogs.
We hope you enjoy these adorable dog quotes and we'd love to hear which quotes are your favorites in the comments section!
Does Your Dog Love You?
With all the dog love quotes and sayings you are about to enjoy here, it seems pretty clear people love their dogs. But do dogs love us? Happily, the research (yes, real scientific research!) says the answer is "yes." Dogs may not be able to tell us they love us in words. But if we know what to look for inside their brains, which are remarkably similar to our own, we can see the evidence for ourselves.
In one study, dogs were trained to voluntarily step inside an MRI machine and lay still while their owners gave them verbal and hand signal cues. These studies proved dogs have a full spectrum of emotions just like their people. We also learned that dogs, like people, enjoy a rush of the hormone oxytocin when someone they love (YOU) is near.
Perhaps most tellingly, the MRI studies proved that dogs love us, not just the food we give them. Some dogs even demonstrated a preference for praise over treats – now that is true love!
Dog Love Quotes from Authors
These famous authors from classical and popular literature write about tremendously diverse topics, except for in one area: their dogs.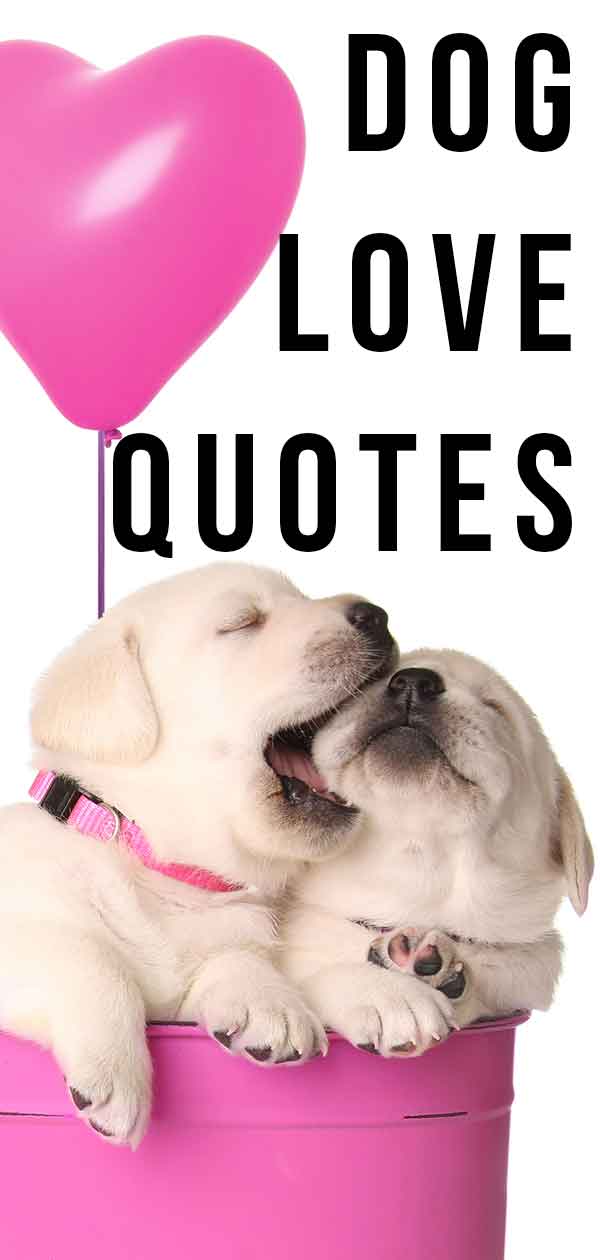 At the end of the writing day, after chart-topping bestsellers and first-page by-lines, where do these luminaries turn to find companionship, love and comfort? Their pups! It seems cartoonist and writer Charles Schultz said it best: "Happiness is a warm puppy." But also:
"A dog….is a bond between strangers." – Author John Steinbeck
"Dogs have a way of finding the people who need them and filling the emptiness we didn't ever know we had." – Author Thom Jones
"Petting, scratching, and cuddling a dog could be as soothing to the mind and heart as deep meditation and almost as good for the soul as prayer." – Author Dean Koontz
"No matter how little money and how few possessions you own, having a dog makes you feel rich." – Author Louis Sabin
"If I could be half the person my dog is, I'd be twice the human I am." – Author Charles Yu
"Our pets are our family." – Poet Ana Monnar
"People who care about animals tend to care about people. They don't care about animals to the exclusion of people. Caring is not a finite resource and, even more than that, it's like a muscle: the more you exercise it, the stronger it gets." – Author Jonathan Safran Foer
"The difference between friends and pets is that friends we allow into our company, pets we allow into our solitude." – Author Robert Brault
"Animals are reliable, many full of love, true in their affections, predictable in their actions, grateful and loyal: Difficult standards for people to live up to." – Author Alfred A. Montapert
"The average dog has one request to all humankind. Love me." – Author Helen Exley
Puppy Love Quotes from Musicians
Dogs may not be the best singers on the planet (unless you count this yodelling YouTube pup). But they clearly make for great creative muses, as these cute puppy love quotes prove!
"My favorite type of pet has always been a dog. They're loyal, kind and offer endless affection." – Singer Brendan Urie
"Animals keep you company when you're really lonely. It helps because when you have a friend around who always likes you no matter what – it's harder to feel bad or down." – Singer Aaron Carter
"I've been accused in different dating situations of loving my dog [Ace] more than I love the person I'm with. He's really, really cute." – Singer Carrie Underwood
"My dogs are about unconditional love. It's so wonderful to walk in the door from a long day and all they want to do is be loved and to give and give." – Country Singer LeAnn Rimes
"There is no psychiatrist in the world like a puppy licking your face." – Jazz Musician Ben Williams
Dog Love Quotes from Film Stars
So many people want to be famous. After a hard day memorizing lines, rehearsing roles and dodging paparazzi, where do the rich and famous go looking for love? Like us, they go in search of the unconditionally loving four-legged furry sidekick waiting faithfully for them back at home. These precious puppy love quotes remind us that dogs love us for who we are, not for what we've accomplished.
"I can't imagine my life without animals. I have two dogs and three cats. Coming home and finding them all lined up at the door waiting for me has got to be one of the sweetest joys of my life." – Actress Halle Berry
"Dogs are the most amazing creatures; they give unconditional love." – Actress Gilda Radner
"Sophie, my dog, is the high in the highlights of my life." – Actress Lauren Bacall
"My dogs have taught me to be more loving, more nurturing, and happier." – Actress Nicollette Sheridan
"The unconditional love you get from a pet is something you carry with you for the rest of your life." – Actress Kyra Sedgwick
"Pets have more love and compassion in them than most humans." – Actor Robert Wagner
"He [rescue dog Einstein] loves me. I can do no wrong. He follows me everywhere." – Actor George Clooney
Dog Love Quotes from Famous People
Being able to speak and have the world listen is a powerful thing. It can be especially powerful when the world's most respected and admired activists, naturalists and culture curators use their platforms to share their love of animals!
"An animal's eyes have the power to speak a great language." – Philosopher Martin Buber
"Any glimpse into the life of an animal quickens our own and makes it so much the larger and better in every way." – Naturalist John Muir
"For me a house or an apartment becomes a home when you add one set of four legs, a happy tail, and that indescribable measure of love that we call a dog." – Animal Activist Roger Caras
"I cannot imagine not going home to animals. They are the closest thing to God; they don't harbor resentment. I wanted to be a vet when I grew up." – Talk Show Host Ellen Degeneres
"I think having an animal in your life makes you a better human." – Talk Show Host Rachael Ray
"Whoever said you can't buy happiness forgot about little puppies." – Naturalist Gene Hill
"Nothing makes me happier than being with my dogs." – Oprah Winfrey
"You cannot share your life with a dog.…and not know perfectly well that animals have personalities and minds and feelings." – Animal Activist Jane Goodall
"The gift I am sending you is called a dog, and is in fact the most precious and valuable possession of mankind." – Greek Scholar Theodorus Gaza
Dog Love Quotes for Death
At the moment of parting, it can seem like a cosmic level of unfairness that our beloved dogs can't be with us forever. Yet, as these unconditional love quotes for dogs so perfectly express, during the time we do have to share, they change us forever for the better. In this way, perhaps we are always together after all.
"If you have a dog, you will most likely outlive it; to get a dog is to open yourself to profound joy and, prospectively, to equally profound sadness." – Author & Harvard Professor Marjorie Garber
"Animals have a much better attitude to life and death than we do. They know when their time has come. We are the ones that suffer when they pass, but it's a healing kind of grief that enables us to deal with other griefs that are not so easy to grab hold of." – Singer Emmylou Harris
"Who can believe there is no soul behind the luminous eyes of a dog." – Poet Theophile Gautier
"Until one has loved an animal, a part of one's soul remains unawakened." – Poet Anatole France
"There are spiritual guardians at all the transitional places in our mysterious multidimensional Universes. The precious sacred souls of animals are created to beautifully traverse these regions when their bodies are no more upon the Earth." – Author Elizabeth Eiler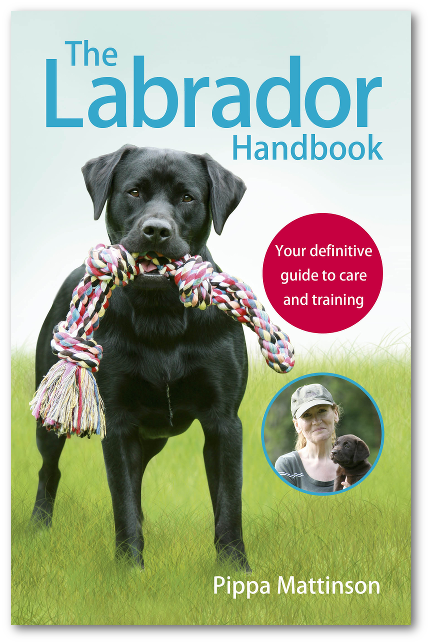 "Dogs are our link to paradise. They don't know evil or jealousy or discontent." – Author Milan Kundera
"Those who love dogs, know something about God." – Author Fakeer Ishavardas
"If there are no dogs in Heaven, then when I die I want to go where they went." – Actor Will Rogers
What Are Your Favorite Dog Love Quotes?
Do you have any favorite dog love quotes from the lists here? Is there one special quote that really sums up the connection you have with your fur bestie? Please share your favorites in the comments section below for all dog lovers to enjoy!
Want More Quotes?
There are hundreds of amazing dog quotes out there! We've put together a few more collections that you can take a look at here:
References and Resources
The Labrador Site Founder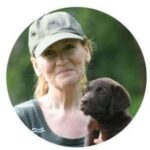 Pippa Mattinson is the best selling author of The Happy Puppy Handbook, the Labrador Handbook, Choosing The Perfect Puppy, and Total Recall.
She is also the founder of the Gundog Trust and the Dogsnet Online Training Program 
Pippa's online training courses were launched in 2019 and you can find the latest course dates on the Dogsnet website