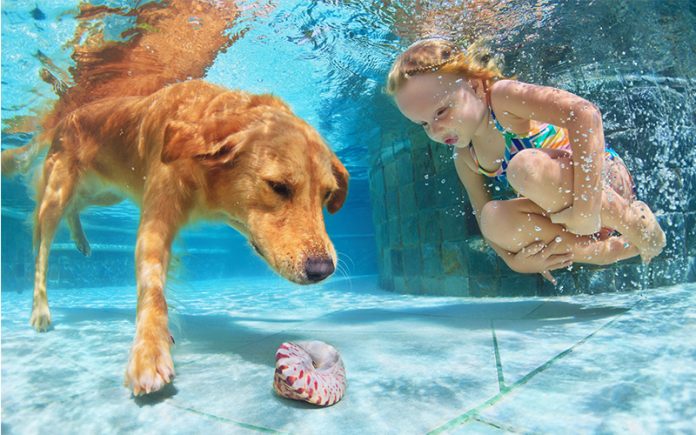 The best dog pool for Labradors can stand up to a lot of tough use. They are deep enough to play in, easy to clean and sturdy too. A dog pool is specifically designed for canine use, so is a better choice than a normal kiddy pool. Non-dog pools can break more easily, and will need to be replaced if your dog chews or accidentally claws a hole in the side.
Why Get A Dog Pool
Nothing is more soothing and relaxing than a dip in a pool on a hot day. And your Labrador surely agrees with this sentiment! Well, have you thought about getting your canine companion his own pool? There are tons of products out there that you can choose from.
It is a hard choice, and that is why we have narrowed down the options for you. We hope you enjoy checking out our favorite dog pools and accessories.
What Is A Dog Pool?
Dog pools serve two purposes. They provide a space where dogs can swim, along with a cool and refreshing area where your pup can chill out in the warm weather.
Some people may question why a dedicated dog pool is necessary, since there are so many kiddie pools out there. Well, this has a lot to do with the durability of the pool.
Kiddie pools are meant to retain wear and tear from children, and not your 100 pound Labrador. Also, if you have children, then hygiene is another concern.
Not only can you expect some drool and some floating balls of hair, but you can bet that a large amount of bacteria will enter the pool with your pup. A dog swimming pool just for his use is a perfect solution.
All of these products were carefully and independently selected by The Labrador Site team. If you decide to make a purchase from one of the links marked by an asterisk, we may earn a small commission on that sale. This is at no extra cost to you.
Dog Swimming Pool
If your dog is quite the swimmer and desires as much space as you do to enjoy a lazy afternoon afloat, then a Cool Pup splash about dog pool* is just what you need.

This PVC pool is made to sit on both patios and lawns for versatile use. It comes in small, medium, and large sizes.
For adult Labs, the 63 inch pool is the best choice and can soothe even the hottest dog with a full 119 gallons of water.
The splash about pool has a simple foldable design for easy storage and a snap open drain plug for emptying. So, it can be filled and emptied with ease.
Dog Paddling Pool
If your dog is more of a soaker than a swimmer, then he may enjoy a paddling pool instead of a full sized swimming pool. Paddling pools are smaller versions of traditional dog pools and they provide just enough space for your pup to lie down and lap in the luxury.
The Zootlis dog pool* is a great option.
This pool is 63" across when fully assembled! The material is not only bite and scratch resistant, but it remains strong against the UV rays of the sun.
Inflatable Dog Pool?
If your budget is a bit smaller and you do not have hundreds of dollars to spend on a pool, then an inflatable one just might do the trick.
Inflatable dog pool? Are we crazy? Well, inflatable dog pools do exist, like the Alcott mariner inflatable pool*. It is made from the same strong and durable PVC that most of the foldable and portable dog pools are made of.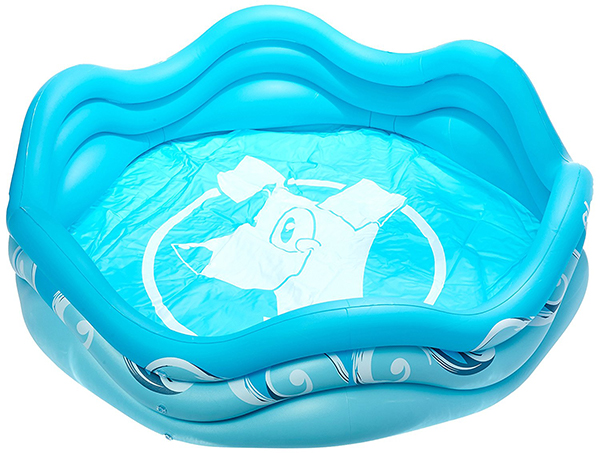 This means that while the pool is filled with air, even the sharpest nails are unlikely to penetrate the sides. The mariner pool is fitted with dip sides for easy access and a four foot width for plenty of space. When your pup is done swimming, the featured plug allows for quick draining.
This inflatable pool even has rounded edges and no exposed seams so your Lab will not injure himself when happily bounding in and out of the pool. You should know that inflatable pools are not indestructible, but they can be repaired quite easily. Make sure to purchase a PVC patch kit for repairs if you do spring a leak!
Plastic Dog Pool
If you are looking for something a bit more simple, then go with the Booster Bath large pet bathing station.* It will allow you to spray down your pup quickly so he can cool off in a hurry.
The product features a large and spacious tub that is elevated on firm legs. Simply help your dog into the empty bathing area and use a hose to spray down your Lab.
The tub is lightweight, portable, easy to assemble, and comes with a shampoo caddy. A fan nozzle is included with the bath too so you can soothe your dog with the wide and relaxing spray. You can of course pick up a spa style sprayer of your own to attach to your garden hose.
Look for foaming varieties that let you suds up your pup as you cool him down. There are of course some great massaging sprayers as well.
Ultimate Dog Pool
What could be more ultimate and luxurious for your dog, and your yard, than a dog pool that does not even contain water. What exactly is this sort of product? Well, it is not really a pool.
It's a high-tech item that allows your dog to remain cool and comfortable in the hottest temperatures, and he does not even need to get wet. If you want to give your dog the soothing coolness he desires without having to endure that wet dog smell, then try out the Sealy cooling gel pet bed*.
This bed is perfect for outdoor use, and if you want ultimate cooling power, then stick the removable gel packs into your freezer for 15 minutes. Set the bed outdoors and let your Lab lounge in cooling comfort.
This bed is perfect for indoor and outdoor use, so your canine companion can experience the benefits of a cooling pool while lounging indoors if he desires.
Large Dog Pool
Does happiness to your dog means splashing and paddling around in the biggest pool possible? Then you may want to overlook a lot of the dog specific pools. Hop right to the human ones. Since the vast majority of dog pools are made from PVC, then you know a product like the PVC Intex easy set pool set* will stand up to the pawing and panting of your active Lab.
The Intex pool comes in two sizes. If you do not want to break the bank, then go with the 12 foot by 30 inch variety. This pool is cheaper than many other dog pools.
The pool does come with a filter and you can add disinfecting agents to the water if you want to take a dip with your dog. While most dogs do tolerant chlorine well, think about using bromine instead which can be much gentler on your dog's skin.
Dog Pool Ramp And Dog Pool Steps
As previously mentioned, dogs do tolerate pool chemicals quite well, so you can let your pup take a dip in your own pool. Just make sure that you rinse off your dog to remove the chemicals afterwards.
You also want to make sure that your dog can safely enter and exit your pool with either dog pool steps or a dedicated ramp. When it comes to ramps, the Swimline Floating Ramp* is a good choice.
This ramp is a floating ramp that attaches easily to the side of your pool. If your dog wants to stop swimming for the day, then he can simply climb the ramp to get out.
Looking for some more sturdy with non-slip steps, like the ones commonly used for above ground pools? Then the WaterDog Adventure Gear steps* are a safe and secure option.
Not only are these steps strong, they can be used by any sized dog.
Dog Pool Float
If you let your Lab use your pool, then you might as well let him lounge in style. Nothing screams style and serenity like a dog float. Uniquely shaped floats are all the rage, so buy the Pawcy paws aboard doggy dog pool float lazy water raft* for your dog.
This paw shaped float is not only eye catching, but it is large, puncture resistant. It's made from a soft vinyl fabric that will not fade when exposed to the UV rays of the sun.
Dog Pool Toys
You might as well throw some dog pool toys into the mix, and there are tons of options available to you. Go with some super fun and simple Dog Squeaky Toy Balls* made with floatable, chewable, and durable rubber.
Or, opt for the fun and interactive Kurgo floating skipping stones*.
If water features are more of your thing, then look for fountains, sprayers, and other accessories that will keep your canine active and loving his pool.
In Ground Dog Pool
Finally, if you are feeling like the dog parent of the century, then you can build an in ground pool for your Lab. While you may not be able to buy the inserts or the plans online, you can certainly prepare with pup pampering accessories like a Smartpool S601P sunheater solar heating system.*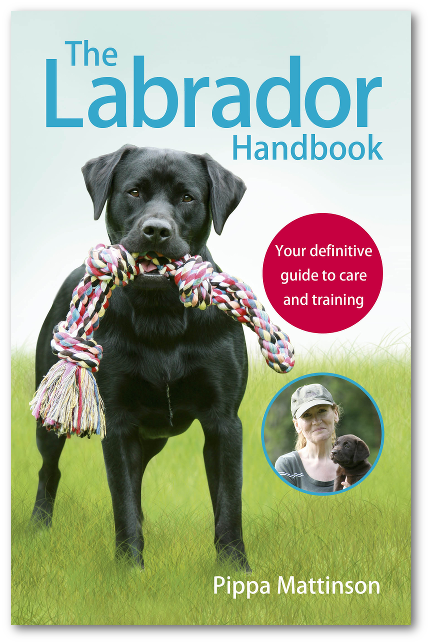 With a solar heating system, you can harness the sun's energy to heat your pool for use well into the fall season. After all, a warm dip in the fall can be just as soothing as a cool one in the summer.
The Very Best Dog Pools For Large Breeds
Dog pools are a great accessory to add to your property, if you want to pamper your pooch, and your options are endless.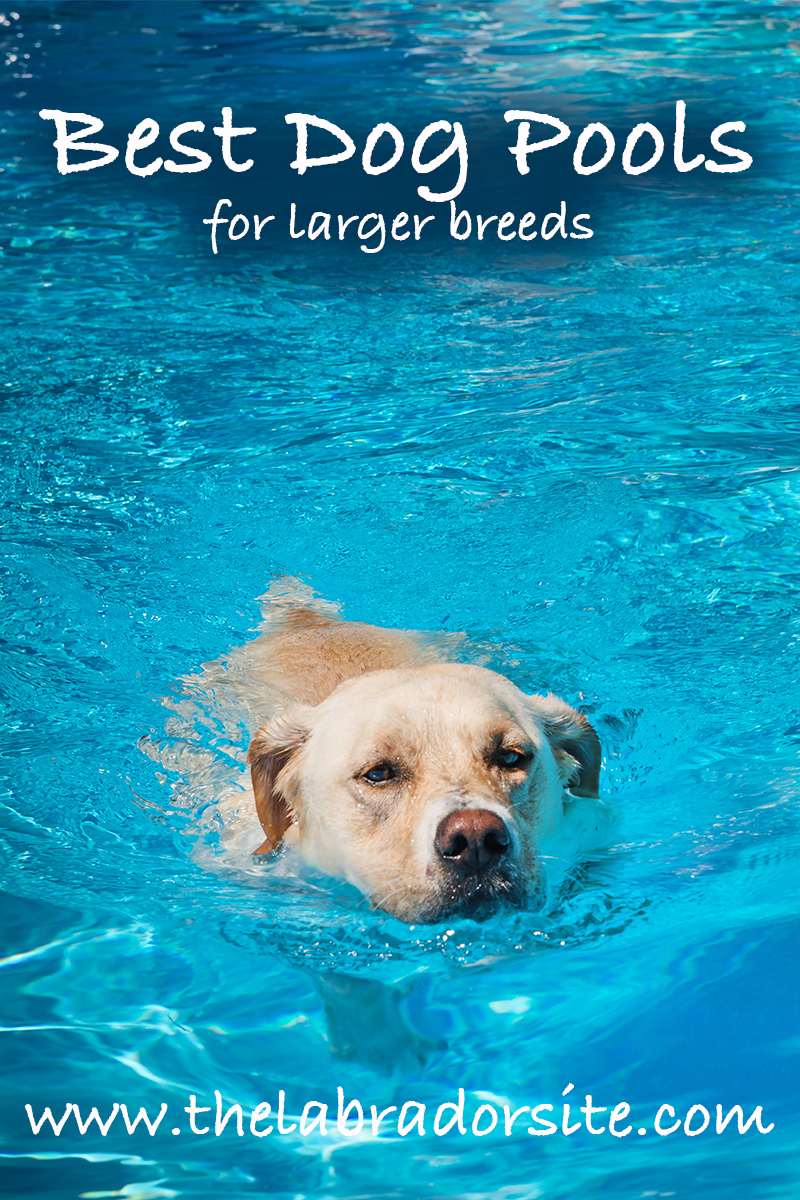 Just make sure you are thinking about the safety, security and happiness of your dog when you make your pool choices.
Do you have a water loving Labrador or do you have the perfect pool that your dog loves to splash about in? Let us know in the comments below.
Affiliate link disclosure: Links in this article marked with an * are affiliate links, and we may receive a small commission if you purchase these products. However, we selected them for inclusion independently, and all of the views expressed in this article are our own.
The Labrador Site Founder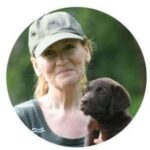 Pippa Mattinson is the best selling author of The Happy Puppy Handbook, the Labrador Handbook, Choosing The Perfect Puppy, and Total Recall.
She is also the founder of the Gundog Trust and the Dogsnet Online Training Program 
Pippa's online training courses were launched in 2019 and you can find the latest course dates on the Dogsnet website