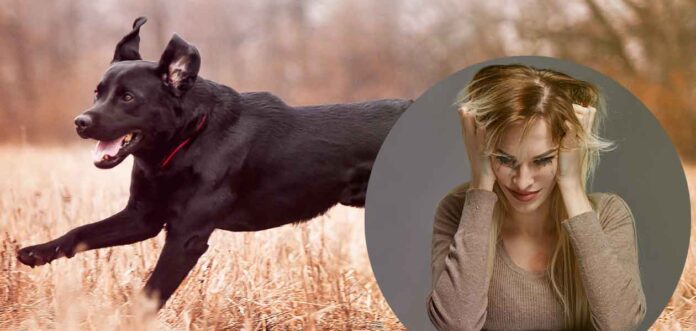 Is your Labrador out of control? Is he embarrassing you? Are you worried about what will happen when you let your out of control dog off the leash in public? And what can you do about it?
Pippa takes a look at control issues in Labs and other large dogs, including why it is so hard to control some dogs outdoors, and what you can do to help.
'Losing Control of Your Dog' was written by our founder, best-selling author Pippa Mattinson. Pippa's online dog training courses are available here.
Out Of Control Dogs On Walks
One of the most common problems experienced by many dog owners is a worrying lack of control over their dog once it is running free in the big wide world.
Some young Labradors are quite happy to trot along at their owner's heels for the duration of a walk.
Many are not.
Out in the countryside, all too often, the dog seems to become totally deaf to commands taught and obeyed willingly at home.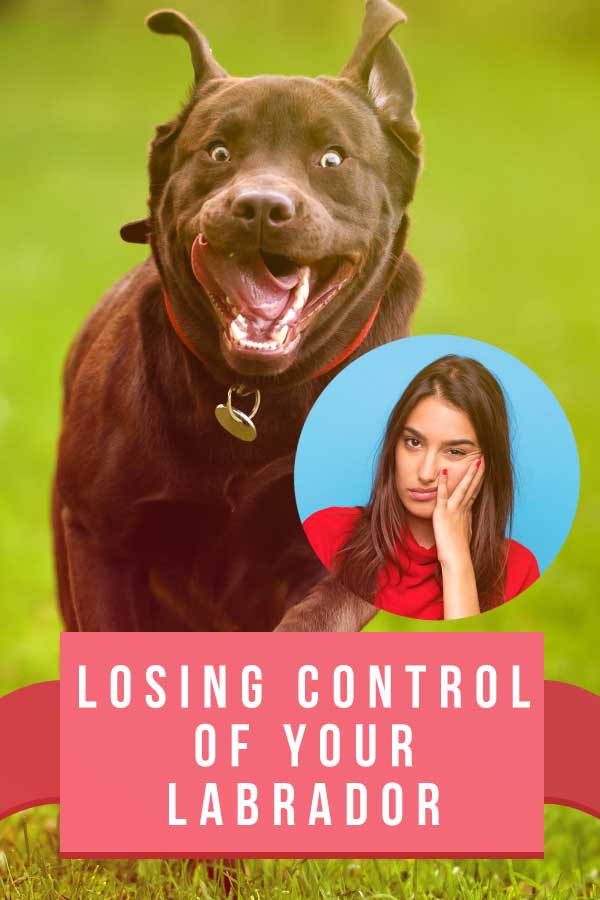 The understandably frantic owner may resort to yelling and screaming, blowing ever more powerful whistles, all to no avail.
If you feel as though you are losing control of your Labrador, then you probably are. And the time to take action is right now. Let's take a look first at why you may be having problems.
Controlling Your Lab Outdoors
For most dogs, the sights and smells of a country walk are overwhelmingly distracting. This is especially true for dogs bred to seek out 'game'. Including traditional retrieving breeds like Labs.
One of the key Labrador characteristics is their ability to track the scent of other animals.
Following scent is a hugely rewarding activity for a Labrador.
As a gundog, it has been bred for generations to do so.
Your dog will derive great pleasure from following the trails left behind by rabbits, squirrels and other dogs.
And just like people, dogs do what gives them pleasure. Which can result in some pretty out of control dog walks!
A Labrador Is Everybody's Friend
In addition to their hunting urges, many Labradors are also extremely friendly. Either towards people, other dogs, or both.
This is on the one hand a blessing, and on the other hand a curse.
Many of us choose Labradors as our companions because they want a good tempered dog. But the fact that your dog wants to befriend every single person you meet on your walks, and even move in with them, can be frustrating and embarrassing.
An overly friendly dog can look a lot like an out of control dog to the other people you encounter on your walks.
One way to improve this situation, is to become more interesting to your dog.
Becoming More Interesting To Your Dog
Dogs do what rewards them, and what interests them. Labradors are intelligent dogs that need mental stimulation.
It can be hard to accept, but in many cases dogs are bored witless by their owners.
Once the dog gets free of that leash he is intent on having fun. And if you are not going to provide that fun, he will find some fun by himself.
Think about how bored you would be if you had no job, no responsibilities, no duties, no goals, and no objectives.
OK, that might sound quite attractive to you at the moment, especially if you are trying to hold down three jobs and raise a family as well as train a dog!
But actually, boredom is a terrible curse and a real mischief maker.
Give Your Labrador A Job!
Dogs need a job to do, a role to play, if they are to be truly happy and balanced individuals. That role could be quite simple.
It could be to find things you have hidden, or to fetch things you have thrown. It could be to follow your directions back and forward or side to side, to press buttons, or pick up toys or the laundry.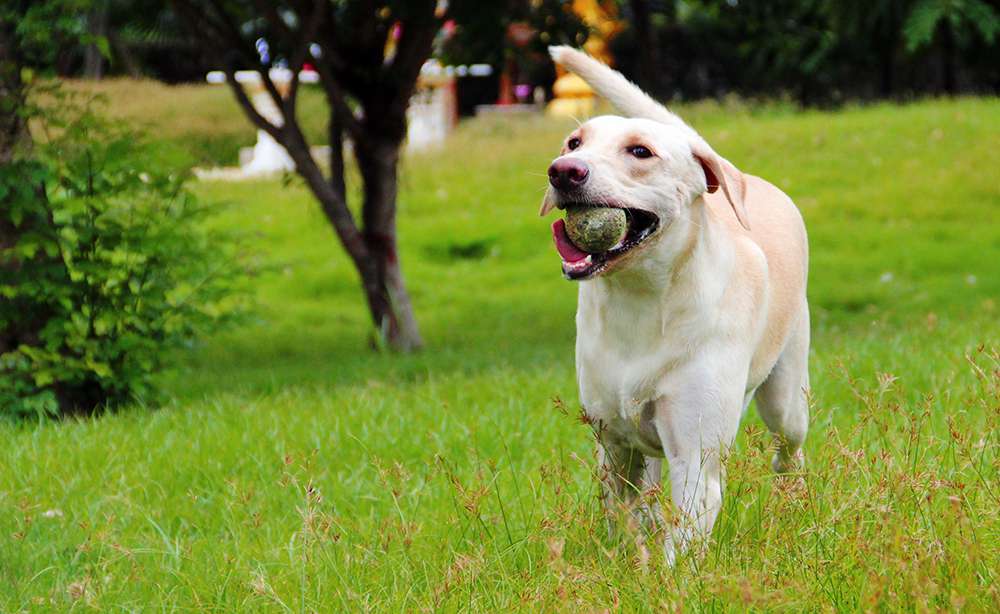 It doesn't really matter what the 'job' is as long as he has one.
This is especially true of walks, and when your Labrador is young. A bouncy boisterous young lab out on a walk with no expectation of any input from you is bound to get himself into trouble sooner or later. Leaving him to choose his own entertainment is a recipe for an out of control dog.
Taking control of your dog's activities when walking in a public place will make a big difference.
Engaging With Your Dog
By giving your dog jobs to do, you make yourself a source of fun, of mental stimulation. This reduces the chance that he will look elsewhere to keep himself occupied.
Teaching a Labrador to retrieve, and punctuating every walk with interesting retrieves can make all the difference in the relationship you have with your dog.
Retrieving is your dog's birthright and he will love you to bits for it.
Managing Your Dog's Free Time
Some dogs can be let out of a car at the beginning of a walk and ignored until the walk is over.
Their owners can chat to friends as they stroll, whilst the dog just potters along a few yards in front or behind. Stopping to sniff at this and that, or to briefly exchange pleasantries with other dogs.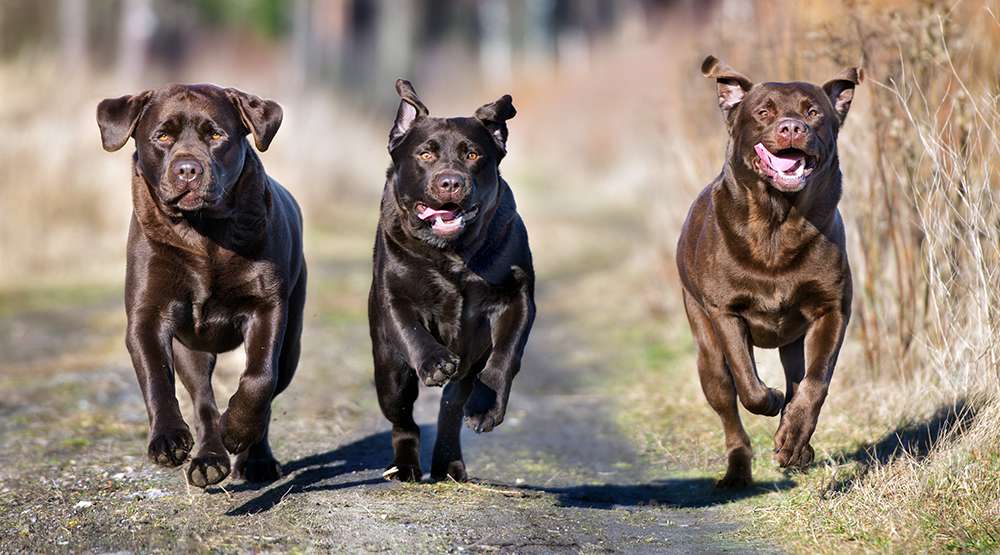 It is a hard fact of life that these dogs are usually very old, or belong to other people.
Most young Labradors, and indeed most young dogs in general, need some degree of management during a walk. Some require a great deal of management.
A Zone Of Control For Your Dog
It is a good idea to have an idea in your mind, before you set off for a walk, of just how far away from you, your dog should be allowed to stray.
With a youngster of six to nine months old, keep this distance very short indeed. Twenty to thirty yards is far enough. When your dog reaches the limit of this 'zone of control', call him back, and sometimes reward him.
From time to time, and whenever you get bored with repeatedly calling him, bring him to heel and walk him along next to you for a few minutes.
Spend a few minutes during each walk doing a bit of training. Get your dog to sit and stay whilst you walk in a circle around him. Send him for a tennis ball you deliberately dropped for him a few yards back. Hide behind a tree so that he has to sniff you out.
Then give him a little more free time, watching all the while to make sure he does not get too far away.
Best of all, every now and then, turn around and start walking back the way you came. The "about turn walk", based on this principle, is an excellent strategy for tidying up a sloppy recall.
Out Of Control Lab Puppy
Control is not just about ensuring your dog doesn't run off or get lost. It is also about making sure he interacts appropriately with other dogs and people.
This can be challenging with a big bouncy Labrador puppy that is growing in both size and confidence.
Problem behaviors like jumping up and pulling on the lead are very common in puppies of around six months old.
The first step to improving your puppy's behavior around strangers is often to teach them to focus on you more. You can do this by being more interesting in general. But also by training your puppy to offer eye contact with you when he wants something. This is one of the skills covered in our Foundation Skills training course.
Things Will Get Better
It can be upsetting when your expectations of what life with a dog will be like are shattered.
Strolling along in the sunshine whilst your dog does his own thing might seem very attractive and relaxing if walking your dog has become a bit of a nightmare.
You are bound to feel disappointed and let down.
But you can resolve these problems, and in many cases find a new and much more interesting long term relationship with your dog.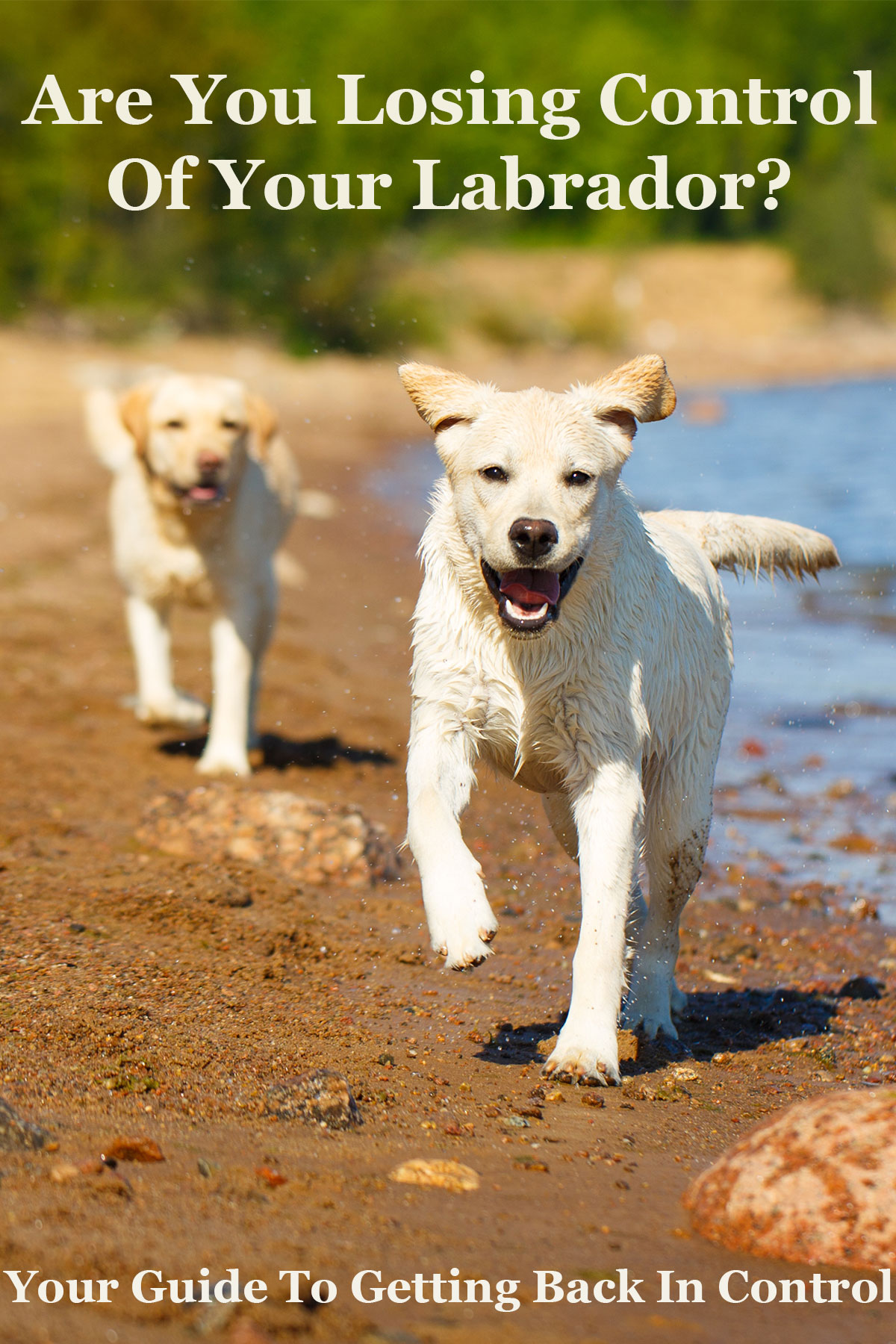 Taking Control Of Your Dog
Most control issues in young Labs are ultimately down to insufficient training. The solution is to start regular daily training sessions with your dog.
Modern training methods, like the ones used in our Dogsnet training courses, are fun and effective.
By training your dog regularly, you will build a stronger, happier relationship with them. And make yourself much more interesting to be with, and to listen to!
If you currently have an out of control dog, all is not lost. Start interacting with them more on walks, and get training regularly at home, and things will soon start to turn around.
About Pippa Mattinson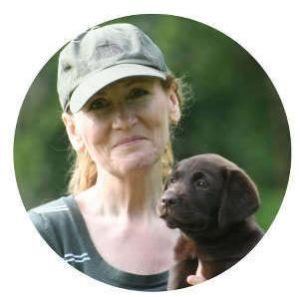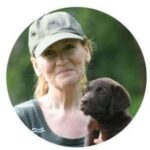 Pippa is the best selling author of The Happy Puppy Handbook, the Labrador Handbook, Choosing The Perfect Puppy, and Total Recall.
She is also the founder of the Gundog Trust and the Dogsnet Online Training Program .
Pippa's online training courses were launched in 2019 and you can find the latest course dates on the Dogsnet website.
The Labrador Site Founder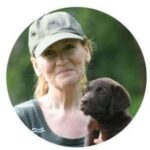 Pippa Mattinson is the best selling author of The Happy Puppy Handbook, the Labrador Handbook, Choosing The Perfect Puppy, and Total Recall.
She is also the founder of the Gundog Trust and the Dogsnet Online Training Program 
Pippa's online training courses were launched in 2019 and you can find the latest course dates on the Dogsnet website