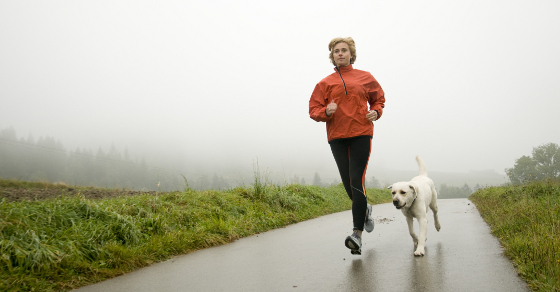 I was once accused of being cruel for running with my Labrador. That's right, the claim was totally sincere. My companion announced that running deprives dogs of sniffing opportunities, and chances for a casual doggy chat with other curious canines. And was therefore deeply, fundamentally unkind.
Honestly, I couldn't have disagreed more. A tricky situation to manage at the time, as it was raised by someone I am unable to avoid in future, but inevitably I couldn't keep my mouth closed. Because running with your Labrador isn't just not cruel, it's incredibly beneficial to you both. As long as you go about it in the right way.
Running Safely With Your Dog
It's not safe to go from no exercise to high amounts in a small space of time. It's why even regular runners need to gradually build up over at least six months to reach marathon levels of fitness. Your dog, and you, are no different.
Build up slowly. Not just in terms of duration, but pace too. Begin your usual walking route, but jog instead of walking every few minutes. Gradually over time upping the proportion of time you are jogging vs walking. Then when you feel your fitness, and your dogs, increasing, you can switch to running and jogging, then just running with your Labrador!
Remember to only increase one thing at a time. So if you are going faster, don't go further at the same time.
Serious running is really only a good idea for dogs that are fully grown, but not into old age. Joints and bones are still developing in young dogs, and Labs are at risk from hip dysplasia. Senior dogs might be arthritic and find running less comfortable.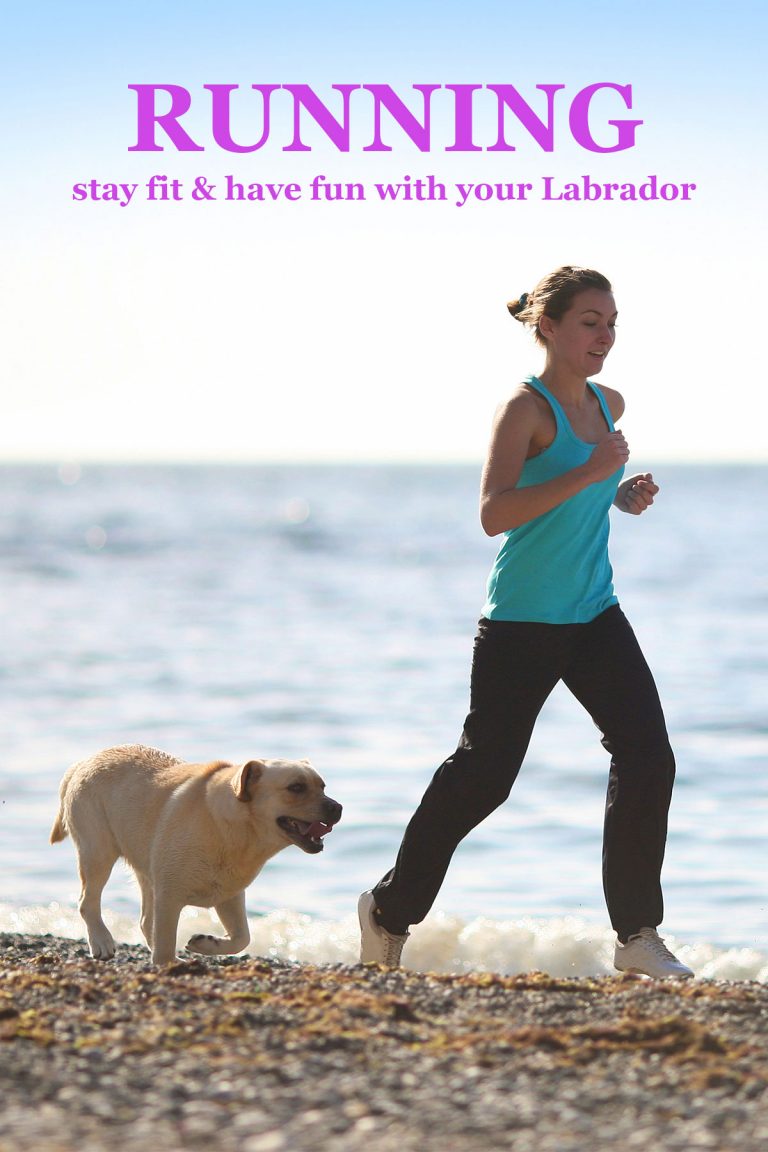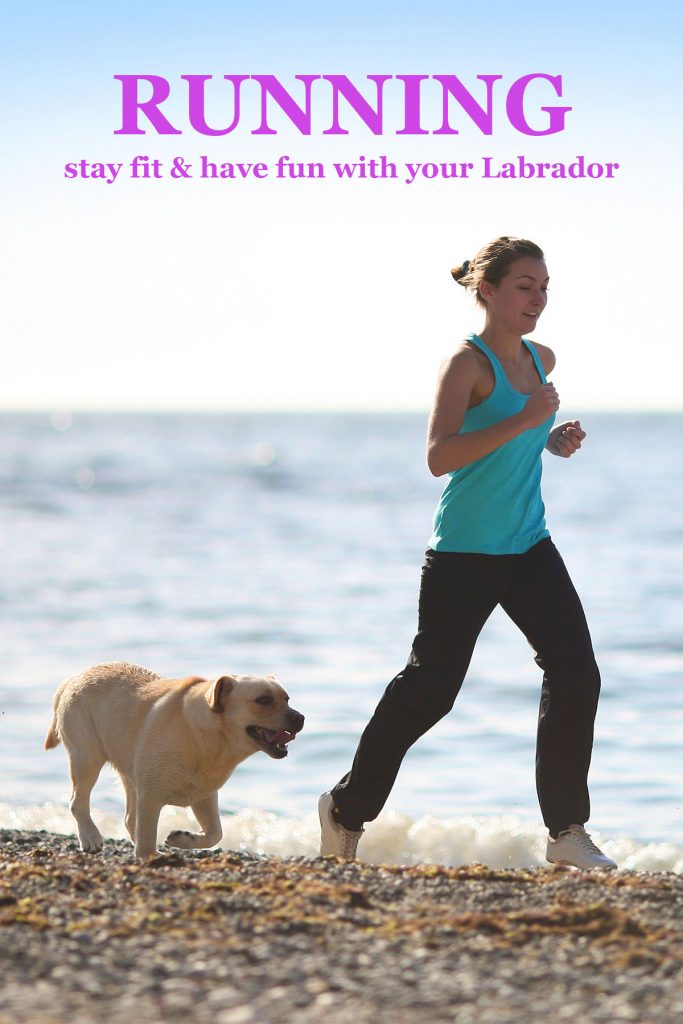 On vs off leash running
When I run in the forest behind my house, I keep my dog at heel and off leash. An excellent recall and a confidence that they rather stick with me than head off on their own means that this is a fairly safe option.
I also know where we are nearing roads and are likely to bump into other people, and always keep a leash with me to use if I need it.
Unless your Lab has good heel and recall command, I advise running with them on a short leash attached to a front fastening harness.
Watch the weather
Labradors are well equipped to deal with inclement weather. They have thick double coats that keep the rain off, and long muzzles that help them to regulate heat in hot weather. However, it's still best to avoid running on extreme days.
Excellent Exercise
Running is a fantastic way to get and stay fit. You can rack up the miles much faster than walking the equivalent distance. You will build muscle, stamina and give your dog an excellent way to quickly wear themselves out.
Sporting Breeds Are Born To Move
The Labrador Retriever breed has been selected over generations for intelligence, fitness and energy. This breed needs to stay active, and was basically born to run. Not just short distances, but long range and over rugged terrain.
Working Labs retrieve by swimming through rivers and pushing their way through thick bracken and other spiky shrubs.
Bonding Time
Any time spent doing something fun with your dog is an opportunity to bond. Even if you are both moving at speed. Your running outing together is a period you'll spend in each other's company, with no distractions.
Doing something they love in your presence will reinforce your pup's positive feelings about you.
Running With Your Labrador Avoids Potential Problem Behaviors
A major surprise benefit of running with Labradors is that it enables you to avoid problems. Ever rushed through a rowdy crowd in the hopes of not getting caught up in the bad vibes? It's basically the same deal.
Over Friendliness To People and Dogs
Lots of Labs are very friendly, to the point of being a little problematic. Plenty of people love dogs, but to our horror, many others are less inclined to say hello. I must admit it still surprises me every time I meet someone who isn't a dog person, but these unusual fellows are everywhere. And my dogs want to greet them just the same as they would with an enthusiastic old friend.
Howls of horror at muddy paws on coats, or kids hiding behind their parents is not an unfamiliar scene to many dog owners.
Labrador sociability often extends to other dogs too. Which is fine if you have nothing else to do, and your Lab isn't too pushy, and the other dog is up for a game. It's less fine if you have an anxious owner trying to pull their potential pal away hurriedly, or your dog tends to have too much fun to the point of upsetting their playmates.
Running with your Lab enables you to pass quickly by this scenario too. They are keeping pace, focussed on you and the road ahead. They don't want to be left behind, and with a few kissy noises and perhaps a treat delivered straight to their mouth you can avoid something stressful before it's even started.
Eating Unpleasant Items
Labradors are greedy, there is no getting around it. It's even partially genetic, they just can't help themselves. This insatiable appetite often extends to things that I don't agree are food.
Poops, random bits of vegetation, carrion, food containers. They all seem to be fair game if you are going for a leisurely stroll and the dog comes across one of them. Short of putting a muzzle on your pup, or constantly treat-streaming to prevent them from diving in snout first, running really helps with this.
They simply don't have the inclination or even notice a lot of things that I'd otherwise be disgustedly trying to swap in exchange for kibble. Your increased pace hugely decreases the amount of trash scavenging you'll need to deal with.
Basically, when all is said and done, if you are fit and your dog is healthy, there is no reason not to take them running with you. So what are you waiting for, hopefully we'll see you out there!
The Labrador Site Founder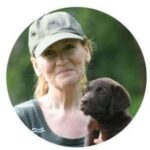 Pippa Mattinson is the best selling author of The Happy Puppy Handbook, the Labrador Handbook, Choosing The Perfect Puppy, and Total Recall.
She is also the founder of the Gundog Trust and the Dogsnet Online Training Program 
Pippa's online training courses were launched in 2019 and you can find the latest course dates on the Dogsnet website