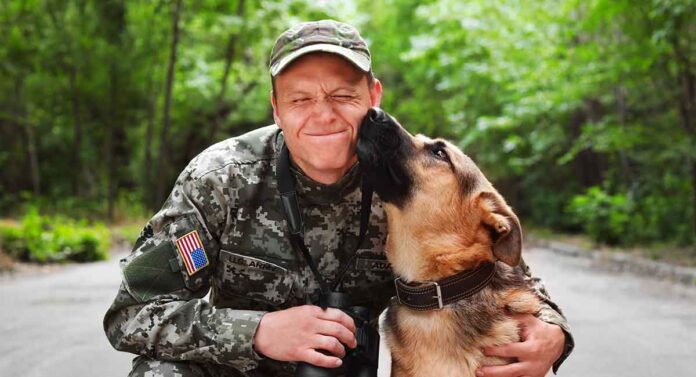 There are plenty of dashing military dog names out there that are perfect for your new dog. Perhaps you want them to sound tough. Or maybe you want their name to have a great meaning. But, don't worry! We have plenty of suitable ideas. So, you can show everyone to know what a hero your dog is to you.
Top Military Dog Names
So, to start, here are our 50 favorite military dog name ideas.
| | |
| --- | --- |
| Major | Sergeant |
| Commodore | General |
| Lieutenant | Admiral |
| Colonel | Commander |
| Captain | Brigadier |
| Ensign | Marshal |
| Cadet | Officer |
| Leader | Pilot |
| Private | Corporal |
| Guard | Defender |
| Soldier | Hero |
| Freedom | Marine |
| Watchdog | Messenger |
| Detective | Sentry |
| Scout | Duty |
| Savior | Champion |
| Brave | Courage |
| Victor | Winner |
| Conqueror | Knight |
| Warrior | Lion |
| Paladin | Chief |
| Boss | Skipper |
| Governor | Valiant |
| Gutsy | Drafter |
| Army | Mission |
Why Choose a Military Dog Name?
Some people might choose a military dog name so they can make their dog look tougher. But, maybe you want to honor someone you know! Do you come from a family of military soldiers? Or, maybe you want to show off your dog's hero status to the world. Whatever the reason, you'll love the ideas we've got to offer. So, let's take a closer look.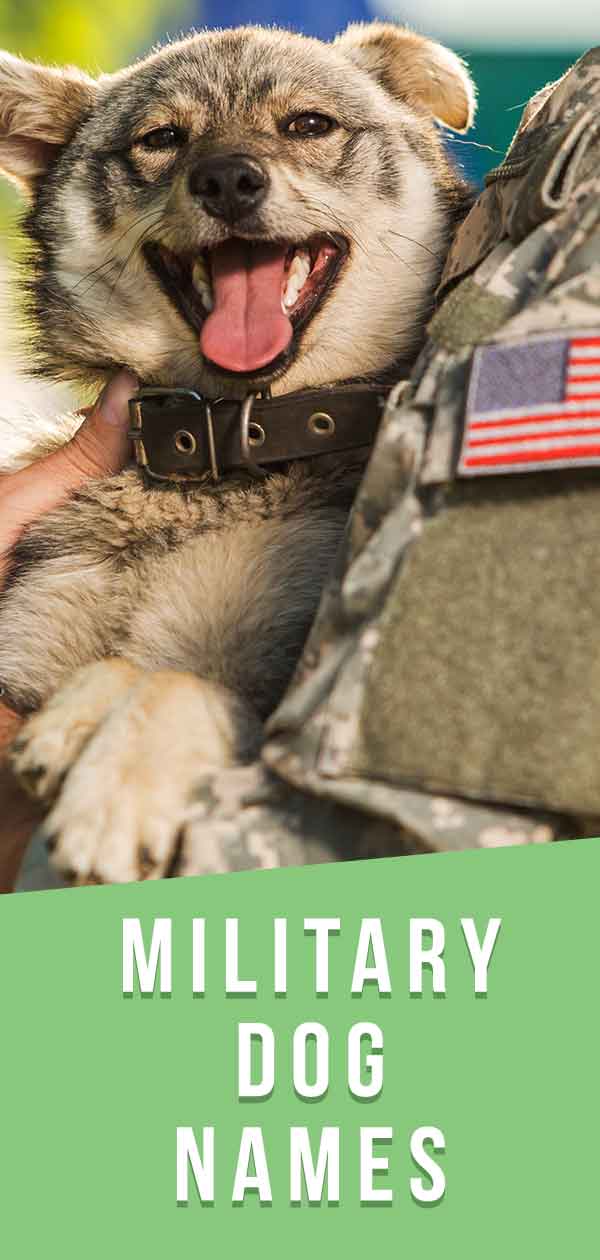 Female Military Dog Names
Here are some great ideas for military dog names female dogs will love. Military names can have strong, tough meanings. So, we've put their meanings in brackets!
Ailani (high chief)
Alessa (protector of humanity)
Alexa (protector of humanity)
Alice (noble)
Andrea (daring)
Biddy (powerful)
Brenda (sword)
Edda (fighting a battle)
Gabby (God's bravest women)
Hedda (fighting a battle)
Hera (heroine)
Ilda (fighting a war)
Latoya (woman of victory)
Lexi (protector of humanity)
Liberty (free woman)
Lovise (well known fighter)
Lulu (well known fighter)
Mairi (rebellious woman)
Maura (rebellious woman)
Meredith (ruler of battle)
Nanna (courageous)
Nediva (noble)
Neith (goddess of war)
Nilda (prepared for battle)
Noreen (honor)
Onora (woman of honor)
Polly (rebellious woman)
Rhetta (advisor)
Ria (rebellious woman)
Sandra (protector of humanity)
Shura (protector of humanity)
Sigfrid (marvelous victory)
Sloane (warrior)
Solange (serious)
Sonia (woman of wisdom)
Stien (fair, rightful)
Sylvi (house of strength)
Tilda (powerful and mighty in battle)
Trudy (strongest spear)
Ula (strong as a bear)
Ursula (strong as a bear)
Valencia (strength, power)
Valerie (strong)
Veronica (victory bearer)
Vilma (stout protector)
Wera (victory bearer)
Willa (will to protect)
Xandra (protector of humanity)
Yong (courageous)
Zandra (protector of humanity)
Male Military Dog Names
We've looked at some female military dog name ideas. But what about our boy dogs? Here are some great ideas male dogs will love! Don't forget to look at their meanings in brackets.
Aaron (mountain of strength)
Achilles (warrior)
Aegeus (protector)
Alajos (well known fighter)
Alastair (defender of the people)
Alexander (defender of man)
Aries (battle)
Asim (protector)
Barnes (young warrior)
Berk (man of strength)
Boris (battle, fight)
Chad (war or soldier)
Colvin (a great hero)
Conn (leader)
Darius (a good, wealthy protector)
Dieter (army of the people)
Earl (noted warrior)
Elonso (fit for battle)
Ferdinand (brave yet peaceful)
Gabe (God's bravest man)
Griffin (fierce person)
Gunnar (army)
Harvard (a guard in the army)
Helm (courageous protection)
Hillard (courageous in battle)
Kadir (powerful)
Kalle (free man)
Kolya (victorious people)
Lex (defender of man)
Liam (strong mind and protection)
Ludek (well known fighter)
Luther (an army of people)
Milo (army man)
Olek (defender of man)
Preben (first in battle)
Priam (extremely brave)
Qadir (full of power)
Rick (daring power)
Salvatore (savior)
Sandro (defender of men)
Sigmund (victorious protector)
Solomon (man of peace)
Thane (warrior's attendant)
Umberto (bright fighter)
Val (powerful, strong)
Veera (brave)
Victor (man of victory)
Walter (army rule)
Yut (war)
Ziggy (victorious)
Famous Military Dog Names
Dogs are used in the military too! Working dogs in the military are usually breeds like the Labrador, German Shepherd and Doberman Pinscher. Plus, there are some hugely brave dogs out there. So, here are some of their names:
Conan
Chips
Nemo
Cairo
Herta
Rex
Dino
Bdak
Adak
Annie
Xena
Pito
Cooper
Floki
Kirby
Tresji
Rexo
Lexi
Kenner
Glory
Holi
Tony
Stubby
York
Wolf
Bruce
Buster
Pal
Peefke
Silver
Bobo
Dick
Sandy
Teddy
Duchess
Blackie
Queene
Dannie
Bertie
Diesel
Chyba
Rocky
Katja
Conny
Candy
Udo
Baron
Ajax
Oori
Geron
You can find out more about these dogs, and even more of them, on the US War Dogs website. 
Military Dog Hero Names
We can also take inspiration from human military heroes. We've looked at some dogs who have served bravely. But what are some names inspired by human heroes? Let's take a look.
Alvin
Audie
Murphy
Daniel
David
Desmond
Douglas
Edward
Eugene
Frank
Luke
George
Gordon
Henry
Herman
Howard
Jack
James
Joel
John
Jonas
Kenneth
Lawson
Leo
Leon
Lewis
Lloyd
Louis
Matej
Matt
Melvin
Merritt
Neel
Patrick
Raymond
Richard
Robert
Samuel
Smedley
Thomas
William
Sarah
Ann
Elsie
Cathay
Eileen
Deborah
Emma
Florence
Rosie
Cool Military Dog Names
You can get inspiration from historical military battles and sieges! So, take a look at some of the choices we've listed for you below. Plus, we've included their dates beside them.
Waterloo (1815)
Hastings (1066)
Huai-Hai (1948)
Antietam (1862)
Liepzig (1813)
Yorktown (1781)
Saratoga (1777)
Constantinople (1453)
Trafalgar (1805)
Marne (1914)
Granada (1492)
Gettysburg (1863)
Lepanto (1571)
Poltava (1709)
Tannenberg (1410)
Megiddo (1475 BC)
Tet (Offensive, 1968)
Borodino (1812)
Lutzen (1632)
Metaurus (207 BC)
Pharsalus (48 BC)
Edgehill (1642)
Seacroft (1643)
Braddock (1643)
Hattin (1187)
Valmy (1792)
Boyne (1690)
Leuthen (1757)
Nancy (1477)
Alkmaar (1573)
Mylae (260 BC)
Patay (1429)
Leuctra (371 BC)
Sacheon (1592)
Castillon (1453)
Julu (207 BC)
Thymbra (547 BC)
Colenso (1899)
Sentinum (295 BC)
Chalons (451 BC)
Navarino (1827)
Boyaca (1819)
Agnadello (1509)
Taraori (1192)
Naseby (1645)
Jutland (1916)
Ipsus (301 BC)
Pharsalus (48 BC)
Adrianople (378 AD)
Cannae (216 BC)
If you're interested in military history, you'll want to take a look at some of those decisive battles!
Tough Military Dog Names
Maybe you want a name that shows what a tough guard dog your pup is going to be. Take a look at some of these ideas for more inspiration:
Bullet
Fighter
Soldier
Shooter
Fang
Target
Crossfire
Battle
Aim
Chaos
Danger
Blast
Doom
Ambush
Chopper
Fugitive
Defender
Gunner
Bomb
Ally
Casualty
Hazard
Ignite
Breach
Destruction
Jets
Ambush
Patriot
Legacy
Carrier
Rifle
Brigade
Patrol
Rebel
Nightmare
Mayhem
Enemy
Carnage
Missile
Armor
Pistol
Cargo
Bunker
Shock
Attack
Dread
Elite
Fear
Assassin
Cannon
Unique Military Dog Names
A great way to find unique army dog names is to take inspiration from the names of famous historical military leaders. So, here's some you might like:
Montgomery/Monty (Field Marshal Montgomery)
Winston (Winston Churchill)
Charles (Charles Degaulle)
Eisenhower (Dwight Eisenhower)
Arthur (Arthur Wellesley)
Richard (King Richard the Lionheart)
Bruce (Robert the Bruce)
Harald (Harald Hardrada)
William (William the Conqueror)
Edward (Edward the Black Prince)
Boudica
Caesar (Julius Caesar)
Charlemagne (Charles the Great)
Sparticus
Napoleon (Napoleon Bonaparte)
Alex (Alexander the Great)
Hannibal (Hannibal Barca)
Fred (Frederick II of Prussia)
Sal (Saladin)
Scipio (Scipio Africanus)
Peter (Peter the Great)
Nelson (Horatio Nelson)
Sun (Sun Tzu)
Leon (Leonidas I)
Pompey
Alfred (Alfred the Great)
George (George Washington)
Cyrus (Cyrus the Great)
Alaric (Alaric I)
Ivan (Ivan Konev)
Joan (Joan of Arc)
Otto (Otto I)
Simon (Simon Bolivar)
Wallace (William Wallace)
Oliver (Oliver Cromwell)
Garibaldi (Giuseppe Garibaldi)
Drake (Francis Drake)
Shaka (Shaka Zulu)
Douglas (Douglas McArthus)
Haig (Douglas Haig)
Matilda (Queen Matilda)
Grace (Grace O'Malley)
Lizzy (Elizabeth I)
Ramesses (Ramesses II)
David (King David)
Henry (Henry of Agincourt)
Nefetiti (Queen Nefetiti)
Tudor (Henry Tudor)
George (David Lloyd George)
Tyler (Tyler Wat)
Military Dog Names Summary
So, army dog names can be inspired by lots of things and people! But, whether you're looking for a tough name or something with a bit of history. These names are a great choice. What's your dog called? We would love to hear your ideas in the comments below! And tell us what your dog is called! What's the meaning behind your pup's military name?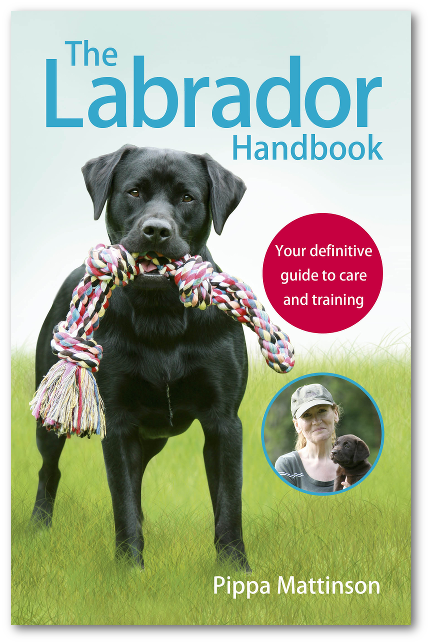 More Name Ideas
Take a look at these other name guides if you need more ideas! Even if these military dog names aren't your favorite. We have plenty more:
References and Further Reading
The Labrador Site Founder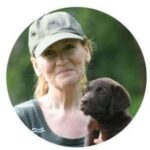 Pippa Mattinson is the best selling author of The Happy Puppy Handbook, the Labrador Handbook, Choosing The Perfect Puppy, and Total Recall.
She is also the founder of the Gundog Trust and the Dogsnet Online Training Program 
Pippa's online training courses were launched in 2019 and you can find the latest course dates on the Dogsnet website