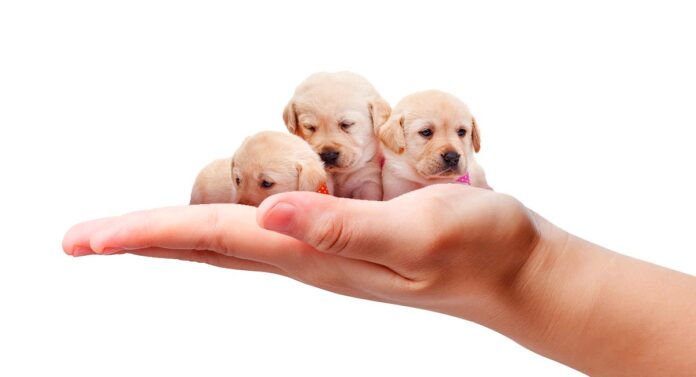 A small Labrador can seem very appealing. Full size Labs are quite large, but a small Lab that's shorter and lighter might be less hassle. Small Labrador dogs can be as little as 55lbs and still healthy. English or show bred Labs appear smaller than their longer legged American cousins, and being smaller than normal isn't necessarily a cause for concern. But breeders sometimes use selective breeding to create Labradors even smaller than the normal range. And when you see these puppies advertised, it's important to understand how different breeding practices can affect puppy welfare, so you can make an informed purchase.
Contents
A small Labrador is one at the lower end of the typical height or weight range for Labrador Retrievers. What constitutes small depends upon whether the Lab is male or female, and English or American-type. Some breeders might also offer crossbreeds, dwarf dogs, and runts as mini Labradors. So it pays to understand the natural variation in Labrador size, and the risks of these practices.
Are There Small Labrador Retrievers?
Labrador Retrievers are enduringly popular dogs. But as we lead increasingly busy urban lives, interest in small dog breeds is growing. So inevitably people have started to ask "are there small Labrador Retrievers?" Likewise, we often hear from Labrador owners on the forum who are concerned that their Lab is too small, and failing to thrive.
Are There Different Sizes Of Labrador?
No… but also a little bit yes. Unlike Poodles and Schnauzers, which both come in three different and clearly defined size categories, there is only one official size of Labrador. However, there are two distinct shapes of Labrador.
English vs American Labs
English and American Labradors belong to exactly the same breed, but over time they've been bred to excel at difference purposes. Labs bred for the show bench are known as English Labs. They are stocky, with short legs and a distinctly blocky appearance. By contrast, American Labs – also known as working-type Labs – are longer, taller, slimmer, and more athletic in appearance.
Of the two, English Labs give the impression of being smaller, because they are shorter. But it's worth noting that the accepted weight range for both types is exactly the same.
Are Mini Labradors Real?
In recent years there's been a lot of buzz around miniature versions of dogs. Smaller versions of popular breeds appeal because they promise to take up less space, demand less exercise and eat less food. All whilst packing the same charm which made the breed popular in the first place. And so small breeds are being reduced to teacup size, and large breeds are starting to appear in mini-versions.
Mini Labradors aren't recognized by any of the national kennel clubs, but nonetheless they're generating a lot of buzz and you might even see them advertised for sale.
Three Ways Breeders Make Small Labradors
Where there is demand, surely enough there are breeders who will try to meet it. There are three ways breeders have tried to miniaturise large dog breeds like Labs.
1. Out-Crossing With Smaller Breeds
Mixed breed dogs usually occupy a middle ground between the size of their parents. For example Miniature Labradoodles are a cross between a Labrador and a Miniature Poodle. They are almost always smaller than a purebred Labrador, but still retain some typically-Labrador traits.
The advantage of this method is that puppies can be bred from the healthiest parents possible, and there are no undue health risks. However, the puppies won't be purebred Labradors, and the temperament of mixed breed dogs is somewhat unpredictable.
Popular Small Labrador Crossbreeds
Other small Labrador crossbreeds include:
2. Introducing The Gene For Dwarfism
Dogs with dwarfism have disproportionately short bones in their legs. Many types of dwarfism are caused by a single gene mutation, which can occur spontaneously, or be introduced by out-crossing with another breed. However dwarfism is linked to an increased risk of skeletal disorders including arthritis and spinal disease. So it's not a wise way to breed small Labs.
3. Selectively Breeding From Runts
Finally, all Labrador litters have some variation in size between siblings. Puppies much smaller than the rest of their litter are known as runts, and they might remain smaller in adulthood too. Breeding runts from different litters together over several generations can produce a breeding line of unusually small dogs.
They will be purebred Labs, but unfortunately runts who don't catch up in size with their litter are often malnourished and lack immunity they would have gained from their mom's milk. Recreating these problems over several generations can produce small dogs who are prone to illness and fail to thrive.
Natural Variation – How Small Can A Labrador Retriever Be?
Does all this mean that there's no such thing as a small and healthy pedigree Labrador? Not at all. Just like people, Labradors come in a range of healthy sizes.
The AKC breed standard allows for male Labs to be 22 to 25 inches tall at the withers, and 65 to 80 pounds. Females can be 21 to 24 inches tall, and 55 to 70 pounds. That's a pretty wide range between a small girl and big boy. In fact an 80-pound male is just over 45% bigger than a 55-pound female!
And of course, these parameters only apply to show dogs. Even greater variation occurs healthily and naturally in the pet population. So if you want a naturally micro Labrador, how can you go about finding one?
Predicting Labrador Size
The reality is, it's tricky, and there are no guarantees. Lots of factors influence a Labrador's adult size. But one of the most reliable predictors is the size of their parents. When two healthy dogs at the low end of the normal weight range for Labs mate, their puppies are likely to be small for Labs as well.
You can ask breeders about their size of their sire and dam when you call to ask about a litter, or research which waiting list to join. But be prepared to discover that your puppy may exceed all expectations anyway!
Should I Be Worried About My Small Labrador?
Labradors can come in a surprising range of healthy weights. But that doesn't stop us worrying, if our Lab seems so unlike all the others we meet. Your Labrador's overall health, disposition, and body condition are a better indicator of their welfare than their weight or height. Ask your veterinarian to check them over if you're worried that the size of your small Lab falls below the normal healthy range.
The Labrador Site Founder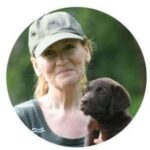 Pippa Mattinson is the best selling author of The Happy Puppy Handbook, the Labrador Handbook, Choosing The Perfect Puppy, and Total Recall.
She is also the founder of the Gundog Trust and the Dogsnet Online Training Program 
Pippa's online training courses were launched in 2019 and you can find the latest course dates on the Dogsnet website