Looking for the best dog names for your perfect puppy? 
We've got hundreds of fun, unique, popular and cool names for your new pal.
It's hard choosing a name for your pet.
After all, this is what you're going to call him for the rest of his life.
So it's not just about picking something cute for a name now – it's about liking that name years from now.
Does it suit your dog? Or does it make a statement?
Does it tell people something about you or your dog?
The problem is, there are so many options!
You could name your dog for a favorite literary character, a favorite politician, or even a favorite food.
You could pick a human-sounding name. Or you could choose one that describes your dog's personality or looks.
You could pick based on breed, or color, or expression. Or something unusual about your dog's markings.
Seriously, the options are limitless!
So how do you pick the best dog names?
It's tough, but it can be done. We've started a bit of the hard work for you.
Check out our categories below and see what might fit your dog.
Even if you don't pick one of these, maybe we've given you some ideas you can use to finally pick the best dog names!
Best Dog Names
Of course, what is "best" is a subjective choice!
Do you prefer something out of the ordinary, or do you want something popular?
Do you want sweet, or do you prefer cool?
Funny, intelligent?
We've got something here for everyone!
So what are the best dog names for your pup?
Best Human Names for Dogs
Plenty of dogs have human names! Making them sound like people can help our pets become even more clearly a part of the family.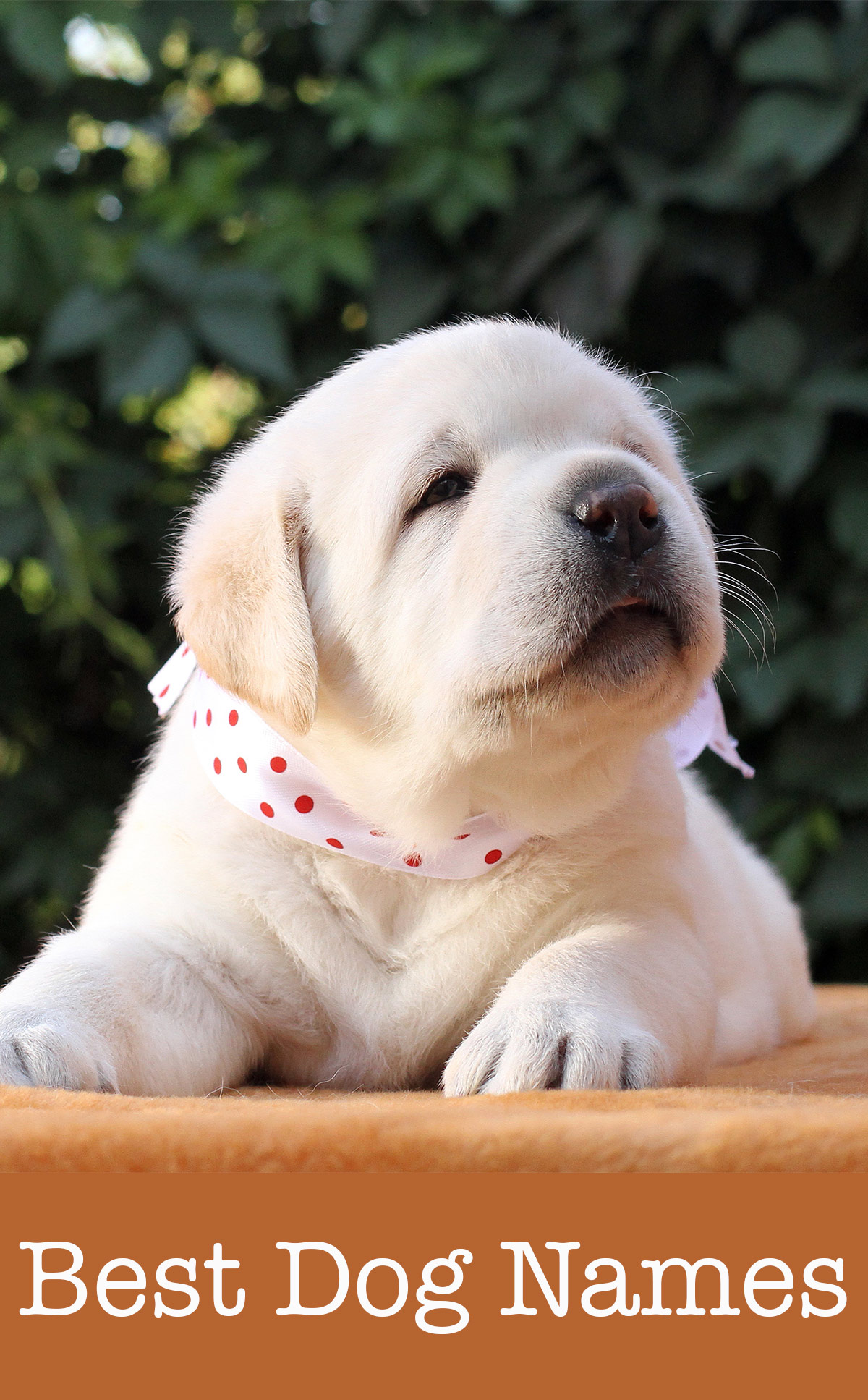 Some names that are no longer as popular for kids can be repurposed as supercute pet names, too!
If you name your pup after a literary character, a celebrity, or a historical figure, that definitely tells people about your personality right off the bat.
But sometimes it can be hard to be creative when choosing a human name for your dog.
But the sky's the limit here! Wait, wouldn't Sky be a good name?
Here are some of our favorite names for dogs of any kind! Use a first name, a last name, a nickname, or whatever you want!
Best Human Names for Boy Puppies
Arlo
Benjamin
Charlie
Chester
Cody
Colin
Gus
Jasper
Jesse
Louie
Lucas
Max
Leo
Mickey
Oscar
Rigby
Roman
Toby
Thursten
Xavier
Best Human Surnames for Naming Boy Puppies
Austin
Bailey
Bentley
Blake
Brody
Cooper
Dexter
Farley
Jackson
Jude
Ivan
Kirby
Logan
Montgomery
Murphy
Riker
Santana
Spencer
Tucker
Tyson
Best Popular Human Names for Girl Puppies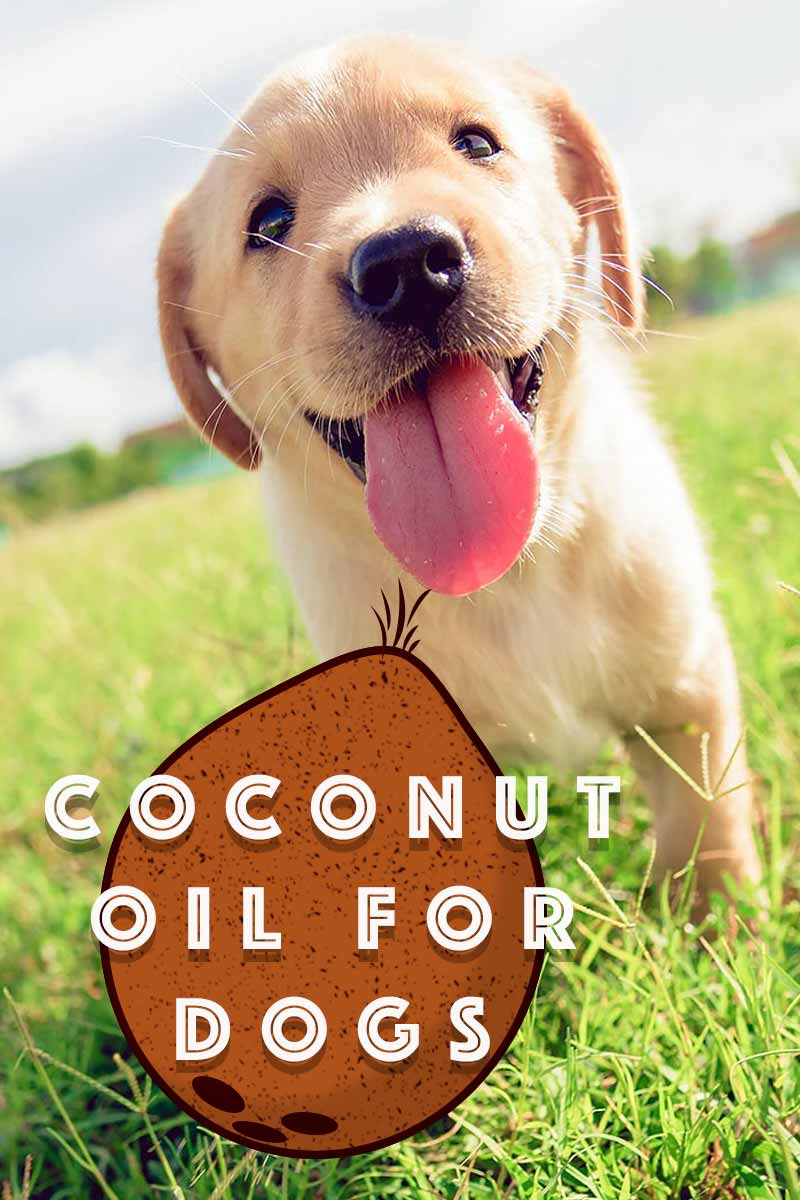 Abigail
Bella
Casey
Charlotte
Chloe
Daisy
Dakota
Harper
Joy
Kaylee
Lucy
Lexi
Lily
Maggie
Molly
Riley
Rose
Roxy
Sadie
Sophie
Best Less Common Human Names for Girl Puppies
Amelia
Ava
Beatrice
Cordelia
Diana
Ella
Eloise
Gigi
Gracie
Esme
Faith
Heidi
Ingrid
Josie
Lola
Phoebe
Shelby
Tabitha
Trixie
Victoria
Best Big Dog Names
Sometimes your dog has a big personality! No matter what her actual size is, she needs a name to suit that larger-than-life aspect.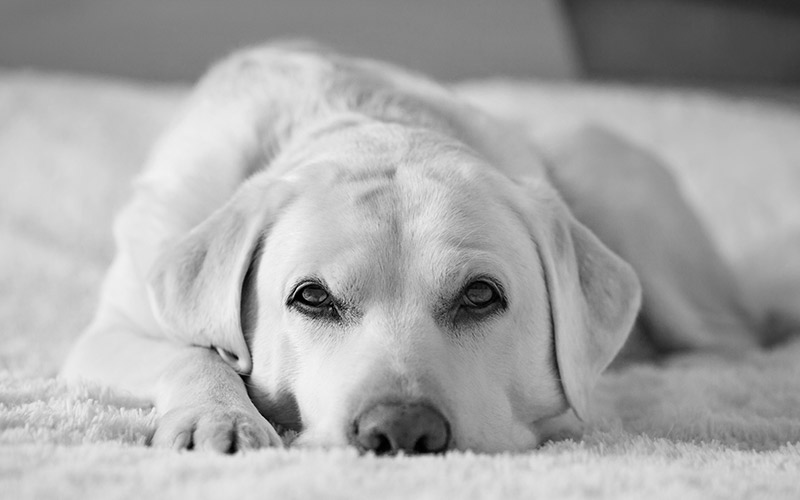 Here are some names suitable for your dog whether he's big in size, or big on attitude.
Best Big Dog Names for Male Dogs
Bailey
Bear
Bruno
Butch
Charlie
Duke
Durango
Goliath
Gunther
Jake
Kobe
Lance
Luther
Mason
Rocco
Samson
Thor
Tiberius
Wolfenstein
Zeus
Best Big Dog Names for Female Dogs
Abira
Andromeda
Asteria
Aurora
Calypso
Clio
Crystal
Duchess
Everest
Freya
Hippolyta
Jenna
Juno
Nia
Nikita
Nina
Rama
Rhea
Sahara
Sheba
Best Little Dog Names
Your tiny puppy may be small, but he thinks he's as big as one of the giant breed, and he acts that way!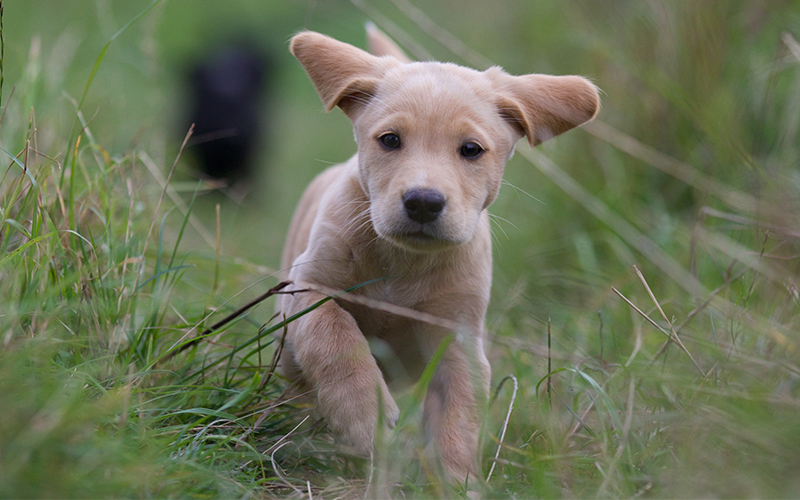 Small dogs pack a whole lot of fun into a little package. Here are some great names for your little one, whether he grows into a big one or not!
Best Little Dog Names for Boys
Almond
Beasley
Beau
Chico
Finn
Frankie
Jingles
Kiwi
Milo
Nugget
Nutmeg
Peanut
Sammy
Scampers
Sebastien
Smidge
Sparky
Toby
Toto
Best Little Dog Names for Girls
Ariel
Boo
Billie
Biscuit
Bit
Britta
Bunny
Candy
Cece
Dot
Fiona
Missy
Pebbles
Precious
Pixie
Smooches
Sparkles
Tricky
Winnie
Zoe
Best Dog Names Based on Personality
We know you love your dog not just for her total cuteness, but also because of her personality. That's why we've come up with some names inspired by the way your dog acts, eats, and plays.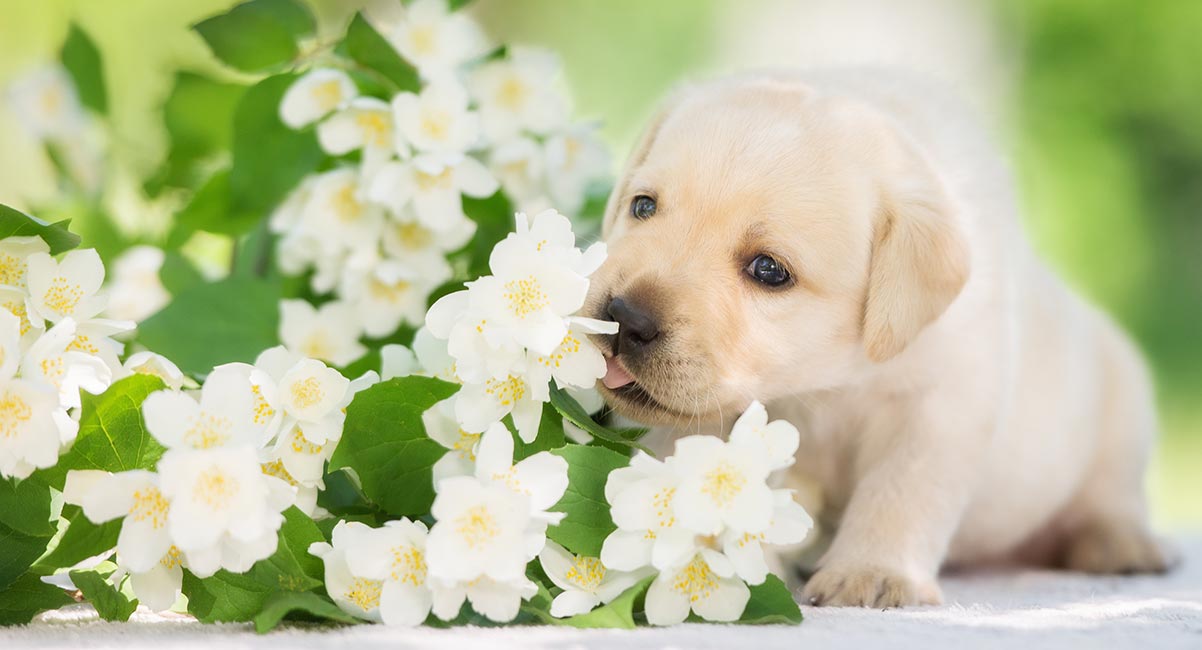 Does one of these fit your dog? Or is it the opposite of what your dog does? You can always name her ironically, you know.
Ace
Angel
Bandit
Cali
Dash
Gypsy
Hero
Hobo
Hoover
Hunter
Maverick
Ranger
Rex
Pilot
Prince/Princess
Nibbles
Scout
Sunny
Wiggles
Best Dog Names Based on Appearance
Fortunately, these names are mostly gender-neutral. And they all describe one distinctive aspect of your dog's appearance – markings, fur, color, or features.
Do you especially love this one feature of your pup? Why not name her after it?
Anise
Ash
Capucchino
Caramel
Cinnamon
Corky
Ebony
Fuzzy
Ginger
Hazel
Jade
Jewel
Mocha
Oreo
Pearl
Patches
Pepper
Piglet
Raven
Ruby
Rusty
Sandy
Shadow
Sierra
Smoky
Snowy
Sugar
Topaz
Willow
Wrinkles
Best Cute Names for Dogs
Is your pup cute enough to eat? We love these names because they're super-sweet, and you know that any dog bearing one of these names will be the same.
Best Cute Names for Boy Dogs
Barkley
Blue
Badger
Bones
Brisket
Casper
Cookie
Felix
Fitz
Jasper
Jax
Fluffy
Meatball
Reuben
Snuffy
Teddy
Tinamou
Tango
Trotter
Winston
Ziggy
Best Cute Names for Girl Dogs
Adelie
Baby
Harmony
Honey
Lucky
Lulu
Macy
Maya
Mia
Millie
Minnie
Mochi
Nova
Peaches
Paisley
Pickles
Polly
Reno
Sidney
Sky
Best Dog Names Based on Famous Characters from Literature, Movies, and TV
If a certain TV show speaks to you, why not name your pup after one of the fictional characters you love?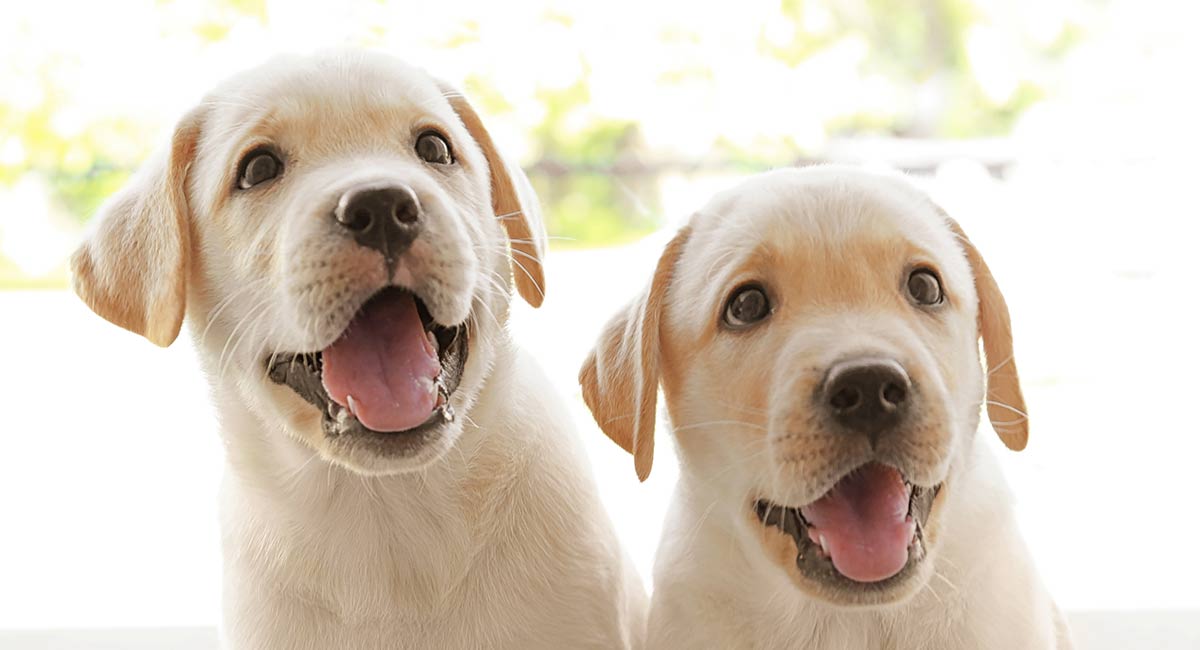 From Chewbacca in "Star Wars" to traditional mythology, there are so many people, creatures, and other forms of life that lend themselves to great dog names.
Best TV/Movie Character Names for Boy Dogs
Benji
Bolt
Boomer
Frodo
Ghost
Gizmo
Grey Wind
Groot
Kylo
Loki
Pippin
Pongo
Remus
Samwise
Sawyer
Severus
Sheldon
Sherlock
Simba
Best TV/Movie Character Names for Girl Dogs
Arya
Buffy
Cersei
Elsa
Fiona
Ginevra
Harley
Hermione
Jasmine
Katniss
Leia
Luna
Nala
Perdita
Piper
Rose
Rey
Rue
Sansa
Xena
Best Literary Character Names for Boy Dogs
Apollo
Aramis
Cedric
Darcy
Fauntleroy
Montague
Odin
Oliver
Orion
Romeo
Best Literary Character Names for Girl Dogs
Alice
Athena
Artemis
Daphne
Eowyn
Lyra
Lucy
Margarita
Pippi
Rosalind
Best Dog Names Based on Real People
Are you inspired by artists, musicians, authors, politicians, or others who make a difference in the world? Then consider using their names for your puppy muse.
Best Dog Names for Boy Dogs Based on Real People
Asimov (Isaac)
Byron (Lord)
Elwyn (E.B. White)
Grover (Cleveland)
Henrik (Ibsen)
Idris (Elba)
Sagan (Carl)
Vincent (Van Gogh)
Wolfgang (Mozart)
Winston (Churchill)
Best Dog Names for Girl Dogs Based on Real People
Ada (Lovelace)
Audrey (Hepburn)
Coco (Chanel)
Ella (Baker)
Bindi (Irwin)
Gertrude (Stein)
Ingrid (Bergman)
Maya (Maya Angelou)
Serena (Williams)
Sylvia (Plath)
Best Dog Names Based on Places
Do you have a place you love? Whether it's the dorm you spent four years of college in, your favorite sports stadium, or the name of the street you grew up on, place names make some of the best dog names ever!
Beebe
Cazenove
Fenway
Lawrence
Pomeroy
Savannah
Wagner
Watson
Wembley
Wrigley
Best Traditional Dog Names
You could even go with names that many people have always associated with dogs and no other animal. Here are a few of the good ones.
Buddy
Buster
Champ
Fido
Lady
Lassie
Rocky
Rudy
Rufus
Spot
Best Dog Names Ever
See how unlimited and amazing your options for the best puppy names can be?
Picking the best male or female dog names, or just the best pet names in general isn't so difficult, although it can be tough to choose between your options.
As long as your puppy recognizes and responds to it, you're all set.
We know that finding the best puppy names can feel overwhelming, especially if you're undecided. But the most important thing is that there's love in the decision!
What is the name of your dog, and why do you love it? Let us know in the comments.