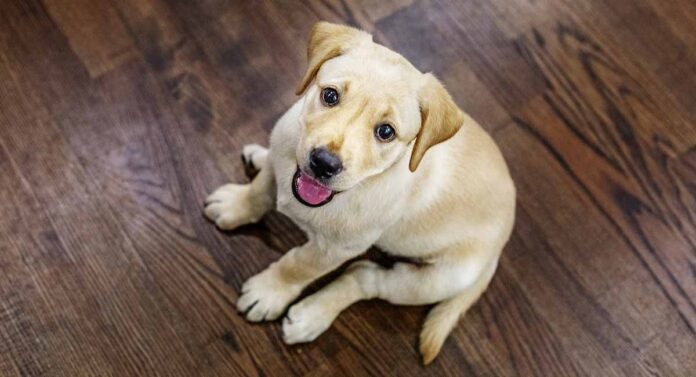 Every puppy is the cutest, so of course cute dog names are a must when you're bringing home the most adorable dog ever!
Looking for cute girl dog names to perfectly encapsulate your princess? Or for cute boy dog names fit for a prince?
There are even plenty of names that work well for either!
And we've got the run-down of the best of the pack.
Top Cute Dog Names
Our ten favorite cute dog names for 2019 are:
Penelope
Roomba
Dave
Ocelot
Libby
Jenner
Brandy
Kisses
Lucy
Marigold
As you go through this list, you might want to make a top ten list yourself!
It's a good idea to have a top ten cute female dog names list, and a top ten cute male dogs list, as well as a list of names that work for either.
Why Choose A Cute Dog Name?
Picture the day that you bring home your new Labrador puppy. He bounds into your house, all full of play and fun, absolutely the cutest thing on four legs.
You get down to call him towards you — and have to stop. You haven't chosen a name yet!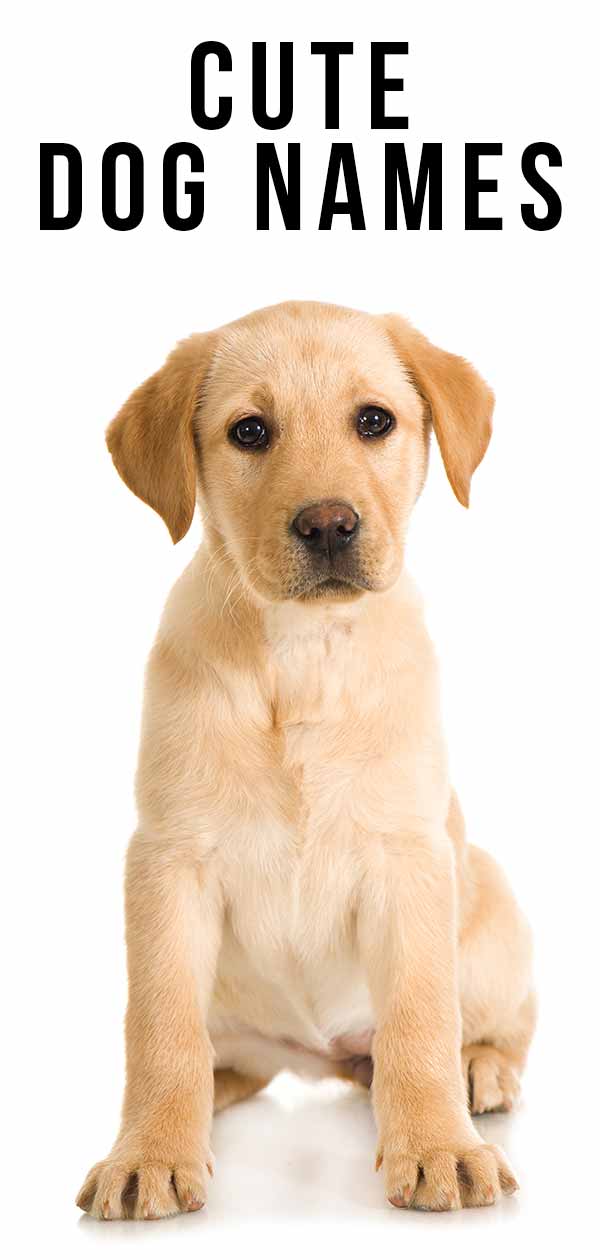 When you bring home your new dog, one of the biggest moments of your new life together is choosing the new dog's name.
That name will follow both of you for years to come, so getting it right matters.
A sound plan is to choose a name that encapsulates how adorable your dog is, and even takes into account the dog's unique personality.
Don't worry, all of these names are some of the cutest puppy names ever! And that imaginary Labrador won't go unnamed for long…
Best Cute Dog Names
To start off, below are some of the top general cute pet names.
These work if you need cute puppy names or if you're bringing home an older rescue.
Either way, they're a great way to kick off some of the best names for the cutest dogs on earth!
Wags
Peanut
Cuddles
Snacks
Roo
Petey
Ruffles
Sweet
Gingersnap
Rascal
Cute Girl Dog Names
Want something a little more feminine for your sweet new dog? Below are some of the top cute female dog names.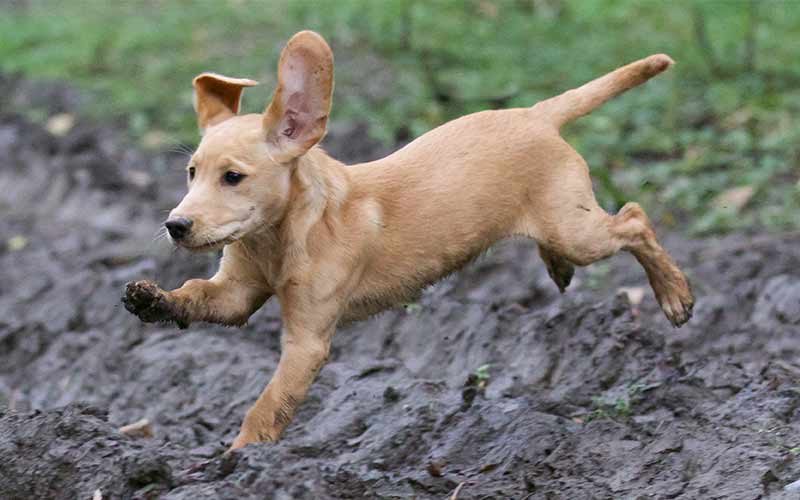 They either use human female names, or denote traits and items that are more traditionally feminine.
Regardless of the etymology, they are undoubtedly the top cute dog names for girls.
Cute girl dog names have the added benefit of typically fitting a dog of any age. Have an adult dog that you've brought home as a rescue?
What about a young pup that you've just adopted?
Yep, we've got something for you here!
Enjoy these cute girl puppy names!
Sasha
Violet
Penelope
Sassy
Belle
Tulip
Terra
Flora
Geld
Magy
You'll also find hundreds of girl names on our page devoted to cute female dog names… and plenty of other kinds of names as well!
Cute Boy Dog Names
These names have more masculine sounds to them.
So you might like to pick one of them as your favorite of the top cute dog names for boys.
Enjoy these cute male dog names!
T-Bone
Ab-Ab
Pipa
Bookie
Papi
Roomba
Yapper
Homer
Frisbee
Marauder
Newt
Did you find the cute boy dog names you were looking for? If not, don't worry! There's plenty more to come!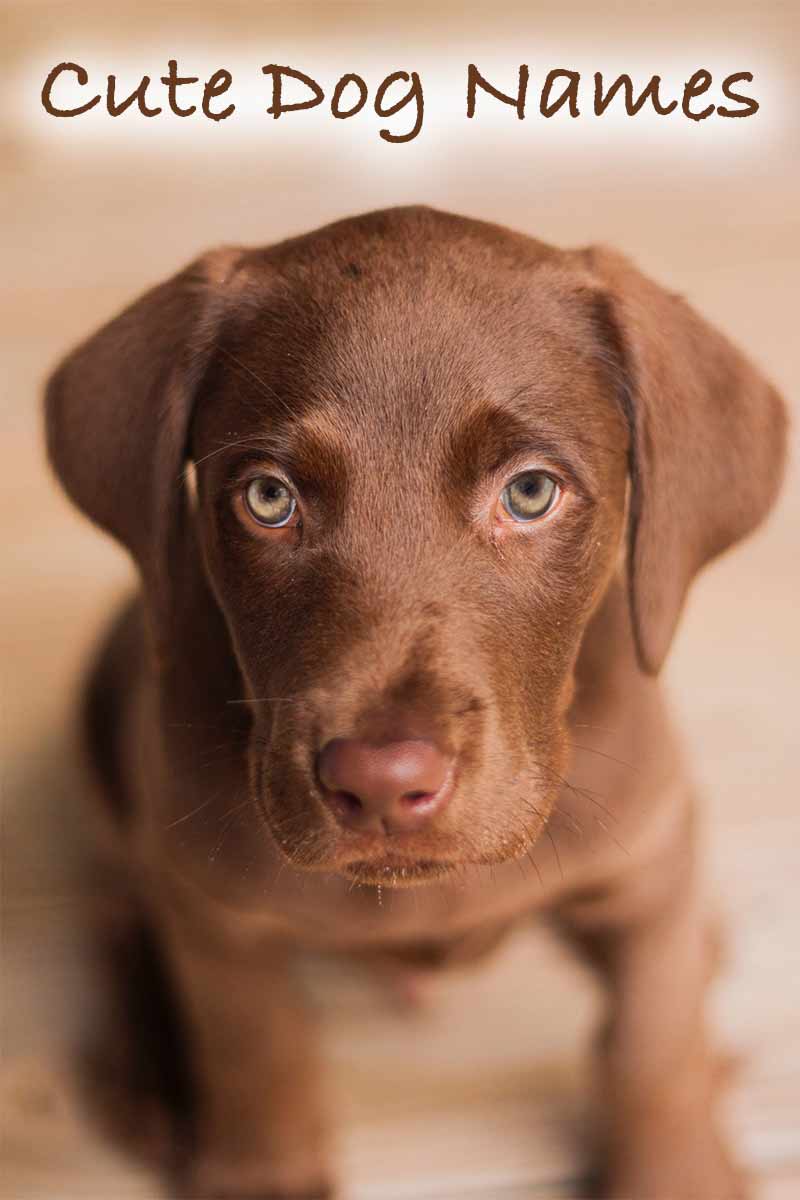 Cute Labrador Names
What about finding a name that specifically fits your own precious, precocious Lab?
Well, every dog is different. And sometimes giving them a name that stands out can really hone their personality!
Here, we've collected some names of famous Labradors from fact and fiction, in the hopes of inspiring your own pup.
Endal
Timber
Dorado
Willie
Widgeon
Brian
Dolly
Digger
Jordan
Krypto
Little Boo
Radar
Zeke
But what if you want names that fit the color of your dog, whether he is a Lab or not?
Cute Yellow Dog Names
Some common and fun cute names for pets take the dog's physical appearance into account.
That's easy to do with a distinctive physical trait, like a noteworthy coat color.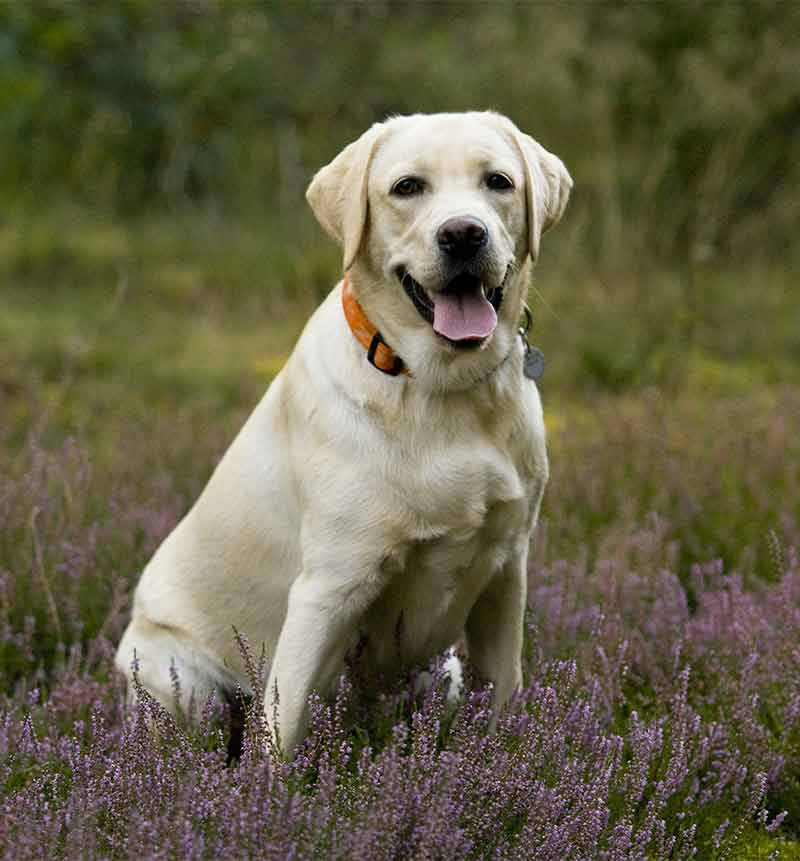 So with yellow dogs, like yellow Labs, you may want to go with the yellow/light colored theme.
Their light yellow coloring makes for some sweet, cute names for puppies inspired by shades of yellow, yellow flowers, and bakery items especially.
Why bakery items?
Why not?
Vanilla
Yellow
Frosting
Cookie Dough
Flower
Daffodil
Tulip
Cream
Mellow Yellow
Khaki
Cute Brown Dog Names
Along similar lines, chocolate Lab names are ripe for adorable monikers.
Their brown coloring leads to food names especially well, making for some sweet doggy names.
In fact, they may be even more susceptible to bakery items than yellow dogs!
Coco
Mocha
Java
Biscuit
Cake
Chocolate
MudPie
Hot Cocoa
Browner
Browning
Brownie
Cute Black Dog Names
Naming a black Lab can be a very fun experience. Their dark coloring lends to all sorts of names that sounds both cute and intense.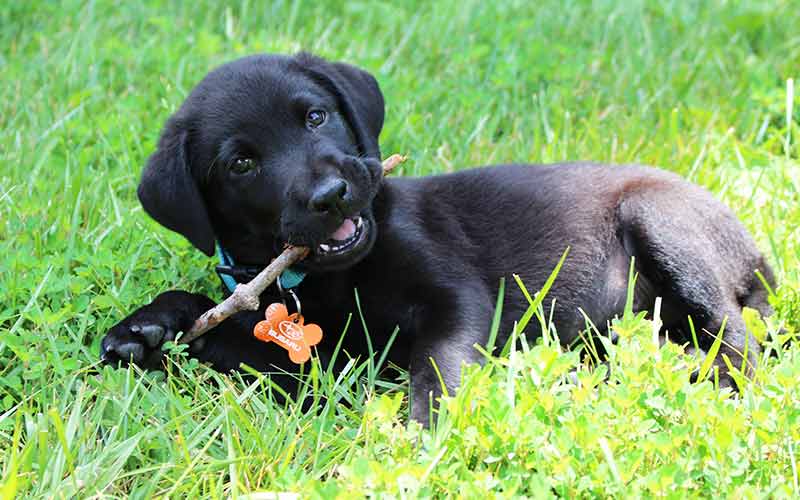 Of course, "intense" probably isn't a word you often use to describe your goofball pup. But sometimes a name that doesn't match a personality is just as enjoyable.
Night
Nighttime
Ashes
Adham (male name meaning "black genuine horse" in Arabic)
Blacky
Burnt
Nero (Latin for "dark")
Coke
Smokey
Smudge
Bringing home a black puppy? Check out hundreds of great
black dog names
here!
Cute Big Dog Names
Who doesn't love a bigger dog breed?
These cute dog names for big dogs will suit any larger pup down to the ground. Or make a fun way to name a small dog ironically!
Boat
Biggie
Lion
Rhino
Mighty
Beowulf
Groot (from "Guardians of the Galaxy")
Moose
Stag
Fenrir
Sumo
Giving a big dog one of the cute puppy names denoting magnitude in preparation for their future size is a great way to capture one of the defining elements of your new dog.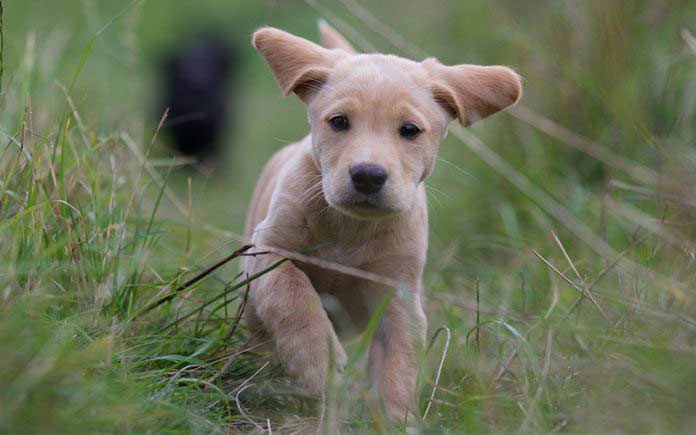 Cute Unique Dog Names
Maybe you want some names that are as unique as both you and your pet are?
Below are some less common cute unique puppy names that have some attitude, history and/or character to them.
Rebel
Trixibell
Merlin
Ira
Tao
Twinkle
Giselle
Wonton
Matilda
Attina
Cute Food Names For Dogs
Apparently we got all inspired by the bakery items mentioned earlier in the article!
Here are some seriously adorable names for dogs inspired by food.
Wasabi
Macaroni
Cheesecake
Shrimp Scampi
Focaccia
Hazelnut
Sausage
Spaghetti
Galleta
Sushi
Cute Japanese Names For Dogs
If you're looking for something with a strong cultural background, you might just be interested in these Japanese-inspired names.
Plus, they happen to be adorable.
Aki
Haruto
Taiki
Akiko
Chika
Ren
Yuki
Suki
Shiba
Kirakira
Cool Cute Dog Names
Want a dog name that seems like it could come from an awesome sci-fi film?
What about something that sounds like a rock band name or a dark fantasy?
Or even just one that sounds cultural? Below is a list of some suggestions.
Dreamweaver
Fuchsia
Stargazer
Gizmo
Sirius
Cerberus
Rocca
Opal
Addison
Trevi
Xena
Shiitake
Funny Cute Dog Names
No one said choosing a dog's name has to be a serious affair!
If you love humor as much as you love your dog, funny cute pet names might be right up your alley.
We chose the list of cute dog names below for either the inherent humor (like Wagalot) or because the name just sounds funny and playful.
Tinkertoy
Bigfoot
Wagalot
GummieBear
Choo Choo
ChewChew
Chewbaca
Medea
Doglet
Pandemonium
Puffinstuff
FuzzFace
Lady Fluffington
Tater Tot
Adora-dog
The Best Cute Dog Names
To round things out, below are some more general, popular cute names for dogs.
These classics just ooze cute. Any adorable puppy or grown dog would be lucky to have one of them.
Bunny
Windy
Rags
Tugboat
Booboo
Muffin
Gidget
Doodle
Dumpling
Adorable
ZuZu
Popeye
Nibbles
Raisin
Truffles
Cute Dog Names Summary
Choosing a name for your new dog is an incredibly important task. And it shouldn't be taken lightly!
As you read through these lists, it's entirely possible that one or two names really caught your eye.
But sometimes you might make a snap decision, only to realize later on that a different name might work better.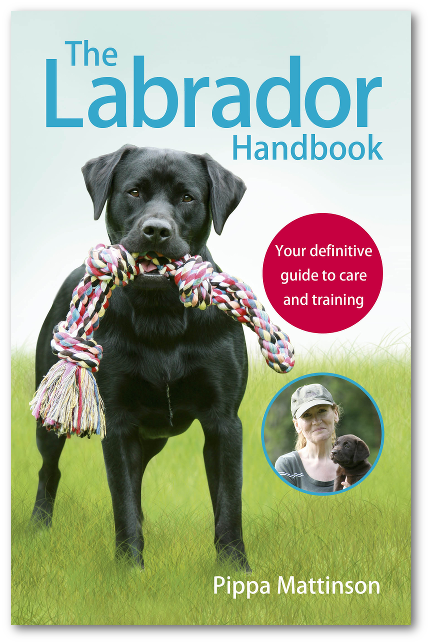 On the other hand, sometimes a gut instinct really works!
Our advice is to speak the names out loud. Call your new dog by each of the names you are drawn to, and see which one sounds like a good fit.
Who knows? Maybe your dog will choose its own name by responding enthusiastically!
Whether you came here looking for cute girl dog names, cute boy dog names, or something that works for either, we hope you've found your inspiration!
If not there's even more cute puppy names here!
What's your dog called? We'd love to hear your own ideas for dog names. Let us know in the comments below!
And check out even more name ideas here! Whether you're looking for big dog names or something completely unique!
The Labrador Site Founder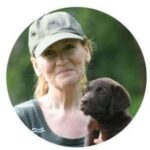 Pippa Mattinson is the best selling author of The Happy Puppy Handbook, the Labrador Handbook, Choosing The Perfect Puppy, and Total Recall.
She is also the founder of the Gundog Trust and the Dogsnet Online Training Program 
Pippa's online training courses were launched in 2019 and you can find the latest course dates on the Dogsnet website