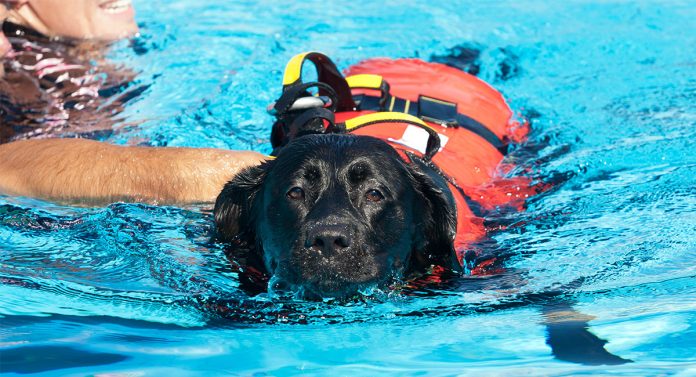 The best dog life jackets are comfortable as well as providing a reliable floatation device for your pet.
They should be easy to fit, but there are a lot of different models to choose from.
All of these products were carefully and independently selected by The Labrador Site team. If you decide to make a purchase from one of the links marked by an asterisk, we may earn a small commission on that sale. This is at no extra cost to you.
Best dog life jackets
Some dogs love the water.
They can't wait to get wet, splash around, swim and dive.
Others (like mine!) loathe it.
They freeze at the water's edge and refuse to even dip a paw.
Whether you've a fearless swimmer or a nervous dipper, if your dog spends a lot of time near or in the water, you might want to think about getting him some gear.
A dog life jacket helps protect your pet while swimming.
It'll help them stay afloat when faced with rough seas, and make paddling easier for those who aren't natural swimmers.
And they can double as a cute accessory too.
Dog life vests come in all shapes and sizes. As well as colors and materials.
You can find something adorable and practical for your pooch to make sure he's stylish as well as safe.
From pink to camo, from comfy to sporty, we've combed through hundreds of dog life jacket reviews to help you find the perfect preserver.
Do dogs need life jackets?
Some breeds, like most Labrador Retrievers, are naturals in the water.
Others struggle due to either a lack of natural ability, age or health problems.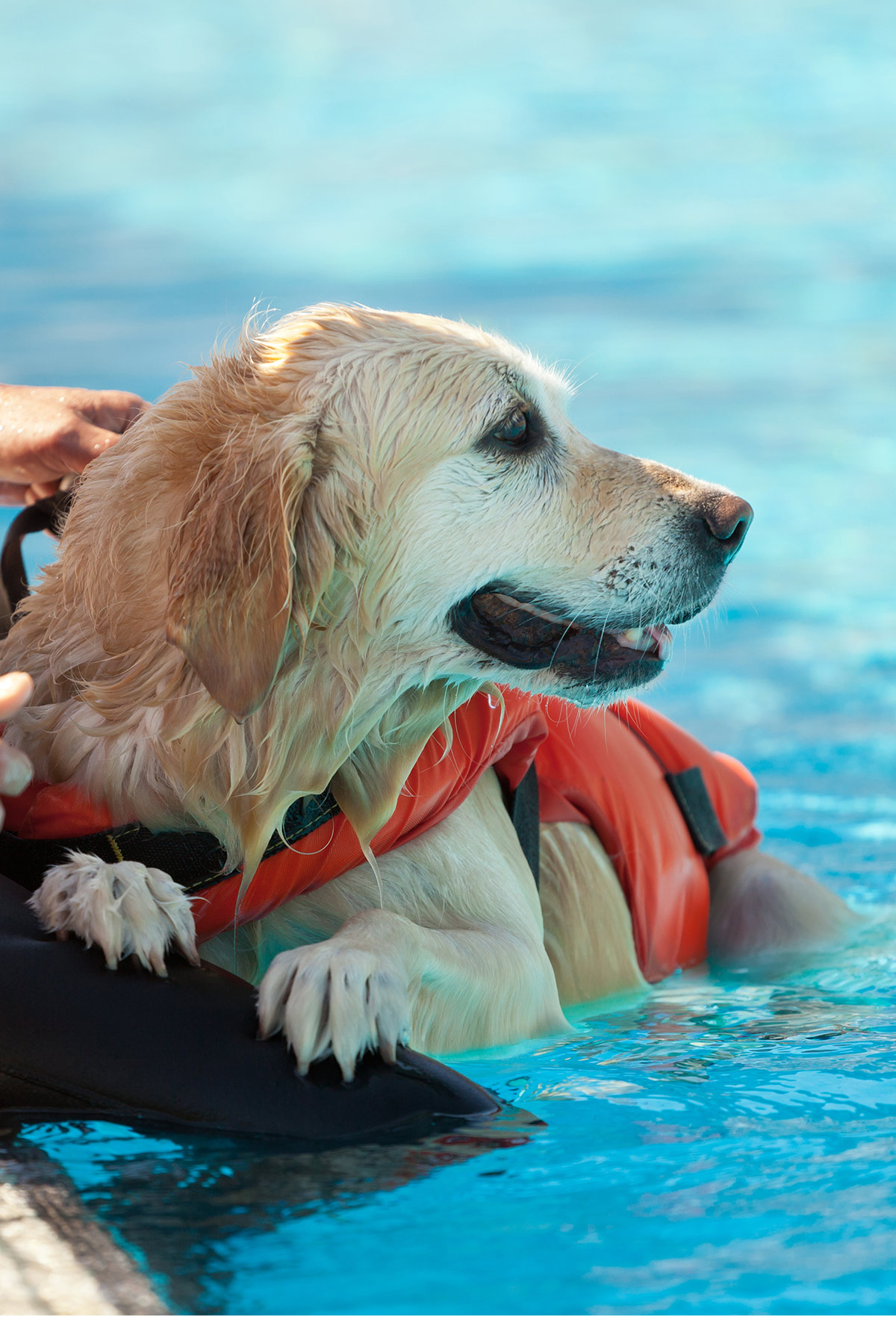 Even the strongest pup, however, can find himself in difficulty.
A fierce undertow or a swift current can be very dangerous for four-legged swimmers.
And they still need protection out of the water.
Dogs on a boat or kayak may fall into the water accidentally.
In that dangerous situation a life jacket could mean the difference between life and death.
Boaters are required by law to have a life jacket for everyone on board.
There's no reason it shouldn't be the same for four-legged sailors.
Whether you're having a day at the beach, exploring the lake or taking to the high seas, it's important that both you and your dog have the right protective gear.
Best dog life jackets
A good dog life preserver will have a handle so you can lift your dog out of the water as soon as it gets into difficulty.
It will also be brightly colored – making your mutt more visible to any boat traffic or other swimmers.
And, lastly, a life vest will ensure your dog's head stays above water in any situation.
If he gets tired and stops paddling, the jacket will prevent him from sinking below the surface.
Find the right dog life jacket
When shopping for a life jacket, it's important to get the measurements right.
Your dog has to be comfortable, which means the fit must be snug without being too tight.
It should allow the dog to play, run and swim without being too obstructive.
When buying a vest for my own pup, I had him model it first.
He wore it around the house before test-driving it at the beach to make sure he could move freely and didn't panic when strapped in.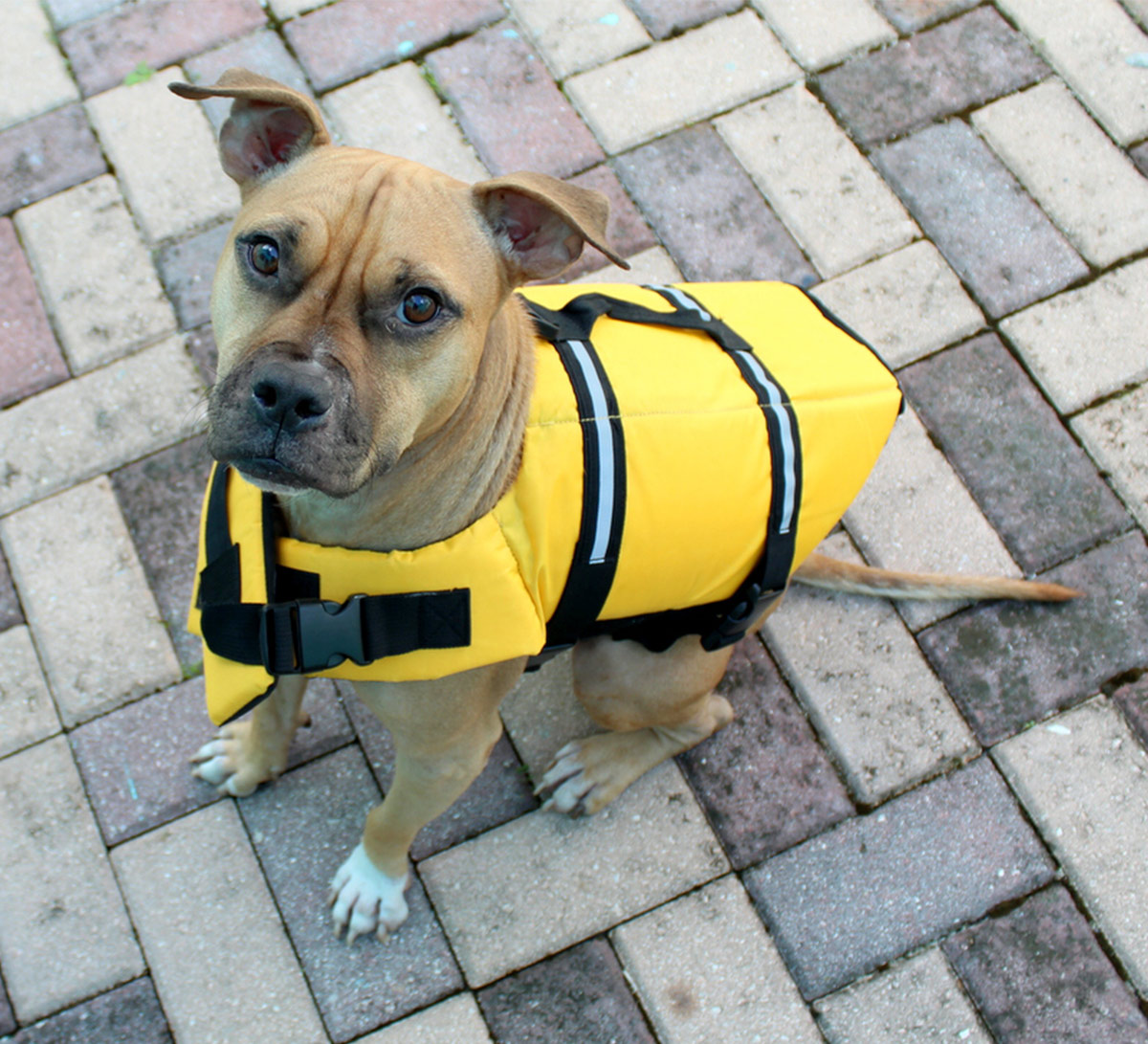 To correctly fit your dog for his new life vest, take measurements of his length and girth.
Length should be measured from his neck to the base of his tail, and his girth is measured in two places – the widest part of his chest and the widest part of his neck.
Got your sizes noted down? It's time to go dog life jacket shopping!
Small dog life jackets
If you're buying for a puppy, choose a small dog life vest that fits snugly around the chest and neck.
It's a great time to get your waterside pup used to wearing his safety device.
Hollypet Dog Life Jacket
The Hollypet Dog Life Jacket* comes in XS and fits dogs around 8 inches long.
The manufacturer provides a handy size chart so you can check his chest and girth measurements against the product.
Outward Hound
Outward Hound* also offers an XS jacket.
The Granby Splash vest comes in high visibility colors and has several handles.
This allows you to scoop your puppy out of the water with ease.
You can see my dog demonstrating this technique here!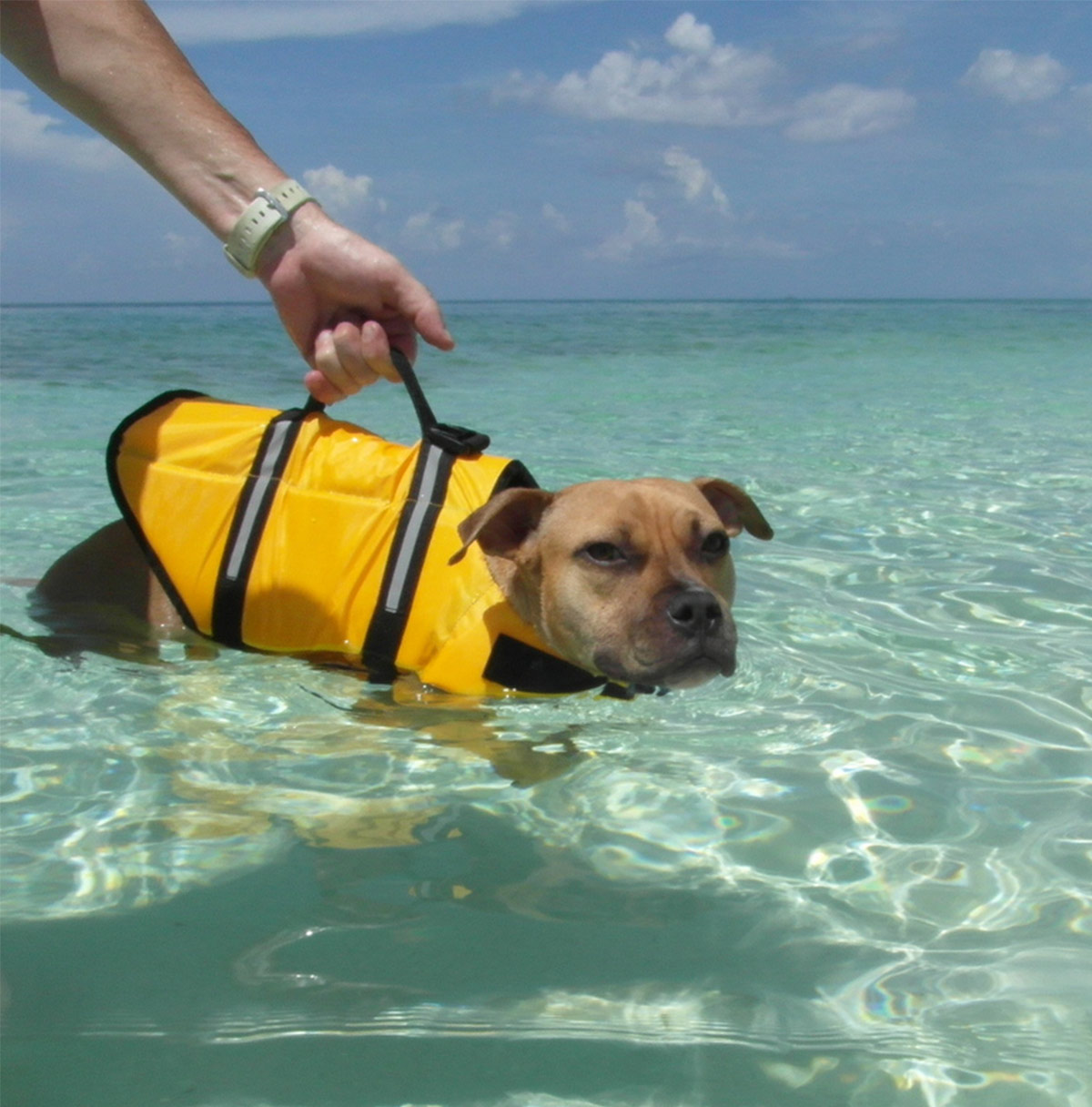 Large dog life jackets
A fully grown dog will need a likely need a large life vest, but always check the manufacturer's sizing guide before buying just to be sure.
MIGOHI Dog Life Jacket
The large MIGOHI Dog Life Jacket* fits dogs around 60 to 90lbs.
It has adjustable neoprene straps and a reflective trim to make it extra eye-catching.
Your pooch also has his pick of three colors – red, yellow or green camo.
Queenmore Dog Life Jacket
The Queenmore Dog Life Jacket* is a good choice for large, sporty dogs.
Fitting dogs up to 16 inches long, this is a large dog life vest that's designed to work with your dog.
Giving them maximum protection while allowing them to freely jump, run, swim and play.
It promises extra buoyancy and comes in 8 different colors, including pink and yellow.
XL dog life jackets
Don't despair if your dog is on the heavier side.
There are lots of life vests available for larger dogs that are going for a dip or a ride on the boat.
Outward Hound Dog Life Jacket XL
The Outward Hound Dog Life Jacket XL* fits dogs with a girth of up to 42 inches around the chest.
The neck is adjustable too, so you can ensure your pooch has plenty of wiggle room.
PetCee
PetCee* has an 'easy fit' life jacket for XL dogs.
Their unique design also features a front float.
It comes out over the neck flap and rests underneath your dog's chin to keep his head well out of the water.
Their XL vest will comfortably fit dogs up to 17.7 inches long.
XXL dog life jackets
Swimming is great exercise for larger dogs.
Being afloat means less pressure on the legs and hip joints – common problem areas for breeds like Labradors.
But big swimmers need big jackets. Luckily there are plenty to choose from.
Haocoo Dog
The HAOCOO DOG XXL life jacket* is suitable for dogs up to 19 inches long, and 46 inches around their chest.
It has adjustable straps and easy-to-use buckles so you won't have any problems getting your big dog in life jacket.
There's also a hook so you can attach his leash when he's on dry land again.
QBLEEV Life Jacket
For another option for larger dogs, check out QBLEEV XXL Dog Life Jacket.*
This simple design has two layers of flotation material and long, adjustable straps that wrap around the dog's torso.
Their XXL is even advised for giant breeds such as Mastiffs and Great Danes!
Shark fin dog life jackets
A life preserver might be a serious piece of equipment, but that doesn't mean you can't have a little fun with it.
A shark life vest for dogs lets you and your pup recreate Jaws, while giving your fellow swimmers a cute surprise.
Swimways Sea Squirts
Swimways Sea Squirts* has a 'fin-tastic' life preserver with a flexible dorsal fin on the back that's both adorable and practical.
The light blue vest comes in two sizes – small and medium – and fits pets up to 50lbs.
It also has a ring next to the handle where you can attach a leash if your furry shark has had enough of the water.
Ripstop Life Jacket
If your large dog would like to get his fin on, try the Ristop Life Jacket from HeroDog*.
This grey shark jacket is great for larger breeds such as Labs, fitting dogs 17 inches long.
It has rubber handles and side release buckles so you can easily get your pet in and out of his new swimming costume.
Camo dog life jackets
If your pooch is swimming in rough water, paddling at night, or in an area where there is a lot of boat and swimmer activity, he needs to be visible.
So it's important when buying a camo life jacket that he doesn't blend in too well.
Haocoo
Choose one with reflective strips that will help your dog be seen if he gets into trouble, such as the HAOCOO preserver.*
Ranging from XXS to XXL, this will fit all shapes and sizes and its reflective stripes wrap around the dog's body.
Ensuring he can been seen from all angles.
Haocoo
The Haocoo Life Jacket* comes in both camo pink and camo blue.
Both have reflective side panels so your pup can be seen.
As well as thick foam padding around the chest and under the neck to keep him afloat.
Pink dog life jackets
If you've a pup who loves to look good at the beach, why not get them a pink life vest.
Not only are these cute, eye-catching and colorful, they're also very bright.
Which is great for paddling pups that might run into danger.
Fido Pet Products
If plain pink is too boring for your fashionable furball, there's a more exciting option from Fido Pet Products.
Their Paws Aboard Doggy Life Jacket* is a fun pink and polka dot design that'll make human swimmers jealous.
This designer jacket has a mesh underside, which helps your dog dry off comfortably after her dip.
Neoprene dog life jackets
Neoprene is a very durable synthetic rubber that's resistant to heat, oil, weather and water.
It's also extremely lightweight, making it a great choice for life jackets.
Neoprene has been widely used in wetsuits since it was first invented in 1930.
If your pup tends to sink in water, you'll want the extra buoyancy that a neoprene dog life vest can give him.
For struggling swimmers, and those braving deep waters, it can be a lifesaver.
Paws Abroad
Paws Aboard's neoprene vest* is a yellow and blue jacket with reflective strips and a breathable mesh underbelly.
It was developed with safety in mind – giving dogs extra buoyancy and high visibility.
Outward Hound
Outward Hound's Neoprene Dawson preserver* definitely looks the part with foam side panels and a lightweight design.
The Dawson jacket was designed for novice swimmers who aren't that comfortable in the water.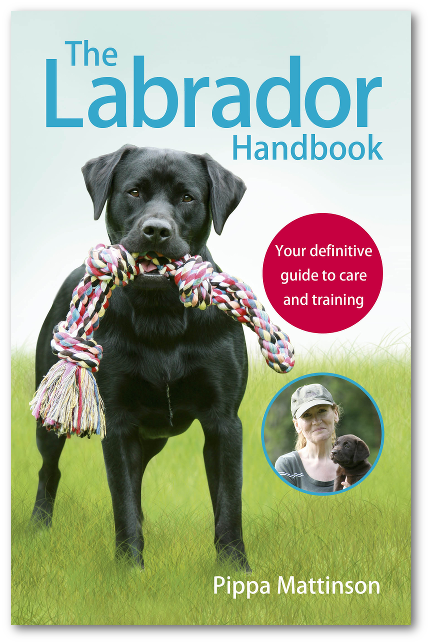 It's shaped to give your dog maximum mobility while keeping him afloat.
Hunting dog life jackets
When they're on the hunt, dogs need to be able to move freely.
They need a lightweight jacket that won't hold them back while they're running, swimming, chasing and enjoying themselves.
They also need to be visible, and buoyant, in case they go charging into deep water or become separated from their owners.
Outward Hound Standley Sport
Protect your hunting partner with Outward Hound's Standley Sport jacket*, which was developed specifically for experienced swimmers.
The minimal design lets your dog move around with ease and the rugged ripstop material can withstand a lot of action.
It also has a leash attachment and a mesh belly so water can drain quickly as your pup goes from water to land and back again.
Best dog life vests
The best dog life vest is one that keeps your dog safe in the water, and gives you peace of mind.
But not every flotation device is the same.
Think carefully about your dog's needs before selecting a jacket, as well as the safety features.
With the right jacket, your paddling pup will learn to love the water, get plenty of exercise and (best of all) be safe in the sea.
Affiliate link disclosure: Links in this article marked with an * are affiliate links, and we may receive a small commission if you purchase these products. However, we selected them for inclusion independently, and all of the views expressed in this article are our own.
The Labrador Site Founder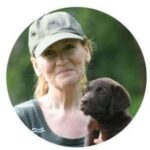 Pippa Mattinson is the best selling author of The Happy Puppy Handbook, the Labrador Handbook, Choosing The Perfect Puppy, and Total Recall.
She is also the founder of the Gundog Trust and the Dogsnet Online Training Program 
Pippa's online training courses were launched in 2019 and you can find the latest course dates on the Dogsnet website