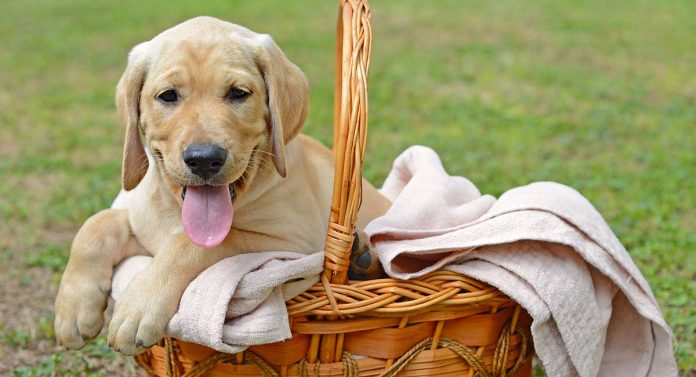 These funny dog names are sure to delight you, your dog and your friends too. I have themed list with dozens of hilarious ideas to lighten the mood, and help you to come up with your own original funny dog names!
I have even divided up these names into a few categories to help you find the perfect fit. Whether you've got a gorgeous boy or girl puppy, and whatever your interests might be, you'll find something that makes you feel full of love and giggles simultaneously.
Top Twenty Funny Dog Names
Here are our favorite punny dog names to get you started.
50 Scent
Snoop Doggie Dog
Queen of Barkness
Kanye Westie
Dumbledog
Lady Dogiva.
Miss Piggy
Pumpkin Spice Latte
Cookie Jar
Sir Licks-a-lot
Fur-dinand
R2Dog2
Pup Tart
Abram-Ham
Hamburgler
Sir Loin
Calamity Jane
Million Dollar Baby
Subwoofer
Indiana Bones
That's right – we love a pun!
What's in a Name?
Life is just better with more smiles in it! As every dog lover already knows, this is one of the many reasons we choose to share our lives with dogs!
The sight of those warm liquid eyes, that toothy grin, the antics, the tail wagging, the wriggling anticipation of treats, that heart-melting puppy clumsiness….all so smile-worthy!
The problem is, sometimes you are faced with a gorgeous new puppy, but you just can't think of a name for them. Maybe there is too much choice, and a bunch of potential names swirls round in your head.
What if you have a mental block and can't think of any names at all? Perhaps you try lots of names but can't find a name the perfect one that fits your new dog's personality.
Some dogs are big bundles of fun, full of play and puppy humour. They deserve a funny dog name to suit their big and bold personality. Luckily, this article will give you a few suggestions.
Isn't it true that your canine sidekick has a personality all his very own? What a fun and funny companion! You are so lucky! Thank goodness you picked this one to share your life with!
One great way to capture the precious uniqueness of your pooch is to give her a funny dog name you love to say and she loves to hear!
If you are searching for funny female dog names and funny boy dog names that might just fit your pup to a "T," you are going to love these creative funny dog names lists for boy dogs, girl dogs, and puppies!

Funny Pop Culture Dog Names
Imagine if you were a famous celebrity or pop culture icon. Then one day as you were walking down the street, you heard your name being called out.
Suddenly, a big ball of fur in full-on sprint mode streaked by you! Equally as suddenly, the calling stopped. Then it dawned on you – someone had named their dog after you!
Cool? Not cool? You decide! (We happen to think it's pretty darned cool, by the way!). Here are a few celebrity dog names to get you started, each with a canine twist.
We are sure you will think of many, many more once the creative juices flow.
Little Bow Wow
50 Scent
Bill Furry
Bing Bell
Snoop Doggie Dog
Django Unleashed
Sniffy Longdroppings
Fleasy E
Queen of Barkness
Kanye Westie
Dumbledog
Rambo Casserole
Waltzing Muttilda
Bob Scratch-It
Andy War-howl
Boba Fetch
Lucy I'm Home
Groucho Barks
President Dwight D. Eisen-howler
Lady Dogiva.
Maybe celebrity funny dog names are not for you. You look at your beautiful girl and want to give her a unique name, one that suits her huge personality and playful nature.
Funny Girl Dog Names
Some pups are just born comedians. They seem especially made to turn frowns upside down, send storm clouds packing, chase the blues away, and replace them with lots of laughter and cuddles.
If this describes your furry lady love, one of these funny girl dog names might be the perfect choice!
Bo Peep
Here Kitty
Spanx
Moneypenny
Sausage Pattie
Twinkie Turtle
Suga Booga
Nilla
Miss Piggy
Trixie Popp
Toodle Lou
Sugar Pie Honey Bun
Pumpkin Spice Latte
El Nina
Liberty Belle
Ouiser Boudreaux ("Wheezer Boo-droh" – Shirley MacLaine's character in "Steel Magnolias")
Tiptoe Through the Tulips
Cookie Jar
Gimme More
Derby Girl.
This is great if you have a girl pup, but what if you have a boy? Never fear, because we have a few boy dog names to help you on your way.
Funny Dog Names Male
Canines and comedy go together like, well, dogs and dog lovers.
In fact, the two regularly intersect when popular celebrities lend their names and their talents to canine-centric causes such as shelter dog adoption days!
These funny dog names male tip their hat gratefully to laughter, which can open hearts and give so many precious pooches a new "forever home" and a fresh start in life!
Sir Licks-a-lot
Sits With Wolves
Bad Dog
Red Leader
Markie Mark
Fur-dinand
Bacon Bits
R2Dog2
SitStay
Eggs-n-ham
Phideaux ("Fi-Dough")
Dee-Oh-Gee
Fitbit
Snow-pee
Meatloaf
Paws Away
Happy Hunting
Mac Daddy
Squirrelicious
Poopsy Meow.
The fun doesn't stop here, and the names keep on coming. For the next course of delectable names, how about some food-related doggie handles.
Funny Food Dog Names
Mmmmm. Food. If you think your furry family member loves delectable edibles, you may not even know the half of it according to one recent research study!
The study measured training responses among both domestic wolves and dogs when trainees were offered pets and touches ("social interaction") versus food treats. Guess which was more motivational to participants?
Yup. Food. So here, it just makes sense to consider giving your new pooch one of these funny food dog names!
Pup Tart
Sweet Teacakes
Abram-Ham
Hamburgler
2BunNight
PB&J
Turkey
Chick'n'noodle
Butterball
Sir Loin
Chilipepper
Woofles
Ruffcut
Lunchbox
Weinerful
DuckDuckGoose
Where's the Beef?
King Kong
Rawhide
Gravytrain.
Still with us? What if you have a big dog and want a name that suits his giant size and personality? Luckily, we have some special names just for that loveable big lump who just joined your family.
Funny Big Dog Names
Just like people, dogs come in all shapes and sizes. This means there is a pooch for every person and a person for every pooch!
Whether your dog is literally big in size or simply big in personality, one of these funny big dog names for boy dogs and girl dogs might just be the perfect fit!
For no particular reason, let's start with the boys and see if we can come up with some great names.
Funny Big Dog Names: Boys
Wyatt Earp
Thor
Barney
Doc Holliday
Liberace
Napoleon
Wild Bill
Marlon Brando
Elvis
Geronimo
Jesse James
Chief Crazy Horse
President Roosevelt
The Joker
El Diablo
Luck Be a Lady
Clyde Parker (of Bonnie & Clyde)
Clint (as in Eastwood)
Babe Ruth
Gladiator.
That's the boys covered, but what about the girls? Can we come up with some equally great names for them? You bet we can!
Funny Big Dog Names: Girls
Calamity Jane
Belle Star
Bonnie Parker (of Bonnie & Clyde)
Mae West
Stagecoach Mary
The Bandit Queen
Minnie Pearl
Million Dollar Baby
Nessie
Miranda Priestley ("The Devil Wears Prada")
Hollie Golightly ("Breakfast at Tiffany's")
Joan of Arc
Scarlett O'Hara
Buffy
Hermione ("Harry Potter")
J-Lo
Queen Bey
Black Widow ("The Avengers")
Golden Girl
Serena (as in Williams).
We've come up with some excellent funny names for dogs. Now, what if you have a brown dog, like a gorgeous chocolate Labrador? Never fear, there are brown names by the bucketload.
Funny Brown Dog Names
While the underlying genetics tend to be more complex than most dog lovers want to delve into, the truth remains that there are LOTS of brown dogs in this world!
And we all know that chocolate labs are among the best, and the funniest, of those!
This is just one more reason to give your precious brown pup the most funny, fun and unique name possible!
Muddy Buddy
S'mores
Guinness
Java Chip
Moose
My Name is Mudd
Acorn
The Unsinkable Molly Brown ("Titanic")
Eager Beaver
Charlie Brown
Buff Biff
Liver n Onions
Root Beer Float
Whiskey Before Breakfast (a song)
UPS (for the brown delivery truck)
Smokey the Bear
Millie Bobby Brown ("Stranger Things")
BBQ Ribs
Pumpernickel.
If you have dogs of other colors, don't worry. We are working on other articles with bundles of names.
Maybe the categories and names we picked so far aren't working for you. We have given cute names and funny names. What if your dog is both? Read on for a few funny and cute dog name ideas.
Cute Funny Dog Names
Ahhhh….the age-old debate of cute versus funny. Or is it funny versus cute?
Well, with these cute funny dog names, you and your pooch can have both – enjoy!
First Dibs
Shiner Black
Jersey Girl
Sweet Tea
Tinder
Bustamove
Howl-r-you
Bruinhilda
Short Fuse
Kobe Burger
Noodles
Bob
Crunchie Bones
Woolly Butt
Bo Peep
Fang
Potatohead
Bitsy BonBon
Lovebucket
Barley.
Not funny enough? If you have an adorable yet clumsy puppy still trying to find her feet, how about a funny puppy name? Guess what? We have loads of those, too!
Funny Puppy Names
What is cuter than a fuzzy, clutzy puppy who is all head and paws and slobbering eagerness to please?
Truthfully, we have no idea. We just hope you find these funny puppy names are up to the challenge of capturing your cute puppy's precious personality!
Banjo on My Knee (a song)
Amber Pamber
Little Blaze
Encyclopedia Brown
Caddylick
Pudding Pup
Boss Booger
Cinder Ella
Dusty Miller (a song)
Little Brown Fox
Velvet Elvis
Midnight Moon
Rum Runner
Toast Chomper
Peanut Doodle Bug
Subwoofer
Beanie Baby
Fuzzy Toast
Hazel Kiss
Coppertop.
Finally, because this is a Labrador site, can we come up with some Labrador names? We'll see what we can do in an all-new section.

Funny Labrador Names
What about Labradors? We have looked at a few names for them although, of course, you can use them for any dog. Here's a few that we hope you like!
Indiana Bones
Ayra
Sansa
Jumanji
Tebow
Seabiscuit
Hagrid
Mr Snuffleupagus
Otto
Captain Chaos.

The Labrador Site Founder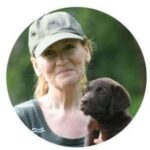 Pippa Mattinson is the best selling author of The Happy Puppy Handbook, the Labrador Handbook, Choosing The Perfect Puppy, and Total Recall.
She is also the founder of the Gundog Trust and the Dogsnet Online Training Program 
Pippa's online training courses were launched in 2019 and you can find the latest course dates on the Dogsnet website