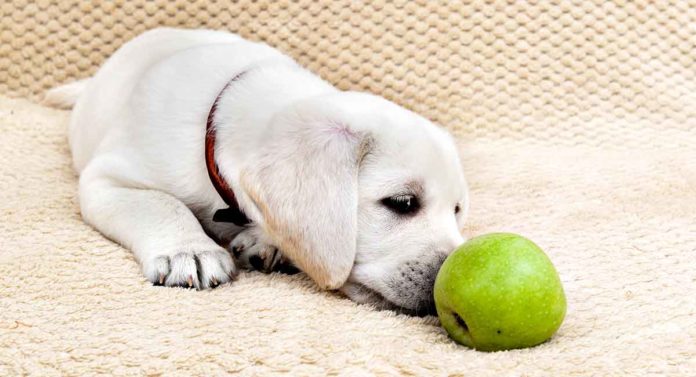 When I was a kid, we always gave our apple cores to the dog. He loved them. But can dogs eat apples without any ill effects or or were we taking a risk? Similarly, if your dog likes fruit you may be wondering if you should be feeding him apples, grapes, berries or any of the other common fruits we find in our homes.
I've done some updated research and t I'm going to outline what fruits dogs can eat without harm, and identify which fruits dogs should not eat. We'll also discover which fruits are actually good for dogs, and therefore could be a healthy addition to their diet.
Can dogs eat apples?
Apples contain a number of vitamins including vitamin C. They also contain some dietary fibre, and some minerals, including phosphorus and calcium Most experts agree that the flesh of the apple is safe for dogs to eat. And many recommend giving dogs apple slices as a healthy snack. You can also freeze apple slices or pulp to give dogs a refreshing treat in hot weather or use apples in recipes for baked dog treats. We'll look at some of those in a moment
Can dogs eat apple cores?
Can dogs eat apples whole? Or the cores specifically? In retrospect the apple cores I used to give to our Golden Retriever when I was a child were probably not such a good idea.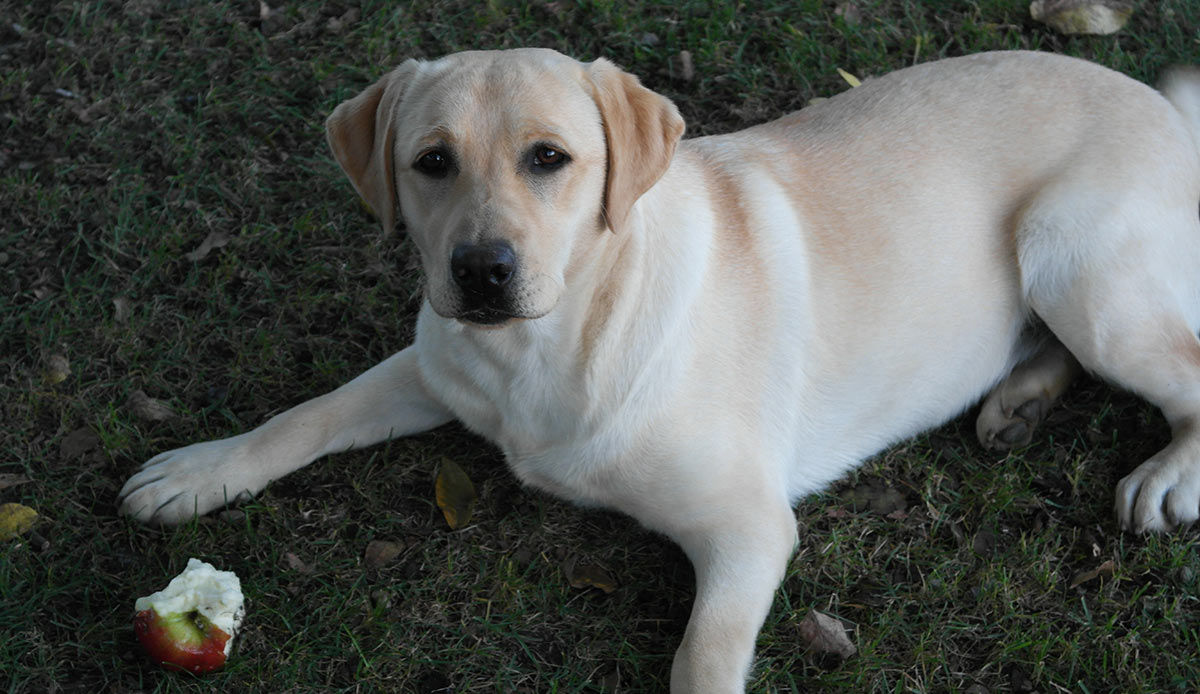 Apple seeds actually contain a compound that is toxic. And although a large dog would probably need to eat quite a few of them to do himself any serious harm, apple seeds are not good for dogs. There is also the concern that an apple core is a potential choking hazard–especially in smaller breeds So it may be better to put your apple core in the trash or better yet in your compost pile, than feed it to your dog.
Can dogs eat apples – skin and peel?
It won't harm your dog to eat apple skin or peel. However, the skin can irritate the stomach of some dogs and trigger vomiting. So if your dog is relaxing on your favorite carpet, you might want to bear that in mind!
It is also worth remembering that apples contain a lot of natural sugars, which dogs do not need to eat at all. These can harm their teeth if consumed in excess. So the question is not just can dogs eat apples, but should they! Moderation, when giving this sweet treat, is definitely a good idea.
Can dogs eat grapes?
The second fruit on our list is a very different story. The answer to, 'can dogs eat grapes' is a firm "NO." Your dog should not be given grapes, grape juice, or grape byproducts in any shape or form.
Why shouldn't dogs eat grapes?
Eating grapes can cause kidney failure in dogs. One study suggests as little as 19.6 grams of grape, per kilogram of dog could cause this. This is made even more complicated because, not all dogs will be visibly affected.
The mechanism by which grapes poison dogs is still being researched. Still it is not known why some dogs may be fatally poisoned by only a small quantity of grapes, while others can eat quite a few without any ill effects. This is a common occurrence when we discuss foods that are potentially toxic to dogs. You will often find that some persons say, "My dog eats those all the time and he's fine!" Just like my Golden Retriever who used to eat apple cores.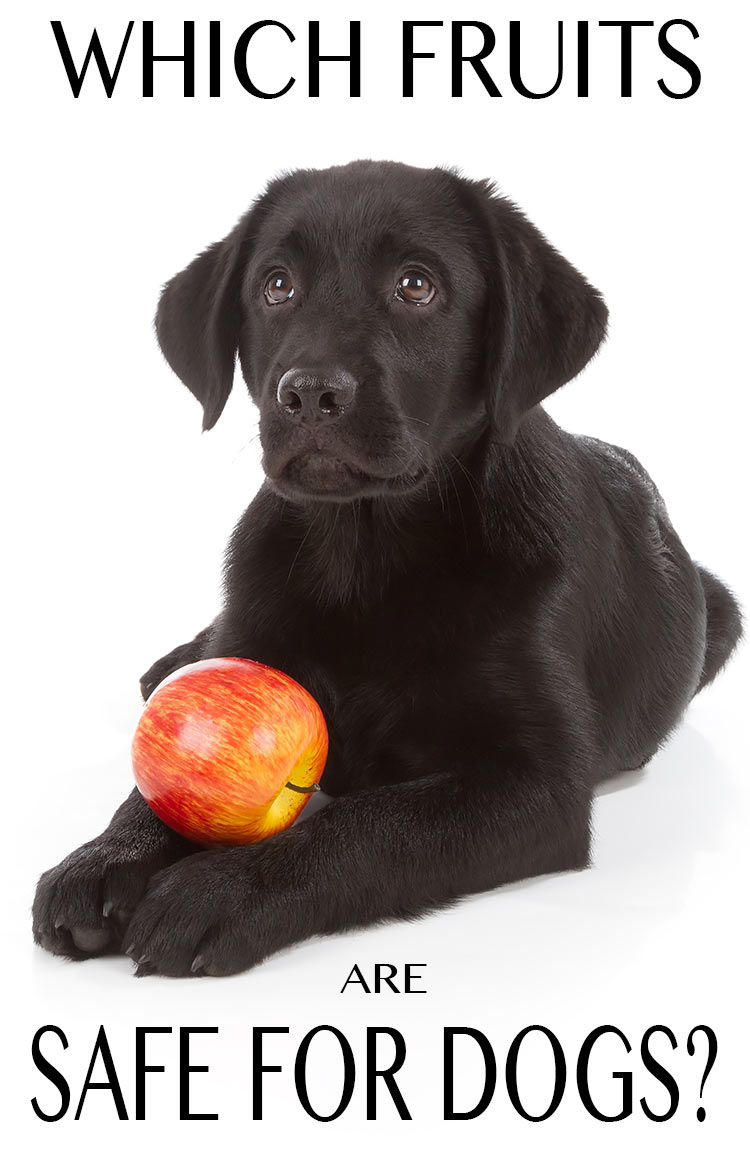 But it is never worth the risk to your dog, as levels of toxicity cannot be gauged off-hand. The effects of the fruit toxins on the each individual dog will depend on the weight of the dog, the quantity of the fruit consumed and on individual factors relating to the dog's own health and metabolism.
Remember, the toxicity of grapes in dogs is well documented, and they should not be a part of your dog's diet Your dog may not appear to have been harmed by eating grapes on one occasion but you are taking a chance with his health every time you let him do it.
Can dogs eat raisins?
Raisins are a type of dehydrated grape and the same rules apply. Raisins can be very attractive to dogs because the sugar in them is so concentrated but they are equally as dangerous if not more so. Special precautions should be taken when giving your dog one of the many baked products made for humans that may contain raisins. Ensure you are certain of the ingredients in baked products before you share them with your dog.
What to do if your dog eats grapes or raisins
Dogs affected by grapes may vomit and become very thirsty. If your dog accidentally ingests grapes, telephone your vet straight away and ask for advice. If your dog has not already begun vomiting, your vet may want you to induce vomiting before the dog is brought into the office
Do not induce vomiting without first checking with a veterinary health professional.
Can dogs eat oranges?
Oranges can be consumed by most dogs in small quantities without any ill effects. Large amounts may give your dog diarrhea. Again, these fruits are high in sugar so moderation is key.
Can dogs eat lemons
Lemons are citrus fruits like oranges and the same rules apply. A small amount is unlikely to cause a problem, but too much and you'll have an upset tummy on your hands.
Can dogs eat peaches and plums?
The flesh of fruit with pits or stones in the center is another tasty favorite of some dogs. Many wild carnivores love these fleshy fruits especially when they are over-ripe. However, while these fruits are a rich source of vitamins, you should never give your dog the whole fruit or the pits of plums or peaches. Not only are they toxic, they could choke your dog or cause an intestinal blockage.
Can dogs eat bananas?
Bananas are deliciously sweet and many animals love them. Dogs are no exception. Dogs can eat bananas without issue, but remember that the sweet taste is a reminder of how sugary they are.
Can dogs have blueberries?
Blueberries are safe for dogs to eat either fresh or frozen. They are high in antioxidants which help to fight free radicals. Free radicals are substances that cause damage to cells and may be implicated in the development of cancer. This means that blueberries are often recommended as a treat for dogs of all breeds.
Blueberries should also be considered for very active dogs or members of the working class breeds of dogs . This is because the oxidative muscle damage caused by these free radicals is most intense during high activity and exercise.
Can dogs eat cranberries?
Cranberries have long been associated with bladder health in humans. It's possible that eating cranberries helps to make the bladder wall less sticky, so that it is harder for certain bacteria (E Coli for example) to get a grip and start growing there. This may help reduce the occurrence of urinary tract infections.
While swallowing the occasional cranberry won't hurt your dog, it is also possible that regular intake of cranberries could lead to bladder stones. With plenty of fruity alternatives, giving cranberries a miss is probably a good idea
Can dogs eat pears?
Pears are another great treat for fruit-loving pooch! They are chock full of Vitamins C and A, and are a healthy source of dietary fiber. As with the question "can dogs eat apples" however, you should not give your dog the seeds or the core. Pear seeds are toxic and can cause harm in large quantities, and the core does pose a choking hazard.
Can dogs eat tomatoes?
Yes, tomatoes are actually fruit, and they are safe for dog consumption–when ripe. The stems, leaves and green fruit of a tomato plant contain high amounts of a substance called tomatine that could be harmful in large quantities. This concentration is far lower in ripe fruits, and as such can be fed to your dog in moderate quantities. But remember tomatoes do have a high acid content and should not be fed to dogs with sensitive stomachs or a history of digestive concerns.
When is fruit good for dogs?
If you are struggling to get a thin, elderly dog to eat then supplementing with their favorite fruit may be a good incentive. Also, if you are trying to give a particularly savvy pup medication, hiding it in fruit may be a good trick to keep in your arsenal. In either case just be sure not to give the dog so much that it upsets his stomach.
Fruit can also be a good way of getting nutrients into a dog on special low fat diet. Keep in mind though, that while we tend to think of low-fat foods like apples as being healthy for most healthy dogs, certain foods that are high in sugar are not a necessary or even valuable part of their diet. And can contribute to obesity.
If you want to put weight on a thin dog, feeding his usual food more frequently will usually enable you to increase overall quantities without upsetting his tum with added dietary variety. And for raw fed dogs, fat is an ideal source of extra calories and the source that your dog's digestion is best designed to process.
Remember when feeding your dog fruit:
Wash all fruit before feeding it to your dog
Remove all flesh from cores, pits and stones
Sharing prepared foods with your pet should be done at a minimum however if you choose to do so ensure there are no hidden, ingredients that may be toxic to your pup
Even if a fruit is deemed safe for your dog, test with a small piece and monitor your dog for any sensitivities
Peel waxy fruits as the skin may cause stomach irritation
Never give your dog whole fruit!
Summary – What fruits can dogs eat?
I hope you've found "Can Dogs Eat Apples?" interesting. I've certainly enjoyed researching and learning more about this topic. Fruit is not an essential part of any dogs diet. And the answer to "Can dogs eat apples?" isn't a straightforward yes or no. In moderation it is fine to give your dog the occasional slice of apple, pear, peach, ripe tomatoes or plum.
You can also use the flesh of these fruits when baking your favorite home cooked dog biscuits. You can give your dog a piece of banana or a slice of orange or lemon if he enjoys them. Certain fruits, especially berries, may even present health benefits and you should discuss with your vet supplementing your dog's diet with these antioxidant rich options.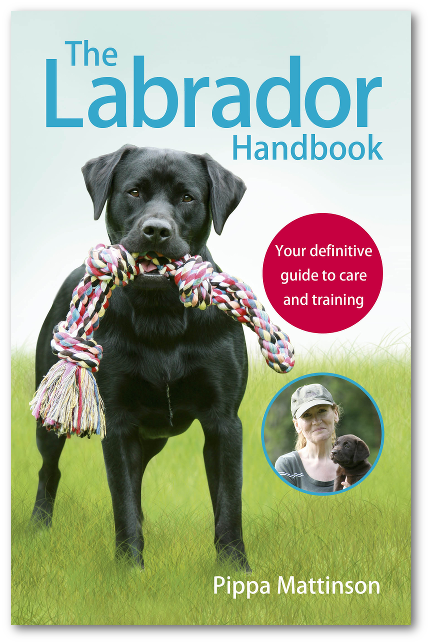 Take special precautions based on the type of fruit, the health of your dog and your dog's particular sensitivities when deciding to feed them fruit. And finally, before you leap for the fruit bowl, remember that fruit is high in sugar and should only be fed as an occasional treat, not in large quantities.
How about your dog?
Does your dog have a favorite fruity snack? Tell us about him in the comments below!
"Can Dogs Eat Apples and Other Fruit" has been fully revised and updated for 2019.
Readers Also Liked
References
The Labrador Site Founder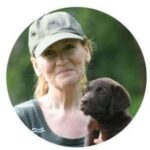 Pippa Mattinson is the best selling author of The Happy Puppy Handbook, the Labrador Handbook, Choosing The Perfect Puppy, and Total Recall.
She is also the founder of the Gundog Trust and the Dogsnet Online Training Program 
Pippa's online training courses were launched in 2019 and you can find the latest course dates on the Dogsnet website