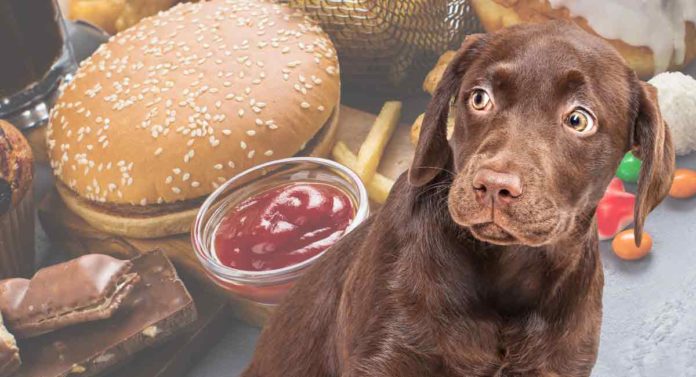 Dogs have dangerous, toxic reactions to some popular mealtime ingredients.
Many common human foods are toxic to dogs. Yet dogs get fed these foods deliberately and accidentally on a regular basis. Sometimes due to naivety, other times through laziness or denial.
It's not a good idea to assume that because something is safe to have on your plate that it will be okay to share with your dog. Tasty treats like chocolate, onions, coffee and garlic can have disastrous consequences on the canine constitution.
Today I'll share some of the most surprisingly toxic to dogs foods that we commonly snack on, and what to do if your pup eats some. Reactions will differ depending on your dog's size, age and how much they mange to get their jaws around.
Is Chocolate Harmful to Dogs?
Most people have heard that chocolate is toxic to dogs, but tend not to believe the rumors. They might even know friends that give their dogs chocolate without ill-effects. They also see how much their Labrador enjoys munching on a square of chocolate and think it can't be doing him any harm when he's clearly enjoying it.
We have a tendency to assume that if something hasn't caused problems in the past, it is fine to do it again. And on a larger scale. But this can have devastating results.
So is chocolate toxic to dogs or isn't it? Well, the fact is that there is an ingredient in chocolate that most certainly is toxic to dogs. It is called theobromine. Theobromine is present in higher quantities in dark chocolate than in the milky variety.
Chocolate is toxic to dogs in differing quantities
However, like all poisons there are levels of theobromine which are harmful, and levels which are unlikely to have any ill effects. The problem is, it is very difficult to determine what those levels are because they vary from dog to dog depending on a number of factors, including his weight and metabolism.
It is important to seek veterinary attention immediately if your dog has managed to get hold of a bar of chocolate and 'scoffed' the lot. This is also the case if he has eaten even a small quantity of dark chocolate, or cocoa powder. If a large dogs steals a small square of milk chocolate, he is probably not going to suffer any ill effects. This, however, is not a guarantee. The only safe dose of chocolate, is 'no chocolate at all'. In sufficient quantities, as any vet will tell you, chocolate can and does kill dogs. Our view is why take the chance? After all, your dog doesn't need it, and neither do his teeth.

Is Coffee Toxic to Dogs?
If you're concerned that your dog has taken a slurp from your coffee cup, it's best to call the vet. Caffeine is toxic to dogs and can cause symptoms such as vomiting and diarrhea in small doses. Larger doses can cause your dog heart problems and seizures. So, make sure you keep your cup out of reach of curious snouts.
Are Onions Poisonous?
Not so many people are aware of the dangers of onions. This vegetable contains thiosulphate, which is also toxic to dogs. It causes the unpleasant disease "haemolytic anaemia" where the red blood cells are damaged.
Like us, dogs depend on their red blood cells to carry oxygen around the body. Without enough healthy red blood cells they can become very ill indeed. Just like chocolate, when it comes to "how much is harmful" it is all a question of quantity. If you dog eats a tiny bit of chopped onion that you drop on the floor he will probably be ok. But you should avoid feeding table scraps with onion in, as these could make him unwell.
Is Garlic toxic to Dogs?
In the same way that onions can harm your dog, so can garlic. Both onions and garlic are part of the allium family of plants. Dogs are susceptible to allium toxicosis. This means that any member of the allium family is harmful to your dog.
Not only garlic and onions, but leeks and chives are part of the same family and should definitely be kept away from your dog.
Are Macadamia Nuts Toxic to Dogs?
As with chocolate and onions, the quantity of macadamia nuts that is toxic to dogs varies widely from dog to dog. Poisoning can cause ataxia, vomiting and other symptoms so it is important to keep these nuts away from your dog.
What About Chewing Gum?
Dogs can not eat chewing gum. Xylitol is a sweetener found in chewing gum and other human foods. Unfortunately, it too, is toxic to dogs, so keep your gum well away from your pooch!
Look out for Xylitol!
It's also important to recognize that xylitol is sometimes put in other human foods that we might be tempted to share with our dogs. Peanut butter is a key example.
People often use nut butters for making Kong fillers or baking homemade dog treats. Not all peanut butters contain xylitol but some do. So read the label very carefully!
Is Alcohol Poisonous to Dogs?
It might seem ridiculous that we feel this is worth mentioning. The sad truth is that I have actually spoken to several people who needed to hear this. Unfortunately, they thought it was funny to give their, otherwise delightfully well cared for, dogs beer.
Dogs are far more sensitive to alcohol than humans are. Even tiny amounts can cause vomiting and disorientation in the best case scenario. In the worst case, alcohol can result in seizures, coma or even death. Never let a dog have access to alcohol in any quantity.
Is Avocado Toxic to Dogs
If you like to slice some fresh avocado into your salad, make sure that your dog doesn't get hold of any of it. Although the effects of avocado on dogs are not as bad as they are on some other species, it is still known to cause a nasty case of vomiting and diarrhea.
Are Currants Toxic to Dogs?
Never feed a dog currants, even in small quantities. They are toxic to dogs, and in the worst cases have even resulted in renal failure.
Last but not Least, Raisins
Who would have thought the innocuous raisin or grape could hurt a dog? While the most serious cases of grape poisoning involve the dog eating half a pound or more, even a small handful of either can make a dog very ill.
If your dog eats something on this list, you need to contact your vet. There's no need to panic. Phone your vet and report the amount your dog ate, or that you think he might have eaten along with their approximate weight.
The Labrador Site Founder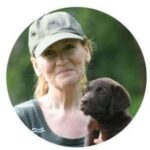 Pippa Mattinson is the best selling author of The Happy Puppy Handbook, the Labrador Handbook, Choosing The Perfect Puppy, and Total Recall.
She is also the founder of the Gundog Trust and the Dogsnet Online Training Program 
Pippa's online training courses were launched in 2019 and you can find the latest course dates on the Dogsnet website