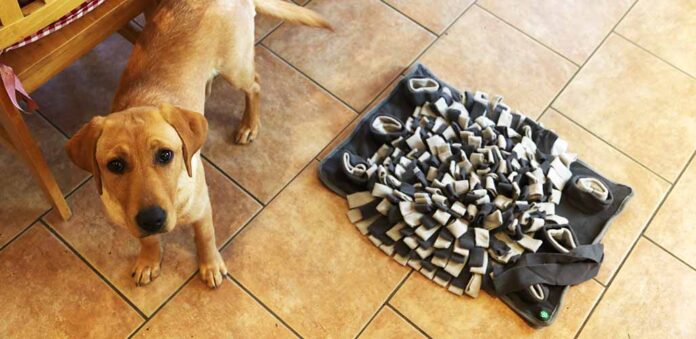 The best digging toys for dogs give them the space and material they need to express those natural dirt scraping behaviors. Your dog might make for some sweet Tik Tok videos when they are covered in mud, but destroying your backyard or burrowing under the fence is less than ideal.
It's a fact that dogs who are given dig boxes as play items are less likely to dig in areas you would rather they didn't.
Indoor digging toys for dogs include snuffle mats and puzzle toys. Games that involve the use of scratching with their paws to find a treat. Outdoor digging toys for dogs include things like sandpits and literal dirt baths. But whether in the living room or backyard, any opportunity to dig on your terms will reduce their inclination to dig up their bed or your garden!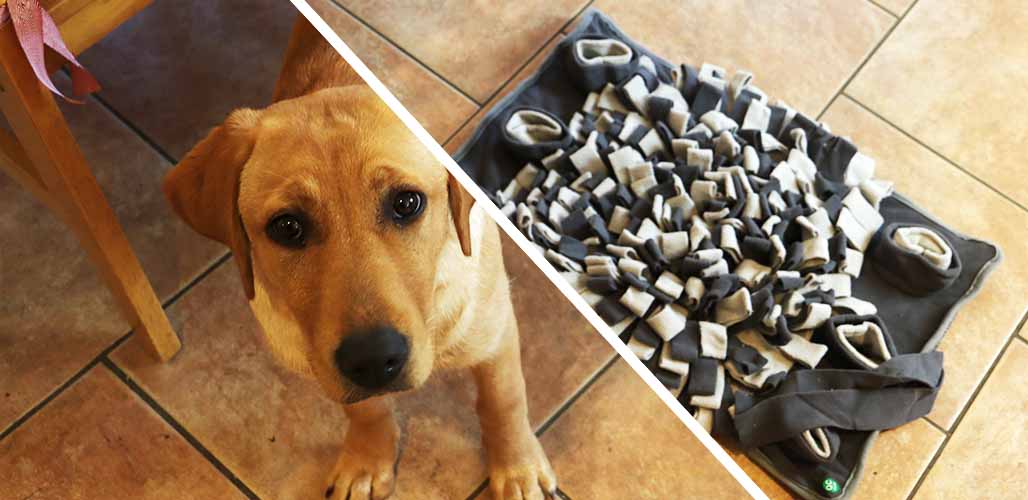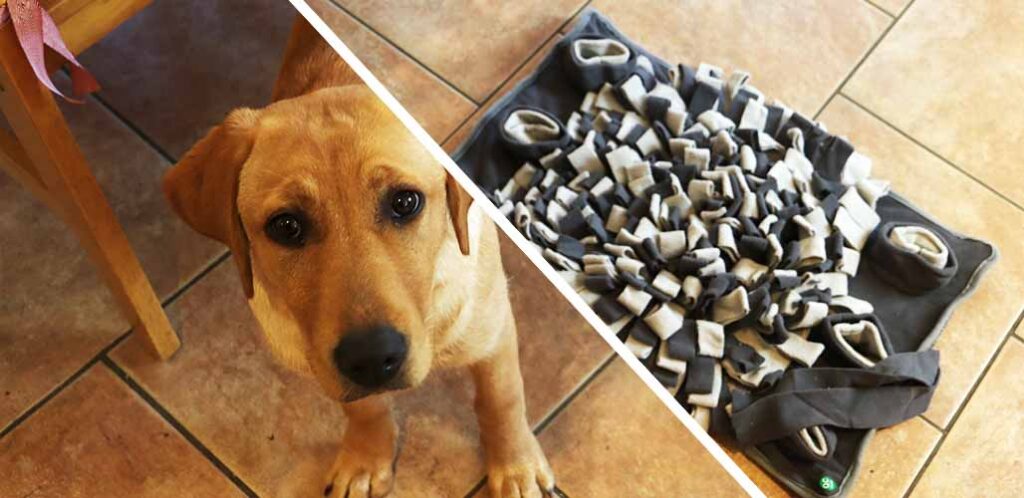 The Best Indoor Digging Toys For Dogs
You associate dogs digging indoors with destruction. Beds demolished, flooring unravelled. But actually it's pretty simple to channel your puppy's natural digging behavior with the use of the right indoor digging toys for dogs.
iDig Stay Digging Toy For Dogs
For something that is basically a big soft disc with flaps, this is a pretty epic dig toy(paid link). Don't leave the toy out the whole time, but get it out for a focussed play session. You can pop kibble pieces or dog toys into the compartments and encourage your pup to search through them with their paws.
Dog Digging Treat Mat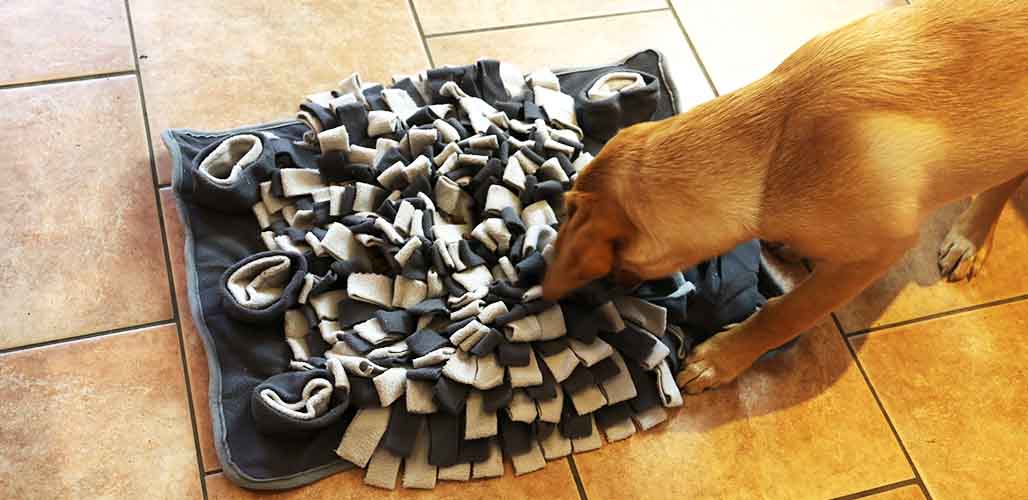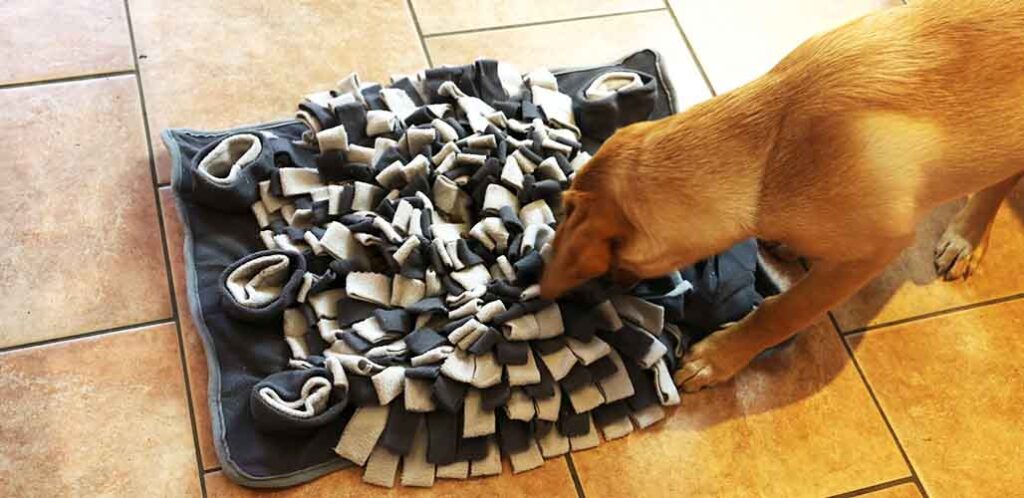 My dogs are a big fan of digging treat mats(paid link). This one has an awesome set of differently shaped pockets for them to poke their paws into. It looks cute and fun too, so you won't mind having it laid out on your kitchen floor temporarily. And being a mat it folds up fairly tightly for storage when you're not using it.
Digging Puzzle Treat Dog Toy
It's not the first, and it won't be the last, time I've raved about Nina Ottoson's dog toys(paid link). They are the stuff my dogs and I would have dreamed up, had we the right technical skills and imagination. I love a load of her dog toys, but this is one of the best for digging, scratching and scraping with paws. Your dog will love moving the little toggles to get at the tasty bites of kibble secured beneath.
Snuffle Mats For Digging Dogs
I was a bit sceptical about this one, because it looks like an upside down mop(paid link). But it's surprisingly interactive, and great for hiding pieces of kibble for your dog to dig up. Or long thin toys like tug ropes. Put your pup's prized possession between the fibers of the mat, and they'll use their paws to dig it up again!
The Best Outdoor Digging Toys For Dogs
It is possible to create your own doggy dig spot in the backyard. I've built one before using railway sleepers. They are heavy so stay in place, and if you get pressure impregnated wood it stays nice looking and won't rot for years. Mine has been in place for about three years now and is holding up well. It's also now a planter and no longer a dig box!
But for those who are less keen on manual home improvements, there are some lovely options you can order in.
Dog Ball Pit
These are a personal favorite of mine, but dog ball pits are not great for every puppy personality. They are loud, interactive and wildly fun for confident game loving digs. They give the opportunity to dig and send balls flying in every direction. Which is why I recommend using it outdoors not in the living room!
The structure of this delightful doggy dig box (paid link)is strong and sturdy, but it's still easy to store as it folds down pretty much flat.
Octagonal Sand Box
Sand boxes aren't just for kids, they are great for keen digging dogs too(paid link). My preference is for a large octagonal sandbox due to the way they look. Make sure you get one with a cover if your climate is prone to heavy rainfall, and you should be able to keep the same sand nice for several months before needing to change it out. Just make sure your pup doesn't decide it's a great place to poop as well as play!
Covered Dog Dig Pit
This sand pit is great for dog owners that live in very hot areas(paid link). Dogs get seriously warm digging in the yard, and they aren't great at knowing when they are over heating. Having a bit of shade over their favorite dig spot will keep them cool and healthy. All while they expend that extra scrappy energy!
The Labrador Site Founder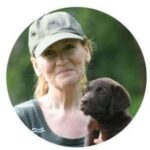 Pippa Mattinson is the best selling author of The Happy Puppy Handbook, the Labrador Handbook, Choosing The Perfect Puppy, and Total Recall.
She is also the founder of the Gundog Trust and the Dogsnet Online Training Program 
Pippa's online training courses were launched in 2019 and you can find the latest course dates on the Dogsnet website