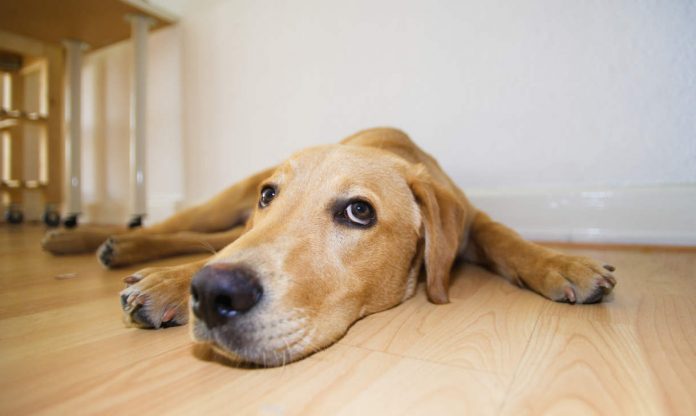 Life with a Labrador that has separation anxiety is no joke. You're home and they are the perfect, loyal companion. You pop to the shops for five minutes, and all hell breaks loose. There is pee or vomit on the floor, doors are splintered, throw pillows are shredded, and you start to wonder why you thought getting a dog was ever a good idea… Then they put their head in your lap, and the process starts its inevitable spin through love and despair again.
But, I promise you, there is hope.
Different Types of Separation Anxiety
Separation Anxiety is a label that is often applied to Labradors that get upset when their owners go out. Some Labradors are definitely scared of being left alone. And as a result of this fear, the dog may become extremely distressed when their owner departs the house.
This distress may be manifested by destructive behavior, soiling, and noise. A lot of noise.
Other Labs get very bored when the owner is absent, and amuse themselves by chewing the furniture and barking themselves silly.
Clearly these are two different types of dog, yet the results are often the same. A damaged home, stressed owners and rather irritated neighbours too! The following scenario is not uncommon.
Separation Anxiety Is Messy
The owner returns from some time out to discover an angry neighbour in their driveway.
Threatening to call the environmental health department over the continuous barking they have been subjected too.
On entering the house with their ears still ringing, the first thing to greet the owner may be the smell of a dog that has messed on the floor.
And the apparent aftermath of a tornado that has passed through the house.
Cushions ripped up, chair legs destroyed, plaster ripped off the walls, these are all possibilities.
Suddenly owning a Labrador does not seem like quite such a good idea.
Separation anxiety in Labradors
Genuine separation anxiety causes great distress, and the labrador will often begin showing signs of that distress in advance of the owner departing.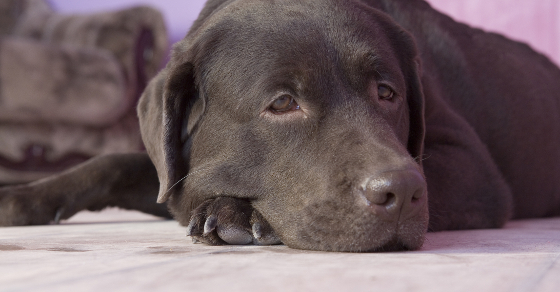 Just fetching your coat or car keys might be enough to start this dog panting and drooling.
Leaving toys or food to amuse the dog is unlikely to be effective on its own, as he may well be too upset to eat or play.
This kind of fear is more common in labradors that have been rehomed from rescue centres. For two reasons.
Firstly the dog has no reason to trust you, or to believe that you will come back, after all his previous family abandoned him, didn't they?
And secondly, dogs that end up in rescue centres may be there because they have problems of this nature which make them difficult to manage.
Getting Help With Separation Anxiety
Separation anxiety can be treated, essentially by rebuilding the dog's confidence that every departure is not a final goodbye. But this process takes time and you will really benefit from some help.
A professional behaviorist will save you a lot of heartache and support you through a programme of gradually desensitising your dog to being left alone.
Starting with tiny short periods of time, and building up slowly to longer absences.
Not all behaviorists are equal. Your veterinary surgeon should be able to refer you to a good one.
Bored and Naughty Labradors!
The dog that gets up to mischief when you are gone, will not show signs of distress as you are leaving.
He may be quite happy for some time after you have left. But eventually he will get bored and look for some entertainment.
The answer is to change the way the dog is managed.
A good walk before you leave will encourage him to sleep whilst you are gone, as well as reducing the chance of 'soiling'.
Crating your Labrador whilst you are gone will protect your furniture and fittings from his attentions.
And leaving him kongs full of frozen food to gnaw on will help to keep him occupied.
Remember that lots of puppies will chew excessively, but grow out of this behavior as they get older.
Managing Your Time
The truth is that we all lead busy lives, and some dogs are left alone far too much.
Dogs really should not be left alone for long periods of time, especially in their early years when bad habits can easily be formed.
Even if the dog's bladder can cope, the potential for mischief and upset is great.
If you have to leave any dog for more than three hours at a time, do ask a friend or neighbour to pop in and let him out in the garden to stretch his legs and provide him with a few minutes of company.
If no-one suitable is available you can pay a local dog walker to take him out for an hour each day.
Coping With Separation Anxiety
Separation anxiety is a tough condition for you and your Labrador to live with.
If you are worried that your dog is becoming distressed when you leave him alone then your best bet is to consult with an experienced behaviorist.
It will take time, but with help, support and commitment you will both be able to get through the situation and move on to a happier life.
Both together and on the occasions when you have to be apart.
More information on Labradors
You can find out more about how to keep your Labrador happy in the Behavior section of our website.
If you'd like all of our best Labrador information together in one place, then get your copy of The Labrador Handbook today.
The Labrador Handbook looks at all aspects owning a Labrador, through daily care, to health and training at each stage of their life. You can buy The Labrador Handbook from Amazon by following this link(paid link). If you do, The Labrador Site will receive a small commission which is greatly appreciated and won't affect the cost to you!
The Labrador Site Founder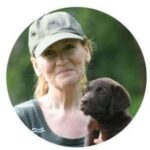 Pippa Mattinson is the best selling author of The Happy Puppy Handbook, the Labrador Handbook, Choosing The Perfect Puppy, and Total Recall.
She is also the founder of the Gundog Trust and the Dogsnet Online Training Program 
Pippa's online training courses were launched in 2019 and you can find the latest course dates on the Dogsnet website