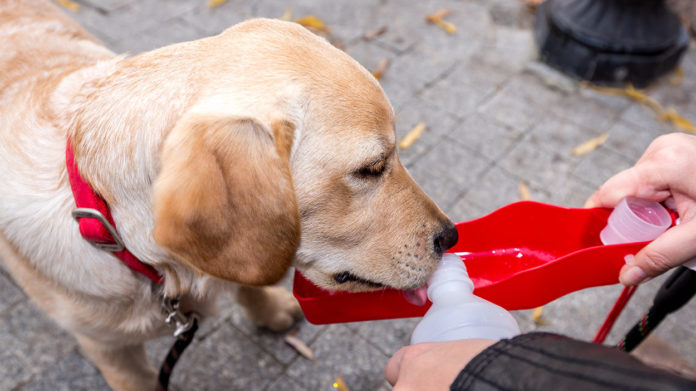 Welcome to our guide on choosing the best dog water bottle for your pet.
Water is one of the most important things to provide our pets with, whether we're taking them outside for exercise or spending time in the house.
Water bottles are the best way to transport water for our pets, but normal water bottles aren't easy for our pets to drink from – they're designed for us!
So, you'll need to find a water bottle designed for a dog to use easily!
There are loads of different dog water bottles – some have bowls attached, and some even come with filters inside!
Choosing the best dog water bottle will depend on the size you need and when it will be used. For example if it needs to be easily portable, or if you want something that can be attached to your dog cage.
This article will look at the different dog water bottles you can buy today, and recommend some based on the reasons you might be using them.
All of these products were carefully and independently selected by the Labrador Site team. If you decide to make a purchase from one of the links marked by an asterisk, we may earn a small commission on that sale. This is at no extra cost to you.
Dog crate water bottle
Dog crate water bottles are a good way to make sure your dog stays hydrated when it spends time in its cage.
These water bottles can be easily attached to the metal of your dog's crate, but still provide a fast way for your dog to drink water while it's inside.
It is important to remember that this type of water bottle should not be needed often, and should not be an excuse to leave your dog locked away in its crate for long periods of time.
Dogs should never be locked in a crate long enough to need one of these water bottles. But, they are a good way to keep your dog hydrated for the short periods it does spend in its crate. Especially on hot summer days.
So, what are some of the best dog crate water bottles we can buy for our pups?
The cheaper option
The Cocopet Dripless crate bottle* is a good choice for small to medium sized dogs.
This water bottle comes in three colors, so it can be a little more personal than regular water bottles.
It has plastic hooks that attach the bottle to the side of your crate, while the water bottle is still easily removable to refill once your dog has finished the water inside.
This dog water bottle has a roller ball dispenser, which stops too much water from leaking out, preventing excess mess in your dog's crate.
However, this specific bottle has had some reviews that state is has leaked more than it should.
It's important to find a dog crate water bottle that does not leak, as a crate full of water will be very uncomfortable for your dog and inconvenient for you to clean.
However, if you decide to try this bottle and it does leak more than it should, Cocopet offer a 100% money back guarantee. Meaning your money won't be wasted on a faulty product.
The pricier option
A second great choice for a dog water bottle for crates is the FATPET chew-proof water dispenser*.
This water bottle is similar to the previous one, but is slightly more expensive.
It also has a roller ball nozzle, but this nozzle is fully stainless steel, rather than just metal at the tip.
This bottle can be placed on the inside or outside of the cage, but has two methods of attachment, to make it better suited for whatever type of crate you have.
Additionally, this bottle has been highly rated for the lack of mess it makes.
Dog bowl water bottle
Dogs also need access to water when they're out and about with you.
Some dogs don't take well to drinking from water bottles, but it can be inconvenient and heavy to carry a normal dog bowl around with you whenever you go out with your dog.
The best solution to this is a dog water bottle with a bowl attached!
These bottles can be great if you're looking for a dog walking water bottle.
Easy & Simple
The Gulpy water bottle dispenser* is a great choice as it comes in multiple colors and is easy to use.
This dog water bottle has a long, narrow bowl attached, and simply flips open to use.
Once you flip it up, just squeeze the bottle to fill the bowl and put it down for your dog!
This bottle is a great choice for long walks, as it also has a convenient belt clip.
It's relatively easy to refill to avoid wasting water – if there's any water left in the bowl when your dog is finished, just unscrew the bottle lid and pour the water back inside.
Multi-Purpose
The next option is slightly larger, but may be better-suited to your dog, as it comes with a proper bowl.
The Hapito Travel Pet Water Bottle* has two compartments inside. So, one can be filled with food and the other filled with water, giving you everything you need if you're going to be outside for a long time with your dog.
It comes with a detachable bowl, that can be collapsed for easy transportation when you're not using it.
This is a great choice if you're taking your dog camping with you or going out for the day, as it saves on space for you but has a section for everything your dog will need.
The bottle is made of lightweight plastic, and has a watertight seal to prevent any leakage if you're carrying the bottle in a backpack.
This is a great choice for dog owners who want something easily portable that will carry lots of water and be easy for your dog to use.
Dog hiking water bottle
If you take your dog hiking with you, a dog walking water bottle is a must-have!
Dogs need to access water when they're doing lots of exercise, especially if you take them hiking in hot places.
There are a couple of different designs you might want to consider.
Squeeze it Out
This Highwave dog bottle* is a squeezy bottle with a bowl attached to the top.
The squeeze feature means it's super easy to use, and is great for hiking trips when you're having a quick break.
When you squeeze this bottle, water will be released into the bowl for your dog, and when you stop squeezing, the water will be sucked back into the bottle.
This is a great way to prevent leakages when you're moving around a lot, but anything that presses on the side of the bottle when you're travelling could cause water to spill out.
It comes with a strap to help reduce this risk when you're walking around, but could be messy when carried in a backpack.
Additionally, it you suffer from something like arthritis, you might find this portable water bottle difficult to use, as it requires constant squeezing to release any water.
If you don't like the sound of this water bottle, perhaps one of our next options is better.
Filtered and Safe
This next dog water bottle* is great for hiking, or trips to the beach, as it comes with a filter inside to make sure any water your dog drinks is safe and clean.
Water is released from this bottle and into the curved bowl attachment at the top by pressing a button on the front.
This button also locks the bottle once you're finished using it to prevent water from spilling in transit.
This means the bottle can be carried in your backpack, or looped onto your clothing with the rope it comes with.
This is a great choice if you're looking for something small and easy to carry, but is a little more expensive than the other bottles in the long run, as you will need to replace the filter every 2 – 6 months.
Additionally, this bottle has no way to return water into the bottle if your dog decides not to drink it all.
Durable Stainless Steel
The final water bottle is quite similar to the one above.
The H204K9 stainless steel water bottle* does not come with a filter, like the previous option, but has a very similar bowl attachment.
Rather than sitting on the top, the attachment folds down to fit the curve of the bottle, giving your bottle more space to hold liquid.
It has a huge range of colors, and is more durable than the other plastic bottles we've looked at in this article, as it's made of stainless steel.
The bowl-shaped lid is not attached by hinges, meaning if it's dropped, it has fewer parts that could break, but it is still simple to remove – you just need to twist the lid off!
This twisting top is great for preventing any spillage, meaning you can carry the water bottle in your backpack, freeing up your hands on your hike.
This is a great choice for larger dogs, as it has a slightly larger carrying capacity than many of the other bottles mentioned in this article.

Insulated dog water bottle
One of the main issues people have when giving their dogs water on walks is making sure that the water is cool enough to keep your pup feeling refreshed.
This H204K9 water bottle* has an extremely similar design to the previous one we looked at, but also has insulation on the outside to keep your dog's water cold.
This is one of the biggest criticisms of other dog water bottles!
This choice has the same twist-on, bowl-shaped lid, with an opening that is wide enough to fit ice inside your bottle.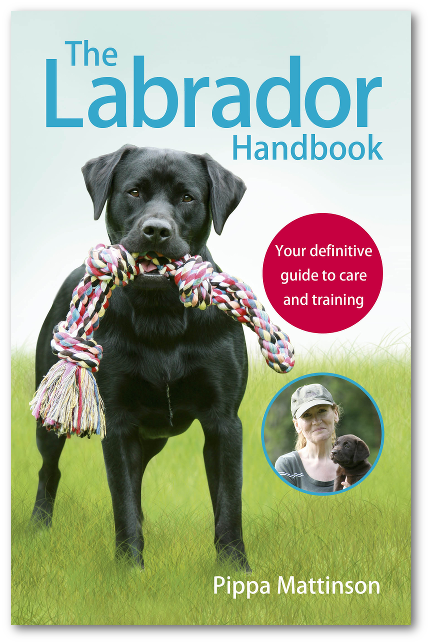 If you're used to taking your dog on hikes in places that can be quite hot, this is a great way to make sure your pup is kept cool and hydrated, as overheating can be a real danger for dogs.

Best dog water bottle
This article has looked at some of the most highly-rated dog water bottles that you can buy today.
Choosing the best dog water bottle can be a little more difficult than just looking at reviews, as what works for one dog may not work for another.
Some dogs might not like the small-bowl shaped lids that attach on to most of these water bottles, but may prefer one with a proper bowl.
Additionally, you need to take the size of the bottle into consideration, as choosing a tiny water bottle for your big dog will mean you'll be refilling it frequently throughout your hikes.
One water bottle won't fit every dog, but this article gives a good range of types to help you find the best one for your pup.
Do you use dog water bottles when you take your dogs on hikes? If you've used any of the bottles we've mentioned in this article, or have found some that are better, be sure to let us know about your experiences in the comments!
Affiliate link disclosure: Links in this article marked with an * are affiliate links, and we may receive a small commission if you purchase these products. However, we selected them for inclusion independently, and all of the views expressed in this article are our own.
The Labrador Site Founder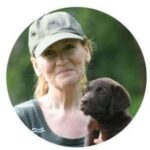 Pippa Mattinson is the best selling author of The Happy Puppy Handbook, the Labrador Handbook, Choosing The Perfect Puppy, and Total Recall.
She is also the founder of the Gundog Trust and the Dogsnet Online Training Program 
Pippa's online training courses were launched in 2019 and you can find the latest course dates on the Dogsnet website