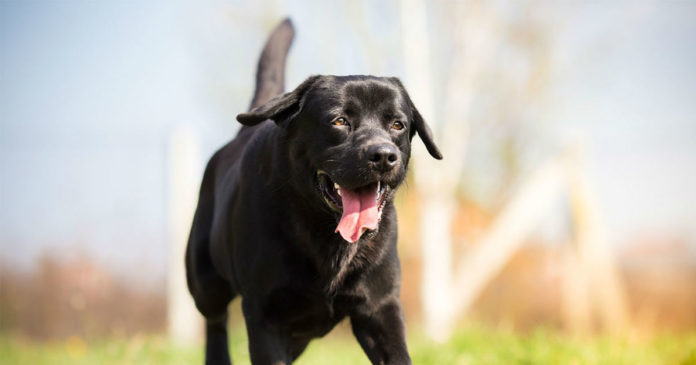 Joint supplements for dogs are a confusing topic at best. In fact, canine hip and joint health is also a confusing topic in its own right. Which dogs are most prone to hip and joint problems and why? When do the problems typically start? If joint and hip supplements for dogs can be helpful from either a preventative or treatment level, when should you start giving them? On that note, what are the best hip and joint supplements for dogs and how much should your dog be taking?
Believe it or not, these questions can even be confusing to veterinarians because there isn't sufficient research in the field of canine joint and hip health to answer every question with solid research data. Having said that, in this article we will let you know which hip and joint health supplements for dogs deliver promising results in veterinary research studies. Feel free to discuss them with your dog's veterinarian.
Products included in this article were carefully and independently selected by the Labrador Site team. If you decide to make a purchase from one of the links marked by an asterisk, we may earn a small commission on that sale. This is at no extra cost to you.
What are joint supplements for dogs?
Joint supplements for dogs are pills that can be taken in the attempt to improve your pup's mobility. They will contain something that is believed to keep them from having movement problems like arthritis in the future, or to decrease current symptoms. But do they really work?
Common Hip and Joint Issues for Dogs
When you see a pup—young or elderly, big or small—limping or whimpering or struggling stiffly to stand or sit down, you can feel that empathy as you imagine how much it hurts to move those aching joints. This is because, as veterinary researchers point out, dogs get a lot of the same types of joint issues people get, and at a fundamental level, the pain and discomfort feels pretty much the same.
These are the most common joint issues dogs can develop:
Osteochondrosis
Osteochondrosis is sometimes called "too-rapid growth disease" or simply "growing pains." It primarily impacts medium, large and giant breed dogs. The underlying cause is currently unknown—it may or may not be hereditary and may also be triggered by diet and lifestyle choices in puppyhood. For this reason, osteochondrosis can sometimes (but not always) be avoided with careful dietary monitoring and modifications to keep growth steady and stable over time.
Degenerative Joint Disease (Osteoarthritis)
Degenerative joint disease can be triggered in a number of ways. Sometimes it starts in young dogs due to developmental abnormalities (such as osteochondrosis) or inherited joint deformities. At other times the natural wear and tear of time can cause joints to begin breaking down.
Lameness, scarring, swelling, muscle wasting, bone thickening and other symptoms can all indicate a developing case of osteoarthritis.
Dysplasia
Dysplasia is a term that means "malformed socket." It can affect the hip, shoulder and elbow in dogs. It is known to be a hereditary condition and typically affects larger breed dogs more frequently than it affects small breed dogs, although it can affect dogs of all sizes.
The only treatment for dysplasia is surgical correction. Otherwise, the likely result as the condition progresses is that your dog will be unable to walk.
Arthritis
There are several different types of arthritis that can arise from autoimmune, infectious or cancerous causes. Stiffness, fluid buildup, joint swelling in one or several joints, and other symptoms are common when arthritis is present. Arthritis can also be hereditary in some purebred or hybrid dog breeds.
Patellar Luxation
Sometimes called "trick kneecap," this joint issue affects primarily small and toy breed dogs of any age and causes the kneecap joint to slip out of socket (dislocate). The initial treatment is typically to try to manually manipulate the joint back into the socket and then allow it to heal. It is known to be hereditary and can cause lameness and limping in minor cases and joint and cartilage deformation in major cases.
Other Joint Issues
Many more variations on these themes exist—some more common and some quite rare. Your veterinarian is the best one to examine your dog and determine exactly what type of joint condition your dog may have.
Giving Hip and Joint Supplements for Dogs
Finding the best joint supplement for dogs is not as simple as just asking "what is the best joint supplement for dogs?" and then ordering that supplement. We wish that it was. As well, as with any type of medication or supplement (whether prescribed or over-the-counter), dosage, frequency, treatment length and other factors can also impact efficacy.
Your veterinarian is always the right point of contact before beginning to give your dog any type of dog joint care supplements or dog joint pain supplements. Together, you should carefully review possible interactions with any other necessary medications your dog may be taking and also take a look at the potential impact of a new supplement on your dog's other preexisting health conditions, if any.
Speaking to your vet about joint supplements for dogs
Before starting to give your dog any dog joint supplements natural or synthetic, you should also ask your vet about each of the following:
The best time of day to give your dog the supplements.
The maximum recommended dosage per day for your dog's age, weight and needs.
Whether to give the supplements with food or between meals.
What to do if your dog doesn't take supplements easily (for example, it may be possible to hide them in treats or mix them in meals to get your dog to take them).
Any possible side effects to watch out for.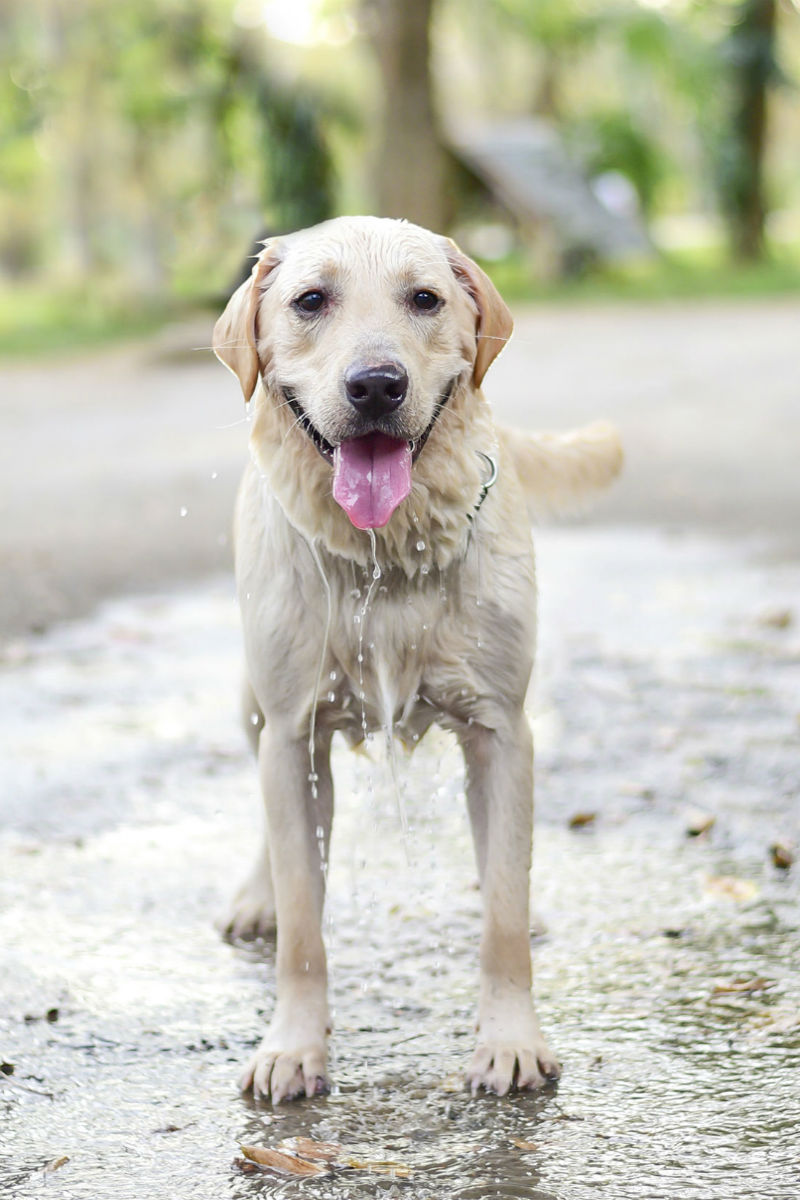 Best Joint Supplement for Dogs
Three different basic types of joint supplements exist—ask your vet which might be the most appropriate for your dog's current and future joint health needs.
Preventative supplements aim to keep your dog's joints healthy and strong so joint problems do not develop in the future.
Treatment supplements work to repair joint damage.
Nourishing supplements support your dog's body and immune system to continue building healthy joints.
These are some of the best known and most popular joint supplements for dogs.
Glucosamine / Chondroitin joint supplements for dogs
Glucosamine is a naturally occurring compound that forms in cartilage. In the body, its responsibilities include fighting inflammation, nourishing cartilage and creating the cushioning fluid around the joints. Glucosamine can also be made synthetically as glucosamine hydrochloride or glucosamine sulfate.
Chondroitin also occurs naturally in the cartilage, and can also help with reducing inflammation and forming new cartilage/reinforcing existing cartilage and connective tissues.
One important research study did a thorough review of research to date into the efficacy of glucosamine and chondroitin dog arthritis supplements. Unfortunately, these clinicians found the results of past research to date to be largely inconclusive. The reasons cited include varying formulations, potency, active ingredients and other impossible-to-control-for factors (currently, natural supplements like these are not heavily regulated in the same way as are prescription-based drugs).
However, if you do want to try using glucosamine / chondroitin (these "nutraceuticals" are typically prescribed together, and sometimes with the addition of MSM, a naturally occurring type of sulfur), researchers say these supplements are considered benign (non-harmful) overall. In other words, with your veterinarian's approval, it probably can't hurt to try it.
Hyaluronic Acid
Hyaluronic acid (HA) is a naturally occurring component in the body that helps to create and support the skin, eyes, connective tissues, joints and joint fluid, as well as other body systems.
When administered as an injectable supplement for joint issues in dogs during clinical trials, HA delivered similar positive results to traditional conservative canine joint treatments. However, researchers concluded that additional trials with more stringent controls are needed before making a firm statement that HA in supplement form can help canine joint pain and mobility issues.
Collagen joint supplements for dogs
There is some research to support giving a specific form of collagen, undenatured type-II collagen (UC-II), to help reduce pain and inflammation associated with arthritis. Dogs participating in the research study received either 1 mg or 10 mg per day for 90 days. Those in the treatment group showed statistically significant improvements in flexibility, pain levels and overall physical activity.
Dogs were tracked for 30 days following the end of the study, and results showed that all symptoms of arthritis returned once UC-II doses were stopped. This makes UC-II another supplement that may be worth discussing with your veterinarian if your dog is struggling with stiffness, pain or lameness associated with arthritis.
Omega-3 Fatty Acids (Fish Oil)
Omega-3 fatty acids, sometimes called simply "fish oil," have shown some promise in reducing inflammation—certainly there is more positive research to support the use of fish oil overdosing your dog with glucosamine, making this one of the best arthritis supplements for dogs, at least in theory.
Many commercial dog foods already contain fish oil, but not always in sufficient quantities to treat existing joint inflammation. Be sure any supplement you choose contains both EPA and DHA. You can talk with your veterinarian about the proper dosage using this handy dosing chart for guidance.
Boswellia Serrata joint supplements for dogs
Boswellia serrata, or Indian Frankincense, is a gummy resin made by the boswellia bush. In extract form, its use in Ayurvedic (Indian) medicine dates back to ancient times.
Today, one important research study investigated whether oral boswellia extract could potentially decrease pain and improve joint health in canine research subjects. One strength of this study was that the administration and purity of the extract was heavily standardized from patient to patient. Researchers saw positive reduction in pain and improvement in mobility after just two weeks in 71 percent of patients, with improvements in all patients after six weeks.
Dosage was 400 mg per every 10 kg of the dog's body weight. Only mild diarrhea and flatulence were reported as side effects, and these occurred only briefly in just five out of the 24 participating dogs. This research is sufficiently positive to make Boswellia serrata a supplement you may want to talk with your vet about as an option for supplements for hip dysplasia in dogs.
Curcumin (Turmeric) joint supplements for dogs
Curcumin is the active ingredient in turmeric, a popular spice throughout Asia and India. Like Boswellia serrat, curcumin has a centuries-long history of use in Ayurvedic as well as traditional Chinese medicine. While there are many human studies highlighting positive results in clinical trials and overall potential to reduce inflammation and pain and aid in healing, very little research has been done in dogs with joint issues.
Intriguingly, one recent human research study specifically looked at the potential for improvements in joint issues when curcumin and Boswellia serrata are combined. After a 12-week study period, all human research participants showed decreases in joint pain. It is now thought that curcumin and Boswellia serrata can work together to make more progress than either can on its own.
Unfortunately, no such research has yet been performed using canine research participants, so there is no way to say if the impact will be similar in dogs.
Hip and Joint Supplements for Dogs
These combination hip and joint supplements for dogs come highly rated by dog owners and may be worth discussing with your dog's vet.
Bayer Animal Health DVM 9316 Synovi G4 Soft Chew*: These highly rated soft chews contain Boswellia serrata, MSM, turmeric (curcumin), glucosamine and other ingredients in a formula designed to support healthy joint function.
The package includes a dosing recommendation chart.
NaturVet Clinically Tested ArthriSoothe-GOLD Level 3 Advanced Joint Care for Dogs*: This highly rated supplement for dogs contains glucosamine, MSM, chondroitin, and hyaluronic acid (HA), plus Boswellia serrata and other ingredients.
The chewable tablet is timed-release.
Nutra-Paws Osteo-Pet Total Joint Care for Dogs*: This highly rated supplement includes glucosamine, chondroitin, MSM, hyaluronic acid, Boswellia serrata and Omega-3 fatty acids (fish oil), plus other ingredients.
The flavor is "bacon and cheese."
Joint Supplements for Dogs
The world of over-the-counter supplements, or nutraceuticals, can be a confusing one. It is also worth remembering that supplements can vary in quality from one brand to the next. If you do want to try one of these joint supplements for dogs, be sure to talk with your veterinarian to choose a trusted brand. Have you ever used joint supplements for dogs? Drop us a comment to share your story.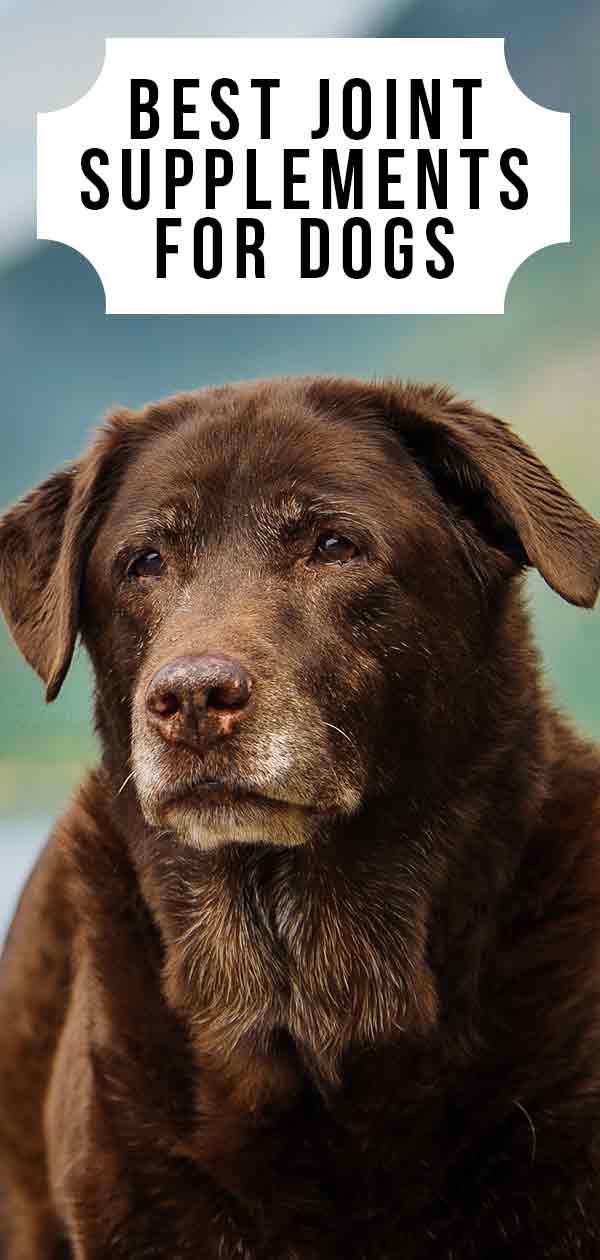 Affiliate link disclosure: Links in this article marked with an * are affiliate links, and we may receive a small commission if you purchase these products. However, we selected them for inclusion independently, and all of the views expressed in this article are our own.
Resources and Further Reading:
Bhathal, A., 2017, "Glucosamine and Chondroitin Use in Canines for Osteoarthritis: A Review," Open Veterinary Journal
Carapeba, G., et al., 2016, "Intra-Articular Hyaluronic Acid Compared to Traditional Conservative Treatment in Dogs with Osteoarthritis Associated with Hip Dysplasia," Evidence Based Complementary and Alternative Medicine Journal
Crupi, M., DVM, et al., 2017, "Common Knee Problems in Dogs: Patellar Luxation," Veterinary Specialty and Emergency Center
Deparle, L.A., et al., 2005, "Efficacy and Safety of Glycosylated Undenatured Type-II Collagen (UC-II) in Therapy of Arthritic Dogs," Journal of Veterinary Pharmacology Therapy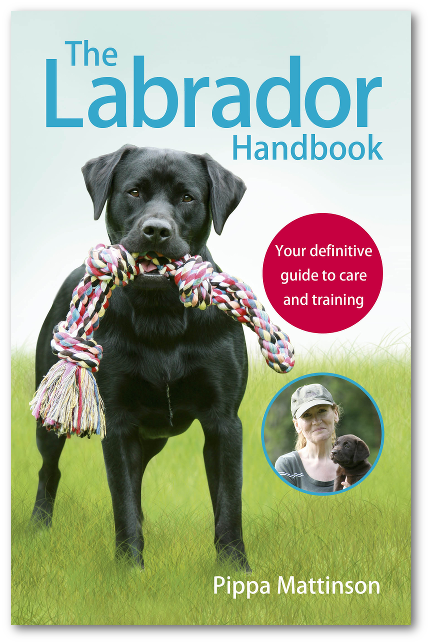 Duerr, F., DVM, et al., "Arthritis Management and Prevention," Veterinary Teaching Hospital at Colorado State University
Hanson, R., DVM, DACVS, DACVECC, et al., "Other Joint Disorders in Dogs," Merck Veterinary Manual
Haroyan, A., et al., 2018, "Efficacy and Safety of Curcumin and Its Combination with Boswellic Acid in Osteoarthritis: A Comparative, Randomized, Double-blind, Placebo-Controlled Study," BioMed Central
Marti-Angulo, S., et al., 2014, "Efficacy of an Oral Hyaluronate and Collagen Supplement as a Preventative Treatment for Elbow Dysplasia," Journal of Veterinary Science
Reichling, J., et al., 2004, "Dietary Support with Boswellia Resin in Canine Inflammatory Joint and Spinal Disease," Schweiz Arch Tierheilkd/National Institutes of Health
Wooten, S.J., DVM, 2017, "Joint Supplements for Dogs: The Helpful vs. The Hype," Veterinary Medicine DVM360
The Labrador Site Founder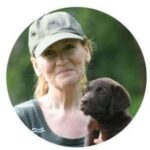 Pippa Mattinson is the best selling author of The Happy Puppy Handbook, the Labrador Handbook, Choosing The Perfect Puppy, and Total Recall.
She is also the founder of the Gundog Trust and the Dogsnet Online Training Program 
Pippa's online training courses were launched in 2019 and you can find the latest course dates on the Dogsnet website