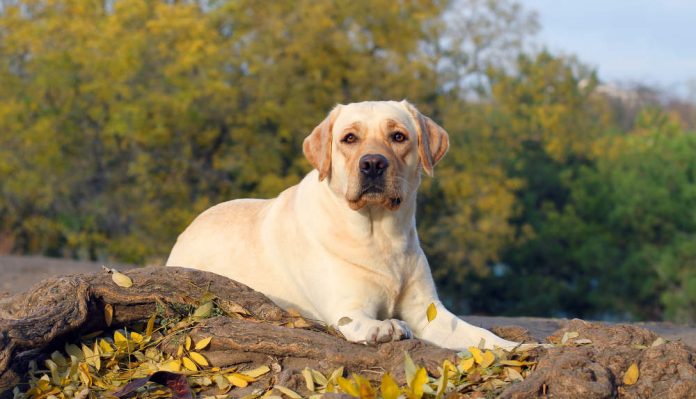 The Labrador we love has distinct physical and behavioral characteristics. These can differ between the show and working types, but there are common Labrador traits that both varieties share. Your Labrador will be friendly, sociable and often exuberant in personality.
The Lab loves human companionship, but is first and foremost a retriever. Your dog was bred for generations to stay close to their human partner. Waiting patiently until asked to fetch a game bird from the undergrowth. They needed to be able to follow directions, and deliver a retrieve quickly and carefully to hand. The Labrador's highly co-operative and intelligent temperament reflects that role perfectly. And it is what has made him such a perfect fit for so many other roles in our society.
If you are thinking of bringing a Labrador into your life you need to know what you are getting into. This honest review and assessment of Labrador Retriever characteristics and temperament, will help you decide whether this magnificent breed of dog is the right companion for you at this point in your life. We'll be looking at the Labrador's aptitudes and abilities, his personality traits and his renowned temperament.
The Labrador's Original Purpose
Your Labrador's characteristics are a direct result of their history and purpose.
The Labrador falls into the category of 'sporting breeds' of dog. The history of his development as the world's favorite gundog is a fascinating story. The origins of the Labrador have had a profound influence on his appearance, personality and behavior.
The original fisherman's friend
The Labrador was originally bred as a fisherman's companion, working alongside the men and women who inhabited the inhospitable island of Newfoundland, long before modern conveniences, and technology was available. This was a job requiring a waterproof coat thick enough to withstand very low temperatures, and an ability to swim in strong currents and for long periods of time.
Imported to England, the Lab's role changed to that of shooting companion, where his skill at finding game, his ability to carry objects in his mouth without harming them, and his intelligence and biddable temperament would make him the world's finest retriever.
A talented dog
Labrador characteristics diverged them into many different roles over time. From therapy dog, to military dog, to companion – and his competence at everything he is asked to do, has defined him. He is clearly a dog of many talents.
Physical characteristics of the Labrador Retriever
The Labrador retriever is a sturdily built medium to large dog. He may weigh anything from 50 to 80lbs once adult, depending on his breeding. He has a well-proportioned body with a healthy balance between length of leg and length of spine. A shape that is often described as 'short coupled'.
What does a pedigree Labrador look like?
The distinguishing features of the Labrador Retriever are well known. He has a broad skull with 'chiselled' features that are softened by his kindly expression and soft ear flaps. His body is powerful and well muscled and ends in a thick tail that tapers to a point. His full length muzzle houses a good cooling system and a strong set of jaws with a full compliment of 42 large white teeth.
English Labs have a broader chest, heavier build and blocky head. American Labrador characteristics are more reminiscent of their working ancestors, with a slimmer shape and less rigid conformation to the breed standard.
The Labrador Retriever's Coat
The Labrador's short dense 'wash and go' coat comes in one of three gleaming solid colors and needs little grooming to keep it looking smart.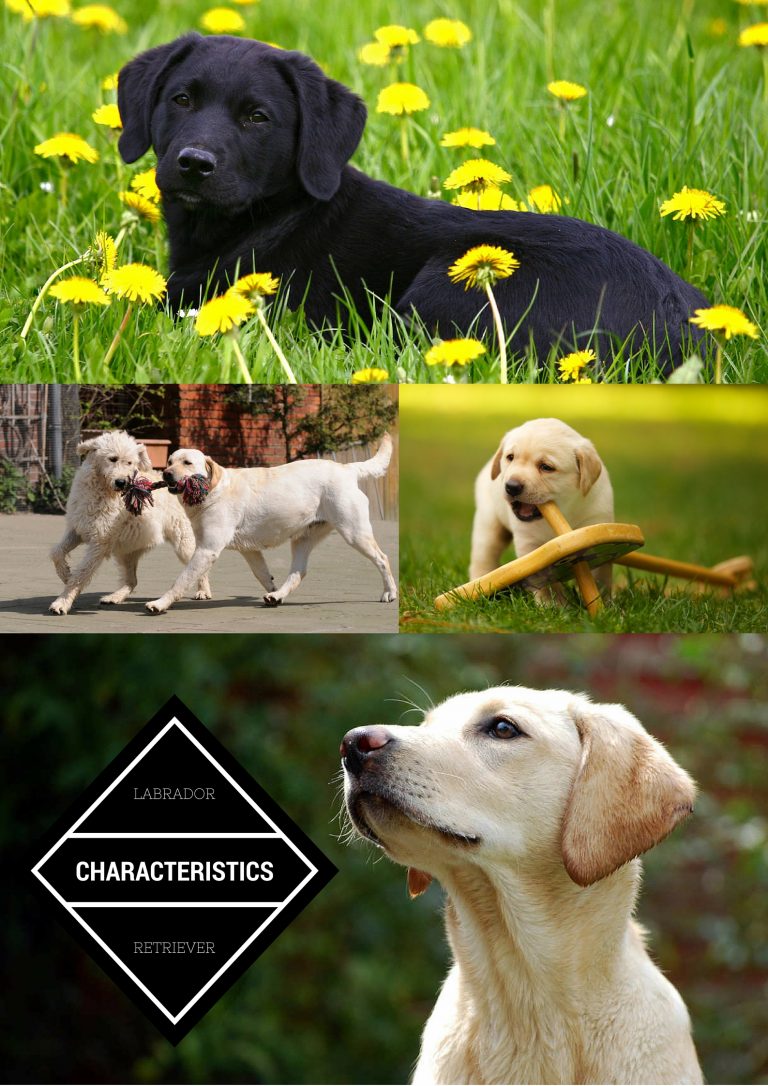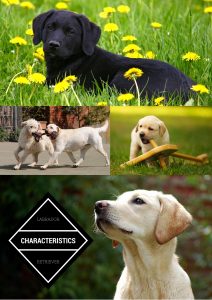 The coat has a shining slightly oily surface and the individual hairs are straight. Although a slight ripple can be seen along the back of some dogs once the adult coat is established. A thick undercoat and the water resistant top coat keep your Labrador warm in the coldest water. And a quick shake on emerging from the sea or lake, sees the majority of the water removed from its repellant surface.
The genetics of Labrador coat color is interesting and more straightforward to understand than many other breeds of dog. Strictly speaking Labradors come in only three colors. Yellow, Chocolate, which used to be called Liver, and Black. Yellow shades range from the palest white to a deep red.
You can also get dilute versions of each coat color that express as champagne, silver and charcoal respectively.
Overall appearance of the Labrador
His sleek water resistant coat, soft flapped ears and thick otter tail give the Labrador an almost seal-like appearance. In the water, this likeness is intensified. He looks as at home there as he clearly feels, swimming low in the water and confidently powered by strong webbed paws.
On land he is equally sleek and powerful, giving the overall appearance of a fit and healthy canine athlete.
The Labrador's athletic ability
The Labrador is a versatile dog who can sprint at speed over short distances or maintain an easy loping stride that will carry him for mile after mile. For a moderately large dog he is surprisingly agile, capable of jumping heights well in excess of a metre. The extent of his physical prowess may vary depending on the type or group of Labradors he belongs to, and we'll look more closely at that in a moment.
Labrador Retriever temperament traits
The Labrador's kind expression is mirrored by his kind nature. His easy going, tolerant temperament and love of water are hallmarks of the breed, but of course, not all Labradors fit this breed description precisely.
It is fair to say that sometimes poor temperament traits such as aggression and nervousness can appear in the breed. But is it also fair to say that this is not the norm.
Special Labrador characteristics
Born from generations of being bred for retrieving in the shooting field, the Labrador has some special and important breed features. His gentle mouth, is capable of carrying delicate items with great care, and his urge to pick up and carry things is strong. His ability to track items by scent alone is extraordinary and it is no surpise that Labradors are so sought after by bomb disposal teams, customs and excise authorities and those engaged in sports where tracking is involved.
Labrador Retriever Personality
Many people are convinced that their Labrador has a sense of humor, and some Labradors are extremely playful, and not just as puppies. Others can be bumptious, clumsy, and bouncy, especially when young. Temperament, abilities and general personality may of course vary somewhat from individual to individual.
English Labrador characteristics tend a little more towards the serious, where American Labs are more sensible, driven and high strung.
Retrieving ability in Labradors
Most Labradors, even those from show stock have an inborn urge to retrieve things. This is often reflected in their fondness for carrying things around in their mouths and even chewing things up. The basic urge to chase and pick things up is of course a result of generations of breeding for the Labrador Retrievers' original purpose. The instinct to bring those things back can be more variable!
Who are Labradors well suited for?
Despite the fact that Labradors are so popular, some people are not well suited to life with one. The Labrador is a large dog that is boisterous and destructive when young, sheds copious amounts of hair and has a particular affection for mud and rolling in dead things. Labradors are social and affectionate dogs. Your puppy won't like being left alone for long periods of time. Daily dog care is essential if you work full time.
If you are not house proud and have time to exercise train, and simply be with, an athletic, affectionate, and powerful dog. You might well enjoy life with a Lab.
The Labrador Site Founder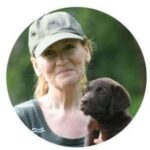 Pippa Mattinson is the best selling author of The Happy Puppy Handbook, the Labrador Handbook, Choosing The Perfect Puppy, and Total Recall.
She is also the founder of the Gundog Trust and the Dogsnet Online Training Program 
Pippa's online training courses were launched in 2019 and you can find the latest course dates on the Dogsnet website