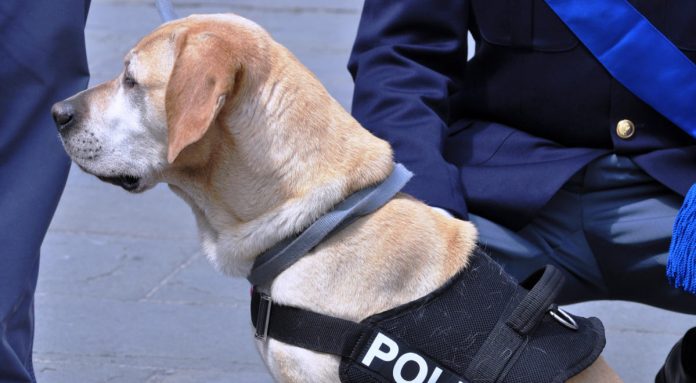 Labradors have a long tradition of working as service dogs.
In recent years these roles have become increasingly diversified.
From his origins as a hunting dog, the Labrador Retriever has arguably emerged as one of the most able, intelligent and useful animals ever to work with their human companions.
Let's take a look at some of the roles that Labradors now play in enhancing and protecting the lives of people across the globe.
Assistance Dogs for the disabled
We are all familiar with the Labrador's role in working as a guide for people with impaired sight.
And most of us are familiar with the work of the international charity 'Guide Dogs', previously known as The Guide Dogs for The Blind Association.
A number of different breeds of dog are trained as Guide Dogs, but overall the Labrador is by far the most popular.
Guide dogs play a vital role in supporting blind people, by allowing them to have more access to their community and live a more independent life.
Less well known, but equally important, are a range of other services performed by Labradors on behalf of people with other disabilities.
We liked the news story of service dog Rita who spent time recently with twelve year old Mikaela Buhr from Iowa.
Mikaela has a genetic disorder which causes bone and joint problems making some physical activities difficult or painful.
Dogs like Rita can help with many daily tasks which cause difficulties for disabled people.   Rita was trained by Canine Assistants  a charity in Georgia USA.
Here in the UK assistance dogs for physically disabled children and adults, are trained by 'Dogs for the Disabled'  a registered charity based in Oxfordshire
Dogs for the Disabled also train assistance dogs for families with a child with autism.  Do check out their website which features some stunning labradors.
Here are some of the cool things that trained assistance dogs can do:
Pick up really difficult to reach things such as a phone, keys or a wallet. Some can even pick up a credit card!
Help people to get dressed and undressed, they even tackle zips!
Collect the post rather than attack the postman!
Load and unload the washing machine. (Yes, really!)
Open doors
Interrupt a child's tantrum
Stop a child from running into the road
Play games – one even plays pairs with his owner
Speak – although their conversation is a little limited!
Press the button on a pedestrian crossing
Dogs for the disabled will train about 70 dogs this year and would be very grateful for any donation, no matter how small.
The tasks carried out by disability dogs are many and varied.
From hearing dogs who let their owners know when someone is at the door, to disability dogs who help with essential daily tasks like unloading the washing machine.
Routine tasks which enable the owner to live their lives without relying on other people.
Often unremarked but definitely worth a mention are our 'unsung heroes', the puppy walkers.
These are the people who take service dogs into their lives for that all important first year,  until they are ready for training.
Service dog for our Armed Forces
Labradors are also important members of our armed forces teams.
Their incredible noses, bred to enable them to track wounded game, are also ideally suited to detecting tiny traces of explosive material.
In February 2011 a Labrador called Treo from Rutland, UK was awarded the Dickin medal with his handler Sgt David Heyhoe.
For his role in protecting his human comrades from Taliban traps.
In the USA Labradors are also employed by the Marines in detecting IEDs in Afghanistan and other dangerous warzone.
They are highly regarded members of their teams, and are responsible for saving the lives of soldiers and civilians alike.
Drug and Bug Detection
Service dogs don't just use their  noses in support of the armed forces.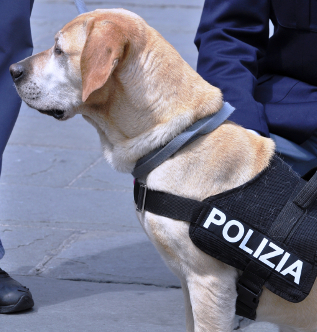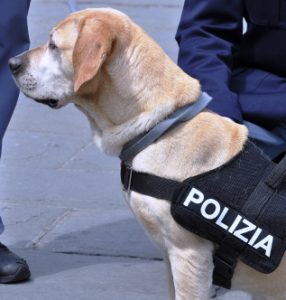 They play vital roles with the police and custom and excise officials too.
Labradors, along with spaniels, play leading roles in drug detection throughout the Western World.
Patrolling borders at airports and ferry terminals, preventing illegal and dangerous materials from being brought into the country.
Labradors are also used by private companies, like pest control companies.
Here they have been found to play an important role in sniffing out 'bed bugs'!
Medical Detection Dogs
A more recent development has been the training of Labradors to detect all kinds of medical emergencies and health problems.
From alerting owners to an impending seizure,  to detecting low blood sugar in diabetics,  and tumors in cancer sufferers.
You can find out more about  these amazing dogs on the Medical Detection Dogs website.  This is another very worthy charity that needs all the help it can get.
Search and Rescue
In the appalling aftermath of terrible disasters such as earthquakes and tornadoes, Labradors and other search and rescue dogs offer a lifeline of hope.
Working in detecting living humans trapped beneath piles of rubble or debris.
In the UK search dogs are used on a regular basis to search for missing people, the elderly or confused for example, and also hill walkers that have become lost in remote areas.
For more information visit the National Search and Rescue Dog Association
Working Retrievers
Last but not least, is the Labrador's supreme ability as a working retriever in the shooting field.
This is of course the Labrador's original purpose and true vocation, a role at which he excels and in which he is utterly at home, on land and on water.
Labradors as service dogs
Due to their intelligence, sensitivity and kind natures, the enthusiastic Labrador Retriever breed has been welcomed into so many walks of life.
From the police, to the armed forces, to private companies, but perhaps most importantly into our homes as well.
Whether it's as a supportive service dog, or a valued and treasured pet. The Labrador really is an amazingly versatile breed.
If you have any interesting stories about Labradors and the roles they play in helping humans, we would love to hear them in the comments box below!
More information on Labradors
If you'd like all of our best Labrador information together in one place, then get your copy of The Labrador Handbook today.
(paid link)
The Labrador Handbook looks at all aspects owning a Labrador, through daily care, to health and training at each stage of their life. You can buy The Labrador Handbook from Amazon by following this link(paid link). If you do, The Labrador Site will receive a small commission which is greatly appreciated and won't affect the cost to you!
References and Resources
The Labrador Site Founder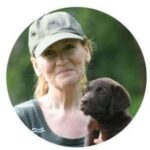 Pippa Mattinson is the best selling author of The Happy Puppy Handbook, the Labrador Handbook, Choosing The Perfect Puppy, and Total Recall.
She is also the founder of the Gundog Trust and the Dogsnet Online Training Program 
Pippa's online training courses were launched in 2019 and you can find the latest course dates on the Dogsnet website