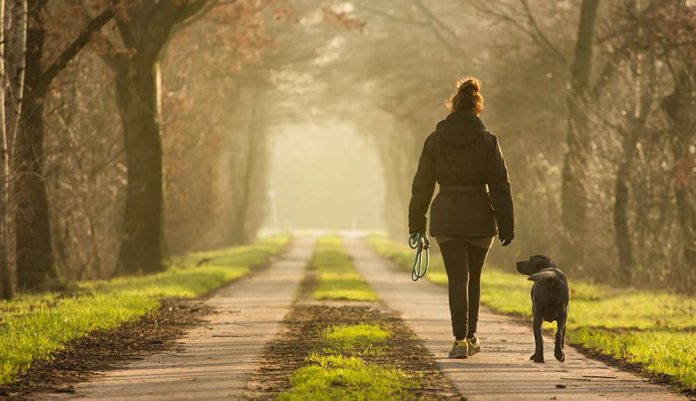 Teaching a dog to heel can be achieved in three simple stages, establishing the position, walking at heel and adding distractions. We teach these stages using positive reward based methods. Your dog will learn to heel faster if they are clear what you expect of them, and when you use plenty of high value treats. Teaching a dog to heel isn't something you can rush or skip through, but if you do it properly your life will be much easier for having put in the effort.
During heel walking the leash is never tight, or the dog doesn't wear a leash at all. Off leash heel walking can be very useful in situations where you need your hands free or when you have more than one dog at heel. And it's totally achievable for your dog.
Contents
When your dog is at heel they will have their head and neck aligned with your leg. The perfect dog heelwork will have your pet frequently looking up at you and making eye contact too. Service dog heelwork is slightly different as they might need to be pulling forward and watching out for obstructions and dangers, but for most other formal work this is the standard position. The dog at heel will be very close to your leg, even brushing up against it at times.
The great thing about teaching a dog to heel is that the dog is under very close control in this position. You can communicate with the dog quietly and easily, and reward him quickly and easily. Most importantly with a big dog, a dog that is heel walking is not pulling on the lead. No more having your arms stretched out of their sockets by a large and boisterous dog.
Training Session Schedules
Teaching a dog to heel is a process that requires regular training sessions. Five to ten minutes, two or three times a day is ideal to begin with. Try to link the sessions with something else you do each day to make sure you don't forget. Regular sessions will bring rapid results. Training at weekends or every three or four days, not so much. Especially in the beginning.
The Stages of Teaching a Dog To Heel
The process of training a dog to heel goes through four key stages:
Establish heel position
Walk at heel
Add distractions
There is no 'right' or 'wrong' heel position. I suggest you use the dog's shoulder or collar as a guideline and aim to have that level with your knee. His head will be just a little bit in front. This is a comfortable position for both of you.
Traditionally Labradors and other gun dogs were required to heel on the left hand side, this is simply to leave the hander's right hand and arm free for his gun. Left handed hunters heel their dogs on the right. It doesn't matter which side you choose unless you intend to shoot over your dog. Just pick a side and be consistent about it.
The heel command – choosing and using
Traditionally dog trainers gave a command right at the start of the training process. They then set off on a walk and punished or corrected the dog each time he moved out of the desired position. At first the dog didn't understand the command, but he eventually got the hang of it after a few corrections.
We don't teach like this any more. In modern training the dog is shown how to carry out the desired actions before the command (now called a cue) is added. The new command then takes on the correct meaning right from the start. This helps to avoid unnecessary corrections
Stage 1: Establish the heel position
What we are going to do is get the dog into the heel position, let him know that this is the position we are looking for and reward him for being there. We'll start in a quiet room or yard with no distractions, no other dogs, no kids, no toys, just you and the dog. We won't be telling the dog to 'heel' (he doesn't know what that means yet). You don't need a leash.
QUICK HEEL TIPS:
If you position yourself so that your left hand side is next to a wall with just enough space between you and the wall to accommodate the dog, it will help to keep him close to you and in the right position
Have treat pot in a pocket or in a pouch clipped onto your belt. Hold a treat in each hand. With the dog in front of you (waiting for his treat) put the right hand treat in front of his nose (don't let him have it) and lure him around behind you until he can see the treat in your left hand.
Tell the dog 'yes' as he moves into the heel position on your left and give him the treat from your left hand. Do this only two or three times then repeat without a treat in your right hand.
Show him the palm of your hand so he can see it is empty, then carry out the exact same movement you did when your hand had a lure in it. This hand – the one that held the lure, is now going to be a hand signal or heel cue. If the dog refuses to follow the empty hand repeat one time with a food lure then try again without.
Over the next few repetitions, once your dog willingly follows your 'fake' lure, you can change your lure hand shape so that instead of holding a pretend lure, it becomes a simple pointing motion with one finger. You point behind you and the dog goes around behind you and moves into the heel position.
QUICK HEEL TIPS:
Lose the lure as quickly as you can to avoid getting stuck with it. Most dogs will follow the empty lure hand after only two or three times luring. Keep using the treats though! From the other hand
Once the dog recognises that when you point your finger behind you he should go into the heel position, you can add the verbal heel cue. Just say heel, then point. After two or three times, just say heel and don't point unless he seems confused. He will soon be whisking around behind you on the cue 'heel'
If you enjoy shaping, you can also establish the heel position with the clicker heel technique. With my version of clicker heel, you skip the stationery stage and start moving right away. You can find instructions in this article If you are luring, once the dog will follow your hand signal into the heel position, you are ready to start moving.
Stage 2: Teaching your dog to walk at heel
This is about teaching the dog to hold his new heel position, even when you are moving forwards. It is important not to move too far to begin with. We'll start with just one step. Give your heel cue and instead of treating the dog with your left hand immediately, take a step forward and treat him as he moves to keep up with you. Once he moves with you, without any delay, progress to two steps
QUICK HEEL TIPS:
Getting these first steps right is the key to successful heelwork. Once you have your first two steps you can build on them, but for now, these two steps need your full attention!
Repeat, adding distance very gradually, just a couple of extra steps to begin with, then three or four. Treat the dog when you have complete the steps in and in the correct position. Take several sessions to get to ten steps and don't try to add changes in direction at this point.
At this point you can add a collar and leash if you wish. It's one more thing to think about but you'll need it when you go out and about in public so you have to add it at some point. Just walk a few paces with the dog at heel. Pop his collar and leash on, and walk a few more. No fuss, no change in how you behave other than that.
QUICK HEEL TIPS: If it doesn't bother him, let the leash trail to begin with so you don't have to worry about what your hands are doing.
Changes in direction
Once your dog can walk to heel in a straight line for ten paces, you can start to introduce some changes in direction. Take two steps then stop. Then rotate a quarter turn to your left or right. Treat the dog for any attempt to rotate with you, (he'll get better at this) then set off in the new direction. Once you can do this, you can make little squares with two or three steps each side.
What to do when you stop walking
Walking to heel isn't just about movement of course, it's about leash manners and about your dog being focused on you rather than doing his own thing. Your dog shouldn't leave the heel position just because you change direction or stop and talk to someone.
Holding the heel position when you are stationery is an important skill and one you need to practice. Many people teach their dog to sit each time they stop moving forwards, and this is fine. If you practice walking ten paces and stopping, ask your dog for a sit, and then treat him in the sit position, you'll soon be able to drop the sit cue and your dog will sit automatically each time you stop.
This is all very well in your kitchen or yard of course, but what about when you go into the real world? How do you make sure your dog will keep walking to heel, even when there are distractions about?
Stage 3: Adding distractions
Walking to heel in your yard or in a quiet field is a very different matter from walking to heel past the school gates, or where other dogs are playing. Your dog is not naughty if he can't do this yet. He is normal. The heel cue doesn't mean 'walk to heel anywhere'. At this point it means 'walk to heel in the yard'. You have to teach him that it also means 'walk to heel past those people playing frisbee' and that takes time. So be patient with him and with yourself.
How to add distractions successfully
There are lots of ways in which dogs learning to walk to heel can easily get distracted. Changes in the surrounding environment need to be tacked first. Moving from hall to kitchen or vice versa, and from indoors to outdoors.
Be aware of how exciting doorways and gateways can be. Dogs need practice to be able walk to heel through a doorway, especially if they associate what's on the other side with pleasure. You are thinking "I'll just open this door". But your dog is thinking "OMG, OMG, we are going for a WALK!!!" And before you know it, you are being dragged down the path again.
Use high value rewards (roast chicken is good) and treat the dog generously every step or two to keep attention focused on you the first few times you heel him through your garden gate into the roadway outside.
In successful dog training we add distractions by diluting them or making them less strong to begin with. One way to do that is to put some distance between your dog and the distraction. Another is to try to control the intensity of the distraction. For example, your dog may not be able to walk to heel while your kids kick a football about just yet, he might be able to walk to heel past a single child holding a football. If he can, treat him and practice this. Then get the child to put the ball on the ground, then to roll the ball gently around with his foot, and so on.
QUICK HEEL TIPS:
If you are not sure whether your dog will succeed, try to make the task a little easier. Training will go faster in the long run
Gradually increase the power and excitement level of distractions, rewarding your dog for success, and reducing the intensity if it is too much for him. This is what ALL successful dog trainers do. They gradually increase the challenge to that the dog succeeds most or all of the time. Building success upon success.
When it comes to dogs that love other dogs, you will benefit from the help of a friend with a relatively calm dog. Teach your dog to walk to heel past her dog while it is sitting at her side. Then while she walks her dog up and down some distance away. Build up gradually to walking at heel right past the other dog
Remember that a new location is a distraction too, and if we are to add distractions such as people and dogs one at a time, the best chance of success is through introducing them at home in the familiar location where you have been training so far. That way you won't further complicate matters by introducing new locations alongside these other factors of difficulty. If you don't have a friend to do this with you'll need to find a good modern dog training class where you can work with other dogs under controlled conditions
Teaching a dog to heel with distractions
Proofing your heelwork or teaching a dog to heel past distractions is achievable for everyone. And you'll find it easier if your dog is clear as to what is expected of him and if you prevent him rehearsing mistakes.
It's a great idea, once you have started this training, to avoid walking your dog on a leash in situations where you cannot control how far you walk or what kinds of distractions are likely to come along. You don't want to give him opportunity to release his old bad habits. Pulling is a habit, and walking to heel its polar opposite. It can be pretty confusing for a dog is you allow him to do the pulling thing on some occasions and the expect the heel thing on others.
If you are trapped in a situation where you have to walk your dog through distractions before he is able to do so 'at heel' then use a harness that is specifically kept for those occasions. A 'tracking' harness for example. Avoid using the collar and leash he wears in during heel work training, in situations where you know you won't be able to train successfully

The Labrador Site Founder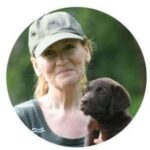 Pippa Mattinson is the best selling author of The Happy Puppy Handbook, the Labrador Handbook, Choosing The Perfect Puppy, and Total Recall.
She is also the founder of the Gundog Trust and the Dogsnet Online Training Program 
Pippa's online training courses were launched in 2019 and you can find the latest course dates on the Dogsnet website