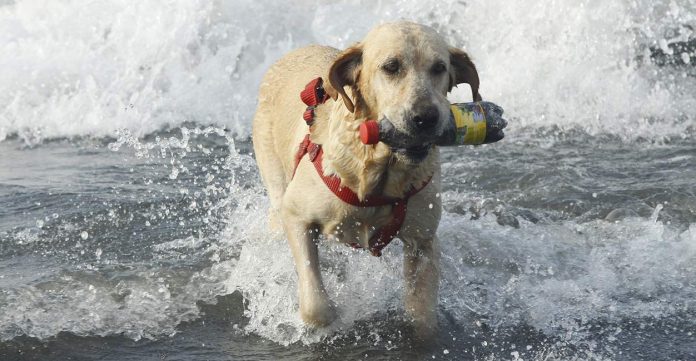 Dog training leads are invaluable tools for any dog owner, but are especially useful for training bouncy and friendly young Labs! Professional dog trainer Jo Laurens describes exactly how a long dog leash works and shows you how to get the best from yours.
You'll hear dog training leads referred to as long lines and long leashes too. Especially by dog trainers. These terms are interchangeable. What they should never be confused with is an extending lead. Jo explains
What is a long-line?
A long-line is a long dog training leash, with a regular clip fastener at one end. We need to differentiate a 'long-line' from a similar piece of equipment it is often confused with: A long-line is not an extending leash – the type of leash which goes in and out of a box.
A long dog training leash or long-line is always the same length and does not automatically lengthen and shorten. In the US, these long dog leads are often called 'check cords'. This term sounds similar to 'check chain/choke chain', and that can cause some confusion. A check cord is not a check chain/choke chain. It is just another word for a long-line.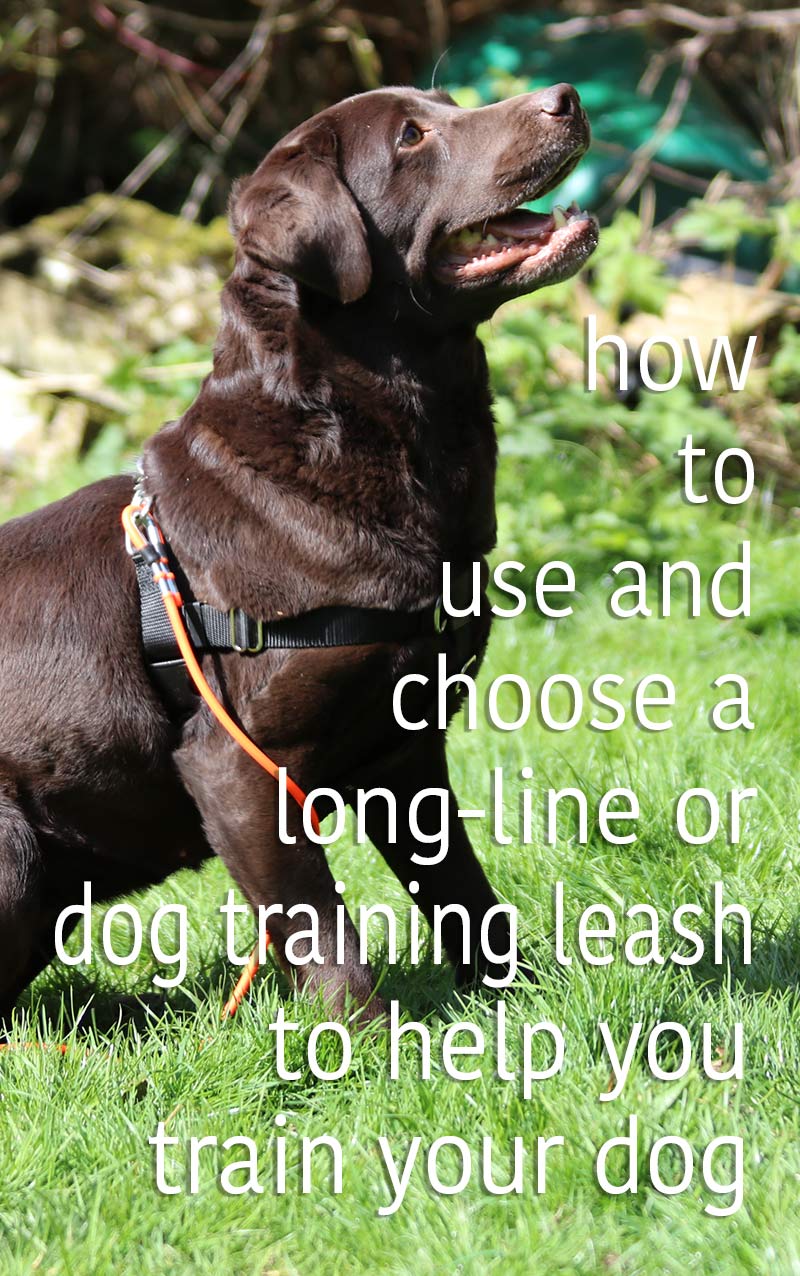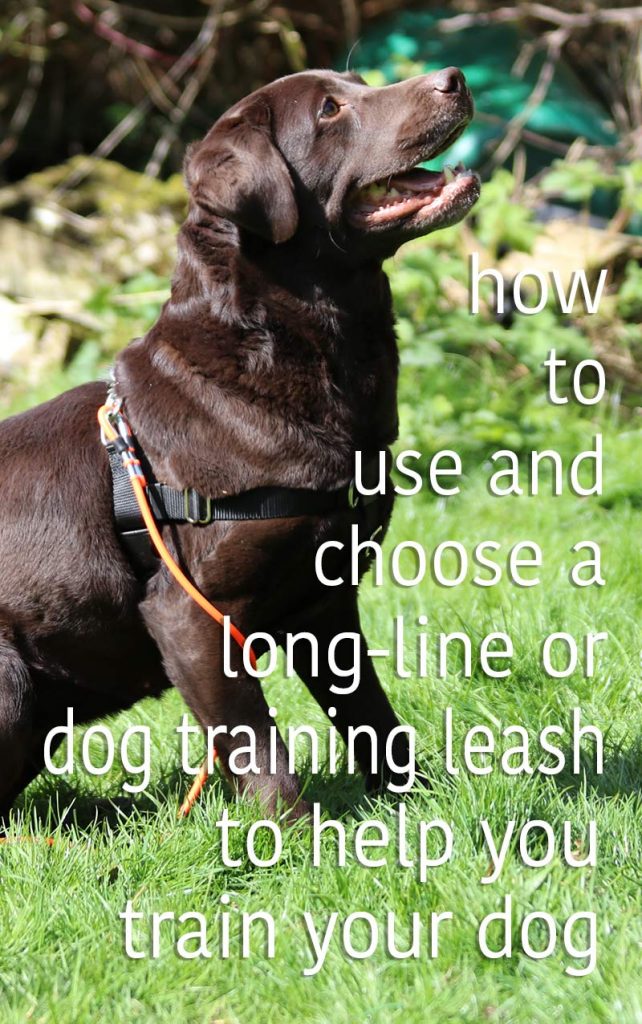 What are long dog training leads used for?
Long dog leads (long-lines) are used for a variety of purposes. Here are some examples
to practise recalls
to provide you with more control whilst your dog is free-running
for gundog training
with a reactive dog
for BAT set-ups (Behavior Adjustment Training)
We'll look at these in more detail below, but the essence of the long line is that it makes your training efforts much more effective. It does this by preventing the dog helping itself to all kinds of rewarding behaviors (such as ignoring your whistle and chasing butterflies instead) without your permission.
What length dog training lead should I buy?
What is the best length of long-line? This depends on what you plan on using the long-line for (more on that, below!).
If you intend to use the long-line:
– to practise recalls
– to provide you with more control whilst your dog is free-running
– for gundog training
I'd recommend a 10m long-line. Any shorter and your dog can't get far enough away from you. Any longer and the line becomes unwieldy to manage.
If you intend to use the long-line:
– with a reactive dog
– for BAT set-ups (Behavior Adjustment Training) (see below)
Then I recommend a 5m long-line. For these purposes, you want to be able to hold the whole leash in your hands, letting it out and taking it in as needed by the dog. Any shorter and your dog can't move around freely enough. Any longer and you won't be able to hold it all.
What is the best material for a long-line?
Again, this depends on what you plan to do with it.
If you intend to use the long-line:
– to practise recalls
– to provide you with more control whilst your dog is free-running
– for gundog training
I'd recommend a biothane long-line. This is a rubbery, waterproof material. It does not absorb water, like a nylon training lead. Mud falls off it.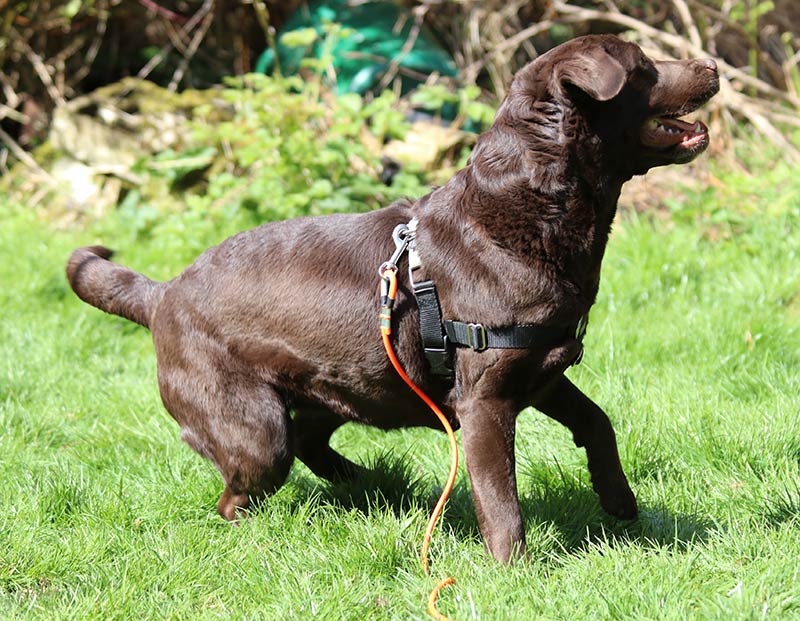 It does not get smelly if left in a bag or the car. As it has no fabric to snag, it catches less on twigs and branches and tends to trail behind the dog better. Biothane dog training leads are not yet readily available in most pet shops – you will usually need to order them online. They are available either flat, like this one from Dog & Field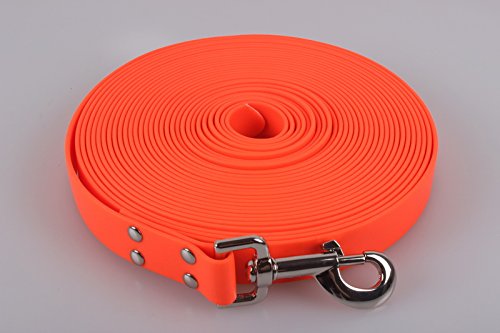 Or rolled, like this one from bio-leine
If you intend to use the long-line:
– with a reactive dog
– for BAT set-ups (Behavior Adjustment Training)
I'd recommend a long-line from climber's rope or similar – rolled rope like this one from Dog & Field: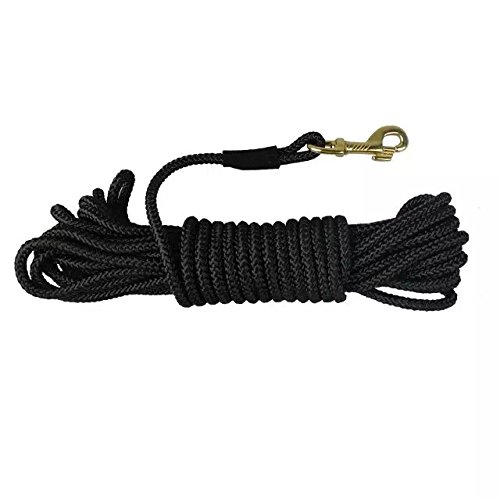 or these lines  Alternatively, a fabric long-line like this one –  order the shorter length. The line won't be trailing on the floor to absorb water or to get caught, and you will be able to communicate and stay in touch with your dog better on a fabric long-line instead of a dense biothane line.
Long leash safety – using harnesses with long-lines
Always use a harness when you are using a long-line. Harnesses are preferable anyway to collars even with short leads attached. But with long dog training leads, you can really do serious damage to a dog's neck if the dog runs full pelt for many metres before being stopped suddenly when the long-line is attached to a collar.
If your harness has two points of attachment (chest and back), you should preferably clip your long lead to the back attachment. This way, it will flow off the back of the dog and is less likely to get tangled up in legs and belly.
Very occasionally – with extremely strong, powerful dogs – some owners feel they need to attach a long dog leash to the chest attachment for control. This is ok if necessary, but be aware that it is less ideal and may impede legs and rub on the dog's belly or thighs if allowed to trail underneath. For more information on choosing a harness, check out my article on the Top Three Harnesses
How do I use a long-line for recalls and training?
The long-line needs to stay on the dog until you are almost never touching it and it's redundant. It needs to feel, to the dog, as if it's part of the dog's anatomy – taken for granted and ignored.
If you sometimes leave the long-line off the dog, the dog will be able to ignore you and access fantastic rewards in the environment at those times. Meanwhile, when she is wearing it, she will not be able to do this. The dog will therefore learn the 'meaning' of the long dog-leash, and become long-line 'wise'. You will end up with a dog which responds brilliantly when wearing the long-line, but any time you remove it, she will know that she is free and able to ignore you. To avoid the dog learning this, use it 100% of the time so the dog can't compare 'long-line on', with 'long-line off'.
Don't hold on to the training lead!
Try not to hold the end of the long-line, even if it has a handle. Allow the dog to trail it on the ground. This will enable the dog to feel free and it will give the effect of being off-leash. (Preparing better for actually being off-leash.)
If your dog is used to ranging further than the length of the line, you may need to hold the line to begin with. As the dog approaches the end, recall her. If you repeat this every time she nears the end of the line, she will learn to hang out nearer to you – you will re-program her default range. Then you will be able to drop the line on the ground.
If you are moving through an area which may have game, other dogs, or higher distractions, you may want to take hold of the line as a precaution.
Dog Training Lead Tips:
1. Take amazingly tasty recall treats out with you, on your walks. This includes things like pate, sardines, mackerel, black pudding, gourmet wet dog food – soft wet foods, work best. You can feed these using a plastic toddler spoon. Call the dog back many times on a walk, give a tasty treat and release the dog to 'go play' again. Some dogs prefer toys to food. If you have a dog like this, have a few 'special' toys which you only use for recalls.
2. If the dog ignores you, quickly pick up the dog training leash and gently remove the dog from the distraction. Every second the dog ignores you, she is self-rewarding through whatever she is doing – and self-rewarding for ignoring the recall. So a speedy response with the long-line is important.
3. Once you've removed the dog from the distraction, usually dogs readily come back to the handler. Reinforce this with a treat. If the dog doesn't come back, make a smoochy noise, crouch down and run your hand through the grass or try to be exciting!
Don't repeat your recall!
Just like with stabilisers on a bike, using a long-line is a halfway house – a process – not an end-goal. Just as no one wants to be an adult, still cycling with stabilisers, no one wants to have a dog which – five years later – still has a long-line on. When you don't need the long-line for a week, and can successfully call the dog back from any distractions, then you no longer need to use it.
How do I use a long-line to work with a reactive dog?
The main purpose of long dog training leads, when working with a reactive dog, is to enable the dog to feel more free than they feel on a short lead. We know that reactivity, aggression, fear and frustration are all worse when a dog feels 'trapped' on a short lead, in the presence of a trigger. This is why many owners of reactive dogs report that reactivity is much worse on a (short) leash, compared to off-leash. Yet a reactive dog can't be allowed off-leash, for safety reasons.
But we can use a long dog leash to help the dog feel unrestricted and also to allow for a bit more exercise and mental stimulation – whilst also keeping safely hold of the dog.
Long dog leash safety precautions
Safety is very important and long dog leads can be hazardous if not used correctly with reactive dogs. They have the potential to cause you to trip, or for you or your dog to get tangled up at critical moments. (When a trigger appears and your dog lunges!). This could result in losing control of your dog.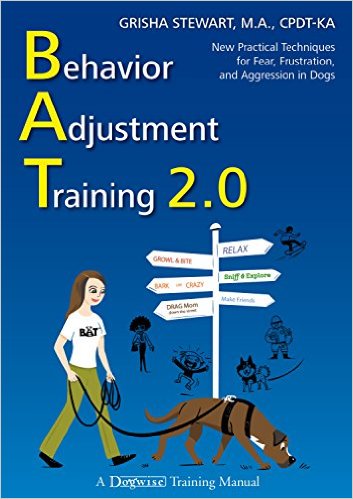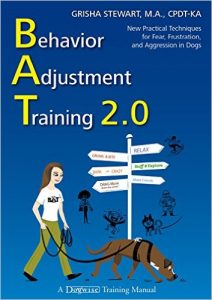 For this reason, Behavior Adjustment Training (BAT)  has a series of Leash Skills  which teach the handlers of reactive dogs how to safely use long dog training leads around triggers.
When using BAT Leash Skills, the handler of a reactive dog will hold the entire (5m) dog training leash in their hands – with no leash trailing on the ground to present a safety risk.
The handler will let out and take in the leash, as the dog moves, to give the dog the sense of being off-leash. The handler will also use special techniques to avoid jerking or pulling the dog or suddenly stopping the dog, on the long-line. (All of which can greatly increase reactivity.)
BAT is a proven and successful method for helping reactive dogs, and you might want to find a Certified BAT Instructor (CBATI)  in your area to teach you the Leash Skills and to
Long dog training leads – summary
Dog training leads or long lines are important dog training and management tools with a variety of uses. Most Labrador owners will benefit from owning and learning how to use one, especially when training their young dogs
It's important not to confuse the long-line or training leash with the extending lead. With some exceptions, one of the key principles of long-line training is that for much of the time it is allowed to trail on the ground, not held in your hand. Extending leads are not suitable for this purpose.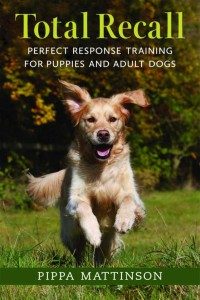 Dog training leads are also important tools for anyone working with a reactive dog. Biothane lines are great for basic training purposes.
If you are using a long line with a reactive dog a fabric line may be more appropriate. Don't forget to attach your dog training lead to a well fitting harness.
And check out our training guides for more detailed training information
The Labrador Site Founder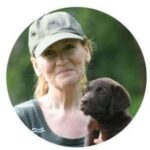 Pippa Mattinson is the best selling author of The Happy Puppy Handbook, the Labrador Handbook, Choosing The Perfect Puppy, and Total Recall.
She is also the founder of the Gundog Trust and the Dogsnet Online Training Program 
Pippa's online training courses were launched in 2019 and you can find the latest course dates on the Dogsnet website