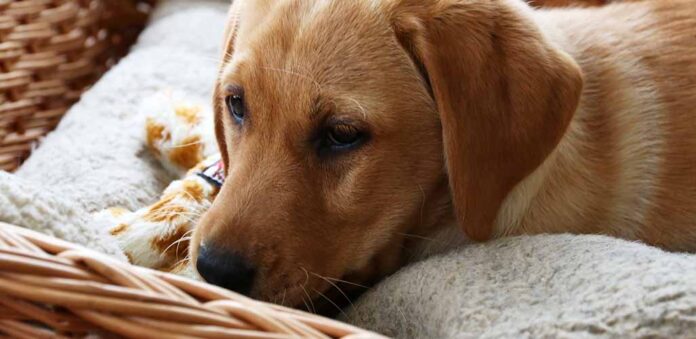 Aesthetic dog beds have always been my aim for our family dog. I have spent hours, days, weeks even, making sure my home decor is how I want it. Spending my hard earned dollars on soft furnishings and repairs every year! And I bet you are the same. It's no wonder my family and yours are invested in making sure the dog's bed doesn't ruin our home reno efforts. If you're looking for a dog bed which is attractive rather than an eyesore, look no further. I've rounded up a dozen beautifully designed dog beds to suit every taste, without sacrificing comfort, durability or practicality.
Contents
Is it crazy to look for aesthetic dog beds?
I don't think so! Even though my own pup's nest is pretty utilitarian, he has a toddler size comforter in it and I love finding brightly patterned cases for it in thrift stores or online. And if you have spent time and money making your home beautiful, it's only natural to want a dog bed which complements your interiors rather than clashing with them. Especially if you have a big dog, who needs a big bed!
That said, it probably is a bit crazy to choose a dog bed which is all style and no substance. First and foremost, the place our pooches sleep needs to be comfortable. For more heavy set breeds, like Labs, that often means having a thick mattress or elevated mesh base to support their weight. For older dogs, a beautifully designed bed needs to be easy to get in and out of, as well as easy on the eye. And of course, you'll need to be able to keep it clean! All of the aesthetic dog beds I've picked to showcase here are practical and functional, as well as visually pleasing.
12 stylish and charming dog beds
Luckily for the dapper dog and their discerning owner, more and more manufacturers are realizing the demand for beautiful dog beds which complement our homes or gardens. So pick an aesthetic, and let me match you with your ideal dog bed!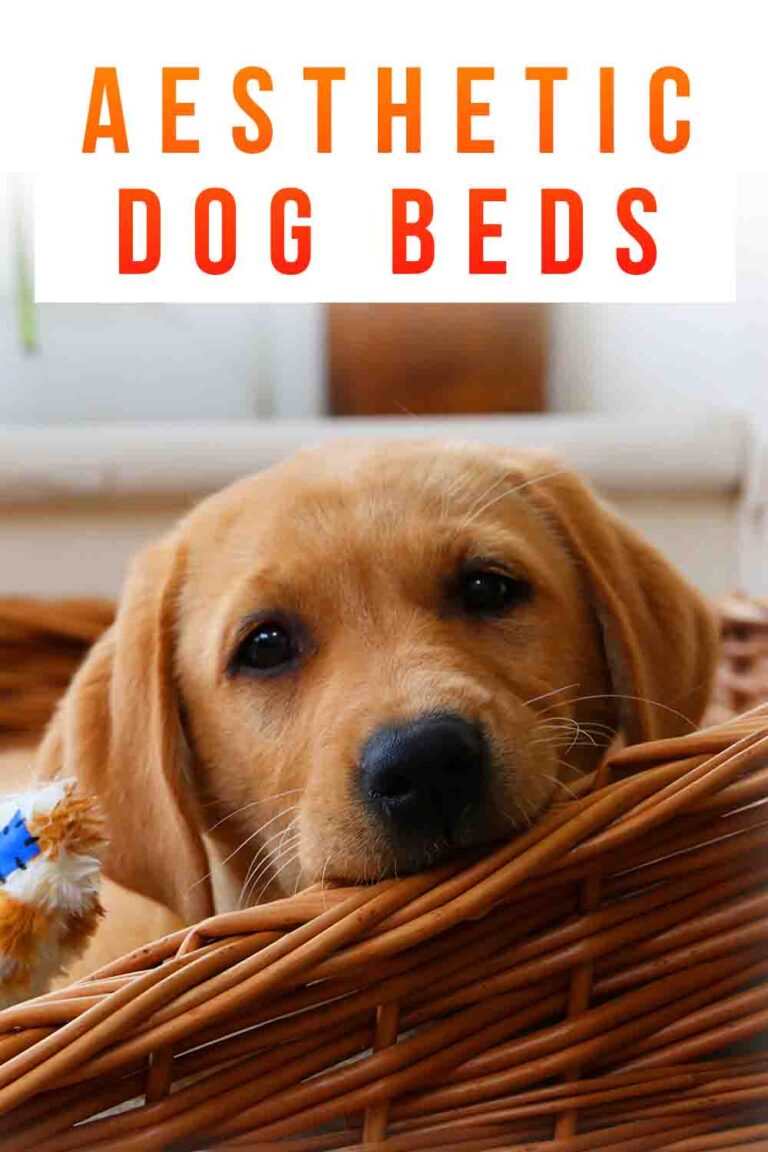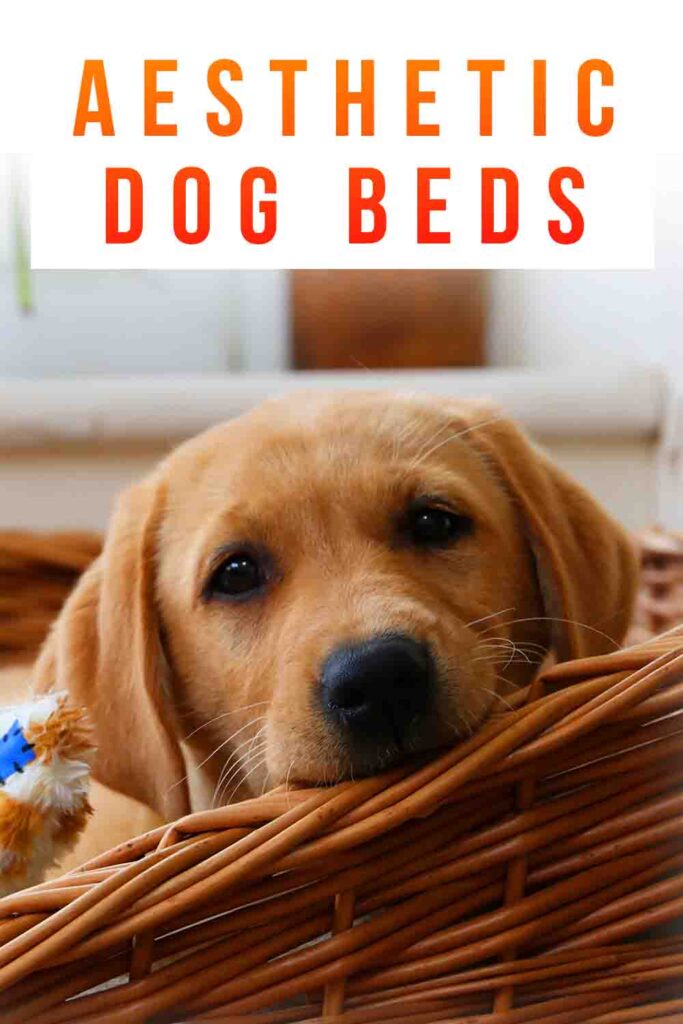 Majestic Pet striped dog bed
Aesthetic: Hamptons beach house
When my friend Clare bought a bed like this for her Vizsla and put it in the lounge, she kept finding her human guests sprawled out on it instead! It's stylish, inviting, comfortable to crash out on, and besides a very discreet label, nothing about it really says 'I am supposed to be a dog bed'. But it's still packed with dog-friendly features, including supportive fiberfill stuffing, washable covers made from outdoor-treated polyester, and heavy duty zips.
Get it here.(paid link)
Carhartt duck dog bed
Aesthetic: Cabin in the woods
Carhartt workwear is famous for being comfortable and durable in equal measure. Their dog beds are made from washable ring-spun cotton canvas, and will blend seamlessly into any home which combines coziness with pared back simplicity and practicality. Choose from 3 sizes and 6 colorways, including classic Carhartt brown, and cases with warm sherpa fleece tops.
Get it here.(paid link)
Tonbo small plush beds
Aesthetic: Kawaii
These aren't for everybody, but if you love cute and playful interior design, you won't be able to stop at buying just one of these. Besides avocados, choose from flowers, cookies, fruit, drinks, and many more designs. The whole thing can go in the wash, and previous purchasers report that they wash and dry well without shrinking, fading, or losing their shape. The only drawback is they're only 24" across, so they're best suited to small dogs, and puppies of larger breeds. But it's not hard to imagine an adult Lab using one as a pillow!
Get it here.(paid link)
Pawaii elevated dog bed
Aesthetic: Colorful contemporary
The size of your dog is no problem for this eye-catching dog bed. Available in three sizes, the largest can support a pet (or two) up to 110lbs! I love the juicy colors in the pattern, which will be easy to keep bright because it's printed on heavyweight, wipeable, water-resistant oxford fabric.
Get it here.(paid link)
GOODPPY floral print canvas dog bed
Aesthetic: Maximalist
Do you love saturated colors and bold patterns? Is more always more when you're shopping for soft furnishings? Then look no further than this stunning bed – it even comes with a coordinating pillow! The designers didn't lose sight of their canine customer though – the deep walls of this bed resemble calming beds for anxious dogs, and the covers can be removed for washing.
Get it here.(paid link)
Laifug faux fur dog bed
Aesthetic: Hygge
If your aesthetic is luxurious and inviting, then this stylish dog bed will channel the same warmth and coziness as the rest of your home. Underneath the deep faux fur top is a memory foam mattress to keep any size of dog comfortable. It has pragmatic touches too – the case is washable, the underside is non-slip, and the inner liner is waterproof.
Get it here.(paid link)
Made To Roam lunar bed
Aesthetic: Modern adventurer
Modern adventurer aesthetic dog beds combine stylish design with impeccable outdoor credentials. The focus is on premium materials and high-end looks, so this bed is made with thick, dirt-resistant fabric, faux leather handles, and shredded memory foam stuffing. Choose between two sizes and two colors: dark blue and sage green.
Get it here.(paid link)
Christopher Knight 'Elvis' pet bed
Aesthetic: Industrial loft
Christopher Knight are so pleased with the appearance of this dog bed they even suggest that it might be 'too opulent for a mere animal'. Big words, but we can see why! The iron frame is chic and built to last (and be warned, heavy too!). The mattress is piped at the edges and even button tufted in four places. Previous buyers recommend purchasing caps for the feet, to prevent them scratching your floors.
Get it here.(paid link)
African woven dog basket
Aesthetic: Bohemian
These beautifully made dog baskets are handwoven from natural and sustainable elephant grass. Due to the nature of their construction, each one is unique. You'll need to add some padding and perhaps a blanket yourself, and the end result will be rustic, charming, bohemian and lovely. I think almost any interior would be enhanced by the addition of one of these!
Get it here.(paid link)
LAY LO Pets dog beds and covers
Aesthetic: Modern, scandi neutrals, cottagecore, and more!
Has your interiors aesthetic not been covered yet? This offering is a cheeky catch-all. These gorgeous dog bed covers are available to complement a range of styles, from Scandi neutral, through bright and bold, all the way to cottagecore. The manufacturers claim the fabric is based on high-performance sportswear, in order to be dig-proof. And the addition of a chunky handle is the single most sensible and welcome thing I've ever seen on a mattress-style dog bed.
NOTE: This is a cover only, the inside needs to be bought separately.
Get it here.(paid link)
Ecoflex dog bed and nightstand
Aesthetic: Disguised
Finally, for some people aesthetic dog beds don't just blend in with the decor. They are completely camouflaged! To cater to this market, there are lots of examples of furniture such as end tables incorporating dog crates. But, there are relatively few examples of furniture with a built in open bed. This nightstand is an exception. Made from recycled materials and thoughtfully designed, I dare say the dog bed underneath isn't even the second or third thing you'd notice about it, let alone the first.
Get it here.(paid link)
Aesthetic dog beds – summary
Your idea of what aesthetic dog beds look like is probably exactly not the same as mine, or your next door neighbor's. 'Aesthetic' could mean elegant, minimalist, decorative, industrial, cute… or something else altogether! But in every case, the designer has thought as much about how the bed looks, as how it functions. All the beds in this article combine visual appeal with practical, pet-friendly features. I hope you saw one you love!
The products included in this article were carefully and independently selected by the Labrador Site team. If you decide to purchase one of them using the links provided, we may earn a small commission on that sale. This is at no extra cost to you.
The Labrador Site Founder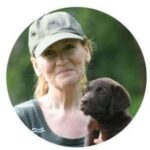 Pippa Mattinson is the best selling author of The Happy Puppy Handbook, the Labrador Handbook, Choosing The Perfect Puppy, and Total Recall.
She is also the founder of the Gundog Trust and the Dogsnet Online Training Program 
Pippa's online training courses were launched in 2019 and you can find the latest course dates on the Dogsnet website