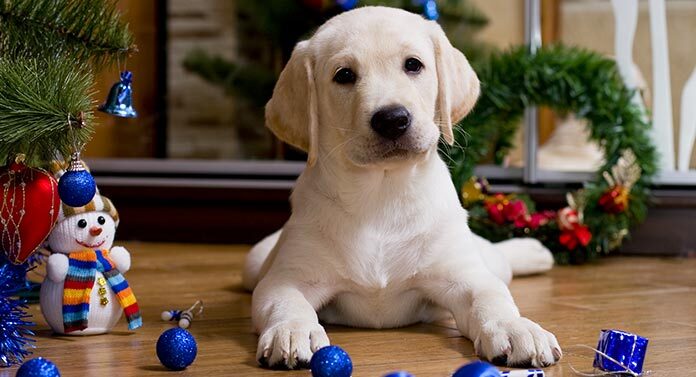 In this article we are going to look at every aspect of enjoying Christmas with your Labrador. The holidays should be a fun time for the whole family, your dog included. We have got some fantastic ideas for theming your Christmas, with Labrador cards, decorations and gifts. There are some lovely pressies that the dog himself will adore. We will all share with you our top tips for keeping your Labrador safe and happy during the festive season.
Labrador Gifts
Labradors love gifts as much as the rest of us. Here are some presents that your furry friend is bound to be delighted with.
All of these products were carefully and independently selected by The Labrador Site Team team. If you decide to make a purchase from one of the links marked by an asterisk, we may earn a small commission on that sale. This is at no extra cost to you.
Cozie Dog Squeaky Toy
This Cozie Dog Squeaky Moose Toy* isn't just cute. It's well designed with dogs in mind.

They have minimal filling, an extra layer of material to add durability and some fun squeakers to keep your Lab entertained. It also comes in a range of ten adorable animal shapes, so you can pick the one you like the best.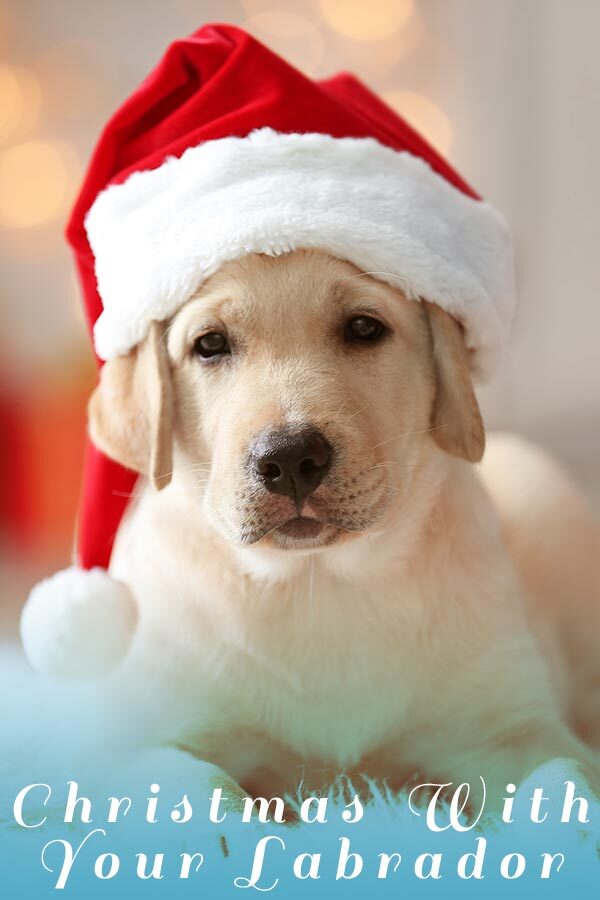 Wubba Ballistic Friends
Wubba Ballistic Friends* are fun fetch and tug toys.

They are designed to be picked up, carried around and chased. This durable design uses reinforced nylon to keep them in a good condition for longer. There is even a fun squeaker to add to your Labrador's game.
ZOGOflex Hurley
The ZOGOflex Hurley* is a great fun dog toy. Our Labs love chewing and playing fetch, and this toy covers both activities really well.

It can be used for long chewing sessions, thrown in the garden or even used in the water as it floats well too. Great for even the toughest chewers, and easy to clean as well. A fab gift for any lively Labrador.
Plush Rooster Dog Toy
We love this Plush Rooster Dog Toy*.

Not only is he very cute, but he is made of high quality plush material that your dog will love to cuddle up with. Great for gentle chewers, playing little games of fetch or snuggling up to sleep with. Labs will love to get this toy for Christmas.
The Kong Extreme
You can't go wrong with a Kong Extreme*.
Our Labradors love their Kong toys, especially our chocolate girl Rachael. They are great for catching, chasing, chewing and carrying around. You can even fill them with some tasty treats to keep them entertained for ages. The Kong Extreme is ideal for Labradors as it stands up to the most determined chewing. Choose the large size for an adult Lab.
The Giraffe Chew Toy
The Giraffe Chew Toy is a rope toy* that your Lab will love to get his teeth into.

It's a sturdy design so will suit light to moderate chewers, and will even give their teeth a bit of a clean in the process!
Gifts For Labrador Lovers
So you've got the dog's presents sorted, but what are you going to give to the Labrador lover in your life? We have had lots of fun picking out our favourite Labrador themed items. Whether you are searching for fabulous gifts for your friends and family, or a well-deserved treat for yourself. There is something for everyone!
Fun Festive Labrador Throw Pillow
This Fun Festive Labrador Throw Pillow* is an adorable holiday accessory.
It is in rich shades and has a cute design that would look great on anyone's couch. The cushion is 18 by 18 inches. It is made using the traditional rug-hook technique, and has a soft velveteen backing. A great gift for any Lab lover to bring out year after year.
Labrador Key Rack
This Labrador key rack* is a great present for most homes. Featuring a handsome silhouette of a Labrador, with sturdy hooks beneath for your keys.
The rack has a smooth, stylish black powder coated finish, which looks great as a Labrador decoration as well as a practical line of key hooks.
Your Labrador Themed Christmas
What could be lovelier than a Labrador filled Christmas? There are lots of ways you can show the world your love for your Labrador this holiday season. A fun one is by making them a part of your festive theme! We have found some great ways to make everything from cards, to wrapping and decorations a happy reminder of man's best friend!
Labrador Christmas Cards
Who wouldn't love a Labrador Christmas card in the mail? Here is a selection of wonderful Labrador Retriever christmas cards that will delight your friends.
Snowy Lab Christmas Cards
These adorable Snowy Lab Christmas Cards* come in packs of 10.

It is even eco-friendly, printed on recycled paper and inscribed using soy-based inks.
Black Labs Christmas Card
Another lovely choice, the Black Labs Christmas Card* has a classy, traditional feel to it.

Sold in packs of ten, these cards all have the same lovely Labrador design.
Labrador Christmas Ornaments
Labrador Christmas ornaments can be as bright and fun, or discreet and tasteful as you want them to be. We have found a wealth of gorgeous, fun and funny Labrador Christmas ornaments. All of which will add a well-deserved bit of Christmas cheer to a Labrador lover's home.
Black Lab Ornament
This lovely glass Black Lab ornament* is hand made using traditional techniques, from mouth blown molten glass.

It is hand painted and glittered, giving each ornament a unique style.
Yellow Lab Ornament
We love this Yellow Lab ornament.*

It's unique design is different and yet holds that traditional Christmas feel. It hangs from your Christmas tree, but also has a magnetic backing. So you can keep it on your fridge if you prefer!
Black Labrador Ornament
This beautiful Black Labrador figurine* is a wonderful household decoration.

It is hand-cast and hand painted by professional sculptures and gives a very lifelike finish. You can buy this sculpture with or without his festive hat if you prefer.
Wooden Labrador Ornaments
These lovely wooden Labrador tree decorations* come in sets of three.

With a cute wooden Lab, wooden bone and wooden paw print. They are cut from real wood and have unique grain patterns.
Black Lab & Gingerbread House Ornament
This black Lab and gingerbread house ornament* is made of hand painted stone.

It's a great addition to your mantelpiece or Christmas table layout.
Labrador Christmas Jumpers for Dogs
Are you looking for a jolly Christmas jumper for your dog? We have found some fun and festive options for you to choose from! Christmas jumpers are a rising trend. Growing so much in popularity recently, that they are available in more and more stores during the holiday season. And now, even your Labrador can get in on the action.
We've been looking online for ideas that our Labs might like, and my personal favourite so far has to be this one.
Reindeer Holiday Sweater
We are big fans of this Christmas dog sweater*.

The Red Reindeer Holiday Sweater is warm and cozy. Made of 100% acrylic, it is also suitable for machine washing.
Elf Design Dog Sweater
If you and your Lab like dressing up, then why not try this Elf Dog Sweater*.
Christmas Costumes for Labradors
Is a Christmassy jumper just not quite festive enough for your jolly Lab? Do you love dressing up? Is any excuse for fancy dress a good enough excuse for you? We have been enjoying looking at all the fun options there are available at the moment, and have picked out our favourites.
Is It Okay To Dress Up My Labrador?
Just like people, some dogs are happy to be dressed up and some would really rather not. When you have picked out and received your costume, help your Lab to try them on nice and gently. Let him give it a sniff first, and if he seems indifferent lay it over his back before putting it on.
If at any point you get the feeling he isn't impressed, then don't push it. After all, it's only fun for you if it's fun for him too! Choose your fun festive design here.
Christmas Hat For Dogs
What Winter Wonderland would be complete without a happy helping elf? Made of red and green striped, soft fabric, this elf hat* certainly looks the part. And it should stay in place nicely with the adjustable chin strap.

Available in three sizes, so it should fit your Labrador whatever his size. Fully washable, so you can use it again and again!
Reindeer Antlers for Dogs
Looking for a fun addition to a Christmas costume? Your arrival at any party is sure to go well with your happy festive reindeer in tow*.

The antlers are designed with a stuffed, plush filling, so they won't droop and fall over. Soft elastic material should guarantee a comfy fit, too.
Giving Your Labrador A Merry Christmas
Christmas is a time for celebrations. It's a time when most of us are surrounded by friends, family, food and mess. From random visitors dropping by at all hours, to tempting treats on the edge of counter tops.
Your home is probably a very different place during the holiday period. Before the festivities are in full swing, why not take a minute to work out where your Labrador fits in.
Holiday Planning
Christmas is a traditionally chaotic time of year. If making a plan helps you get the turkey in the oven and sprouts off the boil at the right time, think how much it will assist you with a your dog. If you lay down some simple rules for yourself, your normally friendly companion won't become a little monster in front of your guests.
Labradors and Christmas Guests
If your dog has rules at home, such as not jumping up or pestering your guests, then keep them up. Remember, once you teach your Lab that it's ok to bounce on your friends, you will have a harder time convincing him otherwise. It's also unlikely that everyone who visits your home will be a fan of dogs.
Some people might bring little children with them, who are less than able to cope with a large bundle of fluff jostling them about. If in doubt, it might be worth keeping your Labrador in another room until the guests are settled and calm. It's ok to ask guests to ignore your dog when they enter. If they don't stroke, fuss or even look at him at first, he will soon lose interest and settle down.
Labradors and Christmas Food
When there are a dozen people to feed, we all know the kitchen is going to be a pretty mad place. You have two options for dealing with this. If possible, I would advise keeping the dog out of the kitchen while you are really busy. This might be tricky if they are used to spending all day with you. A nice new rawhide bone or kong filled with goodies, could be a way to keep them happy in the room next door.
Slow and steady…
If you want to go with this option, help your dog to get used to being out of the kitchen for increasing periods of the day in the run-up to Christmas day. Then when they need to settle out of the way for a while whilst your pans are bubbling, they will already be in the habit of calmly awaiting your return. Sometimes however, our homes, or families, will not allow the dog to stay away from the kitchen.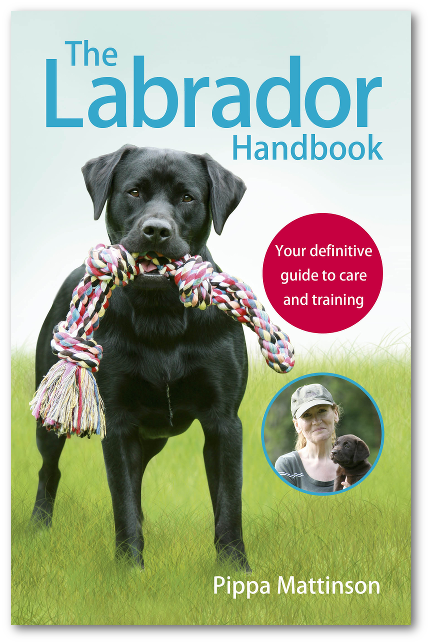 Staying Safe!
In this case, the best thing you can do is again distract your dog with a new toy or long-lasting treat. Make sure to keep any uncovered plates of food well away from the edge of the unit or table.  Never leave your dog unattended with the Christmas turkey. Remember that not only will you have some very disappointed guests, but you may put your dog in danger. Cooked bones are brittle and must on no account be eaten by your dog.
Please do remember that however hopefully your dog may look at you, human food is not good for them. At Christmas a lot of our favourite treats are poisonous to our Labradors. Don't be tempted to share your dinner.
Your Labrador's Christmas Routine
You and your dog probably have a structure for day to day life. If you normally walk him at a certain time of day, try and do so on Christmas day. It won't do him any physical harm at all to wait, but some dogs get rather wound up when you break the cycle they are used to. Anything you can do to make it seem like any other day, will be appreciated by him and those he will be keeping company with.
Just remember, having a dog is a bit like having a toddler around. Keep their environment safe, their routine regular and keep an eye on them. Then you will be free to relax and enjoy the festive season.
Labrador Puppy For Christmas
Thinking of bringing home a Labrador puppy this holiday season? Check out our article A Labrador Puppy For Christmas here.
Your Labrador Christmas
We hope you have found our ideas helpful. However you choose to celebrate this year, we hope that you are your Labrador have a stress-free and happy holiday season together.
Affiliate link disclosure: Links in this article marked with an * are affiliate links, and we may receive a small commission if you purchase these products. However, we selected them for inclusion independently, and all of the views expressed in this article are our own.
The Labrador Site Founder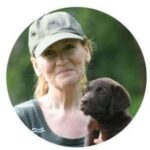 Pippa Mattinson is the best selling author of The Happy Puppy Handbook, the Labrador Handbook, Choosing The Perfect Puppy, and Total Recall.
She is also the founder of the Gundog Trust and the Dogsnet Online Training Program 
Pippa's online training courses were launched in 2019 and you can find the latest course dates on the Dogsnet website