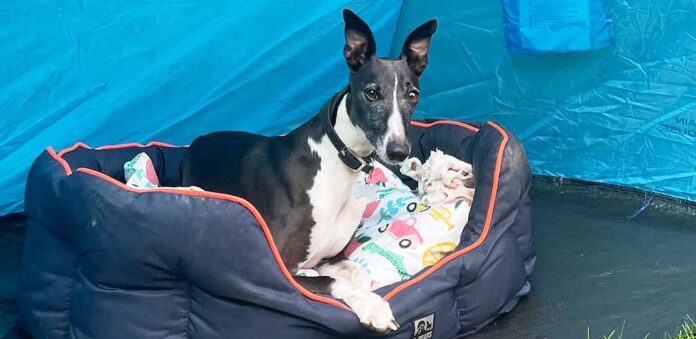 My dog gets a huge amount of use out of his outdoor dog bed. An outdoor canopy bed for dogs is a must-have piece of gardenware for anyone whose dog likes to keep them company outside. Heatstroke is a common problem for dogs living in hot climates, but providing suitably shaded places to rest can protect your pet from heat-induced illness. In wet weather, a covered dog bed will prevent your pooch from returning to the house with wet fur. I've had a look at some of the most popular dog beds that incorporate a cover or awning. Here's my run down of the most effective, comfortable, portable and value-for-money options. And some versatile alternatives too.
Contents
What to look for in an outdoor canopy bed for dogs
An outdoor canopy bed for dogs has the potential to feel like a luxury item. It is a bit eccentric to even consider getting one in the first place?
I don't think so! Just like us, our dogs can feel the toll of the elements on their body. In warm climates, heatstroke is a common reason for pet pups needing medical treatment. Risk factors for heat-induced illnesses in dogs are:
Belonging to a large breed.
Being overweight.
Being over 2 years old.
Having a flat face.
Encouraging your pooch to rest in a shaded spot can protect them from overheating.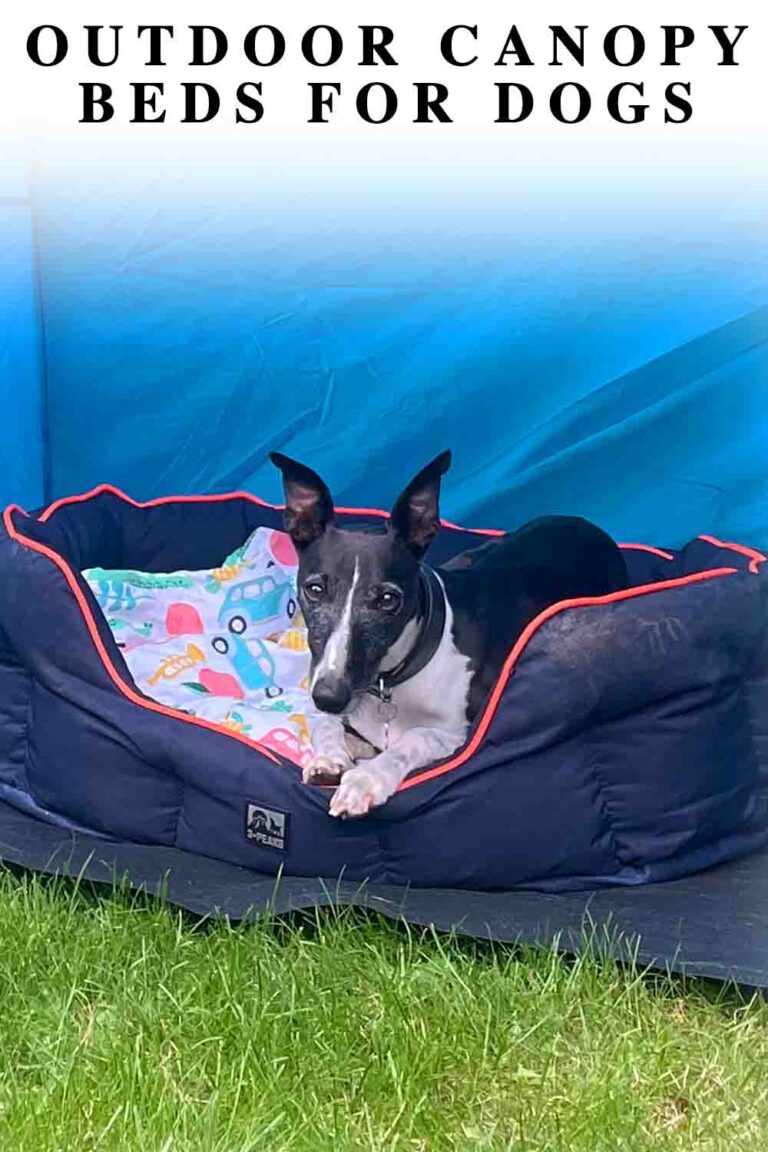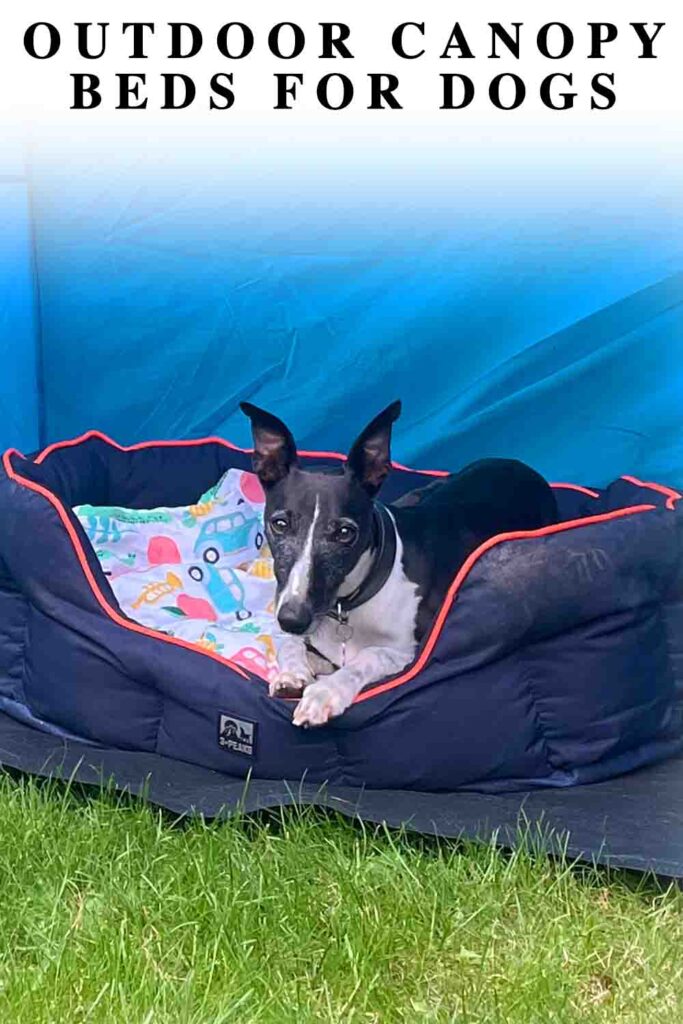 On the other hand, some dogs love to watch the world go by outside, even when it rains. A bit of water won't do them any harm. But a bed with a canopy means they won't have wet fur when they eventually come back inside the house!
Here are some features to think about if you're ready to treat your dog to a luxury al fresco den:
Assembly
Size
How much shade is actually being produced
Durability
Can you store it/travel with it?
Cost
Assembly
A dog bed with a canopy is more likely to arrive flat packed and require some degree of assembly. Check what tools you'll need, and whether they're provided.
Size
Beds with awnings don't just need to be long and wide enough for your dog, they need to be tall enough too. So don't forget to check their height. If you're putting the bed under a window, make sure it's not so tall that it blocks the bottom of the window either!
How much shade is actually being produced?
Beds with a small overhead canopy are only going to produce a small footprint of shade. And it will only fall over the mattress in the middle of the day. Beds without sides will also let more rain in, and do basically nothing to stop wind. A bigger bed than your dog usually has, or a bed with canopy sides as well as a roof might better meet your needs.
Durability
Anything destined to live outdoors needs to be made from materials that are built to last. Look for UV-resistant fabrics, and corrosion-resistant metals, like aluminum.
Can you store it/travel with it?
If you're going to want to take your canopy bed on that beach trip, or on vacation, make sure it's easy to take apart and re-erect. Make sure it will fit in your trunk too!
Cost
Finally, there's cost. We all have a budget! High quality beds are more expensive but better value in the long run. You can still find excellent value for money if you focus on the practical features that really matter, and worry less about aesthetics. Use customer reviews to avoid snapping up a bargain which turns out to be a let down.
7 dog beds with canopies, awnings, covers or sunshades
Here are 7 great sheltered bed which perform well against all of the criteria above:
Zooba elevated dog bed with canopy
This canopy bed (paid link)can be used with or without the awning. The canopy is made from extra thick polyester to improve weather resistance, and assembles like a simple dome tent. One reviewer says that even their young son can add and remove the canopy easily. This bed comes in three sizes, to accommodate even the most enormous canines. But it's not so robust when it comes to chewing – a dedicated chewer is likely to damage this bed quite easily. Finally, it comes with a travel bag, and it is genuinely easy to dismantle and reassemble in a new location.
Zooba elevated dog house
From the same brand as the canopy bed above comes this outdoor bed(paid link). It is more like an elevated dog tent than just a bed! The polyester walls are three times thicker again, which creates a den-like space your dog will love and makes the bed extremely weather resistant. There are mesh panels at the apex of the roof which can be exposed to release heat or covered to shut out rain. This house comes in two sizes, and both of them taller than the Zooba canopy bed with the same footprint. Making this an excellent choice for lofty dogs with long legs!
Natural Expressions 2-in-1 wicker dog house
I was happy to let my dog slum it under a tree for shade, until I saw this bed(paid link)! It's not really designed to be portable, but if that's not a priority for you, then it's hard to resist its aesthetic appeal. It comes with a big, comfy mattress, raised sides for resting against, and a cute roof. I'm not saying you have to decorate the front gable with solar powered string lights and bunting, but I definitely will be!
Floppy Dawg 'Just Chillin' elevated dog bed
This outdoor canopy bed for dogs from Floppy Dawg(paid link) is a hit with buyers because it comes in several bright colors and patterns, and it represents great value for money. The sleeping platform is high quality and built to last. But despite this it is lightweight and easy to take with you on vacations and day trips. The only drawback to this bed is that it only comes in two sizes, and the largest probably won't hold a large Labrador comfortably.
Furggis portable raised dog bed with canopy
This super-portable open air bed(paid link) is packed with practical features for people who spend a lot of time in the great outdoors with their dog. The canopy reaches the sleeping platform on three sides to guarantee shade, and there are mesh panels near the bottom for ventilation. The awning is made from quick-drying, wipe-clean fabric which is UV resistant. And the feet are specially designed to be stable on uneven and soft ground. Previous buyers say this bed is tough enough to withstand all kinds of big dogs and bad weather!
Canine Canyon elevated cooling dog cot
This dog cot with sun shade(paid link) is a smart investment for anyone who travels a lot with large dogs. Not only does it fold up small, it is easily reassembled by one person working alone, and the instructions are printed on a label sewn into the bed, so you'll never have to struggle with forgetting the technique.
PetsFit dog tent
This shaded outdoor dog bed(paid link) is similar to the Zooba doghouse above, except the mesh panels are located on the sides rather than the roof. You also get a choice of light blue or brown walls rather than gray. The relocated mesh panels are ideal for letting a breeze through the bed on a hot day, rather than just letting heat escape. But, if your pup tends to scratch, they're going to be a ripping hazard too.
3 alternatives for sheltering your dog
Specially designed outdoor canopy beds for dogs are one way to keep them cool or dry outside. But they're not the only way! One of these alternatives might be more practical or more versatile for you.
WolfWise pop up beach tent
This beach tent (paid link)isn't made with dogs in mind, but it's lightning quick to set up, and you can pop their regular bed or a sleeping mat inside it. What's more, you and the kids can share it too! I have something similar to this for my dog to use in our yard in summer. Whenever he's not in residence (and sometimes when he is) my daughter uses it for a den or play fort too. I love a multi-tasking item! The pop up construction couldn't be easier to erect, but it does take a couple of tries to fold back up, and it's not very sturdy in the wind.
You can get a very similar tent marketed for dogs here(paid link). I didn't give it first billing because it's a bit on the small side, and several buyers reported having difficulty folding it back up.
Beach canopy sun shade
Sometimes the simplest solutions are the best! This sunshade is a clever bit of design(paid link) which takes up the smallest possible amount of space when you take it down again. I recommend reading the reviews from previous buyers for some top tips about how to set it up securely.
Outdoor canopy bed for dogs – summary
An outdoor canopy bed isn't a necessity for all dogs. But if you and your hound spend a lot of time outside together, it's likely to be a worthwhile investment in the end. There are are several styles to choose from. You can make your choice based on priorities like looks, portability and durability. I think some of the bed here score highly in all three categories, so happy shopping!
The products included in this article were carefully and independently selected by the Labrador Site team. If you decide to purchase one of them using the links provided, we may earn a small commission on that sale. This is at no extra cost to you.
The Labrador Site Founder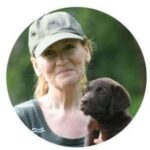 Pippa Mattinson is the best selling author of The Happy Puppy Handbook, the Labrador Handbook, Choosing The Perfect Puppy, and Total Recall.
She is also the founder of the Gundog Trust and the Dogsnet Online Training Program 
Pippa's online training courses were launched in 2019 and you can find the latest course dates on the Dogsnet website