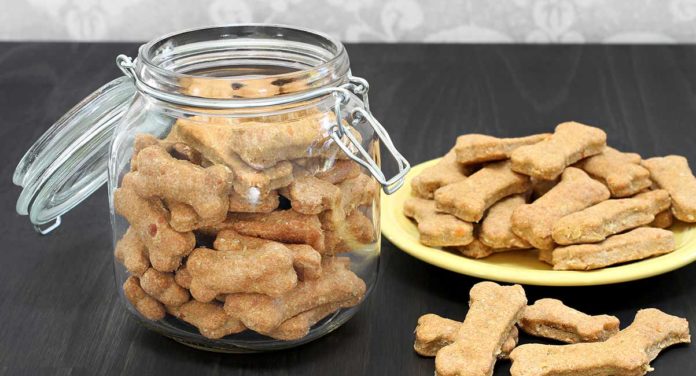 Peanut butter dog treats are so delicious!
In fact, just by sight or scent alone, it can sometimes be hard to tell the difference between homemade peanut butter dog treats and peanut butter treats for people!
For dog owners that have the time, it can be fun to make DIY dog treats for your dog at home!
But with the hectic pace of life today, this simply isn't realistic for all of us.
If you want to try your hand at learning how to make peanut butter dog treats, we'll point you towards some amazing recipes!
And if you are on the hunt for easy peanut butter dog treats you can purchase for your precious pup, we've got that list for you here, too!
All of these products were carefully and independently selected by the Labrador Site team. If you decide to make a purchase from one of the links marked by an asterisk, we may earn a small commission on that sale. This is at no extra cost to you.
But first, a safety warning: Avoid peanut butter with xylitol!
Xylitol is a sugar substitute.
It has a low glycemic index (meaning it is safer for people with blood sugar issues such as diabetes).
Whether sourced naturally from fruits, trees, or grains or manufactured chemically in a lab, xylitol is a sugar alcohol that is a common ingredient in everything from toothpaste to candy.
For us, xylitol is relatively safe.
It probably isn't the best thing we put into our bodies, but it isn't the worst thing either.
But for your dog, xylitol is POISON.
Xylitol can kill your dog quickly.
Why is this so important to mention here?
Some peanut butter contains xylitol as a sweetener instead of sugar!
Even the smallest amount of ingested xylitol can rapidly lead to tremors, weakness, seizures, liver failure, coma, low blood sugar, and death.
How much is too much xylitol for dogs?
Any amount, says veterinarians.
Just one piece of sugar-free gum can have serious health consequences, and two pieces can be fatal for small or toy pups.
There is no treatment to reverse the effects of xylitol toxicity, but mild symptoms can be treated successfully if you get your dog to the vet right away.
So be extra careful if you want to make your own recipes that you check the peanut butter label (and all other ingredient labels as well) to be sure there is no xylitol in any of the ingredients!
Yummy peanut butter dog treats
These flat-out yummy peanut butter dog treats are both healthy and tasty – the best of all worlds!
K9 Granola Factory Pumpkin Crunchers Dog Treat*. These crispy, crunchy peanut butter and pumpkin dog treats are grain-free, wheat-free, and soy-free and packed with natural nutrients, vitamins, and minerals.
The biscuits are a fun star shape.
Better Than Ears Premium Dog Treats*. These healthy fortified peanut butter dog treats are packed with joint-stabilizing glucosamine and chondroitin to help dogs with hip and joint issues feel better.
These treats provide a long-lasting and highly digestible chew that isn't precisely crunchy or soft – it is somewhere in between.
Hill's Science Diet Dog Treats*. If your vet recommends Hill's Science Diet (many vets do), these peanut butter and banana dog treats make a perfect complement to the dry kibble and wet dog food made by this company.
They are soft and chewy, so even senior dogs and puppies can enjoy them safely.
Peanut butter dog treats dental chews
SmartBones Rawhide-Free Dog Chews*. These safe, healthy, digestible peanut butter dog chews feature peanut butter, chicken, and veggies packed with minerals and vitamins.
If your dog prefers stick treats, SmartSticks are the same treat in a different shape.
Nylabone Nutri Dent Complete Dog Treat Bones*. These dental chews are created to help keep your dog's teeth and gums clean and healthy while she chews.
There are different sized chews for small, medium, and large dogs. The grain-free formula is good for all dogs.
Pawstruck Natural Cow Hooves for Dogs*. These very highly rated and popular natural (USDA approved) cow hooves are filled with delicious peanut butter to give your dog maximum flavor while he chews and cleans his teeth and gums.
There are different pack sizes from 5 to over 100 hooves for single and multi-pup households.
Organic peanut butter dog treats
In today's international marketplace, finding safe peanut butter dog treats with high quality ingredients is a legitimate concern!
Manufacturing and safety guidelines can vary from one country to the next.
You always want to be sure you are feeding your pooch the best and most healthy treats.
Choosing organic peanut butter dog treats is a great way to allay your concerns and ensure the ingredients are high quality and free from GMOs and fillers.
These organic goodies come highly rated by dog owners and their pups!
Wet Noses All Natural Dog Treats*. These organic and non-GMO peanut butter banana dog treats feature a very limited all-organic ingredient list of bananas, ground peanuts, canola oil, molasses, eggs, and rye flour.
Each treat is round and about the size of a quarter.
Riley's Organics Human Grade Organic Dog Treats*. These organic human-grade dog treats are wheat-free, corn-free, soy-free, and free from sugar (at least regular types – they do contain molasses), salt, artificial ingredients, and fillers.
They are shaped like classic dog bone biscuits and are hard and crunchy to help clean your dog's teeth.
V-Dog Wiggle Biscuits*. These organic biscuits are free from gluten, corn, wheat, soy, fillers, and by-products and are packed with 23 percent protein.
There are 100 treats in each pouch and each treat is shaped like a cute, crunchy little heart.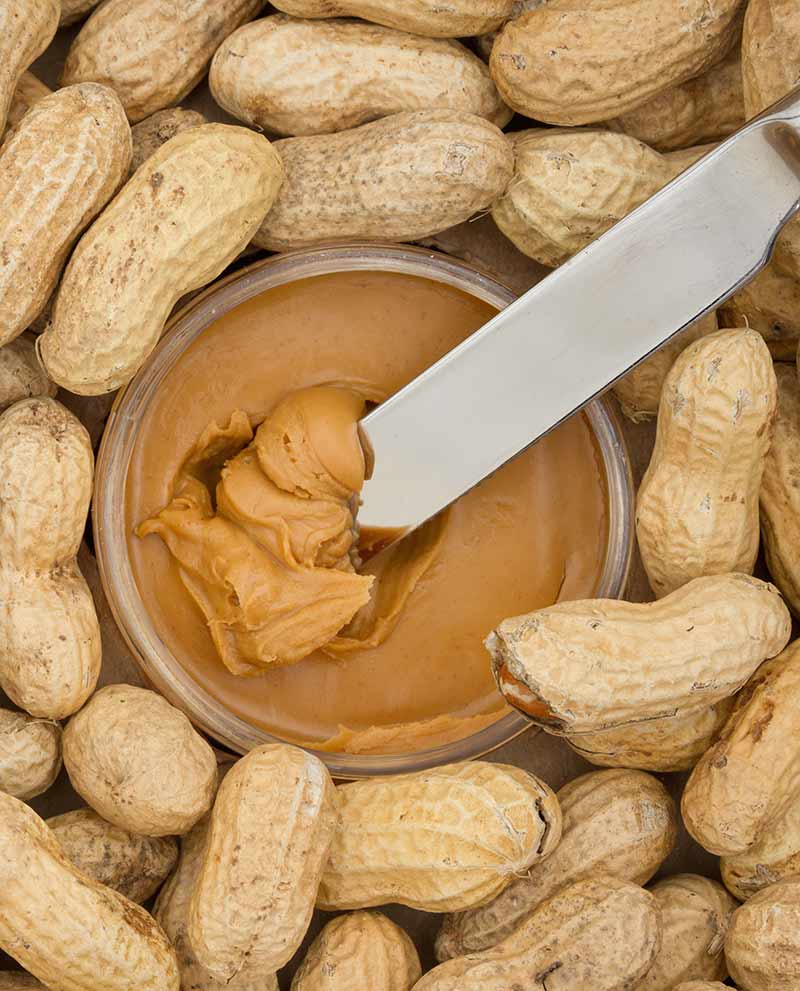 Peanut butter dog treats for dogs with allergies
According to veterinarians, approximately 10 percent of dogs today suffer from allergies.
And this can make it tough to find tasty dog treats!
These highly rated and popular limited ingredient peanut butter dog treats can put the fun back into your allergic dog's daily diet!
Old Mother Hubbard Crunchy Classic Natural Dog Treats*. These natural treats feature just four ingredients: peanut butter, molasses, apples, and carrots. Biscuit sizes are mini, small, or large to suit all dog breeds.
As a bonus, dog owners say the P-Nuttier flavor is great for senior dogs who can't chew easily and also good for dogs who have allergies.
Cloud Star Grain Free Buddy Dog Treat*. These tasty homestyle peanut butter dog treats are grain-free, wheat-free, gluten-free, and soy-free.
They are also egg-free and low fat. The treats are soft, making them easier for older dogs with dental issues to enjoy. The very limited ingredient list complies with dogs on a restricted diet.
NUTRO Crunchy Dog Treats*. These treats are non-GMO and free from corn, soy, and wheat. They are also free from artificial ingredients, preservatives, and by-products.
Each treat is crunchy and satisfying to chew but contains just six calories, making them a great training treat for dogs on limited ingredient diets!
3 ingredient peanut butter dog treats recipes
Sometimes, the simpler the peanut butter dog treats, the better for both you and your pup.
These popular 3 ingredient peanut butter dog treats couldn't be easier to make or tastier to munch!
These peanut butter banana dog treats from Munchkins and the Military are so simple and tasty. The ingredients list includes just peanut butter, banana, and oatmeal. (So if you happen to eat one by mistake, we won't blame you!)
17 Apart has improved on baked dog treats with a 3 ingredient no-bake treat! These sweet potato peanut butter dog treats have oats as their secret ingredient.
Fancy a dog treat with peanut butter, eggs, and flour? Vanessa Baked has got one for you, and you can sub out the wheat flour for a gluten-free variety if you prefer.
2 ingredient peanut butter dog treats recipes
If you thought it couldn't get any simpler than 3 ingredient peanut butter dog treats, try on these 2 ingredient peanut butter dog treats for size!
This delicious coconut and peanut butter no-bake dog treat recipe from The Squishy Monster is so simple. You may swear off buying dog treats forever!
It Doesn't Taste Like Chicken has put together a fabulous recipe for pumpkin and peanut butter oatmeal dog treats. It still lets you substitute a different type of flour if your dog's diet requires it.
This easy peanut butter oatmeal dog treats recipe is from Glitter Cottage. It also gives you some tips for the easiest baking process.
Peanut butter dog treats recipe ideas
These easy homemade peanut butter dog treats recipes are easy on your budget and super simple to whip up.
This peanut butter dog treats recipe from The Cookie Rookie is fully customizable if your dog has a gluten allergy – just substitute rice flour or coconut flour or another vet-approved flour of your choice for the wheat flour. The other ingredients are simple and natural: baking powder, water, honey, peanut butter, and eggs. You can also change it up by adding some sweet potato, pumpkin, or banana so your pup never gets bored at treat time!
This fun peanut butter dog treats recipe from Eating Bird Food is so healthy and can also be customized for gluten allergies. Just add oat, sorghum, or chickpea flour in place of the wheat flour. The other ingredients are peanut butter, applesauce (or mashed up banana), and soup stock (veggie, chicken, or your choice) – that's it!
These healthy pumpkin peanut butter dog treats from Nikki's Plate feature four ingredients: peanut butter, pumpkin, the flour of your choice, and eggs. And they are fast and easy to prepare and bake.
Canine cookie cutters to make fancy dog treats
To make your dog's treats extra fun, consider investing in a canine-themed cookie cutter.
(Tip: the addition of the cookie cutter can also turn these recipes into great holiday gifts for your dog-loving friends!)
Here are some fun, popular, and highly rated cookie cutters you might want to check out!
K9Cakery 6 bone shaped cookie cutters*. Six different sizes of bones make this cookie cutter set perfect for multi-pup families.
It's also great for friends with different-sized pooches!
R&M International 1947 Dog Cookie Cutters*. How adorable is this 7-piece set featuring a dog's favorite things?
You get fire hydrants, a mini dog paw, three sizes of bones, and a house in the set.
Wilton Metal Cookie Cutter Set*. This precious 4-pack of cookie cutters features a dog.
It also features a paw print, a bone, and a dog house.
Frozen peanut butter dog treats recipes
Frozen peanut butter dog treats – yum!
What could be more perfect after a vigorous game of Frisbee or Fetch?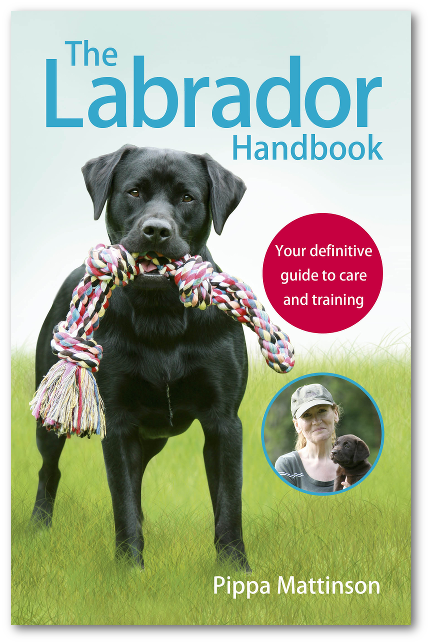 Life, Love and Sugar serves up these delectable frozen peanut butter and banana dog treats in a jiffy.
Detoxinista gives us a great grain-free frozen dog treat, featuring peanut butter and banana with just a little water for blending.
The Humane Society offers up this simple recipe for frozen peanut butter and banana dog treats and even shares tips for how to pre-pack a Kong dog toy with this frozen treat mix!
Peanut butter dog treats
Which peanut butter dog treats are you going to try out first?
Do you plan to make your own or let your pup sample some of the awesome premade treats listed here?
Or maybe you will do both!
Either way, please post us a comment.
Let us know your favorites, and of course give us a heads-up if we left out your pooch's favorite recipe or treat brand!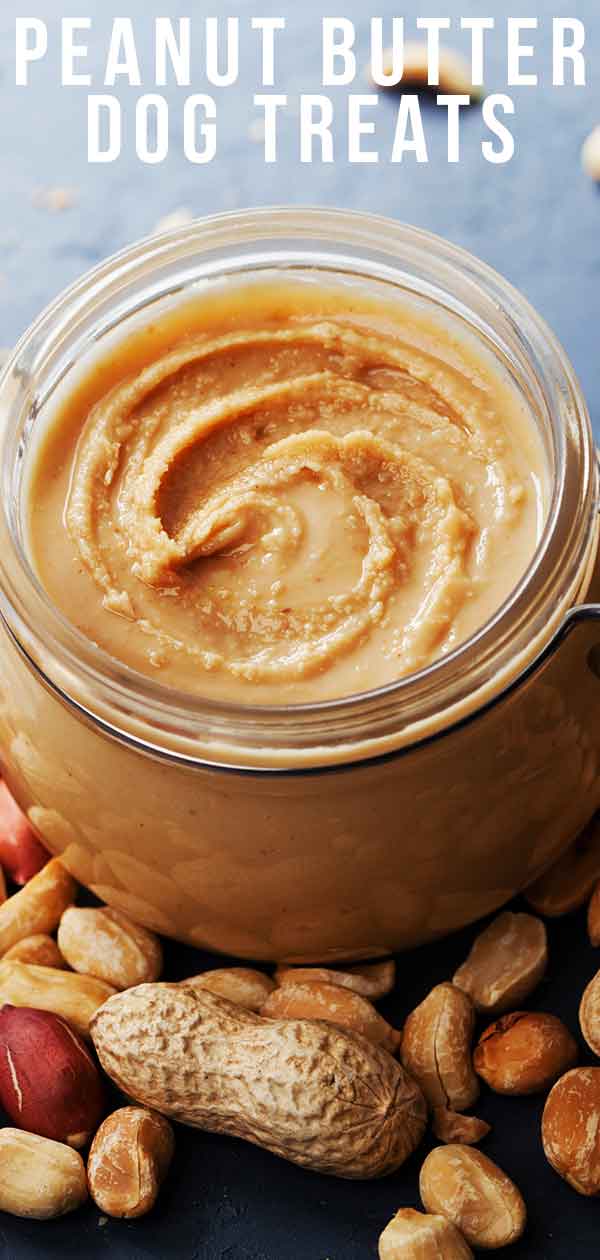 Affiliate link disclosure: Links in this article marked with an * are affiliate links, and we may receive a small commission if you purchase these products. However, we selected them for inclusion independently, and all of the views expressed in this article are our own.
Sources
The Labrador Site Founder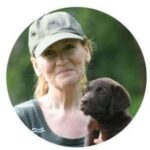 Pippa Mattinson is the best selling author of The Happy Puppy Handbook, the Labrador Handbook, Choosing The Perfect Puppy, and Total Recall.
She is also the founder of the Gundog Trust and the Dogsnet Online Training Program 
Pippa's online training courses were launched in 2019 and you can find the latest course dates on the Dogsnet website