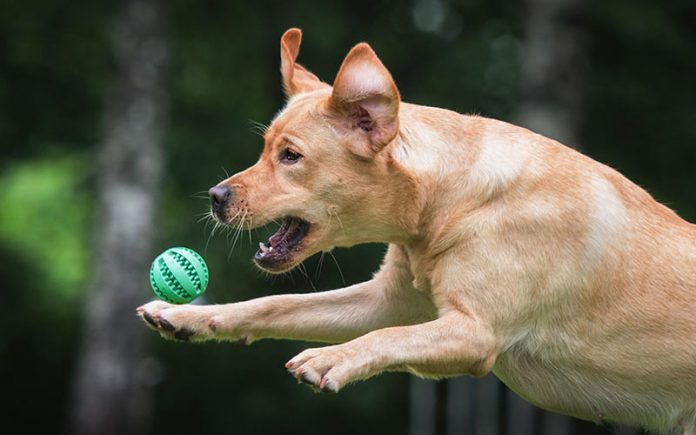 Welcome to our complete guide to the best interactive dog toys. Giving reviews of the top choices, and important tips on how to pick the right ones for your Lab.
The latest science of animal intelligence tells us that Labrador retrievers rank in the top seven of all dog breeds in terms of dogs that have the highest canine I.Q.
Even more amazingly, however, this same science indicates that your pet Labrador retriever could easily go head-to-head in language, math, social skills and basic emotional intelligence with a two-year-old human child. Wow!
So if you have ever had the sneaking sensation that your pooch is, well, bored, your intuition is likely telling you the truth.
Luckily, as dog owners learn more about just how smart our canine sidekicks truly are, we are demanding more and better interactive dog toys, and pet toys manufacturers are responding in kind.
In this article, we will take a thorough look at some of the best interactive toys for dogs available today so you can pick out some dog interactive toys to challenge and enliven your lab's smarts and spark his imagination!
Best Interactive Dog Toys
In this article we bring you over 30 great ideas for interactive dog toys.
But just in case you're short on time, here are our top picks.
So you've seen our favorites – now let's find yours!
Starting at looking at how to pick the right interactive dog toys, then browsing through over 30 handy reviews.
Interactive dog toys for dogs of all ages
As you likely already know, the domestication of the pet dog has taken place over a period of millions of years. At every point along this journey, evolution has continually favored more outgoing, friendly, sociable and smart dogs over their less extroverted or intelligent canine peers.
Early puppies exhibiting high intelligence, cooperation and communication skills ultimately fared better when co-habiting with early humans and thus lived to reproduce their genes. As these genes have been passed down through the centuries, today's dogs have become smarter and more inquisitive and eager for new dog interactive games and toys than at any other time in canine history!
Puppies, adult dogs and senior dogs can all benefit from today's wide variety of interactive dogs toys. In fact, one recent study looked at how providing the most enriching possible environment can actually extend your senior dog's life!
So just because your Labrador puppy is still young and uncoordinated in body, this doesn't mean she is too young and uncoordinated in mind to enjoy the puppy interactive toys we share here.
In the same way, even if your senior Labrador has some physical health issues that force him to take more frequent rest, chances are good his mind is still razor-sharp and eager to learn and interact with these great dog toys interactive!
Interactive dog toys for large dogs
As of 2017, Labrador retrievers top the list of the nation's most popular dog breeds for the 26th year in a row!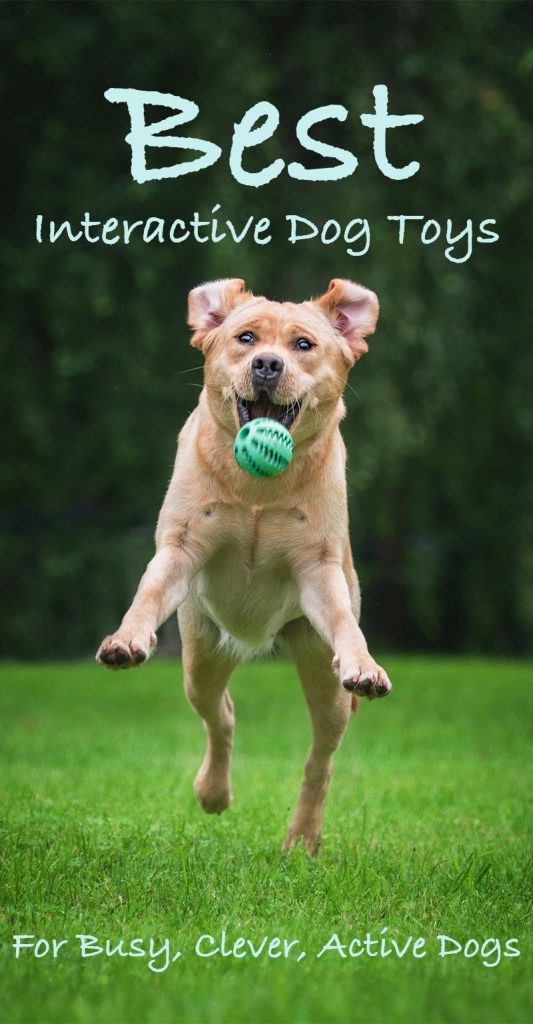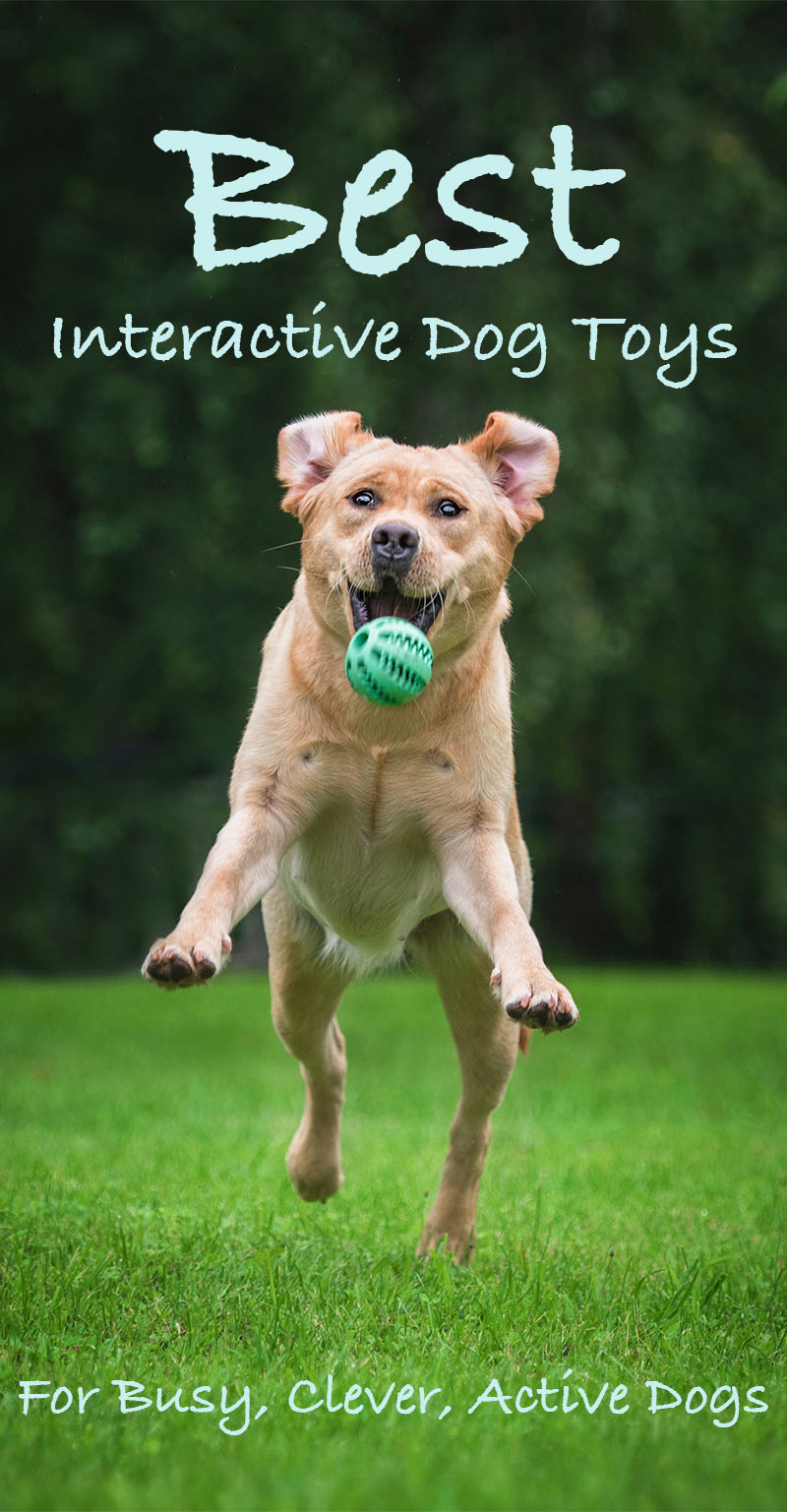 As it turns out, labs aren't just popular amongst civilians seeking a loyal, loving, good-looking and companionable canine "other half." The military also uses labs heavily for specialized safety and protective assignments due to their intelligence, stress tolerance, strength and work ethic.
In one study, working military dogs who were provided with regularly scheduled enrichment sessions that included exercise and interaction with people showed lower stress (cortisol) levels and improved welfare levels over the 7-week study period.
Study results also show that interactive enrichment for large dogs such as Labrador retrievers is an essential part of their ability to meaningfully engage in their own lives in positive and fulfilling ways.
As you browse through these popular interactive dog toys best of selections, be thinking about which toys your precious lab might enjoy most!
But first, let's look at our top choices!
JW Pet Company Tanzanian Mountain Ball Dog Toy
This highly rated ball toy is unique in the powerful "bounce" it delivers even while holding soft treats like nut butters.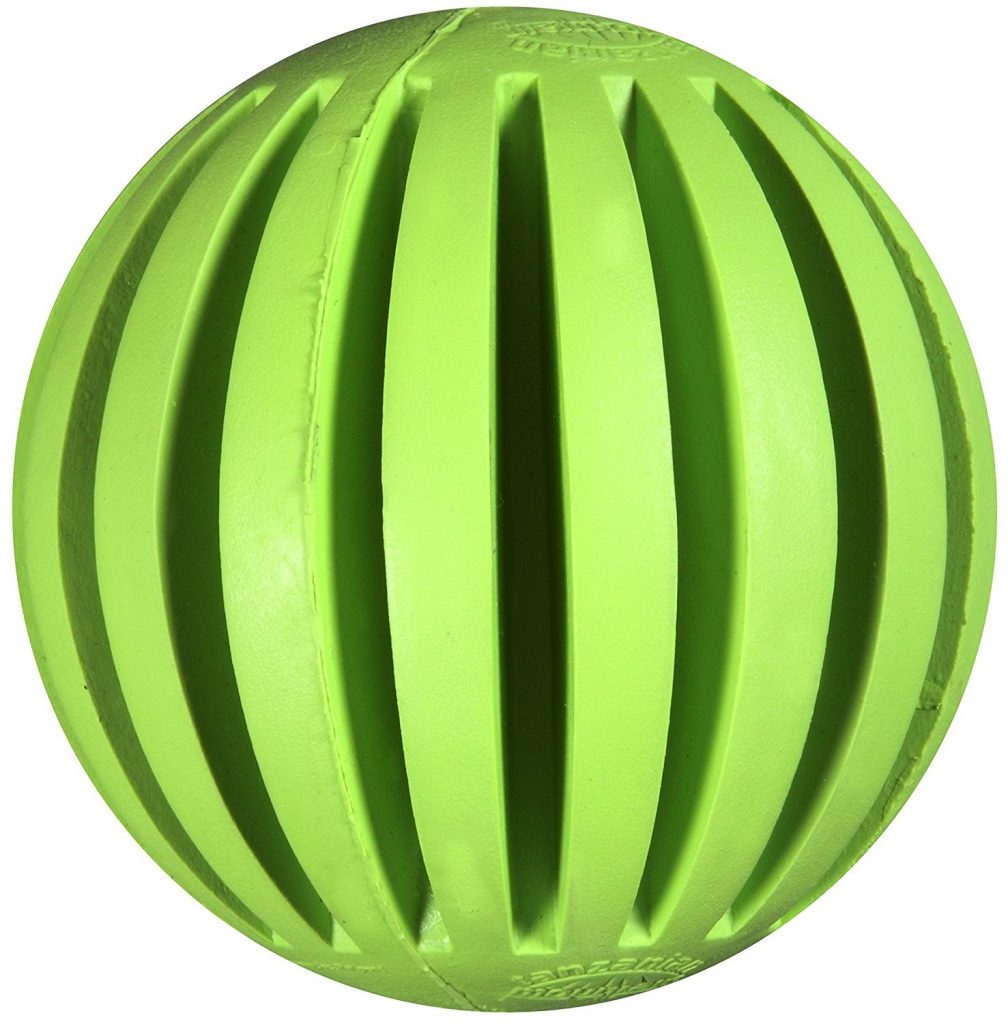 It is made of natural, biodegradable safe rubber, and dog owners say it can easily withstand squishing and squashing between your lab's jaws.
It also makes for a fun and memorable game of "fetch."
KONG Jump N Jack Dental Dog Toy
This classic KONG toy can be filled with breath paste to help deodorize and sanitize your Lab's teeth and gums.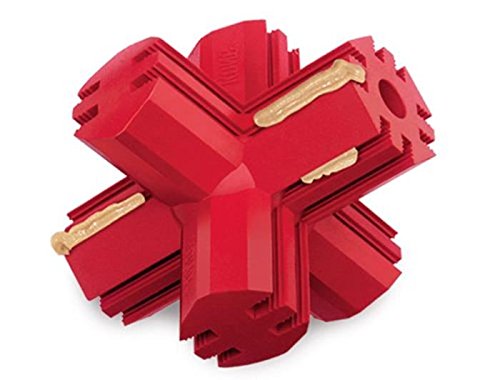 This toy is great for labs of all ages but may be especially soothing for teething lab puppies.
It comes in three sizes (small, medium, large).
Up Dog Toys The Odin Dog Treat Puzzle Toy
This one-of-a-kind interactive dog toy offers the kind of multi-functionality that can keep your lab entertained for hours.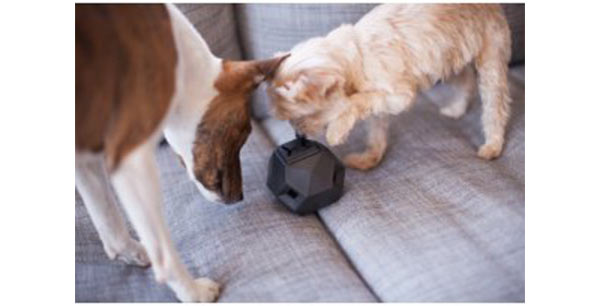 And also won't raise any eyebrows if it stays out while you entertain guests.
It actually looks more like a tech gizmo than a dog toy, which is part of its appeal.
You can also connect more than one Odin together for additional challenges.
Hyper Pet K-9 Kannon
One dog owner said this popular tennis ball launcher actually brought her senior Lab "back to life" again!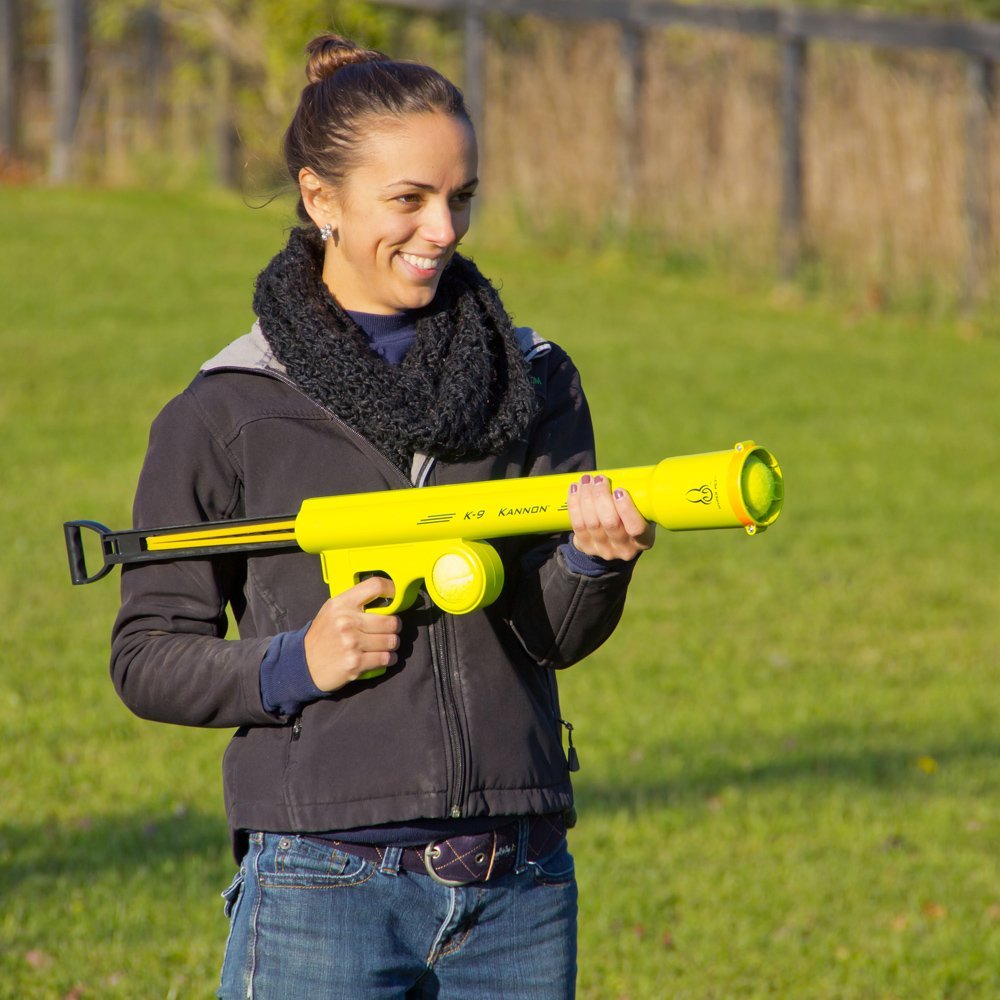 The launcher can send the ball 75 feet away for a rousing game of long distance "fetch."
Dog owners say the Kannon is very well made and operates with a rubber band, so you don't have to worry about any batteries. It comes with one tennis ball.
Interactive puppy toys
Even as our knowledge of canine intelligence grows, so too do we get better at recognizing and stimulating our dogs' natural intelligence at ever-younger ages. The earlier you begin offering interactive play to your lab puppy, the stronger your bond will be and the more appreciative you will be of your puppy's many strengths and talents.
These toys are some of the best interactive puppy toys available today and we hope your Lab puppy will enjoy them!
TRIXIE Pet Products Dog Activity Gambling Tower
This toy is well rated by dog owners. It can be used for dogs of all ages.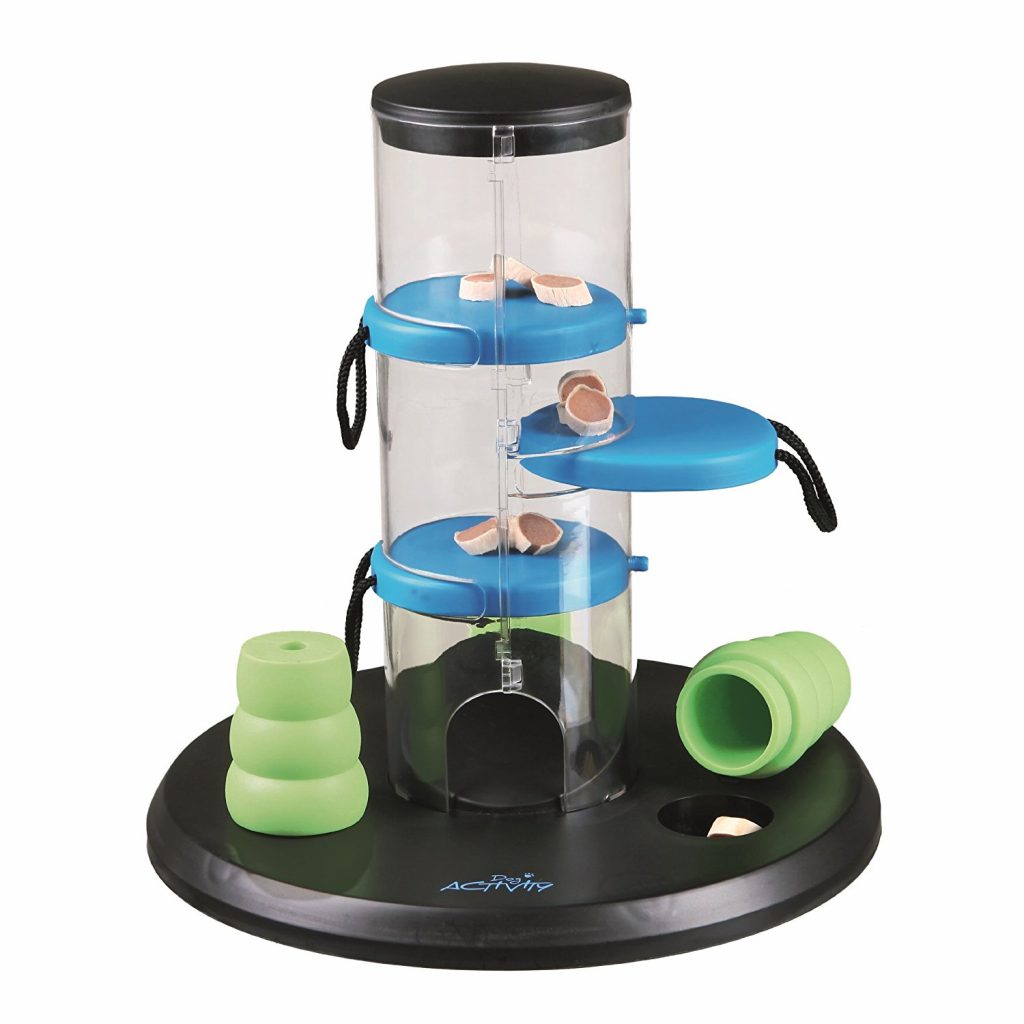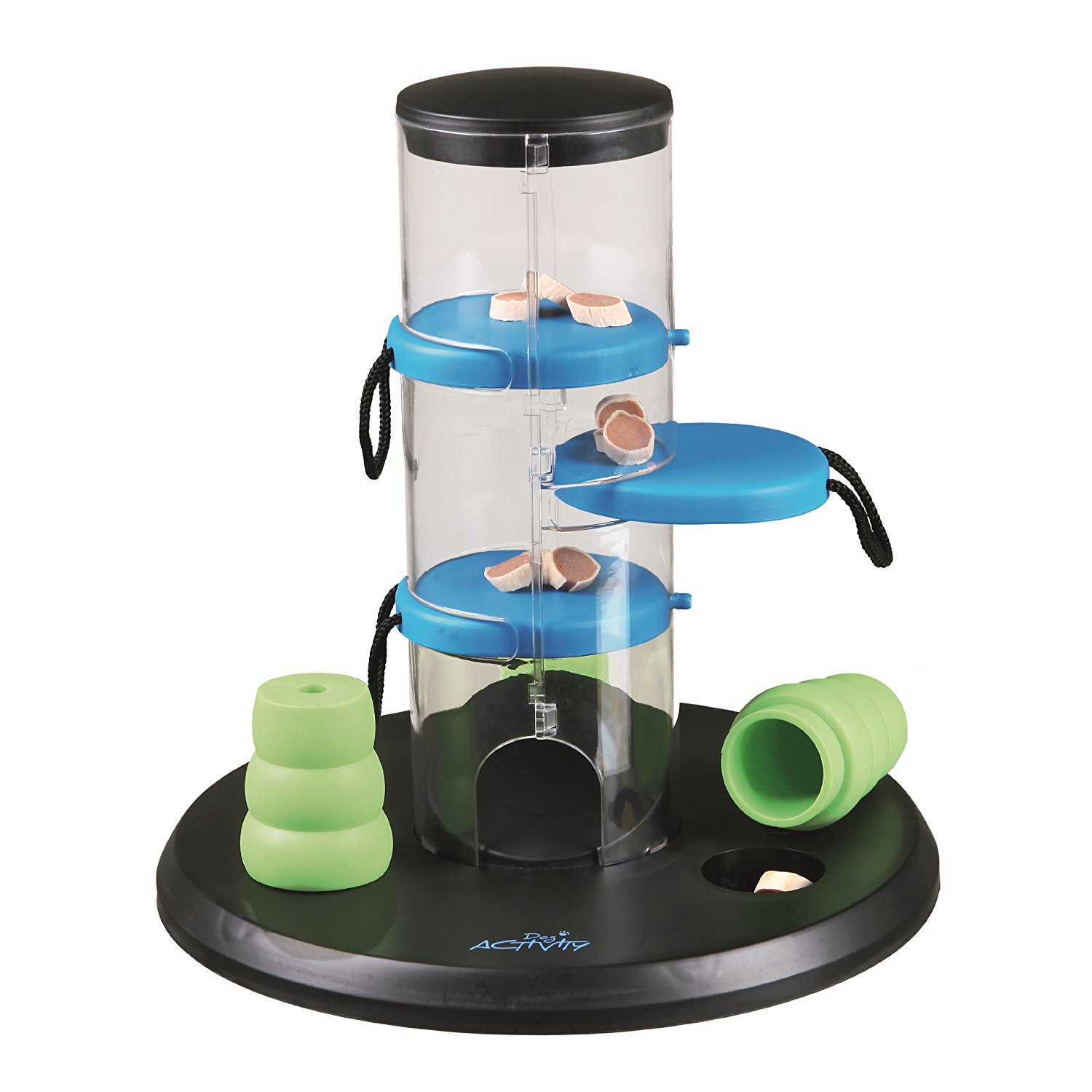 However, many reviewers say it is great for puppies in particular as it prevents boredom and distracts puppies who are getting into trouble.
This is the level 1 gambling toy so it is suitable for beginner dogs. The toy will hold a small amount of treats in the base cones.
Dog owners suggest it is best used with your supervision during interactive playtime.
KONG Puppy Tire
This affordable popular puppy chew toy becomes interactive when you fill it with soft nut butter or KONG puppy treats.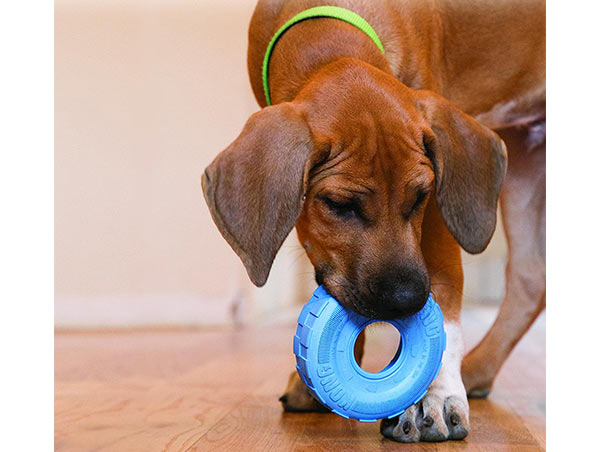 The puppy tire comes in small and large and is made of natural teething rubber material.
It helps your puppy to ease her teething pains while maximizing the chances for healthy adult gums and teeth.
AsyPets Smarter Interactive IQ Treat Rubber Ball
Dog Freeze Chew Soft Ball Toy for Puppy. Owners rate this interactive puppy toy highly.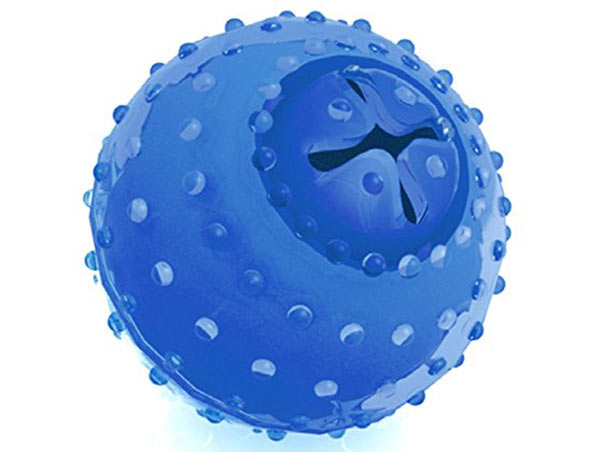 This freezer-safe toy can ease the pain of teething (similar to how an infant teething ring works).
While also keeping developing teeth and gums clean as your Lab puppy forages for the treats inside.
Nasus Puppy Dog Cooling Chew Toy Summer Intelligence Puzzle
This wonderful highly rated puppy toy is in the shape of a chew bone. But concealed inside is a sponge.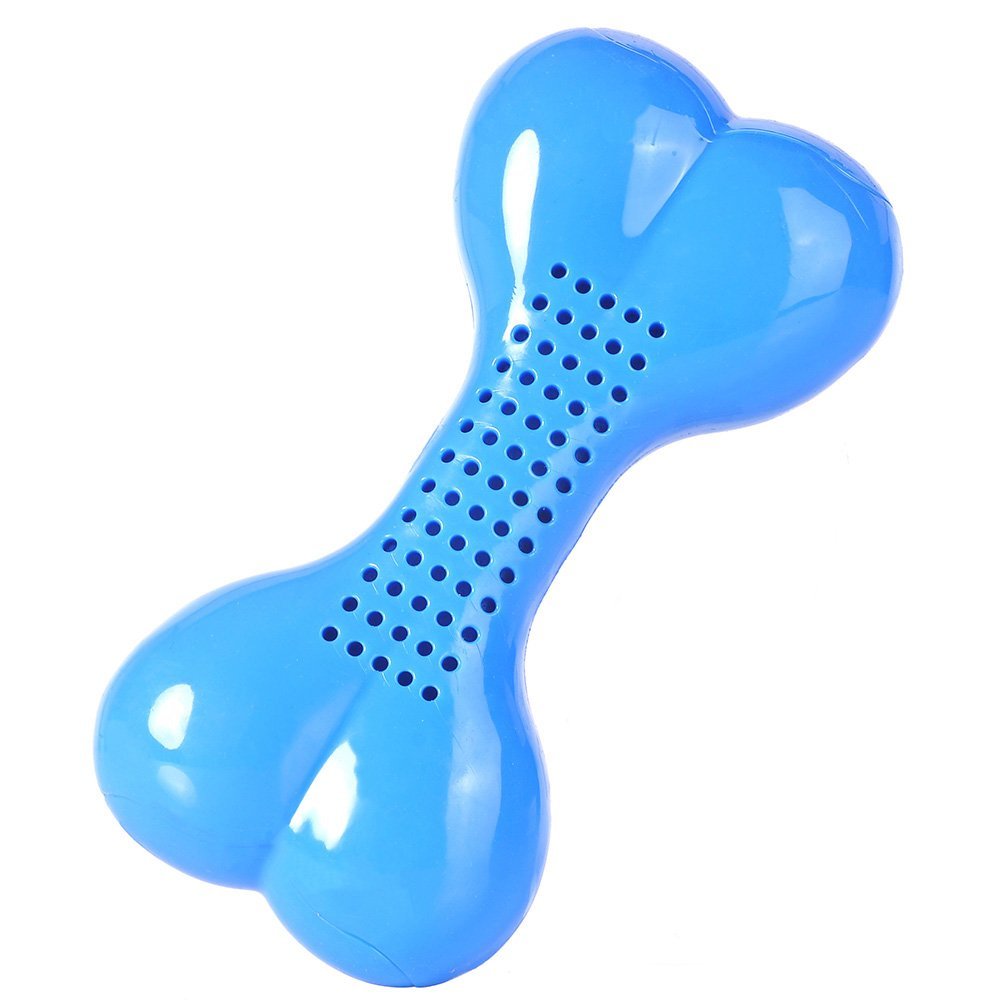 The toy can be immersed in water to allow the sponge to soak up the water and it can then be frozen.
As your Lab puppy chews the toy, the cold sponge will cool teething pains by emitting chilled water through a series of small surface holes.
Interactive dog games
Many of the interactive dog games, puzzles and toys sold today would challenge a tiny human (or even an adult human). In other words, these are not your ordinary dog games. They will really stimulate your dog's untapped creativity and mental acuity as she plays.
Nina Ottosson DogTwister Interactive game
When it comes to puzzle dog toys, Nina Ottosson is one of the biggest names in pet toys today.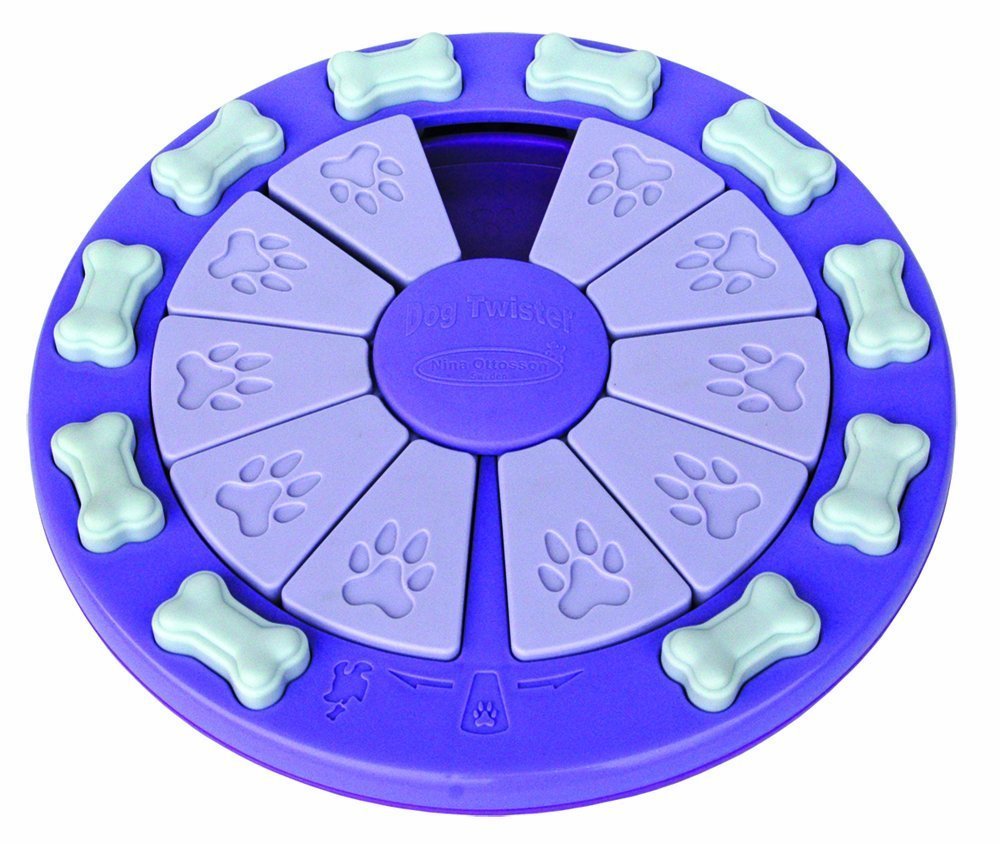 This popular toy is designed to help you train your Lab to recognize and obey common commands (which makes it great for Lab puppies as well).
Even better, the toy is said to be "slobber proof" as well as being dishwasher safe.
If you like this toy, Nina Ottosson has many more creative toys you can introduce to your Lab too.
KONG Widgets Chomp Dog Toy
This unique KONG toy is designed to take the classic game of "fetch" to a new level with a hidden inner treat dispenser.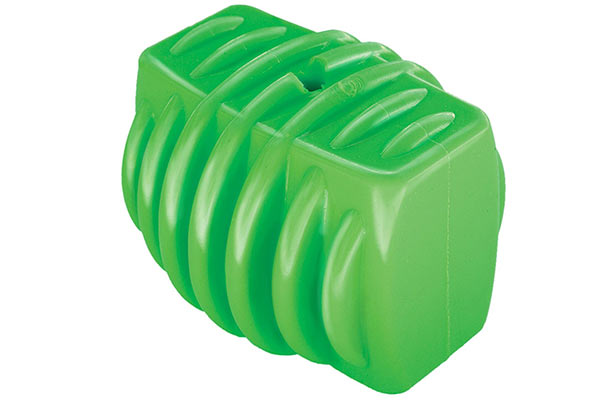 The incredibly well liked toy also bobs and floats for water play.
It comes in three sizes (small, medium, large) and several colors.
EVERFRIEND Dog Ball Interactive Ball
This excellent toy is suitable for both Lab puppies and adult dogs.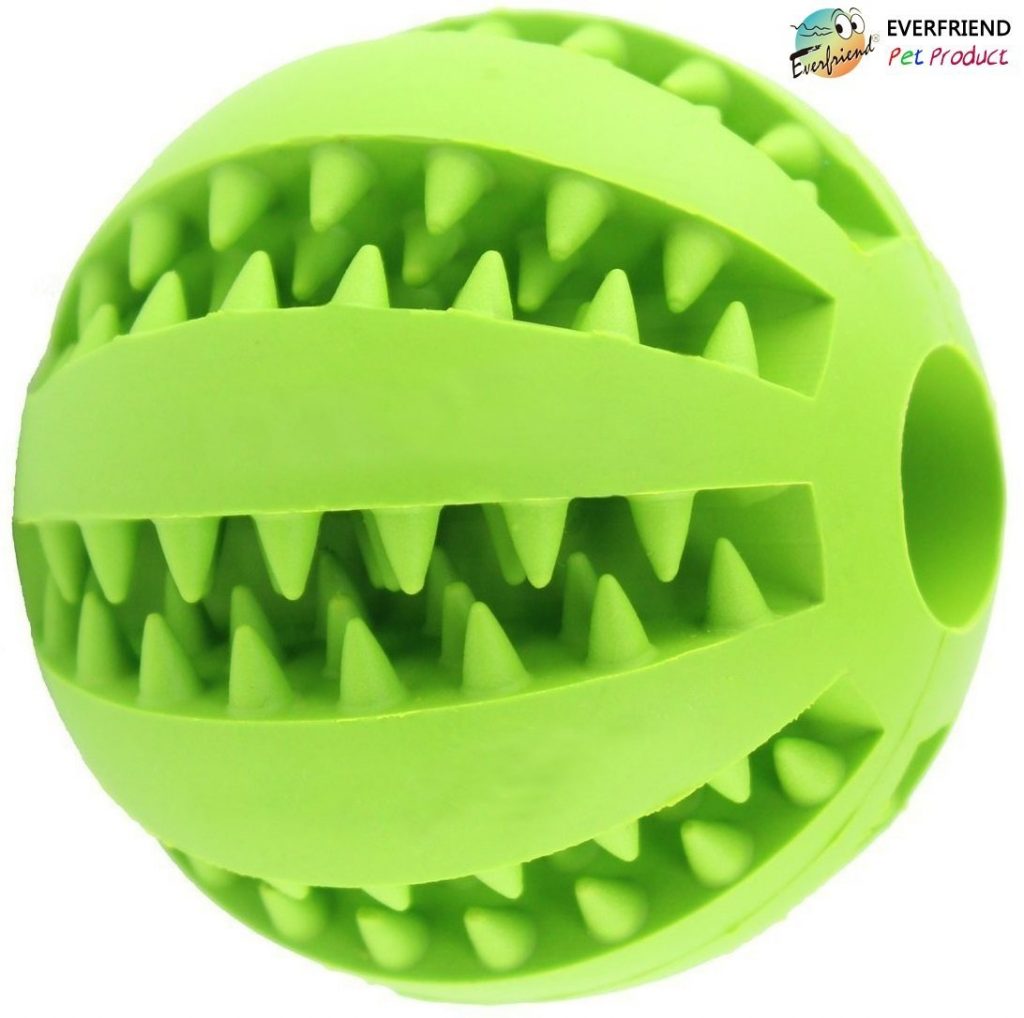 It can be used to enliven games of "fetch" with hidden interior treats. The toy is also naturally designed to clean your dog's teeth and promote healthy gums.
It is made of soft yet durable rubber that is bite resistant.
Another' Pet Nosework Premium
Handmade Mat Activity Fun Snuffle Mat. This unique game comes in the form of a mat with many different compartments.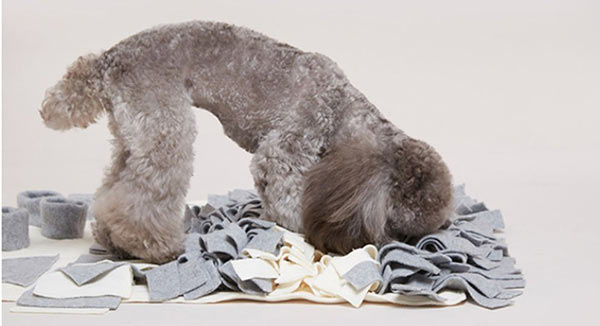 The mat is compact for travel and storage. It teaches your lab to use his sensitive nose to identify different odors. Dog owners say it is also good for relieving dog boredom and stress.
The mat is rated highly on Amazon and comes in two sizes (medium, large).
Interactive dog feeders
Dogs, like people, sure do love to eat, and dinner can taste even better when your dog has had to do a little work to get to it! So if your lab tends to rush through "chow time," these are the feeder toys to try!
Each feeder toy is made of non-toxic material (SO important when your dog will be chewing on a toy and mouthing it regularly!) and is affirmed as being easy to clean.
PAW5 Wooly Snuffle Mat Feeding Mat for Dogs
This innovative foraging mat rates highly on multiple levels.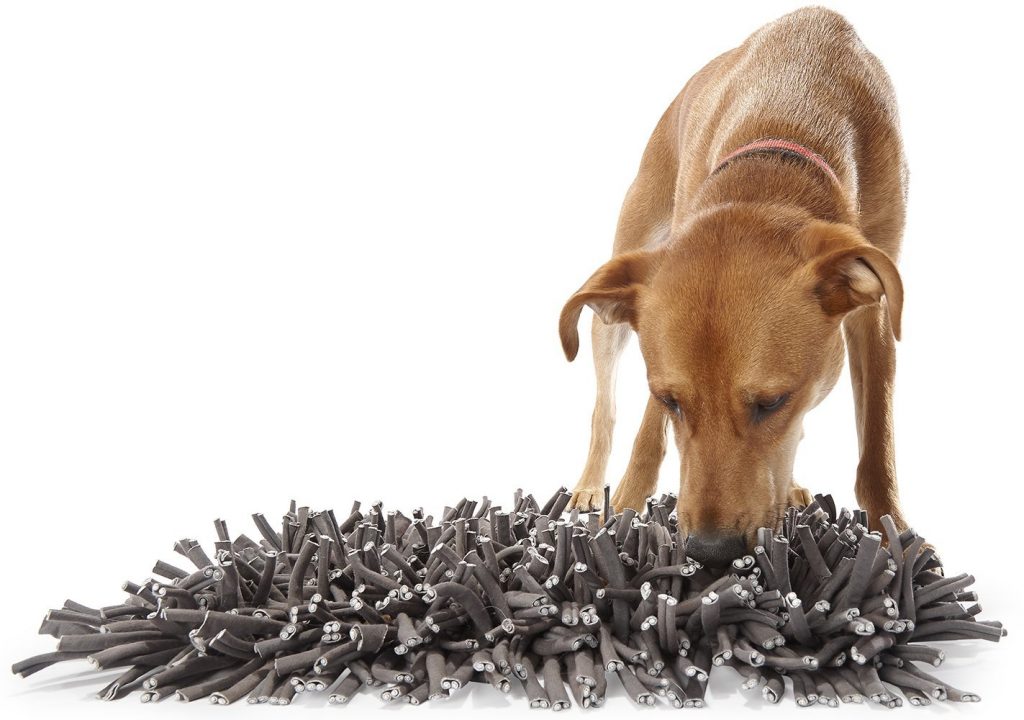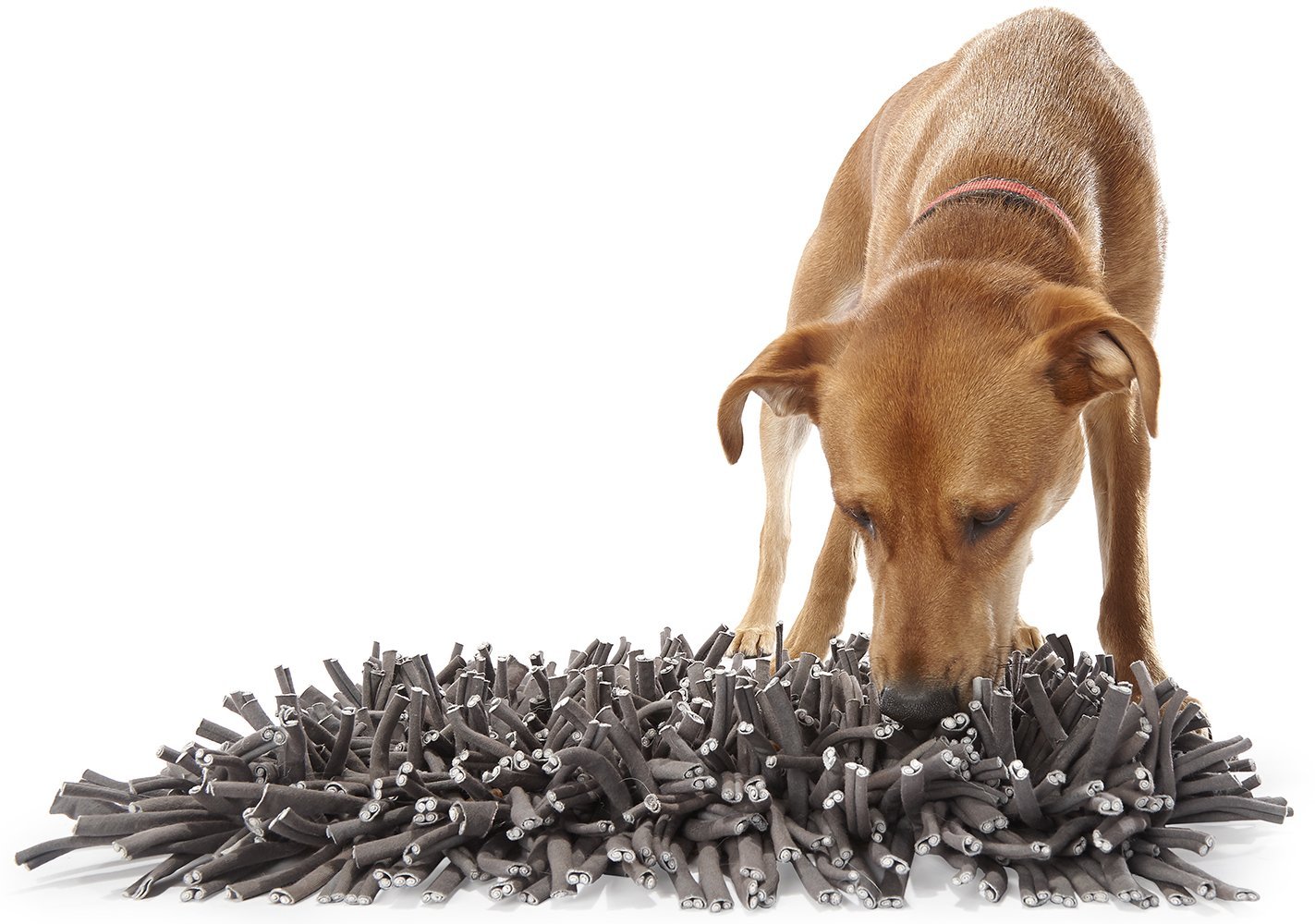 It is made from all non-toxic recycled materials and is machine wash-friendly. Easy to fill and set up.
It is suitable for puppies, adult dogs and senior dogs.
And the manufacturer offers a 100 percent money-back guarantee!
Kyjen Outward Hound Fun Feeder Slow Feed
Interactive Bloat Stop Dog Bowl. This highly rated interactive dog feeder toy comes in two sizes (small and large) and three colors (orange, pink and green).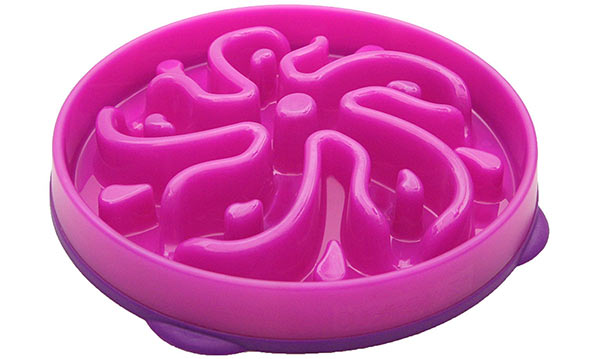 It holds up to 4 cups of dog food. It also comes in three different foraging designs and is made of food-grade, BPA and phthalate-free plastic.
If your Lab tends to inhale his dinner, this is definitely the feeder toy you want to try!
Aikiou Interactive Dog Bowl
This dog feeder bowl comes in three colors (green, pink, blue).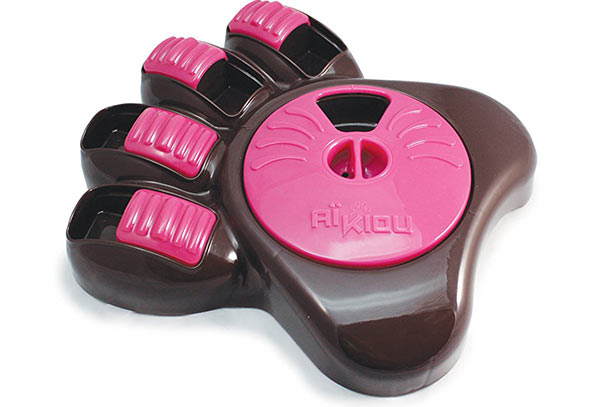 The bowl design is vet-approved and encourages real interactive play using a series of doors that open to reveal food or treats.
It is made of non-toxic food-grade plastic and is safe to put in the dishwasher.
Dog owners say it does a great job of helping their pups slow down while eating meals.
Interactive puzzle dog toys
There are so many great interactive dog puzzles available to dogs today that it is hard to remember the decades when a Frisbee and a tennis ball were the staples for dog playtime!
Whether your Labrador is a puppy, an adult or a senior dog, she is sure to love these highly rated interactive puzzle dog toys.
Petzilla Interactive Intelligence Toy for Dogs
Hide and Seek Puzzle Dish Feeder Bowl. This unique interactive puzzle toy for dogs doubles as a treat or food dispenser.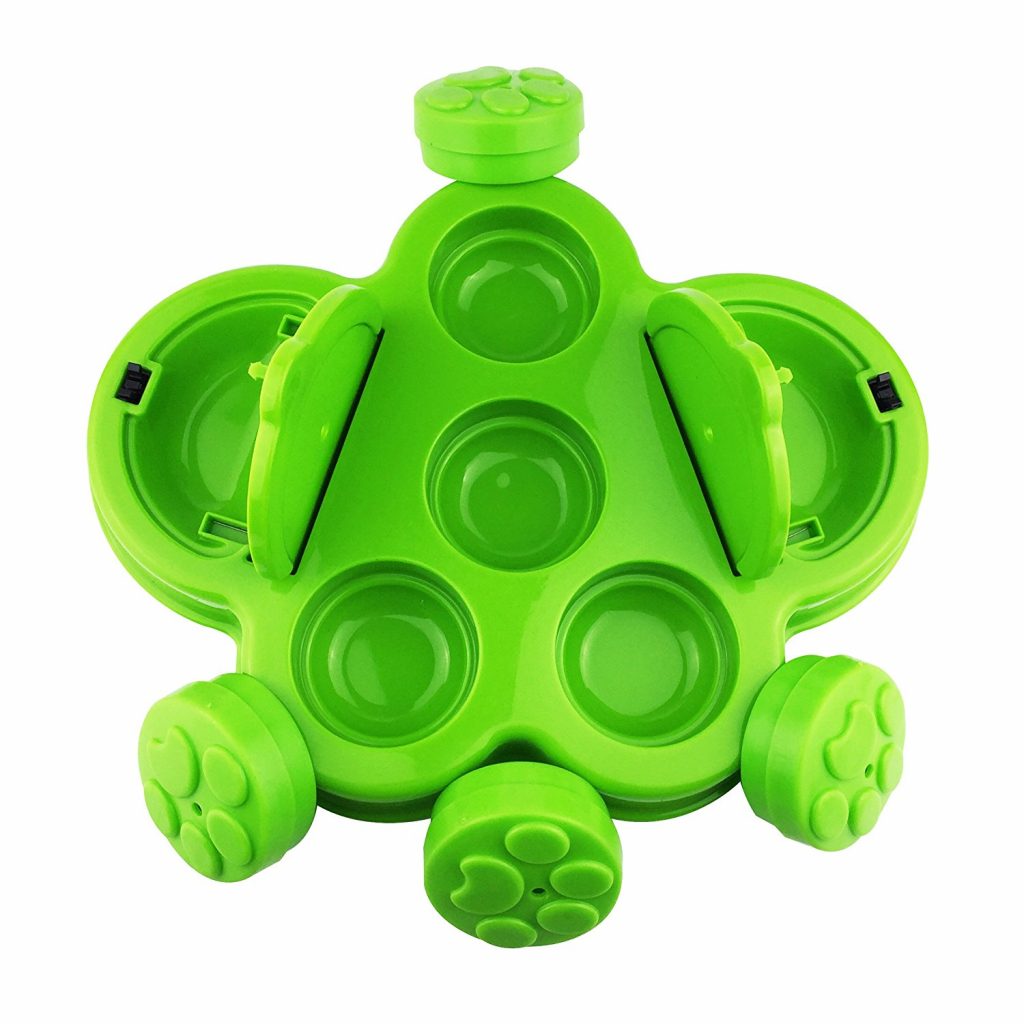 So you can use it in multiple ways to keep your dog engaged. The toy is made of safe, phthalate-free, dishwasher-safe and durable plastic.
It comes in three colors (yellow, blue, green) and two sizes (small, large).
Outward Hound Hide-A-Squirrel and Puzzle Plush Squeaking Toys for Dogs.
Dogs seem near-universally attracted to squirrels as the tiny, furry rodents race across fence tops and up and down trees.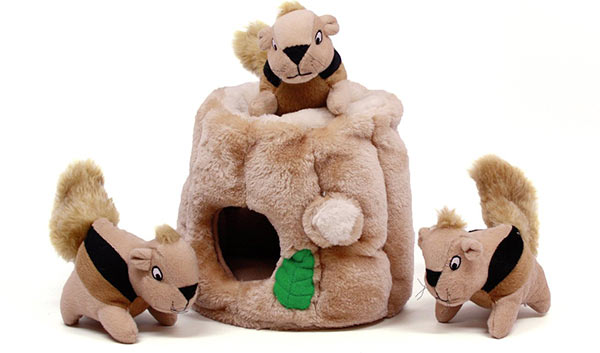 This highly rated toy brings the squirrels to your lab by means of soft plush "retrievable" squirrel toys.
There are four sizes (junior, jumbo, ginormous and large).
If desired, you can opt for birds, hedgehogs or bees instead of squirrels!
Nina Ottosson by Outward Hound 41046
Dog Spinny Interactive Puzzle Mental Stimulation Brain Game for Dogs, Large.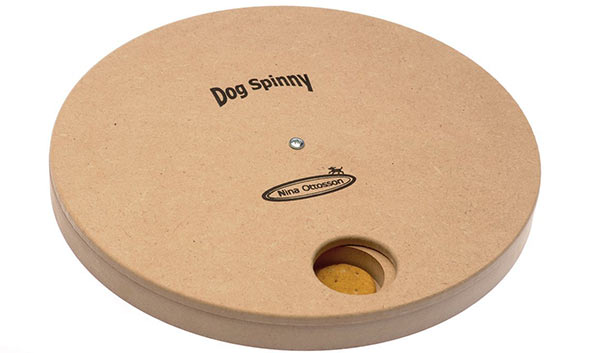 This eco-friendly and safe wooden puzzle toy comes with eight interior treat chambers that encourage your lab to spin the puzzle to recover the treats.
With three difficulty levels, you can increase the challenge as your pup masters each level.
TRIXIE Dog Activity Flip Board
This popular puzzle toy encourages your Lab to perform a variety of tasks to recover treats using discs, knobs and cones.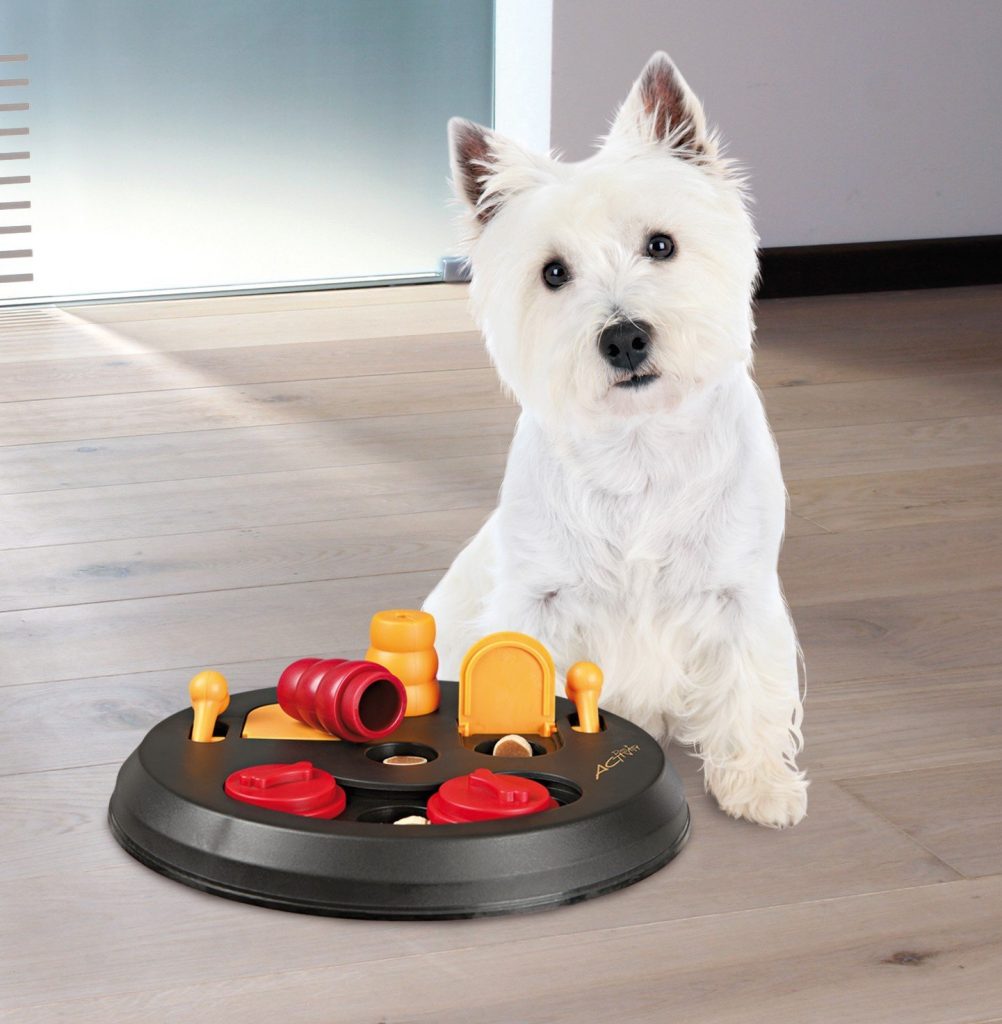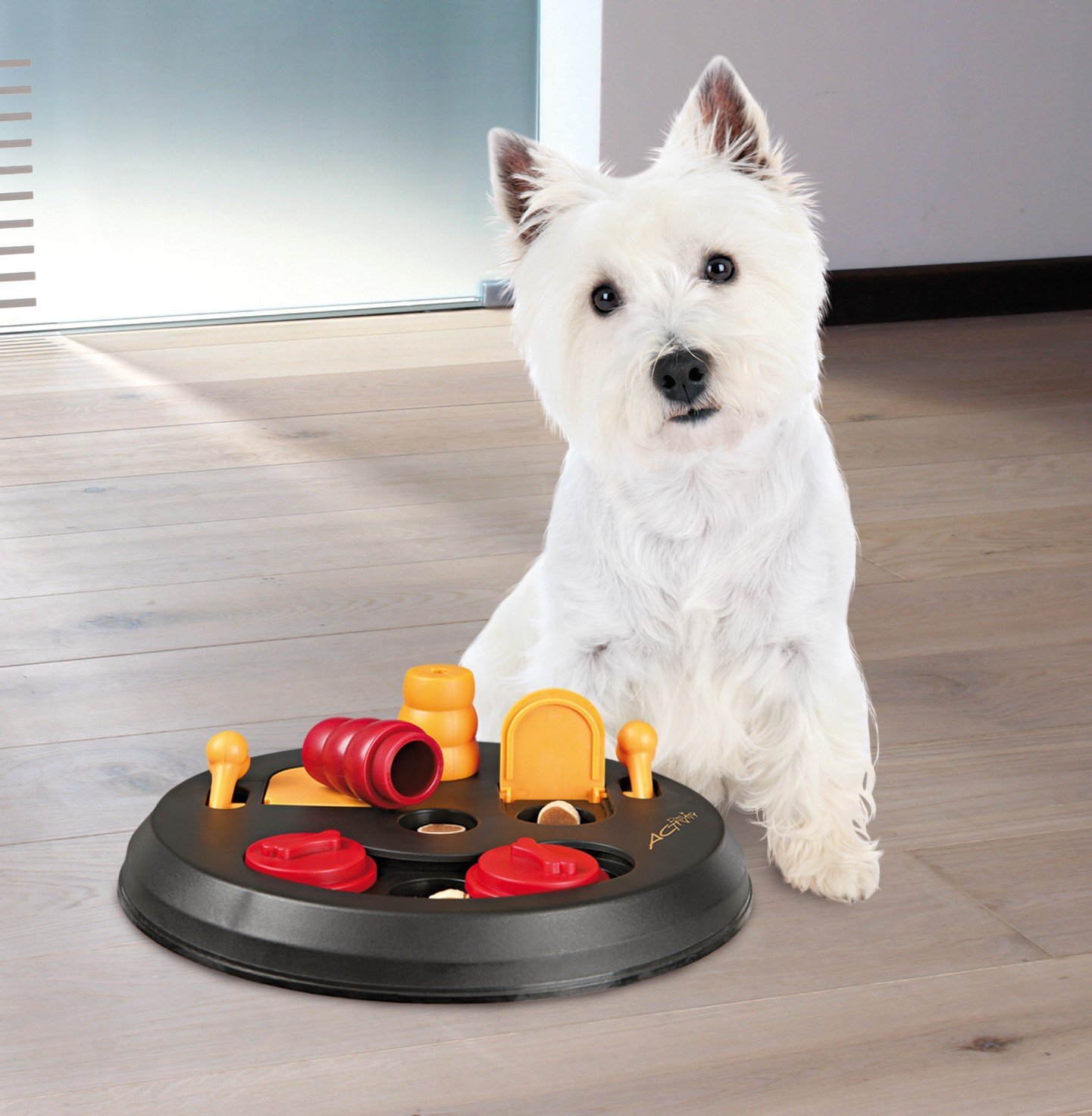 Treat placement can vary the level of difficulty as your Lab masters different tasks.

It is dishwasher-safe and comes with a one-year warranty.
Dog treat toys interactive
Interactive treat toys have really moved into the limelight over the last few years. And let's face it – tasty treats are a great motivator to get your dog to try new things, solve puzzles, learn commands, play games and even sit still for the dreaded annual vet checkup!
The big challenge pet manufacturers face with designing dog treat toys is to make them sufficiently durable and chew-proof so it is clear which part is the toy and which part is the treat. Dog owners say these dog treat toys interactive will stand up to the most determined chewers!
West Paw Design Zogoflex Qwizl
Guaranteed Tough Puzzle Treat Toy for Dogs.

Owners of intelligent dogs give this toy a big thumbs up. And say it ranks up there with their pups' all-time toy favorites.
It comes in two colors (blue and green). Dog owners say the toy has endured where many others have fallen prey to a determined canine chew session.
The manufacturer also offers a lifetime guarantee.
Nerf Dog 4″ Tire Treat Feeder Dog Toy
Who doesn't love Nerf? Now there is a Nerf feeder toy for dogs that the whole family can enjoy.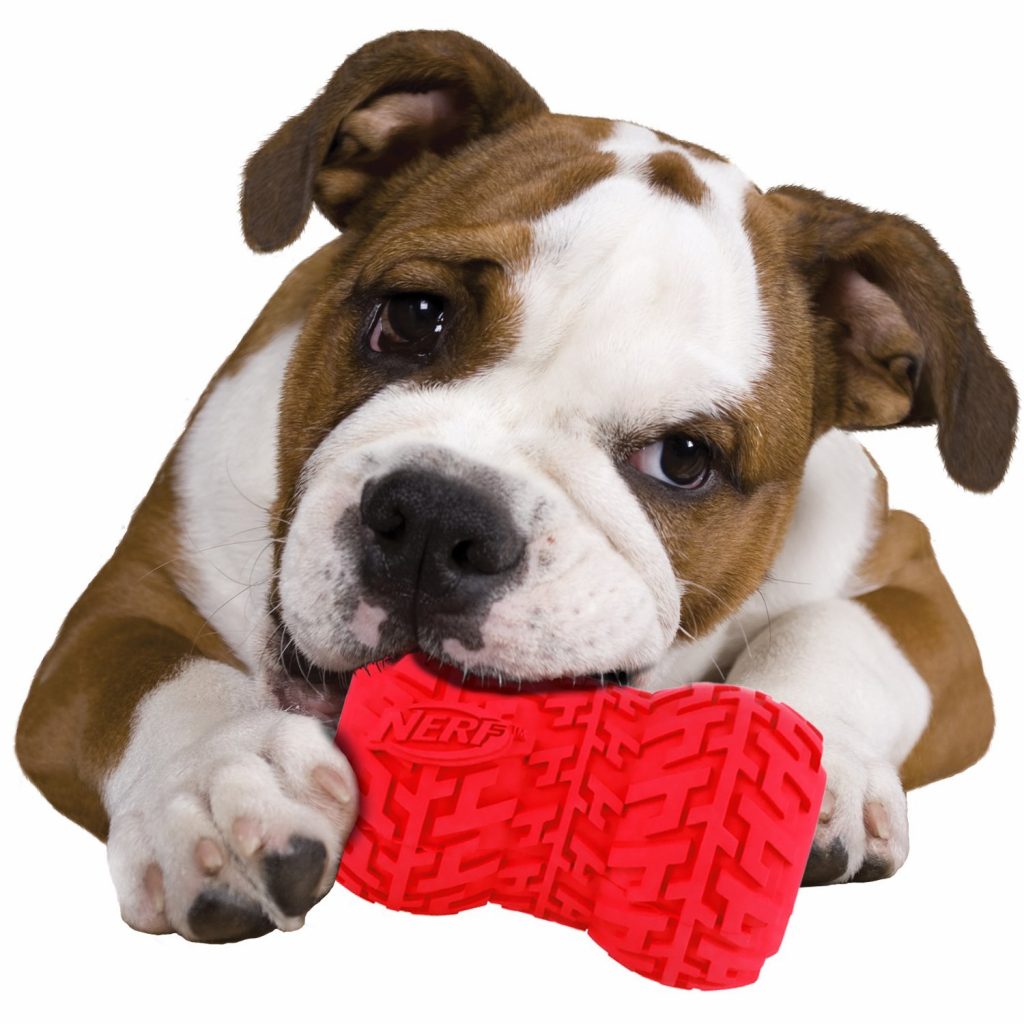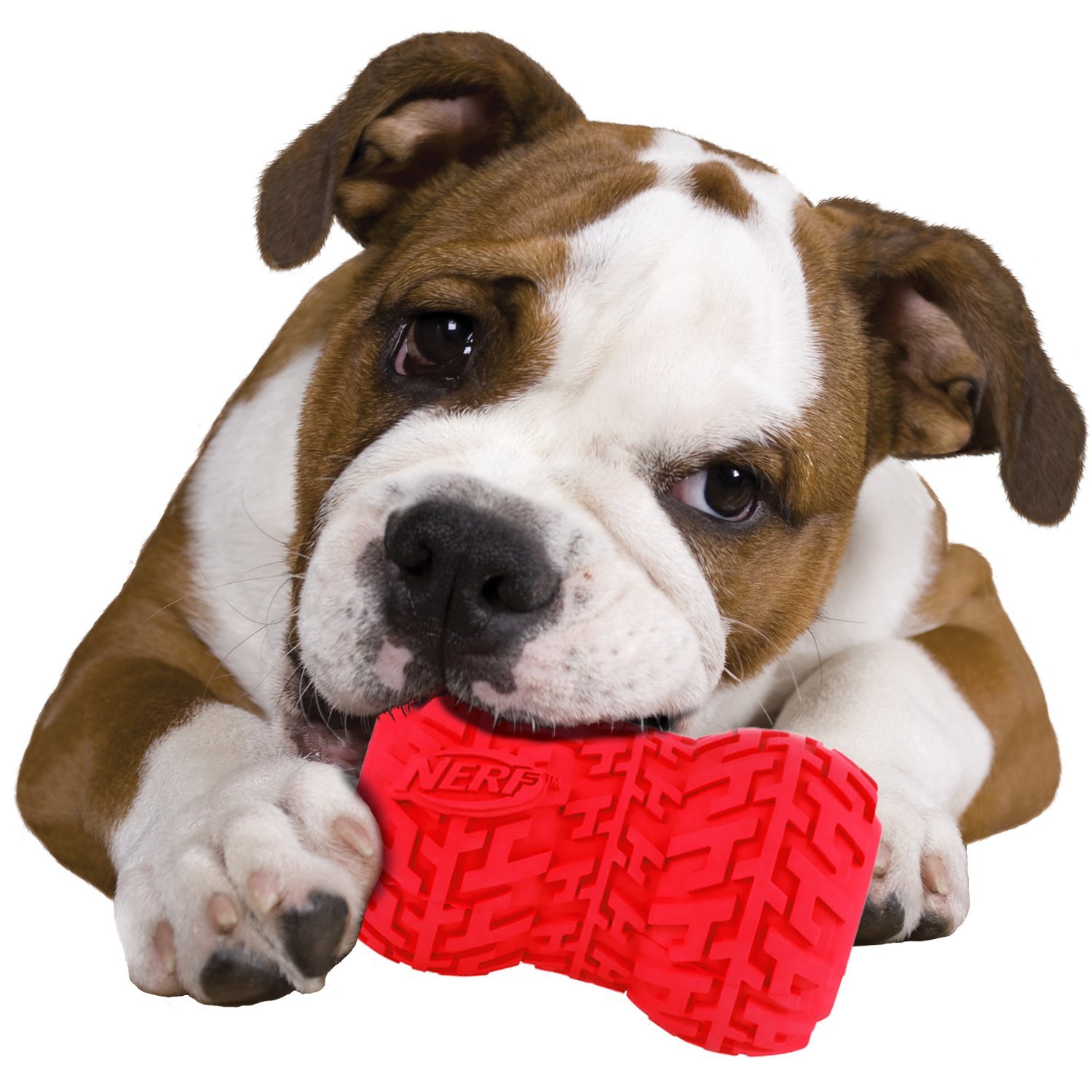 Rated highly by dog owners, this Nerf large tire feeder can be used for treats or meals or both.
It is made of safe, durable rubber and is chew-resistant.
KONG Wobbler Treat Dispensing Dog Toy
The KONG company scores another hit with this popular large wobbler treat toy.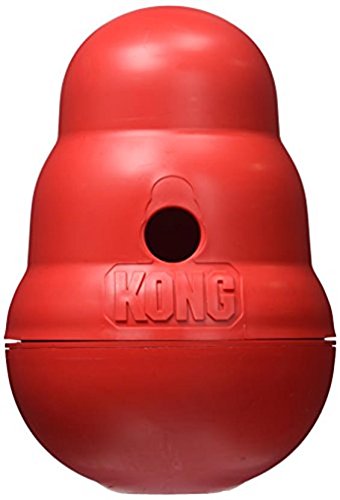 Your Lab will see it wobble, roll or spin when he pushes it with his nose to try to get the treats out.
It is dishwasher-safe and made of durable non-toxic food-grade plastic. The large wobbler holds one cup of food treats or up to two cups of kibble.
StarMark BOB A LOT Treat Kibble Dispensing Slow Feed Dog Toy
The Starmark Bob a lot interactive dog toy is considered to be another staple toy for many dog owners today.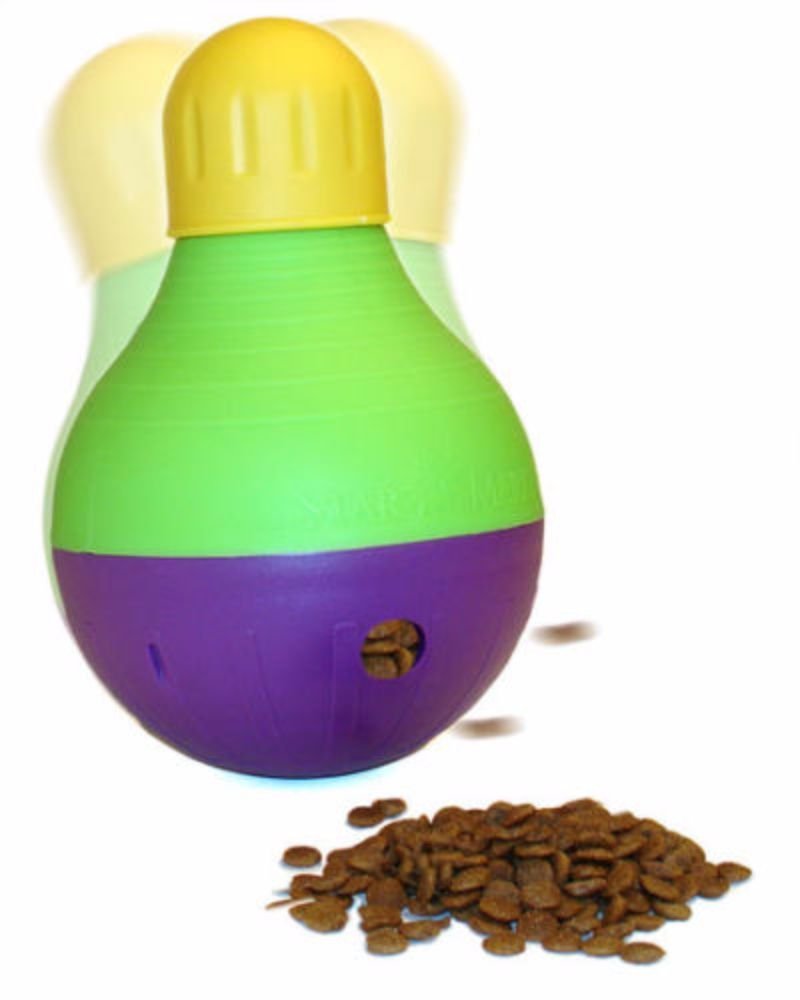 This toy is highly rated and is suitable for large dogs. It can hold up to three cups of treats or kibble for meals.
It is equipped with an anti-slip bottom to hold the toy upright while your Lab noses it.
You can adjust the difficulty level to keep your dog engaged over time.
Interactive dog balls
The interactive dog ball toy has become a time-honored staple for all breed dog owners and their pooches. In fact, we would bet that if you ask most dog owners to list the 10 best interactive dog toys for sale today, most would be some type of ball toy!
The truth is, dogs across the board seem to naturally love playing with round ball toys – and these take the traditional ball toys several steps better with their many interactive features.
FurryFido Treat Dispensing Dog Toy Smart Interactive IQ Ball
This toy is a #1 bestseller, rating 5 stars across the board.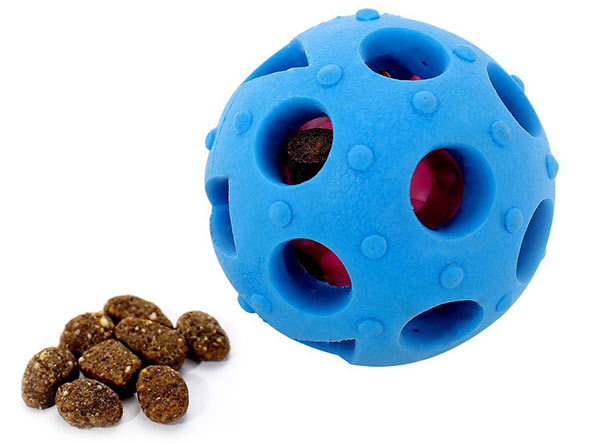 It is both an interactive dog treat dispenser and a dog puzzle toy in one, which doubles its appeal.
The toy is made of non-toxic sturdy rubber and the design helps keep your dog's teeth clean as she chews.
The manufacturer offers a lifetime guarantee.
KONG Jumbler Ball Dog Toy
KONG is a respected name in interactive treat dispensing dog toys for dogs of all ages and sizes.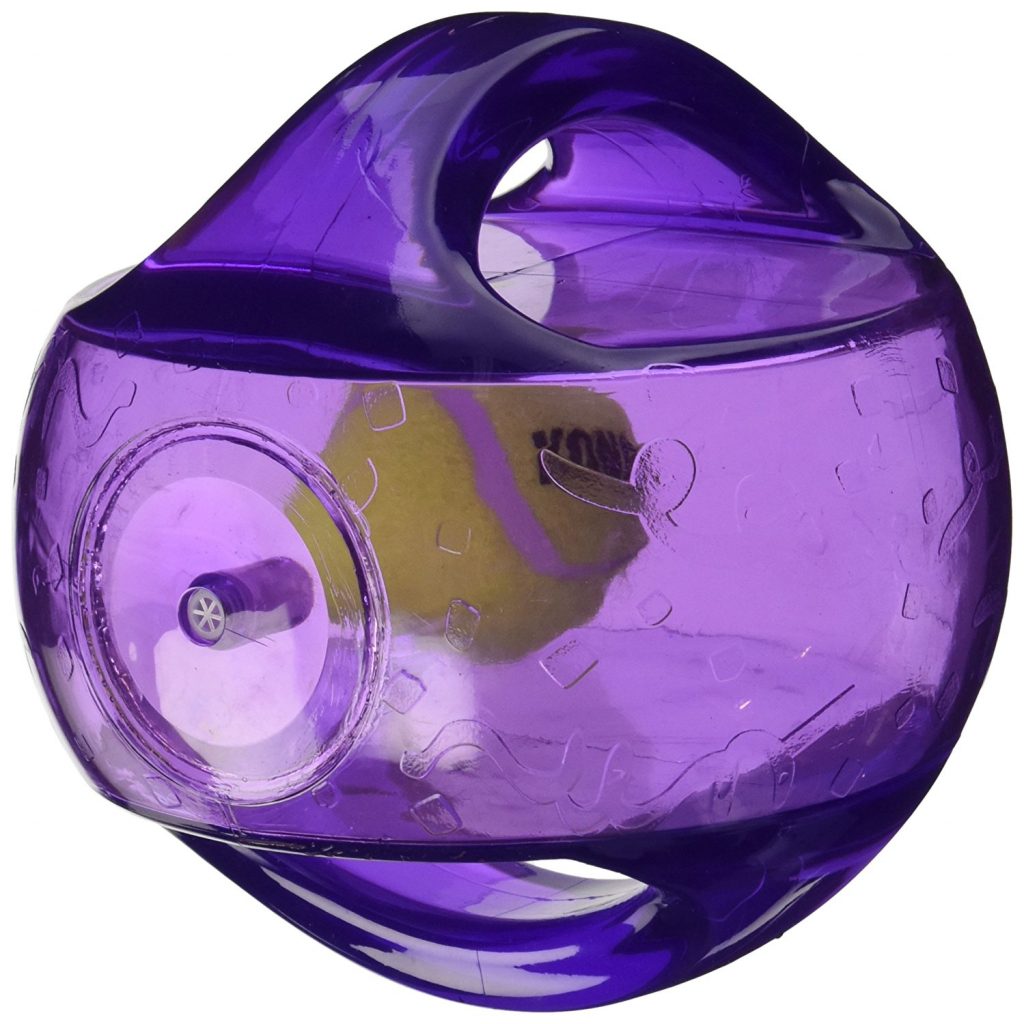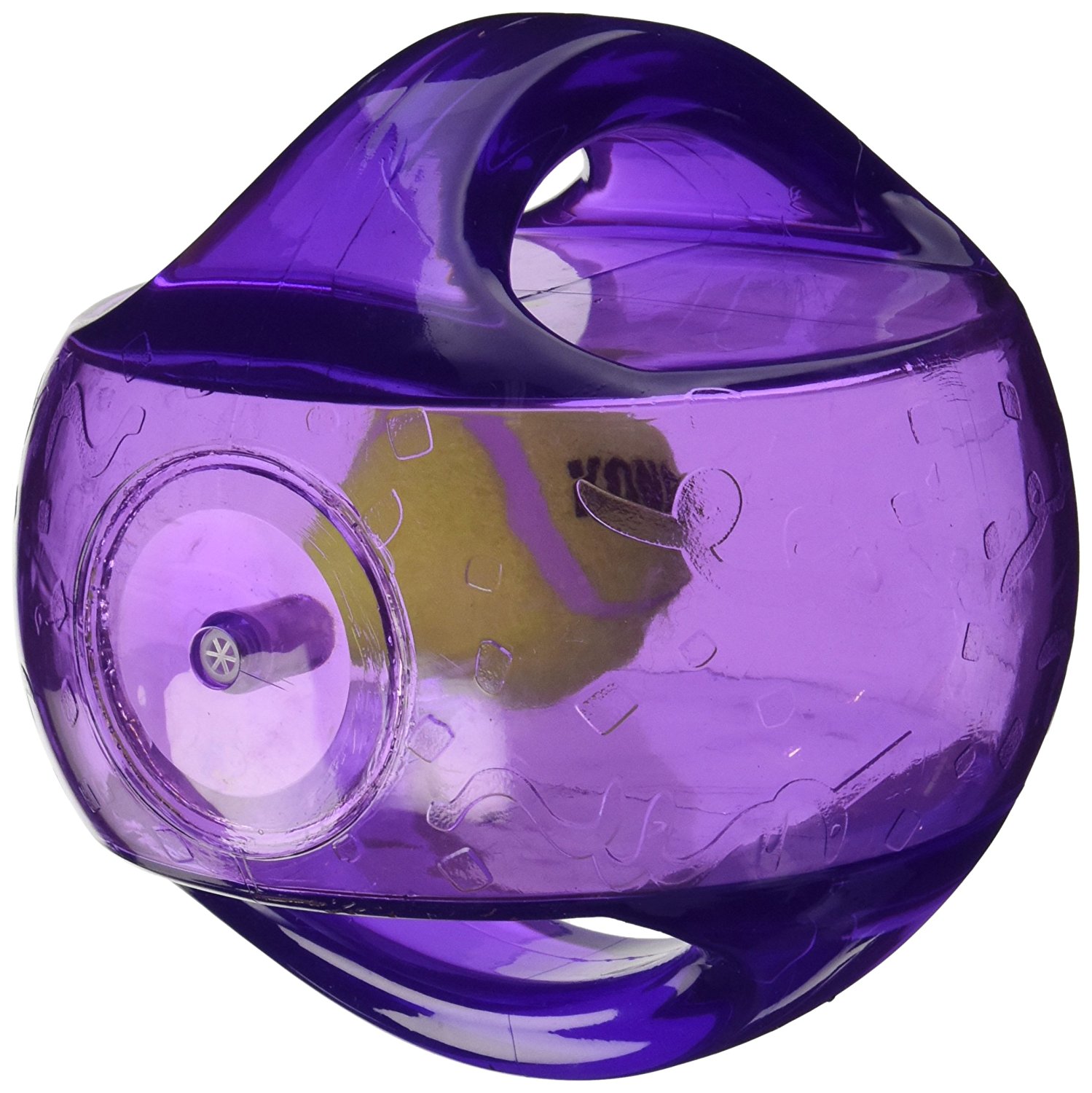 It comes in two sizes (medium/large and large/X-large).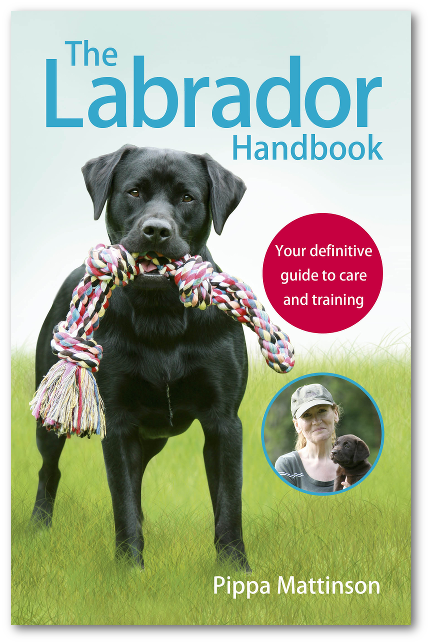 The toy tumbles, squeaks and dispenses treats – what more could a dog want?
There are also two handles your dog can use to pick it up and shake it or toss it.
OurPets IQ Treat Ball Interactive Food Dispensing Dog Toy
This treat ball is rated highly and comes in two sizes (3-inch and 4-inch).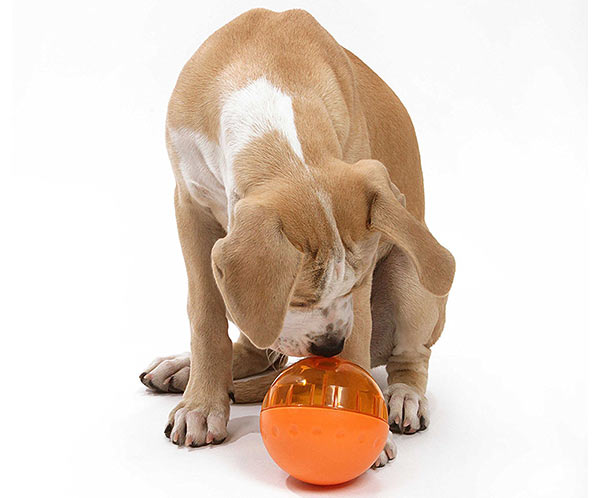 The interactive feeder toy can be used for both food and treats. Dogs roll it and bat it around to get the food out.
You can also change the difficulty level (there are 4 levels total) to keep your Lab challenged from day to day to work for her treats.
Wobble Wag Giggle Ball Dog Toy
This interactive ball toy is designed to relieve stress by making noises when it is moved, grabbed or carried.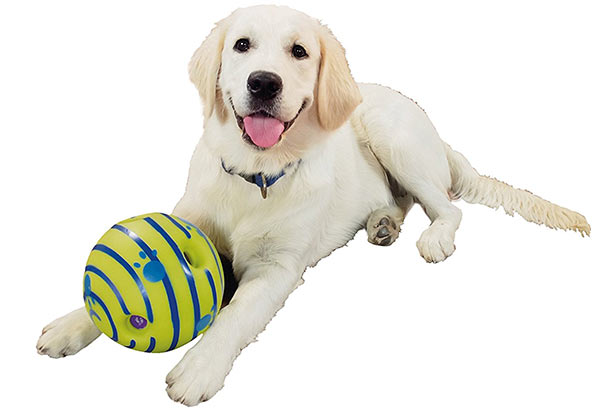 There are six areas where your Lab can pick it up and carry it, shake it or toss it.
The material is made of safe vinyl that is free from phthalates.
It doesn't have any batteries – the ball makes its sounds using a unique and safe inner series of hollow tubes.
Best interactive dog toys
We hope you and your lab have enjoyed this investigation into the best interactive toys for dogs! And we realize that if you are caring for a Labrador retriever puppy or adult/senior dog for the first time, you may be feeling a little bit overwhelmed right now. Which toys should you choose? What toys will your new pup like best? How will you ever decide?
The good news is, most of these toys are very economical, which can be helpful when you are also still getting your new pup fully outfitted with all the other items she will need!
Also, there is no rush to try all of these toys right now. You might just pick one toy out of each category to start with and see what your dog seems to like most. As well, if your dog is still a puppy and is teething, he may especially appreciate toys that are designed to ease the temporary aches and pains of the teething process.
Whatever you choose, you can count on one fact: your dog will like it much more if you play with the new toy together. After all, this is what dogs love most – their daily "people time."
Resources
Bryner, J., "Dogs as Smart as 2-year-old Kids," Live Science, 2009.
Range, F., et al, "Tracking the evolutionary origins of dog-human cooperation: the "Canine Cooperation Hypothesis"," Frontiers in Psychology, 2015.
Fahnestock, M., et al, "BDNF increases with behavioral enrichment and an antioxidant diet in the aged dog," Neurobiology of Aging, 2010.
Peltz, J., "New list reveals most popular dog breeds in US: Labradors, German Shepherds, Bulldogs all top list," KSAT ABC Channel 12, 2017.
Lefebvre, D., et al, "Cortisol and behavioral responses to enrichment in military working dogs, Journal of Ethology, 2008.