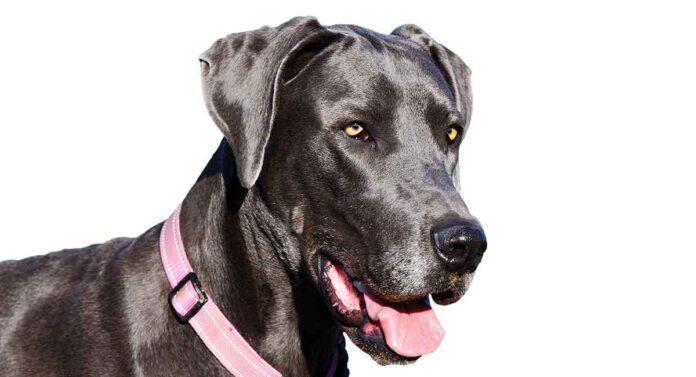 Large dog collars are a must for a big dog. Whether your pup is a little on the rambunctious side, or just needs to be reined in occasionally, large dog collars help with training, obedience, and continuing to keep big dogs in check. They're also a convenient way to make sure your dog is identifiable and can be returned to you, in case he gets loose.
The best big dog collars will fit comfortably, allow for the attachment of a leash, and display ID tags. They can be made from a variety of materials, including everything from nylon to leather.
Products included in this article were carefully and independently selected by the Labrador Site team. If you decide to make a purchase from one of the links marked by an asterisk, we may earn a small commission on that sale. This is at no extra cost to you.
The Five Best Dog Collars For Large Dogs
Providence Engraving Slide On Personalized Dog Collar
These slide on tag collars*(paid link) allow for personalization and identification without needing a separate tag.
Blueberry Pet Designer Dog Collars
These nylon collars*(paid link) are fun and funky, with lots of colors and designs to choose from.
We just love how they look!
Kurgo Waterproof Collar
Kurgo's waterproof collars*(paid link) are super easy to clean.
This is often a must for large, playful dogs who love to run around in the mud!
Hamilton Creased Leather Dog Collar
The Hamilton Creased Leather Dog Collar*(paid link) is a super-stylish option that combines an attractive look with function and durability.
Mile High Life High Visibility Dog Collar
This reflective collar*(paid link) is made from high visibility nylon.
It's perfect for taking your dog for a run in the early morning or after sundown, providing visibility and safety.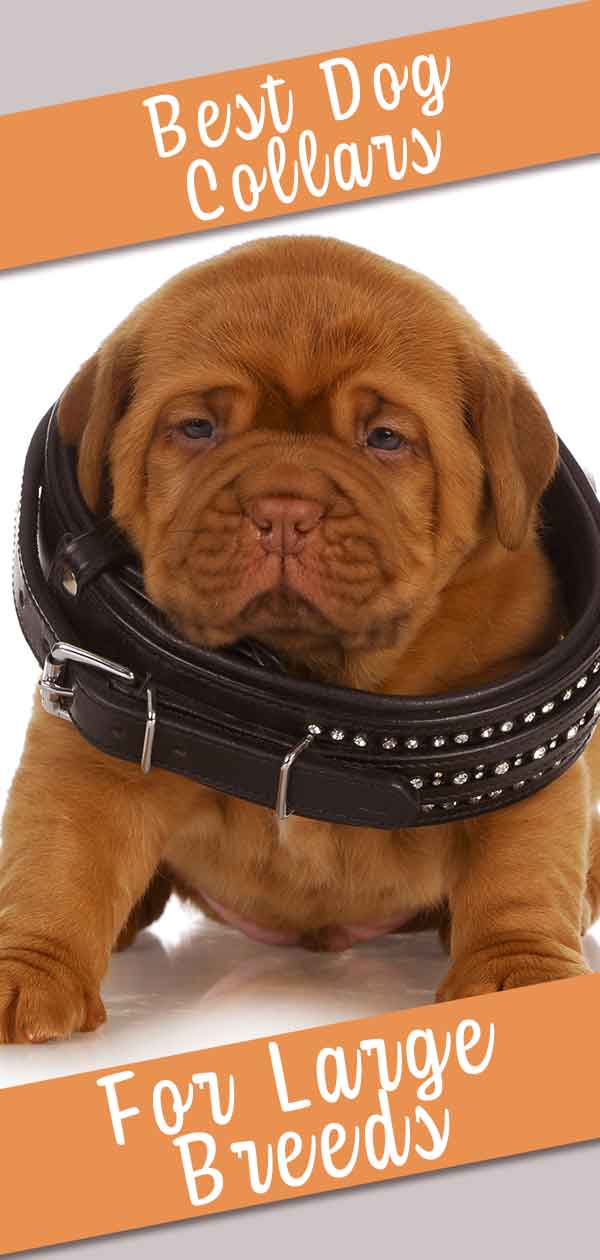 Large Breed Dog Collars Quick Links
The Importance Of Collars For Large Dogs
Dog collars are an essential accessory for most Labrador owners. They hold his ID tag, they are where you attach his leash, and they can make a real statement about you and your dog. The importance of that first feature is sometimes overlooked. But ID tags and licensing information can be a question of legality.
In the USA, most states require your dog to be licensed. But the rules on this and display details on a tag differ depending on where you live. To find out what the rules are in your local area, you can check out your local authority's website. Without that identification and proof of a dog license, a dog owner may face a fee.
In the United Kingdom, the Control of Dogs Order 1992 states that "any dog in a public place should wear the name and address of the owner either inscribed on the collar or a name plate or disc attached to it. Failure to put proper identification on his collar could likewise potentially lead you to a hefty fine.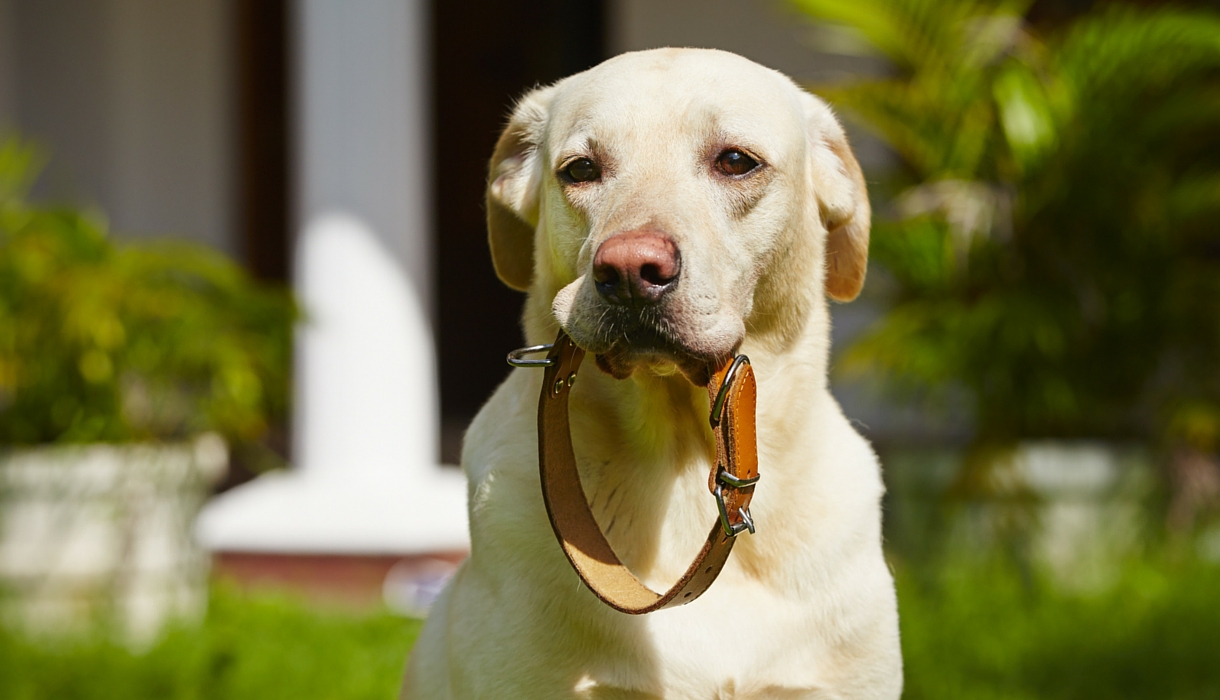 Why ID Is Important
Regardless of where you live and the legal requirements, however, it's recommended to have your name, address, and mobile phone number on your dog's tags. This will enable anyone who finds your dog to contact you or bring them home. If you've ever faced the heartbreak of having a dog go missing, you'll understand why that is so important for both you and your dog! And it will potentially stop you getting into trouble too.
Choosing A Big Dog Collar
Dog collars come in all materials, sizes, and colors. And even the make and style of them varies depending on what they will be used for. You want to choose not just the best style of dog collar, but the one that is the most comfortable, practical and suits your dog the best too.
Before you begin your search, remember to measure your dog's neck carefully. Big dogs like Labs come in quite a range of sizes. And, just like clothing manufacturers, collar manufacturers all put their sizing in slightly different brackets. This means that one brand's medium could be another brand's extra large. So careful attention to the measurement and range of each product is important on an individual basis.
Important Features Of Big Dog Collars
As we mentioned, dog collars are the perfect way to ensure that your dog has ID on him at all times. They're also quite versatile, with some of them designed specifically for training and others designed for specific dog breeds with particular needs or habits.
Dog collars come in all sizes, just like dogs. But large breed dog collars must definitely have added strength and durability, to withstand any tugging or pulling from a strong dog. Look for a well-made collar with good user reviews testifying to the durability of the product. Durable dog collars can still be made with a variety of different materials. And, of course, color options are endless!
Let's jump right in and take a look at some of the different types of collars, and our recommendations as to the best choices.
Best Dog Collars For Large Breed Puppies
Dogs need collars at all ages. But the specific needs will change depending on the age of the dog. When your Labrador is small, for instance, he will still need a collar, but it won't be quite like the ones he will wear when he's fully grown. For a Labrador puppy collar, you'll want something softer, thinner and much lighter for his growing neck to support.
Blueberry Pet Puppy Collar
The Blueberry Puppy Collar*(paid link) product line is a great choice for any breed, even bigger pups like Labs.
They are easy to clip on and off, making them quick to attach to your wriggling, excitable pup. They're also light-weight but still sturdy and durable. These collars come in a range of fun colors and designs, and you can get matching leashes* (paid link)and even harnesses to go with them, too.
Pupteck Basic Nylon Dog Collar
Pupteck's basic puppy collar*(paid link) is a fully adjustable nylon collar, to fit even larger dog breeds at 14-20 inches in circumference. The plastic buckle is a quick release, making the collar easy to put on and take off. Available in six colors, this nylon collar is durable and lightweight.
Best Waterproof Dog Collars For Large Breeds
Many large dogs, like Labs, love to play in the water! This is a great way for them to cool off and have fun when it's hot out. But at the same time, it creates a potential problem: wet, manky, and ultimately very smelly dog collars. Fortunately, you can find collars made of materials that are designed to keep this from becoming too much of an issue.
Ruffwear Waterproof Dog Collars
One of our top favorites is the Ruffwear range of waterproof dog collars*(paid link).

(paid link)
The one inch collar is coated to protect the webbing, and keep it "stink proof." It's also reflective. The Ruffwear Headwater dog collar*(paid link) looks really smart and comes in several cool modern colors as well as lengths ranging up to 26 inches.
Kurgo Waterproof Muck Collar And Leash
Kurgo's waterproof options*(paid link) come in small, medium, and large sizes. These collars promise to be "waterproof, dirt and odor free." The collar is designed to be easy to clean, just by rinsing in water. And it comes with a lifetime warranty when purchased new from an authorized dealer.
Best Large Leather Dog Collars
Large leather dog collars are a very popular choice among Labrador owners and the owners of other big breeds. Leather dog collars are a stylish, classic answer to utilitarian dog collars. There are numerous choices available for large leather dog collars, but we think the following stand head and shoulders above the rest when it comes to our large breed dogs.
Perri's Padded Leather Dog Collar
Perri's Padded Leather Dog Collar*(paid link) is a very popular and well received choice. It has the sturdy, durable leather collar in a traditional style, complemented by very soft lambskin inner padding. The inner padding comes in a range of colors, from very discreet dark to bright and funky. It is very well made and should keep your dog looking good for months and even years to come.
You can find out more and read the hundreds of positive reviews online here.*(paid link)
Hamilton Creased Leather Dog Collar
We have been really impressed by the Hamilton Creased Leather Dog Collar*(paid link).

(paid link)
Not only does this come in a range of lengths, but you can choose varying widths as well. This makes it considerably easier to find one that suits your dog perfectly. It comes in black or burgundy leather finish, and each collar is strong and durable. The stitching is done with weather resistant thread, so that it stays in great condition for longer. These collars are available to buy individually or in a set with a matching leash, too.
Please note that the length measurements refer to the collar and not your dogs neck. So take this into account and choose a size bigger. You can find out more about this collar online here.*(paid link)
Best Designer Collars For Large Dogs
Designer clothing and accessories have made a real mark in the pet world. There are some really gorgeous choices out there. This makes it easier than ever to find something both eye-catching and great quality. After all, we want the best for our dogs, just like we would for ourselves. Our favorite designer dog collars don't just look great, though. They are durable, functional, and stand up to enthusiastic use even from big, bouncy breeds like Labradors.
Blueberry Pet Designer Dog Collars
At one end of the designer spectrum, we are crazy about the Blueberry Pet Dog Collar line.*(paid link)
(paid link)
These fun dog collars look really cool. They are made of high density polyester, which gives softness as well as durability to the design. The buckles are made from eco-friendly plastic, and the metal D ring is nickel coated for added strength.
You can check out the range of colors and sizes for these fun designer dog collars here.*(paid link)
Abaxaca Luxury Stainless Steel Dog Collar With Zirconia Lock
At the other end of the designer spectrum*(paid link) is this luxury stainless steel collar from Abaxaca. This highly rated collar is quite different from a lot of the other options on this list, and can even be personalized.
Best Colorful Large Breed Dog Collars
There is a real splash of color injected into the dog collar world at the moment. We are loving all of the fun, cheerful designs and bright colors. It's enough to cheer up the chilliest early morning dog walk! Colorful dog collars allow you to express your personality, as well as that of your dog.
Red Dublin Dog Collar
The Red Dublin Dog Collar*(paid link) is sure to get everyone at the dog park talking.
It's made to last and glides easily onto your dog's coat with no fuss. It is also 100% waterproof and easy to clean in warm water when you get home from a muddy walk. This means it will stay looking and smelling clean for much longer. You can find out more about this range of colors here.*(paid link)
Lupine Pet Originals Dog Collar
We also love the Lupine dog collar range*(paid link). They are fully adjustable, and will fit even the biggest breed of large dog.
They also come in a range of colors, from plain to fun and funky patterns. Not only that, the manufacturers are so confident of durability that they are guaranteed, even when chewed. Find out more about this great range of collars here.*(paid link)
Best High Visibility Dog Collars For Large Breeds
At certain times of year you will probably find that you need to take your dog out after dark. It might be only 5.30 in the afternoon, but it's pitch black outside and your black Labrador is a speck in the gloom. To help keep him safe and your worries to a minimum, why not invest in a high visibility collar? These collars are designed to improve visibility and safety for all dogs.
BSEEN LED Dog Collar
The BSEEN LED Dog Collar*(paid link) takes visibility to a whole new level with Light Emitting Diodes. They glow in the gloom and flash when it gets really dark. The LEDs come in a few different colors, including florescent green, yellow, and red. The collar itself is billed as being very eco-friendly, and can be recharged each day with a USB port. There are different speeds for the blinking lights, or it can be set to a steady glow.
It even has a remote control so you can change the speed or emission of the lights without even being right next to your dog. This collar is easy to put on your dog and comfortable for him to wear too.
Mile High Life Night Reflective Collar
If LED isn't your thing, however, this reflective collar*(paid link) from Mile High Life has two bands of high visibility reflective nylon to catch and reflect light at night time. This product comes in a two pack, with various colors. It is highly rated for durability.
Best Personalized Dog Collars For Large Dogs
Every dog is an individual! Sometimes, a generic collar that could really belong to any dog just isn't enough. These personalized collars allow your dog to wear some of his particulars, such as name and home address, right on his collar rather than an ID tag.
Custom Embroidered Dog Collar
These custom embroidered dog collars are embellished* (paid link)with your dog's name and your phone number.

(paid link)
However, if you are not comfortable having his name plastered all over his neck, you might like to get your surname put there instead. This dog collar comes in a range of colors so you can choose the one that you like best. They aren't just practical, but great quality too. You can order yours online here.*(paid link)
Engraved Sliding Dog Collar
These slide on tag collars*(paid link) are an easy way of getting your dog's collar and I.D. tag sorted in one go.

(paid link)

The tough nylon collars come with an engraved tag which simply slides onto the collar. Attached slide on tags have the added benefit of not making a clunking noise as it bounces against the D ring as he runs around. You can find out more about this personalized collar option here.*(paid link)
Best Dog Collar Tags
As mentioned at the outset of this article, ID tags for your dog are often a matter of legal requirements in your area. And whatever the case may be legally, they're a smart option to ensure that your dog can be brought back to you if he runs away.
When you take your dog outside your home and garden, you will need to have an I.D. Tag attached to his collar or harness. This dog collar tag can be something simple and discreet, or bold and flashy. Here are some great options to suit any Labrador owner's taste, starting with personalized dog collars.
GoTag Stainless Steel Pet IDs
Many dog owners really like the plain traditional look when it comes to tags, and the Stainless Steel Pet IDs from GoTag* (paid link)are a very popular choice.
(paid link)
They are strong and wear resistant, with plenty of space to have your dog's essential information added on. They also come in a range of shapes from circular, to bone and even heart shaped designs. The ordering process is straightforward. They even come in a choice of two sizes, so you can get your preferred version.
To find out more about the GoTag stainless steel pet ID, click here.*(paid link)
Providence Engraving Pet ID Tags
If you would like something with a bit more color then why not check out the amazing range of Pet ID Tags by Providence Engraving.*(paid link)

(paid link)

They come in not just a range of shapes from stars to bones, but in a lot of different colors too. They are also very well reviewed online, which gives you a lot of confidence in buying! Find out more about these dog ID tags here.*(paid link)
Engraved Glitter Pet IDs
Our final top choice are the personalized engraved glitter pet IDs.*(paid link)

(paid link)

These vibrant, fun dog tags are in the shape of a paw and covered in your choice of colored glitter. Find out how to get your paws on one by clicking here.*(paid link)
Best Dog Collars For Large Breeds
Whether you're looking for a stylish leather dog collar or a bright and funky nylon collar, there are plenty of options out there to suit dog and owner alike! Though we've mentioned our own top five favorites at the beginning, you may very well have your own personal preference. What type of collar do you prefer for your large dog? Do any of the collars listed here make your own top five? Leave us a comment below and let us know!
Make sure you also take a look at our guide to indestructible dog beds!
Affiliate link disclosure: Links in this article marked with an * are affiliate links, and we may receive a small commission if you purchase these products. However, we selected them for inclusion independently, and all of the views expressed in this article are our own.
References And Resources
This article has been extensively revised and updated for 2019.
The Labrador Site Founder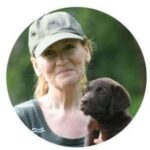 Pippa Mattinson is the best selling author of The Happy Puppy Handbook, the Labrador Handbook, Choosing The Perfect Puppy, and Total Recall.
She is also the founder of the Gundog Trust and the Dogsnet Online Training Program 
Pippa's online training courses were launched in 2019 and you can find the latest course dates on the Dogsnet website