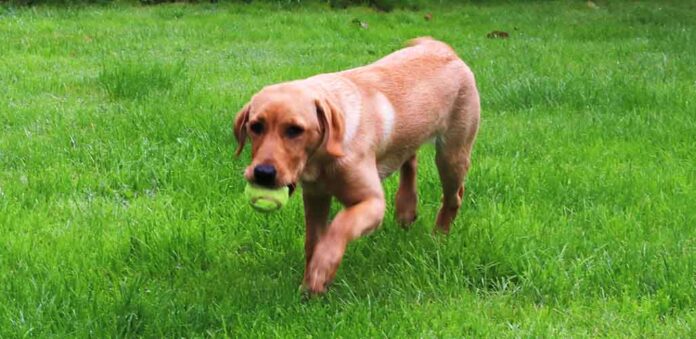 Self fetch dog toys allow your dog to play for as long as they want, without you needing to lift more than a finger. And with some products you won't have to be involved at all. Self fetch dog toys have a ball that is launched from a little machine, and then when your dog has fetched it back they just drop it into the top for the fun to continue again and again.
These aren't just great aids for owners with mobility issues. They are a fabulous way to keep your pup entertained whilst you wrangle the kids or just need to give your aching arm muscles a good rub between throwing the ball. Or to cure a serious case of the zoomies!
I've had more than one Labrador over the years that was literally obsessed with fetch games. Natural retrievers are often this way, and it's actually great in terms of positive reinforcement training rewards and keeping fit. But as an owner it can be hard to keep up. Self fetch dog toys bridge the sometimes monumental gap between your ideal play capacity and your dog's.
Contents
There are a couple of different types of self fetch dog toy. One works like a ball launcher. You'll use a remote or the push of a button to set the launcher off, and it shoots balls or discs into the distance for your pup to retrieve. The others are individual balls with a motor, that wobble or move and encourage your dog to play fetch solo.
The Best Self Fetch Dog Toys
The best self fetch dog toys involve limited input from you for maximum entertainment for your dog. They can be used at the push of a button or flick of a switch, or even controlled directly from your cell.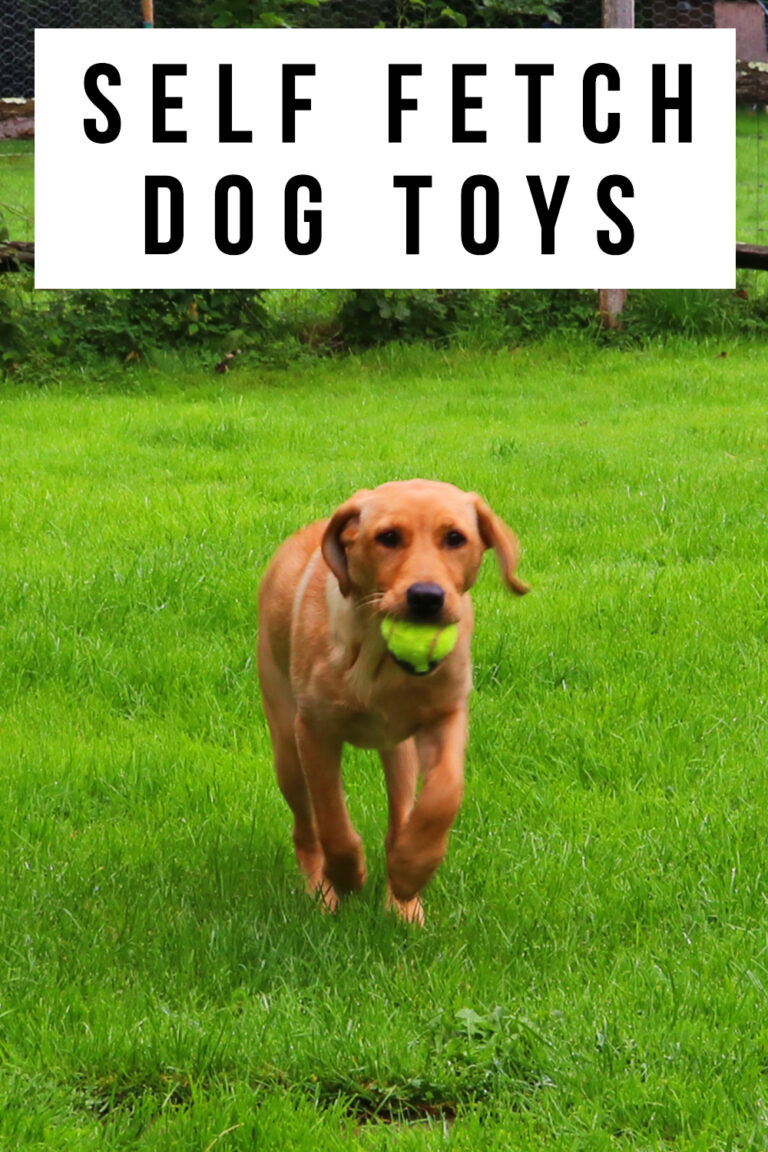 IDog Mate Ball Launcher
This self fetch toy is pretty incredible to watch(paid link). You set up the unit with a tennis ball inside, and get ready with your remote control. The launcher throws the ball a fair distance across the back yard, and the dog fetches it and returns it into the top of the machine. The ball when dropped through the space on the top of the box is ready to be relaunched!
It's not a quiet machine and makes a sort of whirring hum as it works, but it's not something that would bother most confident keen retrievers.
Pet Prime Self Fetch Toy
The Pet Prime model (paid link)is even better for independent play. You turn on the machine and load it with a ball, then press the button to select one of three different distances. Choose the shortest one when your dog is learning how it works, and then up the distance when they are fit and ready. The opening for your pup to return the ball too feels a little more intuitive too, and has high sides that the ball is unlikely to bounce out of if dropped too hard by your enthusiastic canine.
Greenvine Automatic Fetch Launcher
Greenvine's self fetch machine(paid link) is great fun to look at and light weight to carry. It's got several different modes for your pup to learn from and two different power sources you can switch between. It also comes with an almighty six balls, so if your pup takes a while to work out how to reload it you won't have to go grovelling in the bushes to find the spares too soon.
Nubddy's Self Fetch Toy
This ball launcher is a great option(paid link) for small dogs. It comes with textured dog balls that are easy to find in the longer grass. The balls are easy to clean too, which is important as the machine is a little temperamental if you allow them to get grubby.
The Best Interactive Dog Balls
Interactive dog balls don't have the range of the more enthusiastic launchers. The mechanism for movement is contained within the ball, rather than propelling it from outside. But they can still make for a mean game of fetch, especially for puppies and smaller dog breeds.
Cheerble Interactive Dog Ball
The great thing about the Cheerble dog ball(paid link) is that it has three settings. Our Lab puppy is a confident little thing, but nervous dogs would do great starting with the lower setting. It's a one button push to turn on and I don't think most small to medium dogs could switch it off accidentally. I'd only give this ball to small breeds however, or puppies, due to the size.
IFurrfy Peppy Pet Ball
A larger interactive dog ball is the Peppy Pet Ball(paid link). This is a cool little device, because to play fetch themselves all your dog needs to do is give it a nudge. And it's off! You'll also get more play hours out of this fetch toy because it's got the capacity for USB charging. Just remember to wipe off the doggy drool before plugging in!
Remote Control Self Fetch Ball
This cute self fetch interactive dog ball(paid link) is also motion activated, but can be controlled via remote too. A great way to stay involved with your dog's game, without getting up off the couch! It has two settings, one for a more calm game and another when things are zoomies levels of frantic!
Fun Alternative Self Fetch Toys
These self fetch dog toys are a bit more interactive for you as the puppy parent than the others. But I love them both, and I think you might well enjoy playing around with them too. My bestie's whippet is a particular fan of the chuckit!
Chuckit Fetch Toy
The Chuckit ball thrower(paid link) is basically a long arm with a hand at the end. It cups the ball whilst you pull it back, and allows you to throw it further than you could with just the mechanics of your arm. This kit includes the classic Chuckit arm, plus one that folds up and is much easier to carry around with you. There are even three balls in the pack, for when you inevitably lose one in a pond and another in thorny brambles… spoken from experience.
Nerf Dog Ball Launcher
My whole family love Nerf toys, and it turns out the dogs are no exception. This remodel of the traditional Nerf gun is admittedly quite a bit heavier than your usual family toy, but it pelts the tennis balls(paid link) further into the distance than I could without it. And it's fun too!
The Labrador Site Founder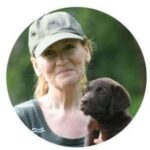 Pippa Mattinson is the best selling author of The Happy Puppy Handbook, the Labrador Handbook, Choosing The Perfect Puppy, and Total Recall.
She is also the founder of the Gundog Trust and the Dogsnet Online Training Program 
Pippa's online training courses were launched in 2019 and you can find the latest course dates on the Dogsnet website