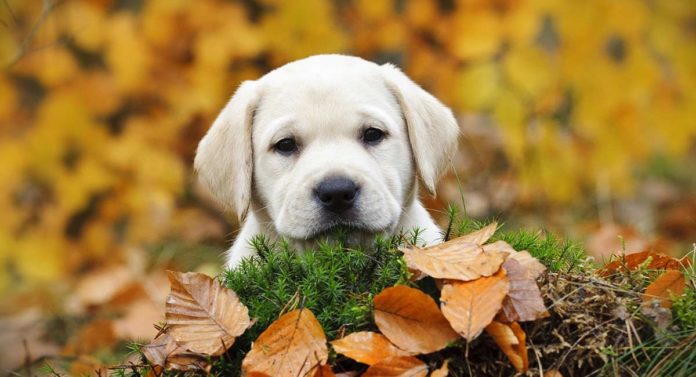 Choosing a name for your yellow Lab sure can be a challenge! Especially since there are so many great yellow lab names. Even more difficult when you realize how many different shades of yellow a Labrador dog can display in their coat! But don't worry, you've have come to the right place. In this article, you'll hopefully find all the inspiration you need one of these yellow lab names is sure to fit your sweet yellow Lab to a T!
Contents
When you're picking from themed names lists, don't just go with your favorite. Make sure that the name works for your dog, lifestyle and family too. Choose a name that doesn't sound like anyone elses. It should be short, one or two syllables at most. And it should have longer vowels and harsher consonant sounds, to help with communication and training your new baby yellow Lab.
Choosing Good Yellow Lab Names
Choosing names for yellow pets can be challenging enough on its own. But consider this: the Labrador retriever is the number one most popular dogs in the US and has been for the past 26 years and counting—wow! What this means is that you are likely to run into plenty of other Labs and their owners at the dog park, beach, hiking trails, and even your local fire hydrant.
So you'll want to pick a sufficiently unique name that won't send every yellow Lab in the area running towards you!
Plus, you'll be calling this name a lot over the next several years, so it's best to pick a name that's easy and comfortable to say out loud— at home and in public. Just picture yourself running up and down your street yelling "Mr. Sassy Herring Lacy Pants" five or 100 times to understand why this is so important!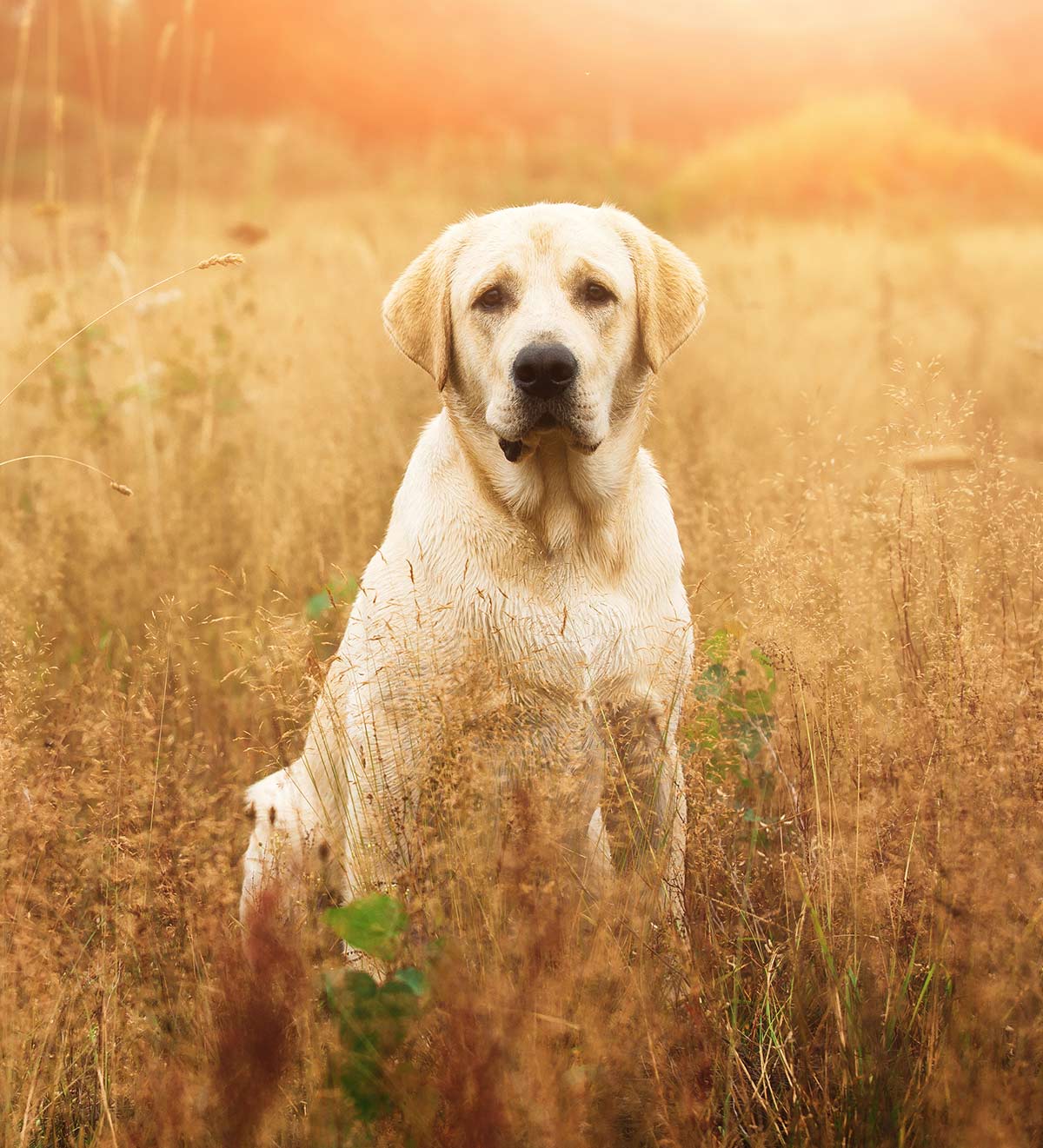 Yellow Lab Naming Tips
Here are a few helpful hints to guide you towards picking the right name for your yellow lab. First, you may want to try to stay away from any name that sounds too much like the name of a fellow family member or friend. Especially if you suspect this person might not appreciate being your pup's namesake.
Also, in some cases, choosing a shorter name (three syllables or less) can be easier to say and also easier for your lab to hear. Finally, you may want to think twice before picking a racy or confrontational name that could be taken the wrong way by others.
Male Yellow Lab Names
As you browse through these yellow lab names for males dogs, always bear in mind whether you'd like to opt for a trendy (currently popular) yellow lab name or go for a more classic name. Both are great options, but of course, the choice is all yours! Here are some trendy male yellow lab names popular at the moment, based on American Kennel Club's list and current pop culture trends.
Max
Charlie
Cooper
Buddy
Jack
Rocky
Oliver
Bear
Duke
Tucker
Leo
Milo
Finn
Luke
Atwood
Prince Harry
Prince William
Jon
Ghost
The Hound
Khaleesi
Toby
Winston
Rusty
Zach
Female Yellow Lab Names
Here are some of the top trendy female yellow lab names popular right now..
Bella
Lucy
Daisy
Luna
Lola
Sadie
Molly
Maggie
Bailey
Sophie
Penny
Stella
Lacey
Rey
Leia
Meghan (Markle)
Kate (Middleton)
The Notorious RBG (Ruth Bader Ginsberg)
Arya
Jamie
Sansa
Brienne
Jess
Annie
Ginger
Unique Yellow Lab Names
Did you know there are as many as 17 different color variations in the yellow lab coat? The coat color can vary from palest white/cream (called light cream in the breed standard) all the way to deep red with yellow undertones (known as fox red).
In addition, your yellow Lab may grow up to display deeper color points on their ears, back, and underside! Here are some unique yellow lab names based on coat color that may just work perfectly for your new yellow furry love.
Busy Bumblebee
Sugar Pie Honey Bun
Dijon Diva
Shanna Banana
Tuscan Treasure
Blondie
Pineapple Pete
Princess Buttercup
Corn Cob Pipe
Miss Fire
Canary Catcher
Goldie Locks
Lemonade (or just call her Queen Bey)
Mustard on Rye
Pirate Medallion
Daffodil Doll
Old Yellow
Dandelion
Flaxen Maid
Foxy Lady
Mrs. Doubtfire
Sunny
Blondes Have More Fun
Cream Crumpet
Foxfire
Cool Yellow Lab Names
These calm, cool yellow lab dog names are perfect for a pup with a laid-back personality!
What's Up Doc
Don't Worry Be Happy
Margaritaville
Lazy Bones
Marshmallow
Pudding
Hot Tottie
Chamomile ("Camo" for short)
Mellow Yellow
Vacay
Slugabed
Sure Thing
The Big Napper
Snooze Button
Back in 5
Camp
Beach
Hammock Hog
Sleepy
Three-Toed Sloth
The Weekend
Tranquility
Harmony
Jacuzzi
Cloud Nine
Funny Yellow Lab Names
These funny names are fun to say and always good for a laugh!
Miss Independent
Wyatt Earp
Humphrey (Bogart)
Tuff Buff
Poptop
Jaws
Cookie Monster
Good Cop (or Bad Cop)
Come!
Bad Dog (or Good Dog)
Murph ("Murphys Law")
No!
Polar (Bear)
Sam I Am
Drop It!
Whoopsydoodle
Happyland
No Name
Good Grief
Up to No Good
Waterproof
Whachadoin
Cheesecake
Sweet Lips
Eggnog
Tough Yellow Lab Names
Is your yellow pooch a real rough-and-tumble pup? One of these tough yellow lab names may just be the ticket!
Calamity Jane (or Joe)
Butch
Bruce
Master
Commander
G.I. Jane (or Joe)
Sarge
Chief
Major
Tango
Musket
Bullet
Stryker
Magnum
Tank
Colt
Kevlar
Sherman
Honor
Duke
Boomer
Indy
Hero
Glory
Patriot
Smart Yellow Lab Names
Is your yellow love already a big brain in a little puppy body? You may want to choose one of these smart yellow lab names!
Darwin
Hawking
Einstein
Neil (deGrasse Tyson)
Noam (Chomsky)
Marilyn (vos Savant)
Judit (Polgar)
Cleopatra
Alexander the Great
Constantin
Tolkien
Solomon
Mozart
Gandhi
Edison
Beethoven
Marie (Curie)
Socrates
Plato
Lincoln
Eleanor (Roosevelt)
Sun Tzu
Khan
Jefferson
Maya (Angelou)
Yellow Lab Names for a Puppy
The number one consideration when choosing yellow lab names for puppies is to make sure you pick a name that your pup can grow into!
After all, someday that plump little bundle of fluff is going to be a whole lot taller and much bigger!
Here are some great yellow lab names for a puppy that just sound better with age!
Dane
Arizona
Bagel
Dorothy
Atlanta
PoBoy
Nosh
Waffles
Axel
Rose
Tweety
Sylvester
Super Pup
Taz
Trucker
Rio Bravo
Jaz
Pepper
Bruno
Dorito
Mango
Apricot
Peach
Acorn
Willow
Yellow Lab Hunting Dog Names
Are you and your yellow lab hunting buds? These yellow lab hunting dog names are perfect for when you're on the hunt together.
Remy
Target
Hawk
Eagle
General
Wolverine
Shiloh
Beast
Boomer
Legend
Spartacus
Apollo
Xena
Olympia
Walker Texas Ranger
Artemis
Crockett
Boone
Happy Hunting
Athena
Mack
Cassidy Jane
Flash
Ace
Radar
Cute Yellow Lab Names
These cute male yellow lab names and equally cute female yellow lab names are sure to bring out the cuteness in your yellow furball!
Benji
BamBam
Floofy
Fluffnpuff
Sweet Cream
Baby
Dino
Daisy Mae
Dakota
DuckDuckGoose
Cheerio
Nacho
CheesyPuff
Frisbee
Pooh
Tigger
Treat
Kobe
Shipley
CrispyCreme
Starbucks
Milkbone
Bae
Pumpkin
Dawg
Which Yellow Lab Names Will You Choose?
We hope you've enjoyed reading through this carefully curated list of some of the best yellow lab names!
Find More Yellow Lab Names!
If you need even more inspiration, we've got plenty more! Check out some more awesome male yellow lab names here. Take a look at more cute name ideas here! You might find some more hunting dog inspiration in our big dog name guide! Find more yellow lab puppy names here. Or check out more tough yellow lab names here.
Find more funny yellow Labrador names here. Or find some more wonderful female yellow lab names here. Check out more cool yellow dog names here. Find more unique female yellow lab names here.
Have you found the perfect name for your yellow pup? Post a comment to let us know which yellow lab name you choose and why!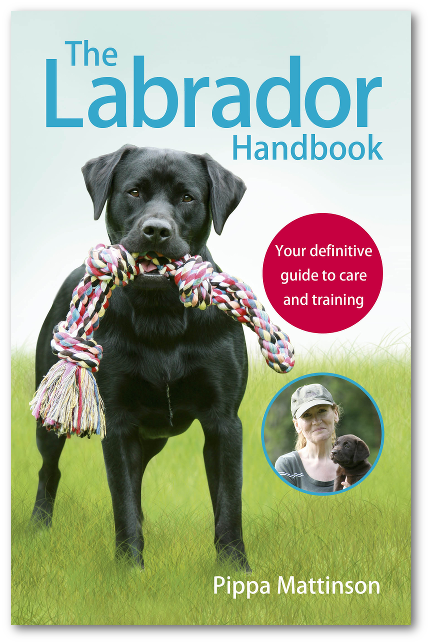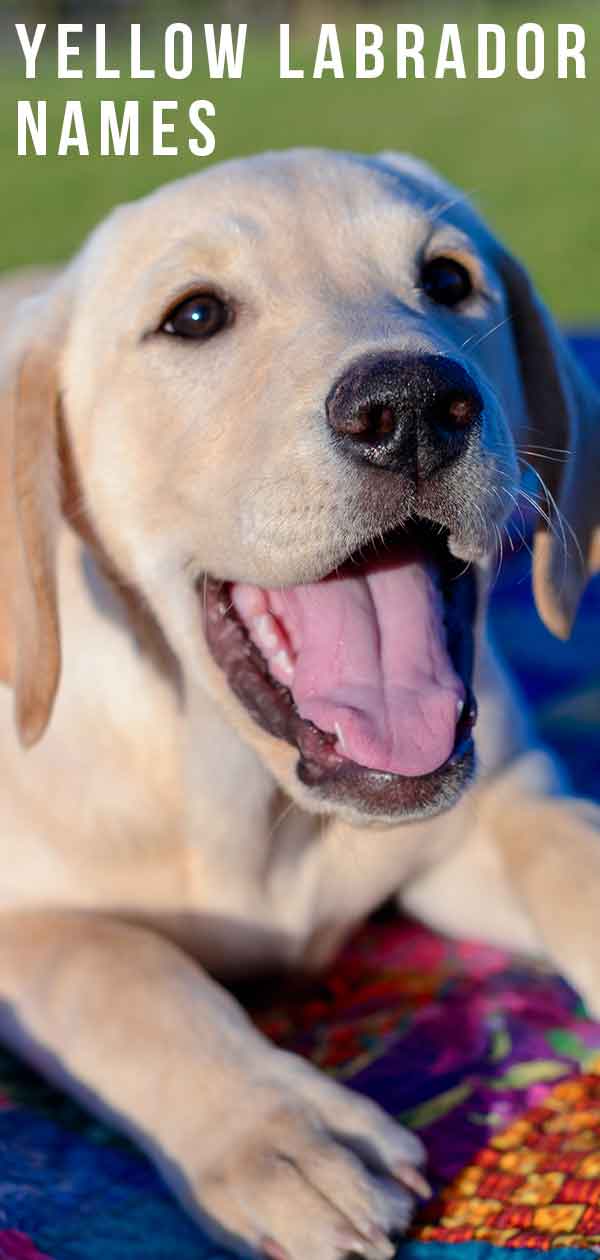 References and Further Reading
American Kennel Club (AKC)
Coren S. 2011. The Art and Science of Naming a Dog. Psychology Today.
The Labrador Site Founder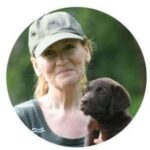 Pippa Mattinson is the best selling author of The Happy Puppy Handbook, the Labrador Handbook, Choosing The Perfect Puppy, and Total Recall.
She is also the founder of the Gundog Trust and the Dogsnet Online Training Program 
Pippa's online training courses were launched in 2019 and you can find the latest course dates on the Dogsnet website