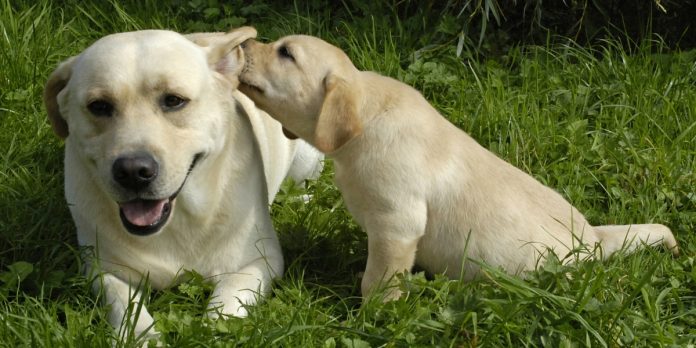 Getting a healthy, pedigree Labrador puppy requires planning. In this article we are going to share with you 8 steps that you can follow to ensure that you are buying a healthy Labrador puppy. There are potential problems that many new puppy buyers are not aware of. The litter of puppies next door, or in your local newspaper, might not be the right one for you. So you need to be cautious as you set out on this exciting journey!
Plan in advance
Good breeders do not usually struggle to get puppy buyers. On the contrary, they often have waiting lists. So, if a litter of eight week old puppies is still unsold,  be wary. It pays to plan in advance.  Six to twelve months ahead of when you want your puppy is not too soon.
The structured approach below is designed to help those with no contacts in the dog breeding world, find the right puppy.  Don't forget to check out :Are you ready for a Labrador? –  before you start looking!
Step 1.  Decide what type of Labrador you want
Labradors in the UK, USA, and elsewhere, have become divided into two different strains. Those bred for the show ring or as pets, and those bred for work as gundogs. You can read about these two types of Labrador, and their characteristics in this article:  which Labrador is right for you?
In the UK we call these two strains working type (or field type) and show type.   They look and are, very different dogs. In the USA, working bred Labradors are often referred to as field type (or American) and show bred gun dogs as bench type (or English). The split is the same in both countries, whatever they are called.   And you need to know which is which and which you prefer.
Once you have chosen your 'type', you need to find the right breeder.  You'll need to start by getting some contacts in the dog breeding world.
Step 2. Find some reputable Labrador breeders
If you are not yet convinced that a reputable breeder is 'the way to go'  please spare a moment to read our article: The right way to buy a Labrador. This article looks at all the different places and ways in which you can buy puppies and explains the pros and cons of each.
Finding a reputable breeder if you have no contacts in the doggy world, is not as easy as walking into a pet shop, but it is worth every bit of the effort that goes into it. One way to start your search, is by looking at your local Labrador breed club.  This will lead you to some experienced breeders. You will then need to do some further checks to find out whether or not the breeders meets the standards you are looking for.
The Kennel Club has a list of the Labrador breed clubs in the UK. From this list you can visit the individual clubs and look at the Club's  committee members, together with their contact details.
Many people that are involved in the committee of their breed club are themselves breeders.  If they no longer breed, they will be able to put you in touch with someone that does. Look at the 'roles' or 'titles' of the committee members.  One will be  labelled FT secretary.   The FT stands for Field Trial and suggests that this person is involved with working type labradors.   GWT means Gundog Working Test  – again, this is likely to be someone that breeds working gun dogs.
Scroll down the page a bit further and you'll see what activities this person is involved in.  You'll find some that are involved in showing and some in working their dogs.   If someone is showing their dogs, the dogs themselves are more likely to be show type rather than true working type.
Step 3. Contact some Labrador breeders
Make a list of contacts to approach, you can then phone them or email them.   Let them know that you found them on the Kennel Club website, and are looking for a pedigree Labrador puppy. Tell them which type (work or show) you are interested in.  Have a separate list ready, to enter details of any litters.
Remember to ask each breeder some key questions: "do you have a litter of puppies available or planned"  and "have any of your stud dogs been mated to nice female dogs recently", and can you "recommend a litter or a stud dog"
Very often a good breeder will have all her puppies booked before they are born.  So the second question is often the best way of getting a puppy from one of her dogs. If you have a colour preference, let the breeder know. Don't get too involved with details about your family, hopes and dreams for your dog etc at this preliminary point, unless the breeder wants to know.   He or she will ask you plenty of questions later if you want one of their puppies.
Step 4. Find a litter
The first breeders you make contact with may not be 'the right breeders'.  For several reasons.  They may not have any puppies at the moment, or they may not meet the criteria you have set for the breeder of your puppy. They will however, be able to give you more contacts to add to your list. What you are aiming to do, is to make a list of half a dozen or so litters of puppies that you can then check out and narrow down.
One of the best ways to find a litter of puppies, either before or after they are born, is to find a nice stud dog, and track down all the female dogs he has been mated to over the last month or two.  A reputable breeder will be happy to email you photos and may even let you visit her stud dog, so that you can decide if you like him.
This trail will also lead you to some smaller, less experienced breeders so you will need to do your homework carefully to make sure that the mother of your puppies has the right credentials.  Checking those out is our next step
Step 5. Checking credentials
It is up to you to check the credentials of the litter.   This is something that people are often unaware of.  A pedigree does not guarantee very much at all. The Kennel Club pedigree is simply a statement of ancestry and contrary to popular belief, does not imply that the puppy it belongs to (or his parents) have met any standards.
The three credentials you need to personally check and verify are
Temperament
Health
Abililty
Temperament
The most crucial of all credentials has to be temperament.  An adult Labrador may weight in excess of 70lbs. These are large powerful dogs that everyone expects to be friendly.  You cannot take any chances with poor temperament. You will have an important influence over your puppy's temperament but his genes also make an important contribution.  He will inherit tendencies to friendliness or unfriendliness, nervousness or confidence etc, from both of his parents.
Never buy a puppy without meeting his mother.  And if you can meet the stud dog, so much the better.  If you cannot meet the stud dog, make sure that someone who has met him, can vouch for his good nature. This may not be quite as crucial with a show champion as any successful show dog will have proven itself happy to be handled in the most personal manner by total strangers.
Working dogs are a different matter, and occasionally dogs with poor temperaments do succeed in competition and are used at stud.
Health
Health credentials are essential. Follow this link to read all about inherited diseases in Labradors and read our article on health checks.
I cannot stress this too much. You must physically check certificates or copies of certificates way in advance of collecting your puppy. Don't take anyone's word for it. And do not underestimate the power of 'puppy love'. It is very hard to turn down a puppy once he is in your arms.
Ability
Ability is important if you have an activity in mind for your dog. If your aim is to compete in working trials, you might want to choose a puppy whose ancestors have been successful in that sport.  If you want to compete in agility, or to work your Labrador in the shooting field, you'll want some ancestors that have been successful gundogs.
If you don't know anyone in the shooting community that can advise you,  you'll need to rely on the pedigree document which should have a smattering of red ink and the important letters FTCH (Field Trial Champion.) in front of a some of your prospective puppy's ancestors
Step 6.Choosing a litter
Narrowing down your choice to a single litter can be tough.  Unless you have your heart set on a puppy from a particular dog, you may find it difficult to decide.  In many cases though, there are not that many litters that meet the right criteria. Check credentials carefully and strike any litters that don't meet all three, from your list.  You can narrow down your choice further by looking again at the breeder.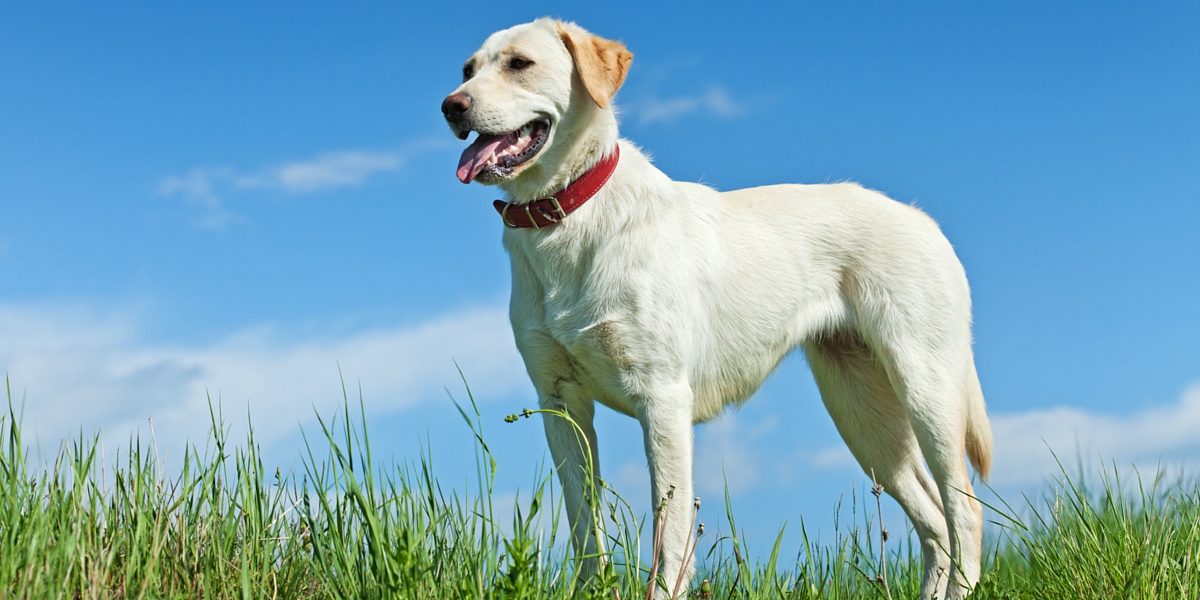 How friendly and helpful is she? Do you think she will be supportive if you get into difficulties with your puppy? Has she offered to take the puppy back at any point in his life if you cannot cope? If you can answer yes to all three, then that is a real bonus point for that litter. This person is important and you need to feel that you can trust her.
What about the puppies' environment?  A breeder with a lot of dogs may have her pups in an outdoor kennel, but they should still spend lots of time with the family. Check out this article:  How to spot a good breeder,  and this one  How to spot a bad breeder  for more information. Your breeder has a huge influence over your puppy's health and temperament. It pays to be picky.
Step 7. Choosing gender
Should you buy a dog or a female dog? Some people simply prefer one gender over another.   And it is very hard to generalise about the sexes.
Male Labradors are no more difficult to train or control than female dogs.  And though entire males may be more likely to roam if not supervised in an unfenced property, female dogs can do this too. One recent study suggested that entire males may be somewhat more prone to aggression than neutered males or females, but generally speaking, most entire male Labradors don't go around picking fights.
Females come into season twice a year at which time they may need to be confined to washable floors.  They will also need to be kept separate from entire males with vigilance for a period of around three weeks. Neutering a female is more expensive than neutering a male.  And older, un-neutered female dogs are prone to a serious and potentially deadly condition called pyometra.  These are all things to consider.
Physically, males tend to be heavier, with a slighter 'blockier' head than a female of the same breeding.  But overall, it often just boils down to personal preference.
Step 8. Choosing your puppy
And now for the final and most exciting step  Choosing your puppy.   Which one of these gorgeous bundles of Labrador loveliness should you take home?
One of the very best things you can do when choosing a puppy from a litter, is to take someone experienced with you.   If you don't know anyone suitable, you will need to rely on your breeder.  Another good reason to choose an experienced and dependable person well in advance.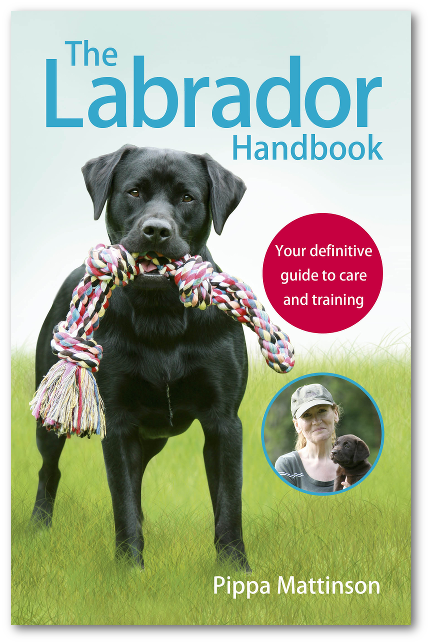 Sometimes there won't be a choice of puppies, you may be last in line, or the breeder may insist on allocating what she sees as the best puppy for you.  If there is a choice, a good breeder will be able to guide you in this. But bear in mind, that even the world's experts cannot predict accurately how an eight week old puppy will turn out in terms of temperament or appearance. All they can tell you is what you can hope for from the pedigree,  and that the puppy seems OK physically. Check out this article: Choosing the right dog  for more information.
To make sure all is well, you will need to have your new puppy checked over by your own vet, within a day or two of bringing him home. Don't forget, it pays to be cautious.  Health and temperament problems in a large dog can be devastating.  It's important to get this selection process right first time.
More help and information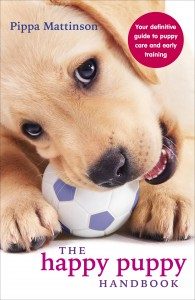 You can follow this link to read all about the first few days with your puppy, and don't forget to join our forum for help and support with your new  bundle of fun!
If you enjoy Pippa's articles, you will love her Happy Puppy Handbook. Now available in most countries, the handbook is already a bestseller in the UK.
The Labrador Site Founder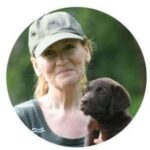 Pippa Mattinson is the best selling author of The Happy Puppy Handbook, the Labrador Handbook, Choosing The Perfect Puppy, and Total Recall.
She is also the founder of the Gundog Trust and the Dogsnet Online Training Program 
Pippa's online training courses were launched in 2019 and you can find the latest course dates on the Dogsnet website